Welcome to Colombo, the vibrant capital city of Sri Lanka! If you're a tennis enthusiast looking to combine your love for the sport with a luxurious vacation, then you've come to the right place. In this guide, we'll explore some of the finest accommodations in Colombo that offer top-notch facilities such as tennis courts, allowing you to perfect your backhand while enjoying all that this beautiful city has to offer.
Colombo is synonymous with sophistication and elegance, and its hotels are no exception. Immerse yourself in the lap of luxury at one of the many exquisite properties that boast state-of-the-art tennis courts. Whether you're a seasoned player or just starting out, these hotels provide an inviting atmosphere where you can indulge in friendly matches or private lessons under the guidance of professional coaches. Soak up the tropical ambiance as you engage in a thrilling game on well-maintained courts amidst lush greenery and breathtaking views.
Aside from their outstanding sports facilities, these hotels offer an array of amenities to enhance your stay. Unwind after a challenging match by taking a dip in sparkling pools or pampering yourself with rejuvenating spa treatments. Delight your taste buds at world-class restaurants serving delectable cuisine prepared by renowned chefs, all within easy reach from your accommodation. And when it's time to explore Colombo's rich cultural heritage and vibrant markets, rest assured knowing that these hotels are conveniently located near popular attractions.
Get ready for an unforgettable experience combining luxury accommodation with thrilling games on first-class tennis courts. Join us as we delve into each exceptional hotel option available for tennis enthusiasts visiting Colombo – where sport meets indulgence!
Best Colombo Hotels with Tennis
Hilton Colombo Residence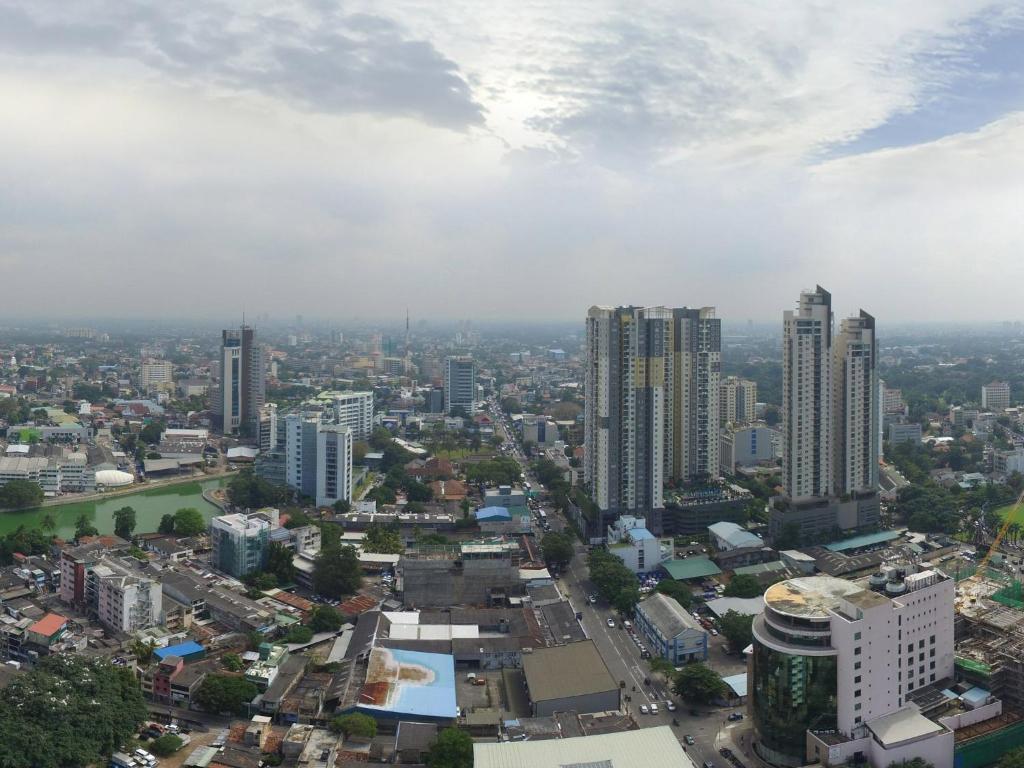 Hilton Colombo Residence is a luxurious apartment hotel located in the heart of Colombo city. It offers stunning panoramic views of the city, harbor, or Indian Ocean from its rooms and suites. The hotel boasts a range of amenities including an outdoor pool, fitness center, squash court, and tennis court. Guests can enjoy state-of-the-art gym facilities or relax at the sauna and hot tub. The spacious suites feature comfortable lounge areas with 40-inch LED Televisions and BlueRay players, as well as modern amenities like washing machines and ironing facilities. The hotel also provides ample meeting and banquet venues for special events. Dining options include FLOW, a newly-built multi-cuisine restaurant offering cuisines from around the world, as well as the BASICO Bar & Lounge for light refreshments. Additionally, guests can take advantage of 24-hour in-room dining service. With its convenient location just a 30-minute drive from Colombo International Airport, Hilton Colombo Residence is ideal for business travelers, leisure seekers or families looking to explore the vibrant city of Colombo.
– Stunning panoramic views
– Outdoor pool and fitness center
– Squash court and tennis court
– Spacious suites with modern amenities
– Convenient location near Colombo International Airport
Cinnamon Grand Colombo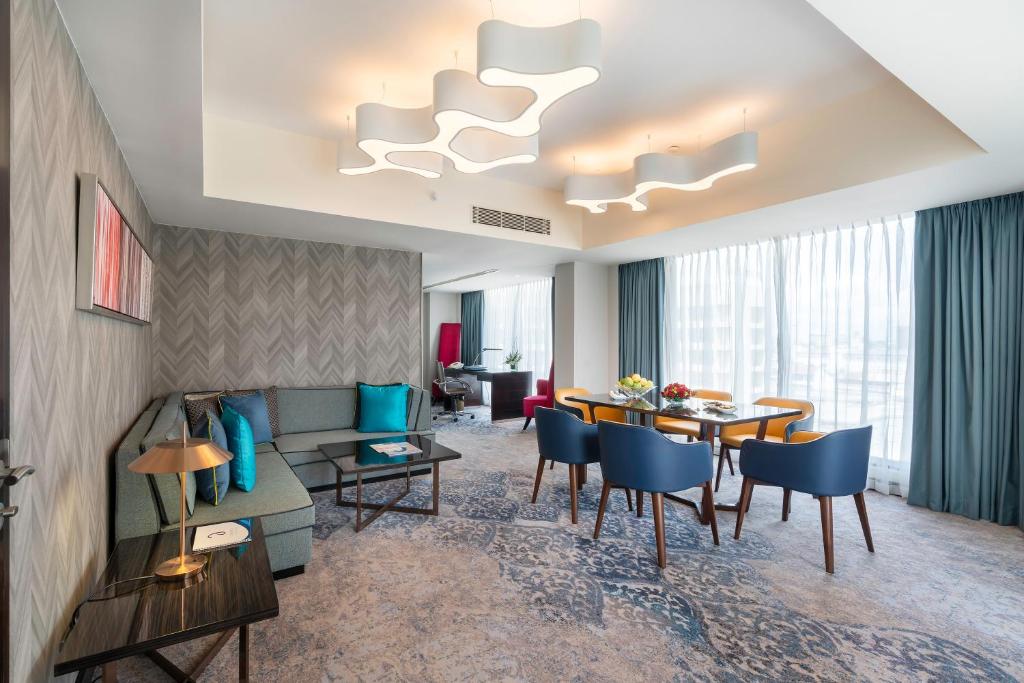 Cinnamon Grand Colombo is a luxurious 5-star city hotel located in the center of Colombo, making it the perfect base for exploring the tourist and commercial hubs of the city. With its convenient location near landmarks such as the World Trade Centre, National Museum, and iconic temples, guests can easily immerse themselves in the vibrant culture of Sri Lanka's capital. The hotel offers a variety of accommodations including rooms and suites, ensuring a comfortable stay for every traveler. Guests can indulge in relaxation at the award-winning spa or take a dip in one of the two outdoor swimming pools. Fitness enthusiasts will appreciate the well-equipped fitness center. Food lovers have plenty to choose from with 14 dining options on-site, including "Lagoon," which is renowned as the best seafood restaurant in Colombo. Complimentary Wi-Fi is available throughout the property, keeping guests connected during their stay. For added convenience, amenities such as pillow menus, turn-down service, breakfast in bed options, in-room safes, and tea & coffee facilities are provided in each room. For those looking to shop till they drop, Crestcat Boulevard shopping complex is attached to the hotel for easy access to retail therapy. Some notable dining choices at Cinnamon Grand include Plates (a buffet and all-day à la carte dining restaurant), The Lagoon (ranked as one of the top seafood restaurants in town), The London Grill (for an exquisite European fine dining experience), The Echo (which specializes in Italian cuisine), Chutney's (serving authentic South Indian fare), Tao (offering contemporary Chinese cuisine), Nuga-Gama (providing an authentic Sri Lankan dining experience with unique ambient settings) and Tea Lounge – Have a Break.
Pros:
– Convenient location near major attractions
– Luxurious accommodations including rooms and suites
– Award-winning spa for relaxation
– Two outdoor swimming pools for leisurely dips
– Wide range of dining options catering to different tastes and cuisines
Unique Towers Luxury Boutique Suites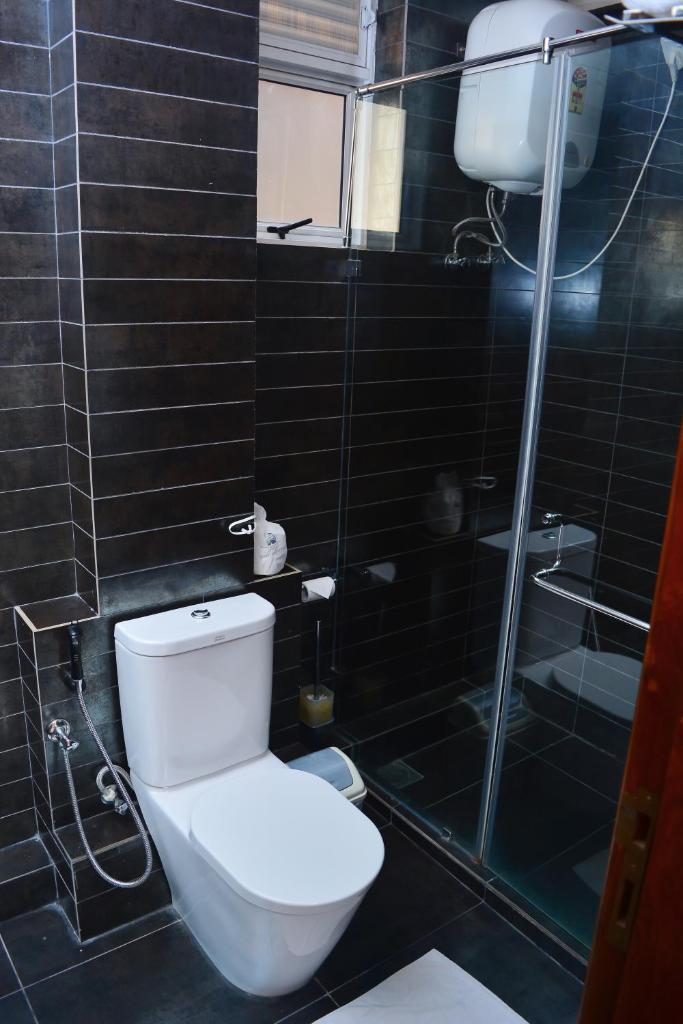 Located in the heart of Colombo City, Unique Towers Luxury Boutique Suites is an apartment-style hotel that offers air-conditioned accommodation with a well-equipped kitchenette. The property features free WiFi and free parking, making it convenient for guests who want to stay connected and have their own transportation. The hotel's prime location allows guests to easily access nearby attractions such as Arpico Supermarket and Odel Shopping Mall, which are just a short walk away. Each suite is fully furnished and includes a sofa seating area and dining area, providing guests with ample space to relax and enjoy their stay. Other amenities include a flat-screen TV and washing machine for added convenience. The hotel also offers services such as newspapers, luggage storage, laundry, and ironing to ensure that guests have everything they need during their stay. With the Main Fort Railway Station, Galle Face Greens, and Pettah commercial market all within a 10-minute drive, Unique Towers Luxury Boutique Suites is the perfect choice for travelers looking to explore the city.
– Convenient location in the heart of Colombo City
– Well-equipped kitchenettes in each suite
– Free WiFi and parking available
– Accessible to nearby supermarkets and shopping malls
– Additional services such as laundry and luggage storage provided
Other places to stay in Colombo
Luxury Hotels With Tennis Courts In Colombo
Colombo, the bustling capital city of Sri Lanka, is home to a number of luxury hotels that offer an added perk for tennis enthusiasts – on-site tennis courts. These hotels provide guests with the opportunity to enjoy a game of tennis while indulging in world-class amenities and services. Whether you are a beginner or a seasoned player, these luxury hotels cater to all skill levels, ensuring that your stay is filled with leisurely activities and moments of friendly competition on the court. With well-maintained facilities and breathtaking surroundings, these hotels guarantee an unforgettable experience for both sports enthusiasts and those looking to unwind in style.
Hilton Colombo Hotel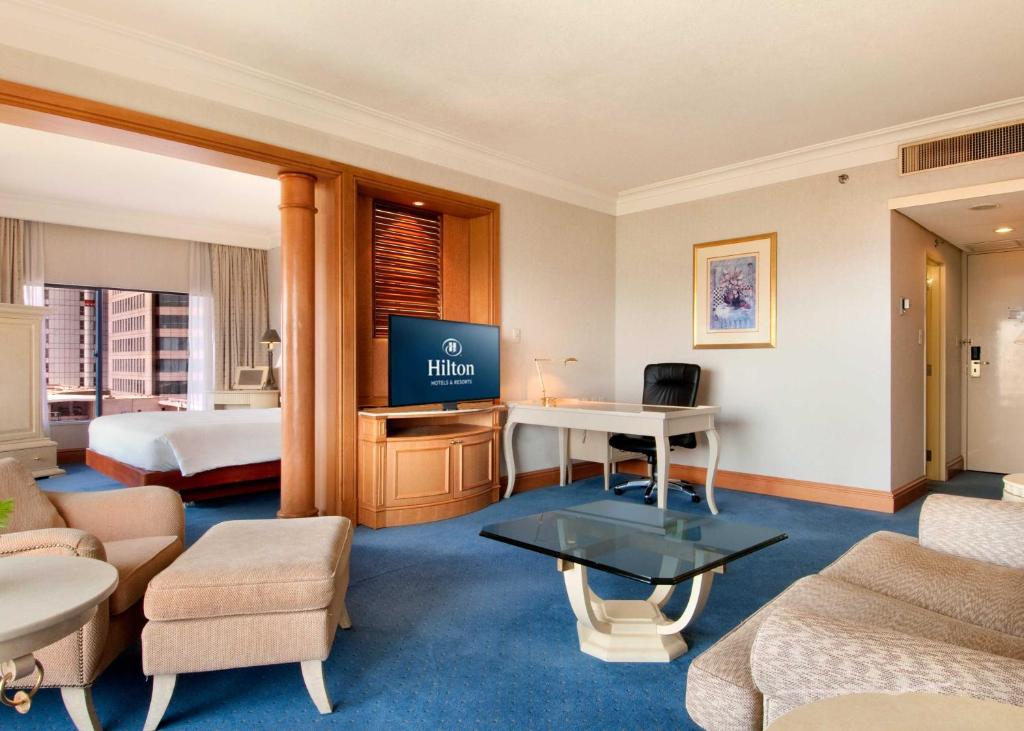 Located in Colombo and overlooking the Indian Ocean and Beira Lake, Hilton Colombo Hotel is a luxury hotel that offers direct access to Colombo's World Trade Centre. The hotel boasts an outdoor pool for guests to enjoy, as well as a 24-hour business centre and 10 dining outlets. Guests can relax with delicious cocktails by the poolside bar or indulge in gourmet Cantonese and Szechuan flavors at the Signature Chinese restaurant, Emperor's Wok. The hotel also features SunsetBlu, which is Colombo's first all-day club situated by the poolside. The spacious rooms at Hilton Colombo offer stunning views from oversized windows and come with ample workspace and a comfortable sofa. Guests can unwind in the marble bathroom with separate shower and bath areas or enjoy a soak in the hot tub after a workout at the fitness centre or tennis courts. With its convenient location just a 45-minute drive from Bandaranaike International Airport, Hilton Colombo Hotel is within walking distance of top shopping and dining destinations such as Fort District and Pettah Bazaar.
Pros:
– Luxury hotel with beautiful views of the Indian Ocean and Beira Lake
– Direct access to Colombo's World Trade Centre
– Outdoor pool for guests to relax by
– 10 dining outlets offering various cuisines
– Convenient location near popular shopping and dining areas
Palmyrah Residencies
Palmyrah Residencies is an apartment hotel conveniently located just a 2-minute walk from Kollupitiya Beach. Guests can choose between private rooms or spacious 3-bedroom apartments, all of which come with free Wi-Fi, fully equipped kitchen, living room, and private balcony. The air-conditioned apartments are simply furnished and feature amenities such as a cable TV, microwave, and stove. Some units offer stunning sea views from higher floors. The hotel provides 24-hour security, a tour desk, and airport shuttles at an additional cost. Personal drivers and cars can also be arranged for guests' convenience. Parking is available free of charge.
– Excellent location near the beach
– Spacious apartments with fully equipped kitchens
– Free Wi-Fi throughout the property
– Access to a tennis court
– Close proximity to Bambalapitiya Railway Station and various restaurants
Cinnamon Lakeside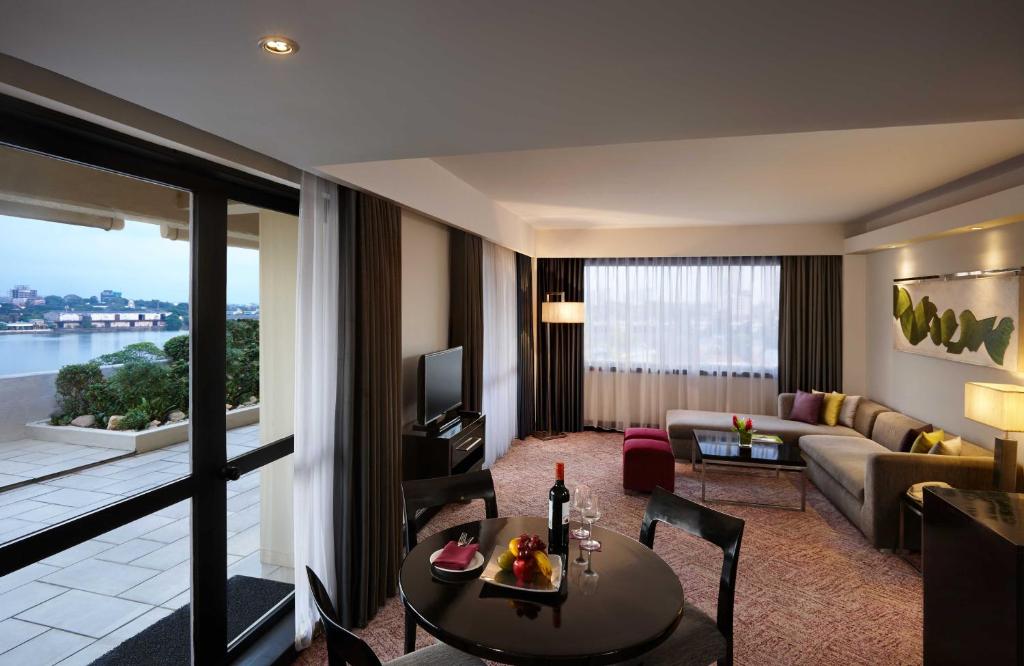 Cinnamon Lakeside is an exquisite luxury hotel situated along the picturesque banks of Beira Lake in Colombo. With its prime location just a 10-minute drive from Crescat Boulevard shopping mall, this hotel offers the perfect blend of convenience and tranquility. Boasting 9 dining options, including Thai and Japanese restaurants, guests are spoiled for choice when it comes to culinary experiences. The hotel features a full-service health club with state-of-the-art facilities, as well as an outdoor pool where guests can take a refreshing dip. Sports enthusiasts will be delighted to find tennis and squash courts on-site, along with a well-equipped gym. For those seeking relaxation, The Library provides an exclusive lounge during the day which transforms into a vibrant club at night. The stylish rooms at Cinnamon Lakeside offer modern amenities such as flat-screen TVs, safety deposit boxes, and tea/coffee-making facilities. Each room has a luxurious marble bathroom and some even come with executive privileges, separate living areas, and balconies overlooking the breathtaking surroundings. With its impeccable service and breathtaking views of Beira Lake, Cinnamon Lakeside is truly a haven for travelers seeking both comfort and elegance.
– Luxury hotel with stunning lakeside views
– Wide variety of dining options
– Full-service health club with top-notch facilities
– Outdoor pool for ultimate relaxation
– Conveniently located near shopping malls and attractions
Colombo Hotels with Tennis Court Main Information
| | |
| --- | --- |
| 🛏️ Hotels with Tennis Court in Colombo | 6 |
| 💵 Hotels Prices From | $68 |
| 💰 Average price | 737 |
| ⭐ Number of Hotels Reviews | 920 |
FAQ
Q1: Are there any hotels in Colombo with tennis courts?
Yes, several hotels in Colombo offer tennis courts for their guests. These hotels understand the importance of providing recreational activities for their visitors and have included tennis facilities as part of their amenities. Whether you are a beginner or an experienced player, you can enjoy a game of tennis while staying in Colombo.
Q2: Can I book a hotel room with access to a tennis court in advance?
Yes, it is possible to book a hotel room with access to a tennis court in advance. Many hotels allow guests to make reservations online or through travel agents, giving them the option to select rooms that provide convenient access to the on-site tennis courts. By planning ahead and making your booking early, you can ensure that you have the opportunity to enjoy this facility during your stay.
Q3: Do these hotels provide equipment like rackets and balls for playing tennis?
Most hotels that offer tennis courts also provide complimentary equipment such as rackets and balls for their guests. This allows travelers who may not have brought their own gear to still be able to enjoy playing tennis during their stay. However, it is always recommended to check with the specific hotel beforehand regarding the availability and condition of the equipment they offer.
Q4: Is there an additional cost associated with using the tennis courts at these hotels?
While some hotels may include complimentary use of the on-site tennis courts as part of their overall accommodation package, others might charge an additional fee for usage. It is important to inquire about any potential charges before booking your stay if you are specifically interested in utilizing this amenity. This way, you can budget accordingly and avoid any surprises upon arrival.
Q5: Are there any professional coaches available at these hotels' tennis facilities?
Yes, some hotels in Colombo have professional coaches available at their on-site tennis facilities. These coaches can help improve your tennis skills or provide lessons for beginners. If you are interested in receiving professional instruction, it is advisable to inquire with the hotel about the availability, cost, and scheduling of coaching sessions when making your reservation.
Popular Hotels with Tennis destinations