Welcome to this enchanting destination in Lara, Turkey, where luxurious accommodation seamlessly merges with the love for tennis. If you are an avid player or simply enjoy the sport, you'll be delighted to discover a range of hotels that offer top-notch facilities for your enjoyment. With their state-of-the-art tennis courts and exquisite amenities, these hotels provide the perfect setting for a memorable vacation filled with both relaxation and active pursuits.
Nestled amidst breathtaking landscapes and bathed in warm Mediterranean sunshine, these hotels beckon guests to indulge in their passion for tennis while surrounded by stunning natural beauty. Whether you're a beginner looking to improve your skills or a seasoned player seeking challenging matches, there is something for everyone here. The well-maintained tennis courts provide the ideal backdrop for friendly games or intense tournaments, offering an exhilarating experience that is bound to satisfy even the most discerning sports enthusiasts.
In addition to world-class tennis facilities, these hotels boast a wealth of amenities designed to cater to every need and desire. From luxurious spas where you can unwind after an intense match, to delectable dining options that tantalize your taste buds, everything has been carefully curated for an unforgettable stay. So whether you're traveling solo or with loved ones, prepare yourself for an extraordinary retreat filled with elegance, excitement, and plenty of opportunities to showcase your skills on the court.
Best Lara Hotels with Tennis
Adalya Elite Lara Hotel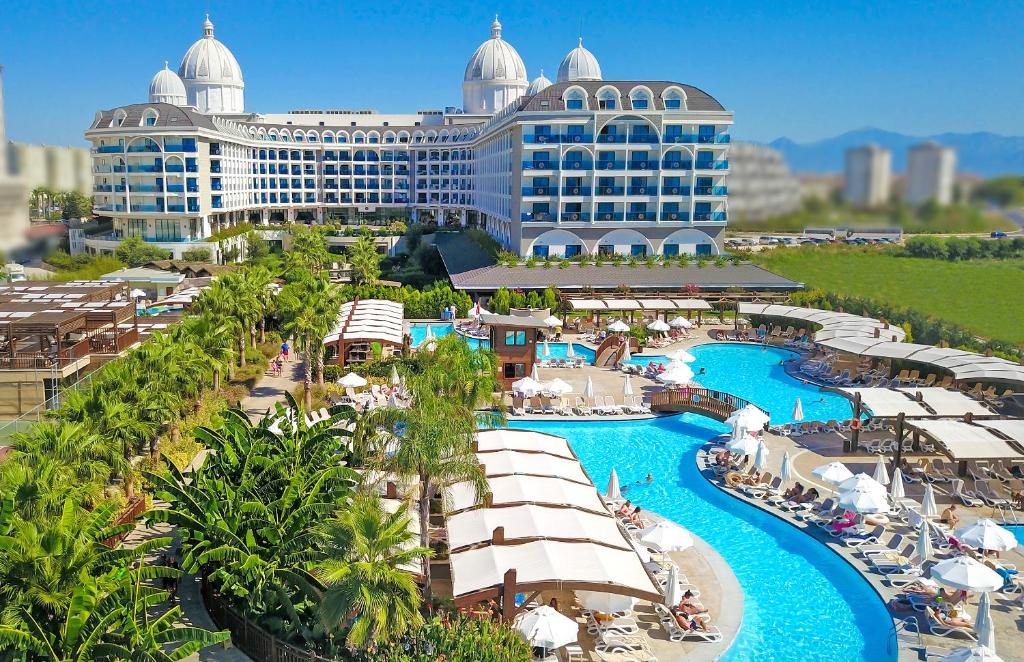 The Adalya Elite Lara Hotel is a luxurious hotel located in Antalya, offering free WiFi and an all-inclusive experience. Guests can enjoy the hotel's garden, outdoor pool, and private beach area. The hotel boasts à la carte restaurants serving international and local cuisines, as well as free private parking. The modernly decorated rooms feature flat-screen TVs and marble bathrooms. The property includes a 24-hour front desk, hairdresser's, gift shop, and spa centre for ultimate relaxation. Water sports facilities are also available for guests to enjoy. Daily buffet-style breakfast, lunch, and dinner are served at the hotel's restaurants. Various bars offer a variety of drinks to choose from. Car hire is available for convenience. The nearest airport is Antalya Airport, which is 15 km away.
– Luxury hotel with modern decor
– All-inclusive experience with meals included
– Private beach area for guests to relax on
– Spa center for ultimate relaxation
– Water sports facilities available for adventure enthusiasts
Liberty Hotels Lara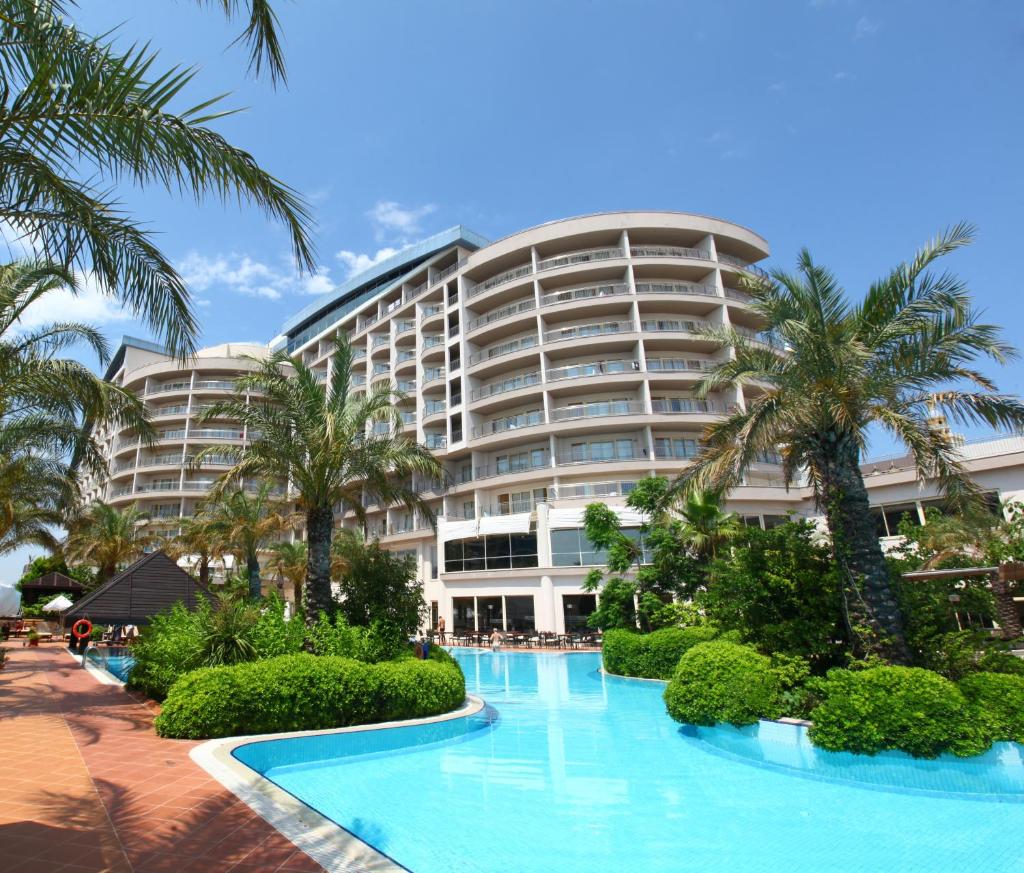 Situated on the beautiful Mediterranean Sea, Liberty Hotels Lara is a resort with an impressive outdoor pool and a private beach. The resort features bright and comfortable rooms equipped with air conditioning, satellite TV, and free WiFi. Guests can indulge in world cuisine at the main restaurant or enjoy dining by the poolside. For families, there are plenty of activities available such as a shallow pool for children, water slides, and a kids club. Additionally, Liberty Hotels Lara offers two tennis courts with breathtaking sea views, a fully equipped fitness center, and a beach volleyball court for those wanting to stay active during their vacation. To unwind and relax, guests can visit the spa which includes amenities like a Finnish sauna, mosaic hammam, and various massage therapies. For adults seeking tranquility away from the bustling crowd, there is also a dedicated corner of the outdoor pool for reading and relaxation. With its convenient location just 14.7 km from Antalya Airport, Liberty Hotels Lara provides everything needed for an enjoyable seaside getaway.
– Expansive outdoor pool area with water slides
– Private beach on the Mediterranean Sea
– Multiple dining options including world cuisine and custom-made pizzas
– Activities for children such as shallow pool and kids club
– Spa facilities including Finnish sauna and hammam
IC Hotels Residence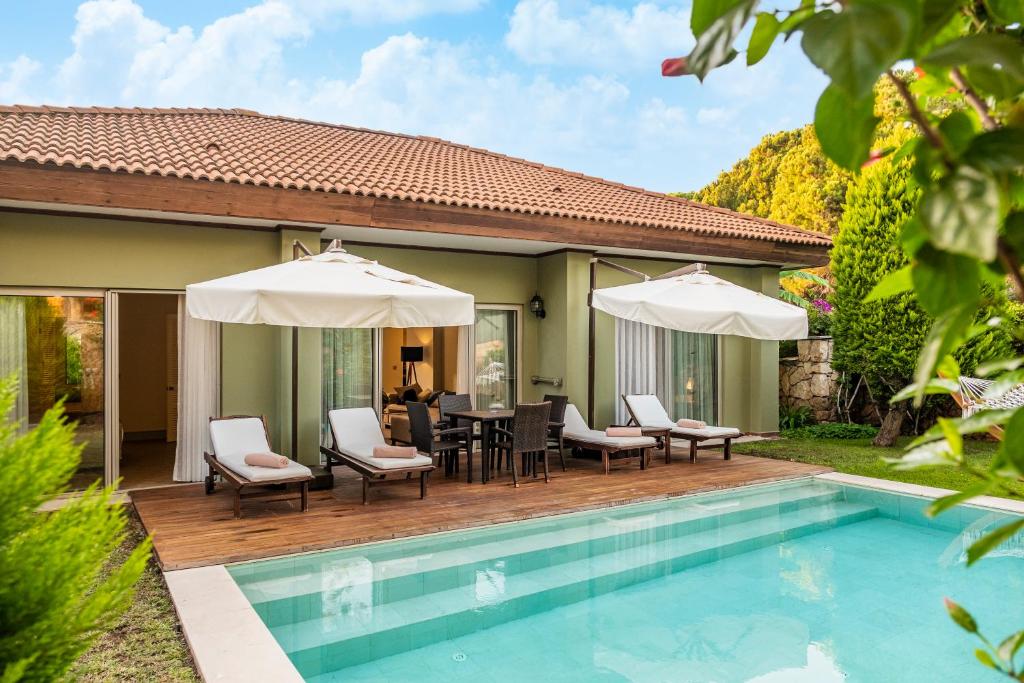 IC Hotels Residence is a luxurious resort that takes pride in its high-end all-inclusive approach. Situated amidst an extensive garden setting, the hotel offers a serene atmosphere with a private beach and a sprawling outdoor pool spanning over 4000m². This oasis of peace and calm provides guests with a range of activities for relaxation and recreation. The spa at IC Hotel Residence is designed with an oriental appeal, offering indulgent services such as Thai massages, mud baths, and various skin treatments. For those seeking adventure, the hotel also offers exhilarating activities like parachuting and jet skiing. With its diverse offerings and stunning location, IC Hotels Residence promises an unforgettable getaway.
Pros:
– High-end all-inclusive approach
– Extensive garden setting
– Private beach access
– Outdoor pool spanning over 4000m²
– Diverse range of relaxing and recreational activities available
Other places to stay in Lara
Luxury Hotels With Tennis Courts In Lara
Lara, a vibrant city known for its breathtaking beaches and luxurious accommodations, is a haven for travelers seeking both relaxation and active pursuits. For those who are passionate about tennis, there is no shortage of options when it comes to luxury hotels with top-notch tennis courts in Lara. These hotels provide the perfect blend of elegance and sport, allowing guests to indulge in their love for the game while enjoying the opulent amenities and services that come with staying at a high-end establishment. Whether you're an avid player or simply looking to challenge yourself on the court during your stay, these luxury hotels with tennis courts in Lara offer a truly exceptional experience for tennis enthusiasts.
Lara Barut Collection-Ultra All Inclusive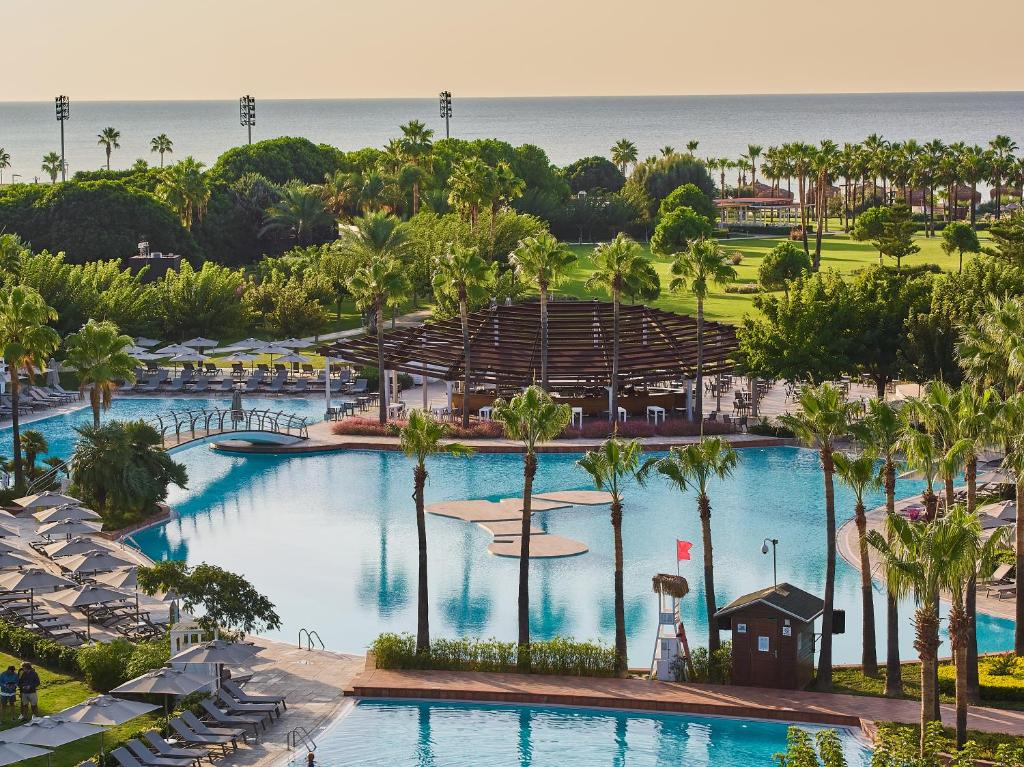 Located on the beachfront in Antalya, Lara Barut Collection-Ultra All Inclusive is a luxurious hotel offering a range of amenities and facilities. The hotel features 8 à la carte restaurants, a spa with Turkish bath, and indoor and outdoor pools with water slides. Guests can unwind at the Tuva Eurasian Spa & Thalasso Center, which offers spa facilities, saunas, and a beauty center. The hotel also has adults-only beaches for those seeking relaxation. The spacious rooms at Lara Barut Collection include large balconies with tables and chairs, as well as seating areas equipped with LCD TVs and minibars. To ensure maximum comfort for guests, the hotel provides a turn-down service. For those looking to stay active during their stay, there are tennis and squash courts, a gym, mini golf course, and water sports center available. Dining options include rich international and local cuisine served both indoors and al fresco at the various restaurants on-site. Special dietary menus including vegan, lactose-free, and gluten-free options are also available. Guests can indulge in sweet delicacies at the patisserie or enjoy drinks at one of the five bars on-site. Entertainment shows organized by the animation team provide evening entertainment while live music can be enjoyed at the hotel's nightclub.
– Beachfront location
– Multiple à la carte restaurants
– Spa facilities including Turkish bath
– Indoor and outdoor pools with water slides
– Tennis courts for active guests
Concorde De Luxe Resort – Ultra All Inclusive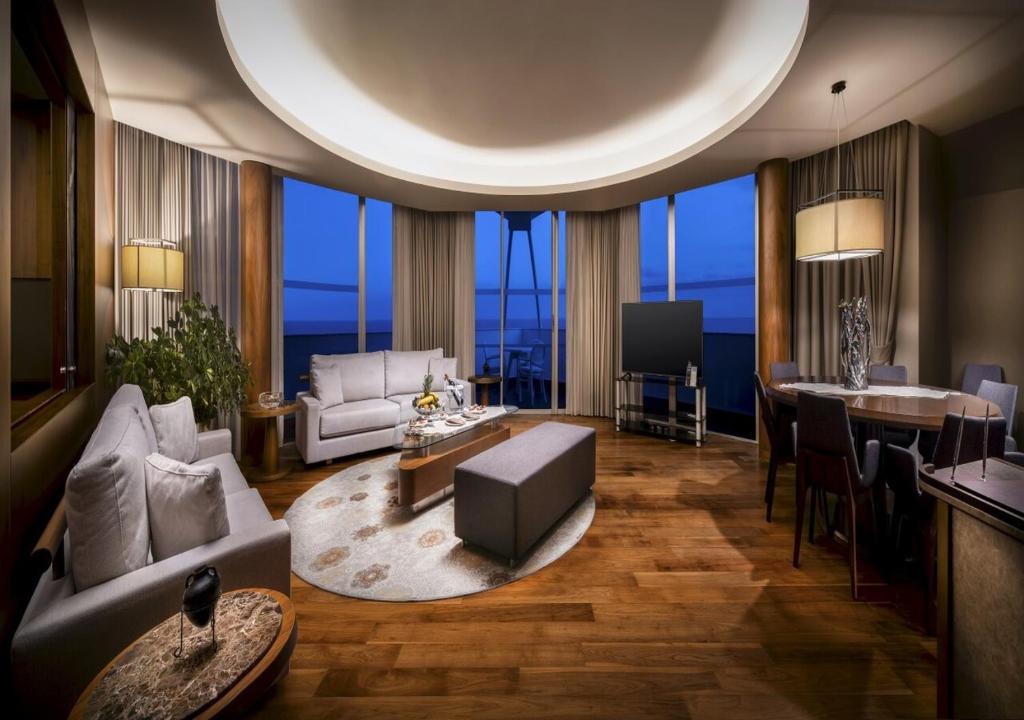 Located on Lara Beach, the Concorde De Luxe Resort – Ultra All Inclusive is a stunning resort that offers a luxurious experience. The resort features a beautifully landscaped pool area with palm trees and exciting waterslides, providing guests with endless fun and relaxation. The air-conditioned guestrooms are spacious and offer balconies with panoramic views of the Mediterranean Sea. For those looking to unwind, the resort's spa offers a range of massages and body treatments. With seven restaurants and bars on-site, guests can indulge in a variety of international cuisines. From Italian dishes at Da Vinci to mouthwatering steaks at the steakhouse, there is something for every palate. Additionally, the resort has a beach bar with sun loungers overlooking the sea, ideal for enjoying refreshing drinks under the sun. Sports enthusiasts can take advantage of the flood-lit tennis court or spend time in the indoor pool and games room that features a bowling alley and billiards table. For convenience, there is 24-hour front desk service and free public parking available on-site. Overall, this hotel offers an exceptional all-inclusive experience combined with top-notch amenities.
– Elegant landscaped pool area with palm trees
– Panoramic views of the Mediterranean Sea from balconies
– Spa offering massages and body treatments
– Variety of restaurants serving different cuisines
– Tennis court for sports enthusiasts
Delphin Imperial Lara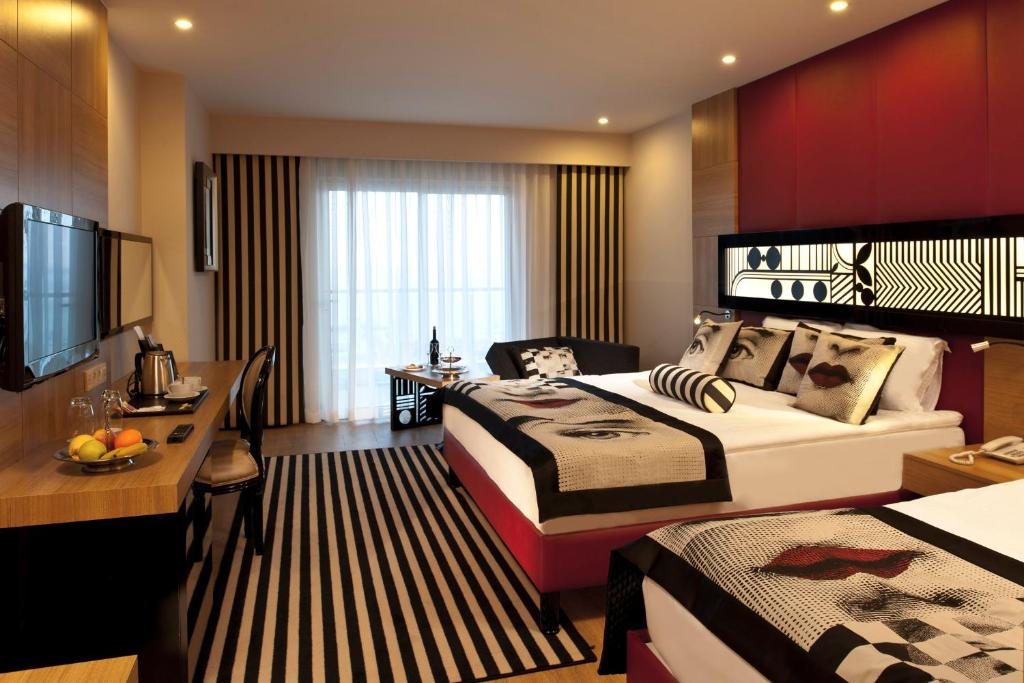 Located on the picturesque Mediterranean coast with a private beach, the Delphin Imperial Lara offers a stunning seafront setting and luxurious accommodations. The hotel boasts unique architecture and stylish interiors, with chic rooms decorated in contemporary design. Each room includes air conditioning, an LCD TV with satellite channels, and some even offer breathtaking views of the sea. Guests can enjoy a range of amenities including outdoor pools, a spa center with Turkish bath for relaxation, and massages are available upon request. The hotel also features a tennis court for sports enthusiasts. Dining options include an open buffet serving breakfast, lunch, and dinner in the main restaurant, as well as Fusion Restaurant offering international cuisine and DaVinci Restaurant providing high-quality wines. For those looking to stay active, there is a well-equipped fitness center where guests can work out before unwinding in the sauna. Delphin Imperial Lara is conveniently located just 15 km from Antalya city center and only a 20-minute drive away from Antalya Airport.
Pros:
– Private beachfront location
– Unique architecture and luxurious interiors
– Outdoor pools and spa center for relaxation
– Tennis court for sports enthusiasts
– Conveniently located near Antalya city center and airport
Best Lara Hotels With Tennis Courts
Lara, a stunning destination known for its beautiful beaches and luxurious resorts, offers an array of incredible hotels with top-notch tennis facilities. Whether you're a professional player or an enthusiastic beginner, these hotels cater to all levels of expertise. With well-maintained courts and state-of-the-art equipment, guests can indulge in exhilarating matches while enjoying the warm Mediterranean climate. The serene surroundings coupled with the availability of expert trainers make Lara an ideal destination for tennis enthusiasts seeking both relaxation and sporting adventure.
Delphin Palace Hotel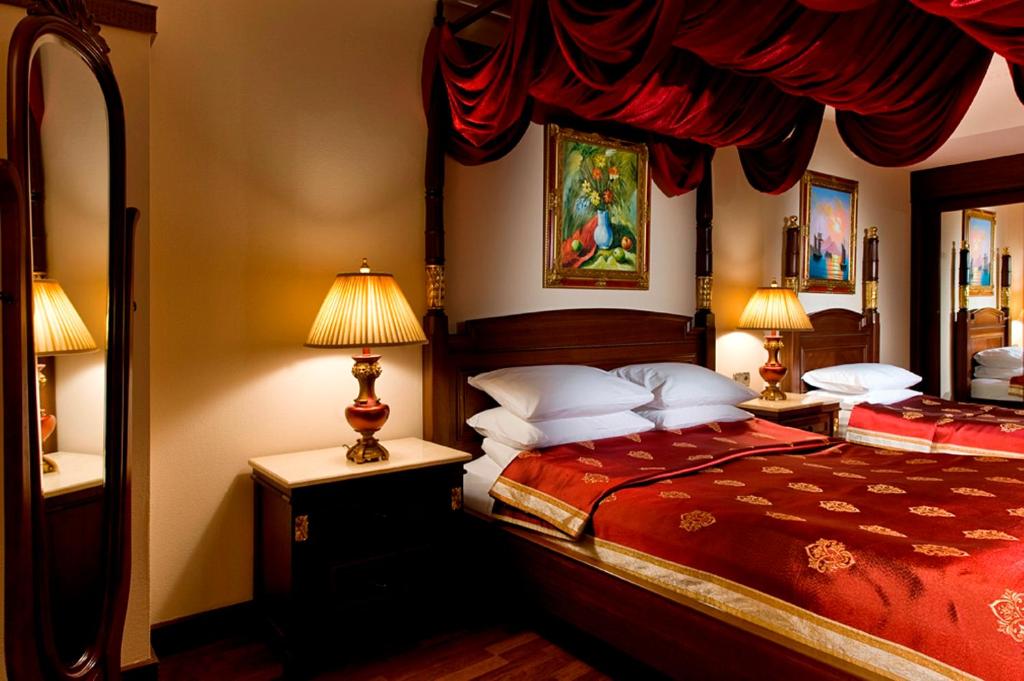 The beachfront Delphin Palace Hotel is a luxurious 5-star hotel located on the Mediterranean Sea in Antalya. The hotel offers spacious rooms with free Wi-Fi, featuring dark wood furniture and Turkish décor accents. Each room has a private outdoor balcony, some offering side sea views. Guests can enjoy a large lagoon-style swimming pool, as well as various daytime activities and evening entertainment options. The wellness centre includes a full-service spa and a well-equipped fitness centre. Delphino Restaurant serves international cuisine including Ottoman, Italian, Japanese, and fresh seafood dishes, while cocktails are available at the Lobby Bar 24/7. Evening entertainment includes live music, a disco, and comedy shows. During the day guests can enjoy waterslides or participate in on-site sports tournaments. Additional amenities include a cinema, children's club, and seafront sun loungers.
Pros:
– Beachfront location with stunning views of the Mediterranean Sea
– Spacious rooms with beautiful Turkish decor
– Variety of dining options including international cuisine and fresh seafood
– Large lagoon-style swimming pool for relaxation and fun
– Extensive daytime activities and evening entertainment to keep guests entertained throughout their stay
IC Hotels Green Palace – Kids Concept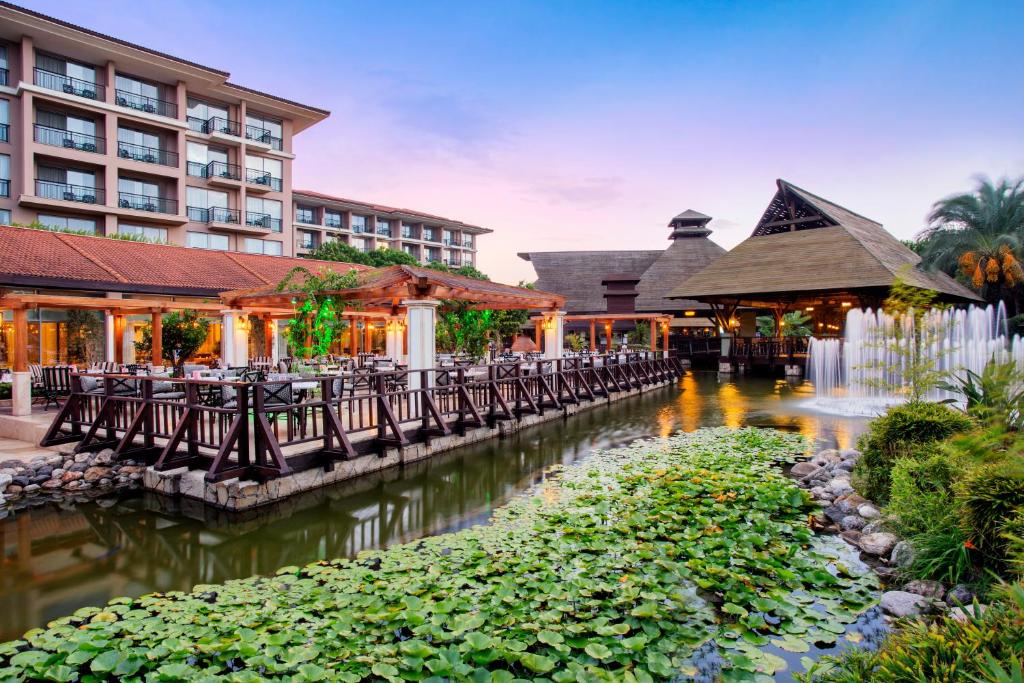 IC Hotels Green Palace – Kids Concept is a resort that offers a wide range of facilities designed especially for kids. With both indoor and outdoor pools, this hotel ensures that children of all ages can have a great time during their stay. The mini club at IC Hotels Green Palace features a 200 m² spray painting activity area, a kids activity pool spread over 380 m², 2 cinema rooms, a video gaming room, and even a pizza cooking area. In addition to the mini club, there is also a teenage club with video game area, DJ desk, and seating area. For the little ones, there is a baby pool measuring 120 m² and a baby care room available. Guests can enjoy refreshing drinks from the 3 poolside bars or visit the vitamin and disco bar for some evening entertainment. The mini club offers various activities like soft play areas, toy blocks, face painting facilities to keep children entertained throughout their stay. Other exclusive features include photography activities, kids ferris wheel, chair swing ride and sandpit in IC Hotel Green Palace's mini club. Adults can have fun too with the hotel's aquapark which boasts 7 different slides including racing slides such as super bowl and bomerango as well as twisters, black hole slide types among others. When it comes to dining options at this hotel you'll be spoilt for choice with six à la carte restaurants offering Japanese cuisine,Turkish specialties,and seafood dishes along with two pastry outlets serving treats throughout the day.
– Extensive indoor and outdoor pools
– Special facilities tailored for kids
– Mini Club with various activities
– Aquapark with multiple adult slides
– Variety of dining options
Nirvana Cosmopolitan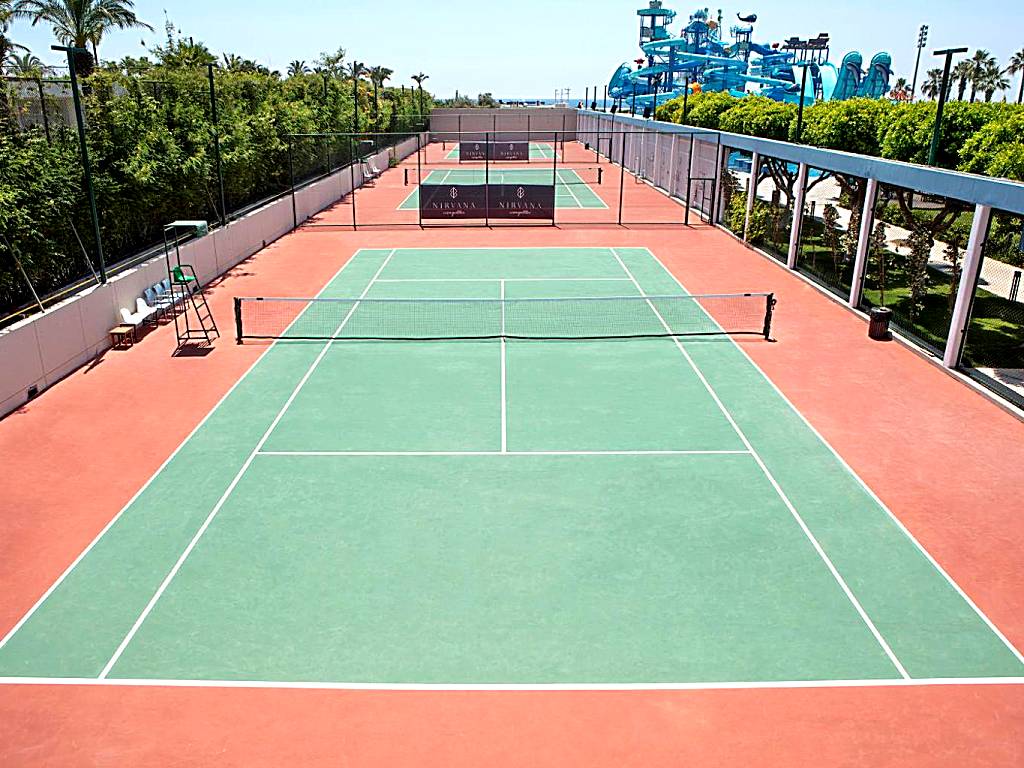 Nirvana Cosmopolitan is a stunning beach resort located in Antalya, Turkey. This U-shaped resort showcases sophisticated, minimalist design and offers breathtaking views of the Mediterranean Sea and its private 27-acre beach. The hotel features sports courts for football, tennis, and mini golf, ensuring guests have plenty of options for staying active. The rooms at Nirvana Cosmopolitan boast ultra-modern decoration with ambient lighting, leather armchairs, and satellite flat-screen TVs. The minibar is also refilled daily for added convenience. Guests can enjoy the hotel's own pier that extends into the sea or relax at the sheltered beachfront bar on lounge sofas with a refreshing drink. For ultimate relaxation, the full-service spa is equipped with a hot tub, sauna, and hammam. Dining options include Mediterranean, Latin, Oriental restaurants as well as a buffet-style venue to cater to different tastes. Other amenities offered by this resort include free on-site parking and access to a tennis court.
– Spectacular views of the Mediterranean Sea
– Private beach measuring 27 acres
– Wide range of sports facilities including tennis courts
– Ultra-modern rooms with stylish decor
– Full-service spa with hot tub and sauna
Spa Hotels With Tennis Courts In Lara
Lara, a vibrant destination known for its beautiful beaches and stunning landscapes, offers an array of luxurious spa hotels with tennis courts. These idyllic retreats provide the perfect blend of relaxation and activity, allowing guests to unwind in world-class spa facilities while also enjoying their favorite sport on well-maintained tennis courts. Whether it's a refreshing swim in the pool, indulging in rejuvenating spa treatments or engaging in a friendly game of tennis amidst picturesque surroundings, visitors to these spa hotels are sure to have an unforgettable experience that combines wellness and active pursuits.
Kremlin Palace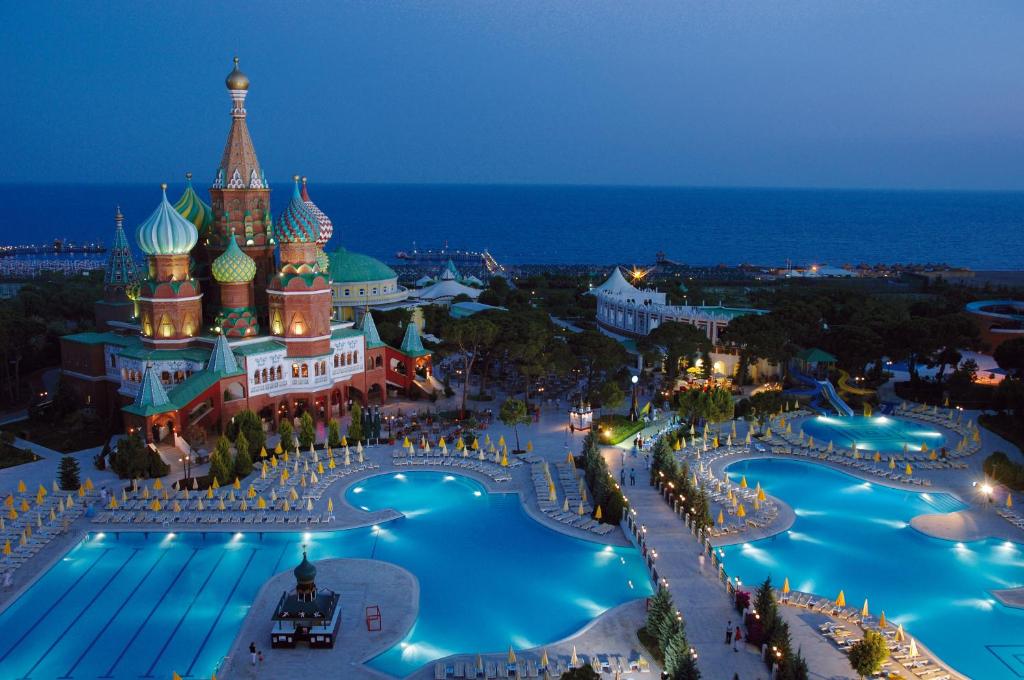 Inspired by the original palace in Russia, Kremlin Palace offers guests the opportunity to explore the opulent world of the Russian Czars. Situated on a private beach with an array of pools, this 5-star resort is perfect for water sports enthusiasts. Indulge in ultimate relaxation at the spa center, offering various treatments such as reflexology and seaweed therapy. With 6 á la carte restaurants and 7 bars, guests can experience a diverse culinary journey. The hotel caters to families with special children's entertainment options. Additionally, guests can enjoy amenities such as a sauna, Turkish bath, and a semi-Olympic heated indoor pool. Adventure seekers will love the aqua-parks featuring slides for both kids and adults, as well as activities like dancing courses and archery. Located just 12 km from Antalya Airport and 21 km from downtown Antalya, Kremlin Palace provides convenience along with its luxurious offerings.
– Private beach access
– Extensive pool options
– Spa center with various treatments available
– Multiple dining venues to choose from
– Special children's entertainment
Lara Hotels with Tennis Court Main Information
| | |
| --- | --- |
| 🛏️ Hotels with Tennis Court in Lara | 10 |
| 💵 Hotels Prices From | $212 |
| 💰 Average price | 562 |
| ⭐ Number of Hotels Reviews | 932 |
FAQ
Can you recommend any hotels with tennis court in Lara, Turkey?
Yes, there are several hotels in Lara that offer tennis court facilities. Some popular options include Hotel Delphin Diva Premiere, Royal Wings Hotel, and Titanic Beach Lara Resort. These hotels provide well-maintained tennis courts where guests can enjoy a game or two during their stay.
Are the tennis courts at the hotels in Lara free for guests to use?
In most cases, the use of tennis courts at the hotels in Lara is complimentary for guests. However, it is always best to check with the specific hotel as some may charge a fee for equipment rental or for booking a court during peak hours. It is also worth noting that availability may vary depending on factors such as weather conditions and ongoing maintenance.
Do I need to bring my own tennis equipment when staying at a hotel with a tennis court in Lara?
While some hotels provide complimentary equipment such as racquets and balls, it is recommended to bring your own if you have specific preferences or if you are planning on playing frequently during your stay. Contacting the hotel beforehand will help clarify whether they offer equipment rentals and what their policy regarding this matter is.
Can beginners play on the tennis courts at these hotels in Lara?
Absolutely! The tennis courts at the hotels in Lara cater to players of all skill levels, including beginners. Whether you're new to the sport or looking to improve your skills, you'll find that these hotels provide an inclusive atmosphere where everyone can enjoy playing regardless of their proficiency level.
Is it necessary to make advance reservations for using the tennis courts at these Hotels in Lara?
While advanced reservations are not always required, particularly during non-peak seasons when there's usually ample availability on the hotel's tennis courts,having said that ,it's always advisable especially if you have specific timing preferences or if you're visiting during busy periods like holidays or weekends,to contact the hotel in advance to secure your preferred playing times and ensure a court is available for you.
Popular Hotels with Tennis Court destinations