Welcome to Locarno, Switzerland, a stunning destination nestled in the heart of the Swiss Alps. If you are a tennis enthusiast searching for the perfect getaway that combines luxurious accommodations with an opportunity to indulge in your favorite sport, then look no further than Locarno and its magnificent hotels with tennis courts. This picturesque city offers not only breathtaking views of the surrounding mountains and sparkling blue lakes but also a wide range of world-class hotels that cater to avid tennis players.
Imagine waking up to the crisp mountain air as you step onto your hotel's balcony overlooking a pristine tennis court, just waiting for you to enjoy a friendly match or two. Whether you are a seasoned player or simply enjoy hitting some balls on vacation, these hotels provide top-notch facilities designed to meet your every need. From well-maintained clay courts that offer excellent grip and bounce to high-quality synthetic grass surfaces that mimic the feel of playing on real grass, Locarno's hotels ensure an unforgettable experience on the court.
After an exhilarating game of tennis under the warm Swiss sun, cool off with a refreshing dip in your hotel's pool or unwind in their spa facilities specially tailored for post-match relaxation. Indulge in delectable cuisine offered by renowned restaurants within these establishments or explore local dining options nearby. With its charming old town full of historical landmarks and cultural attractions waiting to be discovered after you've had your fill of tennis action, Locarno truly has it all for both sports enthusiasts and discerning travelers alike.
So pack your racket and get ready for an unforgettable stay at one of Locarno's exceptional Hotels with Tennis Court – where luxury meets passion on and off the court.
Best Locarno Hotels with Tennis
Giardino Lago
Located directly on Minusio's lakeshore promenade, Giardino Lago is a stylish boutique hotel offering a unique blend of traditional and modern design. The hotel features vibrant Designers Guild fabrics that add to its cool ambiance. Guests can enjoy free Wi-Fi, access to bicycles and deckchairs, and amenities such as air conditioning, flat-screen TVs, CD and DVD players in the rooms. The Ristorante Lago boasts a large lakeside terrace where guests can indulge in modern fusion cuisine inspired by the Mediterranean, as well as Angus Beef classics. For relaxation, there is a chill-out roof lounge where guests can sip drinks or sunbathe while enjoying stunning views of Lake Maggiore. Locarno Train Station is just 2 km away and the center of Locarno can be reached within a 20-minute walk. Ascona is also easily accessible at 4 km away. Free on-site parking adds convenience for guests. Other notable feature: Guests at this property have access to a tennis court.
– Stylish boutique hotel with beautiful lakeside location
– Free Wi-Fi and complimentary use of bicycles and deckchairs
– Chic mixture of traditional and modern design
– Ristorante Lago offers delicious fusion cuisine with lake views
– Chill-out roof lounge for relaxation with panoramic vistas
Hotel Waldhaus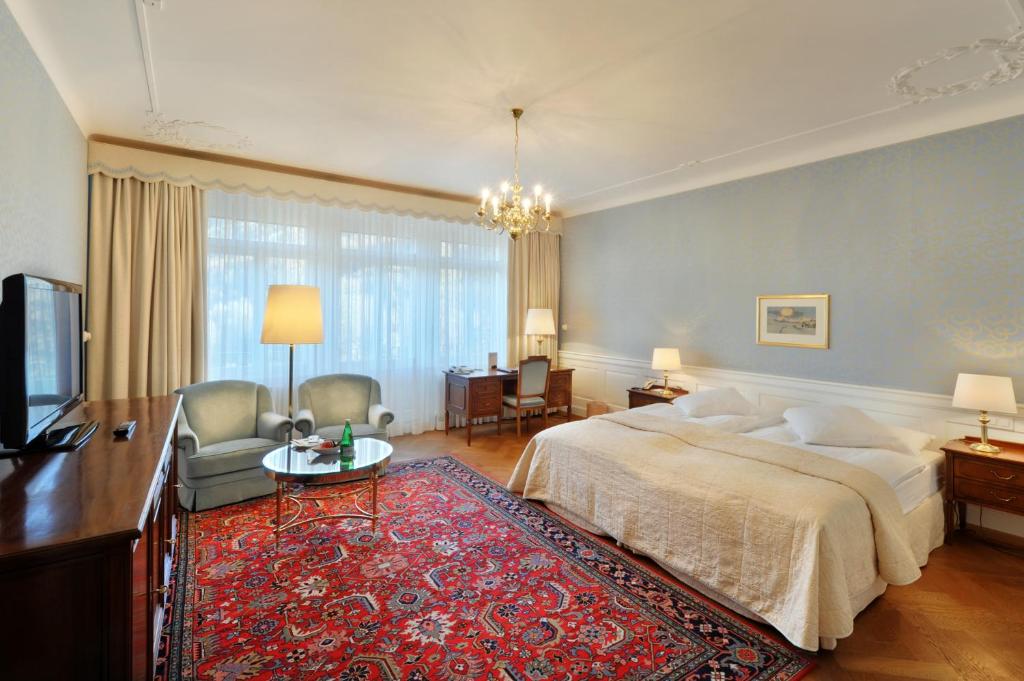 The 5-star Waldhaus Hotel in quiet Sils-Maria, only 10 km from bustling St.Moritz, proudly overlooks the village and offers splendid views and an indoor pool. Owned and managed by the same family since 1908, it combines 5-star comfort with the charm and spaciousness of an earlier era. Free internet access is provided in the rooms, and free Wi-Fi is provided in public areas. The Arvenstube restaurant serves gourmet cuisine and features a romantic terrace in the park. Guests have free use of the hotel's outdoor tennis courts and reduced fees for the indoor court. Upon arrival or departure a free transfer between the Waldhaus hotel and the St. Moritz train station is provided. Transfers between the hotel and village can be arranged upon request. In winter this service is also provided to the Silser ski area.
– Stunning views overlooking Sils-Maria
– Spacious indoor pool for relaxation
– Gourmet cuisine at Arvenstube restaurant
– Free use of outdoor tennis courts
– Convenient complimentary transfers from St.Moritz train station
Delta Resort Apartments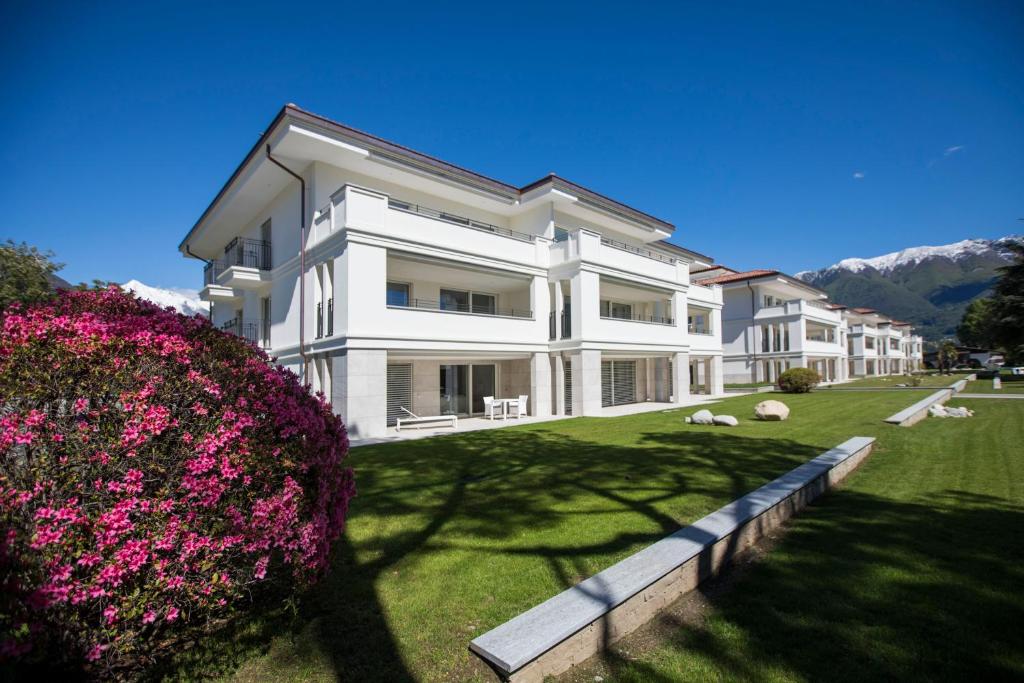 Delta Resort Apartments is a 4-star hotel located in Ascona, just 1.7 km from Golfclub Patriziale Ascona. The hotel offers a range of amenities including free bikes, free private parking, a seasonal outdoor swimming pool, and a fitness center. Guests can enjoy stunning mountain views from their accommodations. The hotel also features a terrace, bar, 24-hour front desk, airport transfers, shared lounge area, and free WiFi throughout the property. Each room is equipped with a seating area, flat-screen TV with satellite channels, kitchen with dining area, safety deposit box, and a private bathroom with shower and complimentary toiletries. Some rooms offer garden views and all rooms have coffee machines. A delicious breakfast buffet is available daily with options for every taste preference. The on-site restaurant serves Italian cuisine along with Mediterranean dishes and pizza; vegetarian, vegan, and gluten-free options are also available upon request. Guests can relax in the wellness area which includes an indoor pool, sauna, hot tub or enjoy the garden equipped with a children's playground. Table tennis and mini-golf facilities are provided for guests' entertainment and the surrounding area offers great opportunities for cycling enthusiasts. Delta Resort Apartments is conveniently located only 2 km from Piazza Grande Locarno while Lugano Station is 41 km away. Milan Malpensa Airport is the closest airport at 104 km distance.
– Free bikes
– Seasonal outdoor swimming pool
– Fitness center
– Wellness area including indoor pool,
sauna & hot tub
– On-site restaurant serving Italian,
Mediterranean & Pizza cuisine
Other places to stay in Locarno
Luxury Hotels With Tennis Courts In Locarno
Luxury Hotels with tennis courts in Locarno offer the perfect combination of indulgence and recreation for guests seeking an active and luxurious retreat. Nestled amidst breathtaking natural landscapes, these hotels boast excellent facilities where guests can enjoy a game of tennis at their leisure. With well-maintained courts and stunning surroundings, visitors can engage in friendly matches or elevate their skills through professional coaching programs. Whether it's a solo practice session or a thrilling doubles match, these luxury hotels in Locarno provide an idyllic setting for tennis enthusiasts to unwind and embrace the sport while basking in the lap of luxury.
Villa Favorita – Parkhotel Delta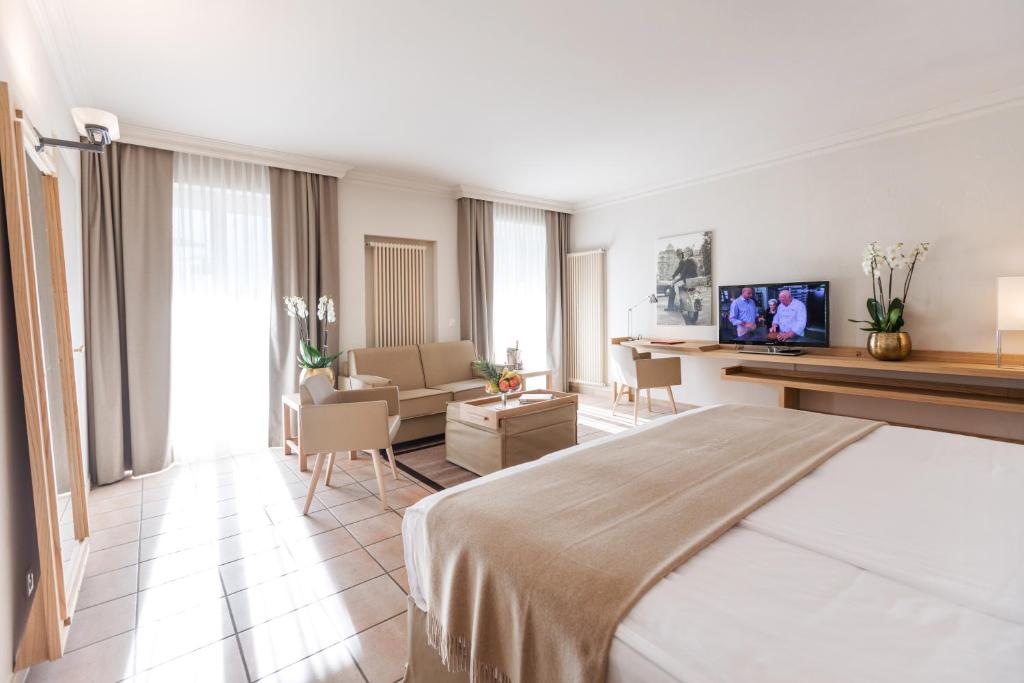 Situated in Ascona, 2.2 km from Monte Verità, Villa Favorita – Parkhotel Delta is a luxurious 4-star hotel that offers a range of amenities for guests to enjoy. The hotel features comfortable rooms with modern furnishings, including a seating area and flat-screen TV with satellite channels. Each room also has a private bathroom equipped with a hairdryer and shower. Guests can take advantage of the indoor pool and fitness centre for relaxation and exercise, while the spa centre provides additional opportunities for ultimate rejuvenation. For entertainment options, there is evening entertainment available at the hotel. The property also offers free bikes for guests to explore the surroundings or play table tennis and mini-golf on-site. Additionally, there are facilities such as a restaurant, bar, shared lounge, garden, children's playground and room service at your disposal during your stay. Free private parking is provided on-site as well as bike hire and car hire services to enhance guests' convenience. With its prime location near popular attractions and access to various amenities, Villa Favorita – Parkhotel Delta ensures an unforgettable stay.
– Luxurious 4-star accommodation
– Indoor pool and fitness centre
– Spa centre for relaxation
– Convenient amenities like on-site restaurant and room service
– Great opportunities for recreation such as table tennis, mini-golf,and biking
Hotel Lago Maggiore – Welcome!
Hotel Lago Maggiore – Welcome! is a newly opened 4-star hotel located on the picturesque lake promenade of Locarno. Just a few steps away from the city center, this hotel offers modern and comfortable accommodations. With air-conditioned rooms equipped with free WiFi, guests can enjoy a pleasant stay at Hotel Lago Maggiore – Welcome! The hotel features a restaurant where guests can indulge in delicious meals, as well as a fitness center for those who want to stay active during their vacation. In addition, the hotel offers free bike rentals for guests to explore the surrounding area. For tennis enthusiasts, there is also access to a tennis court on-site. Start your day with a buffet breakfast served each morning at the hotel and take advantage of the terrace with stunning views. With its convenient location and excellent amenities, Hotel Lago Maggiore – Welcome! is an ideal choice for travelers visiting Locarno.
– Newly opened in February 2020
– Beautiful lake promenade location
– Free bikes available for exploring
– Access to on-site tennis court
– Buffet breakfast offered each morning
Residenza Vivian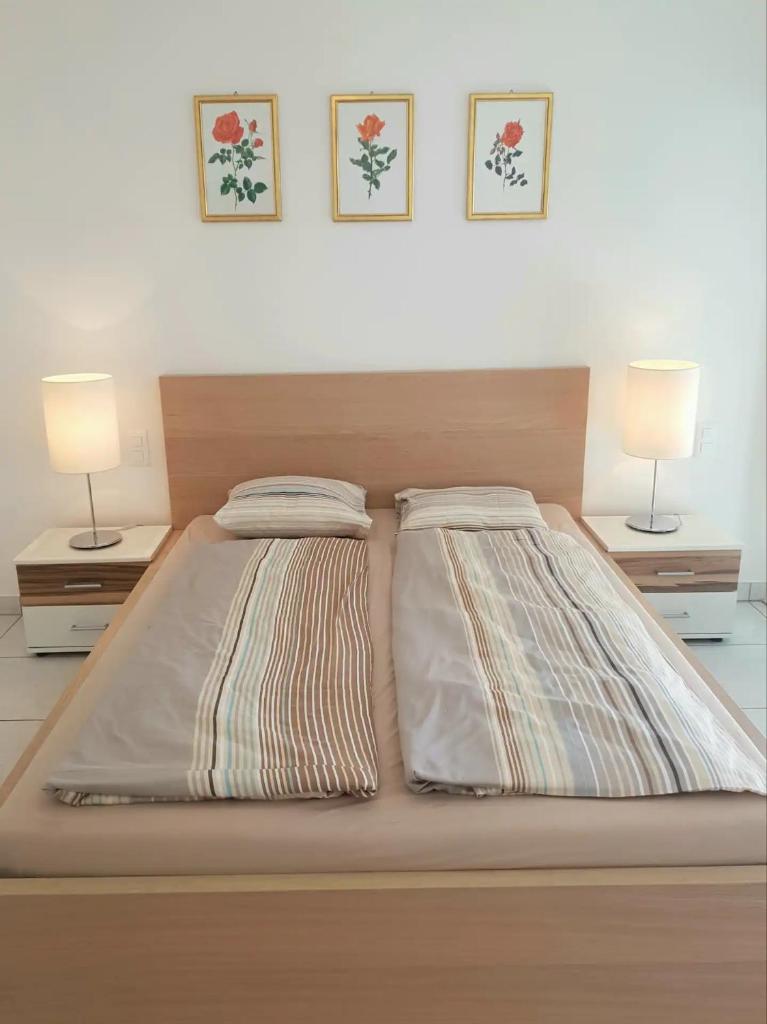 Located in the center of Locarno, just 10 meters from Lake Maggiore, Residenza Vivian offers modern apartments in a residential building with an elevator. The apartments feature balconies with stunning lake views and come equipped with a fully equipped kitchen and a washing machine. Private parking is available on-site and can be conveniently accessed directly from the units. The Piazza Grande Square is only 200 meters away, while the local bus stops just 100 meters from the hotel. Additionally, popular towns such as Ascona, Tenero, and Cardada are all within a short 5 km distance.
Pros:
– Convenient central location
– Stunning lake views from apartment balconies
– Fully equipped kitchen for self-catering
– Private parking available on-site
– Easy access to nearby attractions and towns
Best Locarno Hotels With Tennis Courts
Locarno, nestled in the scenic region of Ticino in Switzerland, offers a delightful blend of natural beauty and sporting activities for visitors. For tennis enthusiasts, there are several outstanding hotels with tennis courts that provide an ideal setting to indulge in their favorite sport. These hotels offer well-maintained tennis courts surrounded by stunning landscapes, allowing guests to enjoy a game amidst breathtaking views. Whether you are a beginner or an experienced player, these Locarno hotels with tennis courts provide the perfect opportunity to engage in some friendly competition while enjoying a memorable stay in this charming Swiss town.
Hotel Millennium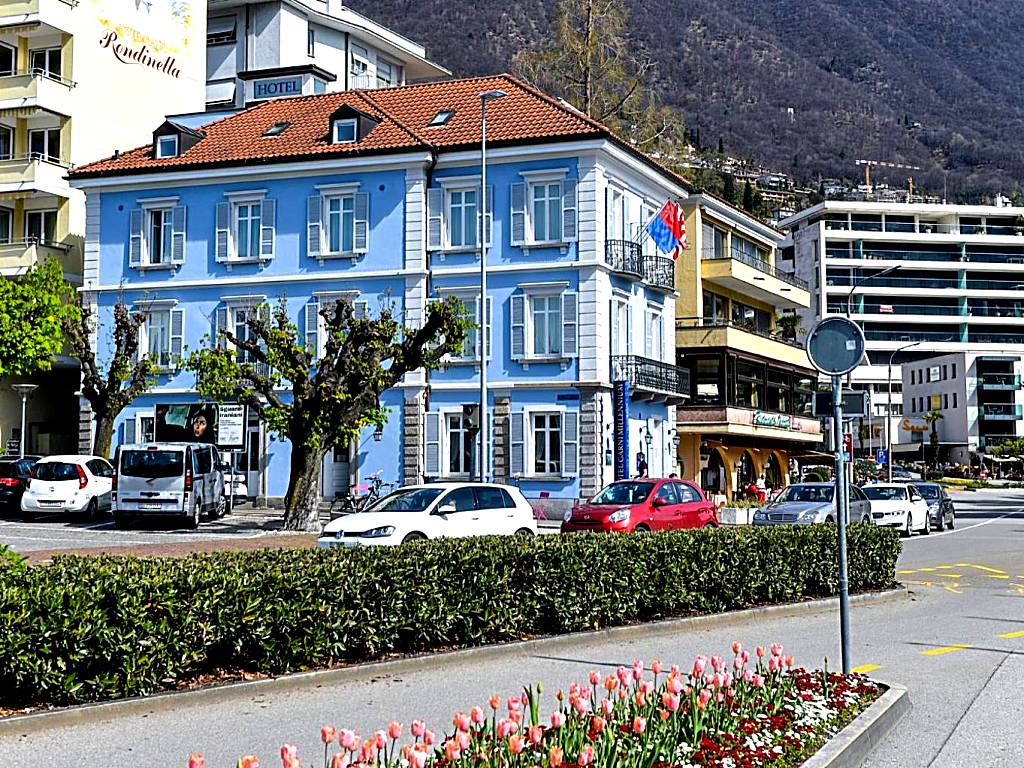 Hotel Millennium in Locarno is a conveniently located hotel situated right on the picturesque banks of Lake Maggiore. It offers easy access to various attractions such as the harbour, the Old Town, and the train station, all within a 2-minute walk. The hotel provides free Wi-Fi in all rooms for guests' convenience. Additionally, guests have access to a tennis court on-site for some recreational activities. Lunch and dinner options are also available at a nearby hotel. Popular tourist spots like the boat pier, funicular, and Piazza Grande are situated close to Hotel Millennium.
– Convenient location near Lake Maggiore
– Easy access to attractions such as the Old Town and train station
– Free Wi-Fi in all rooms
– On-site tennis court for guests' use
– Nearby dining options available
Hotel Excelsior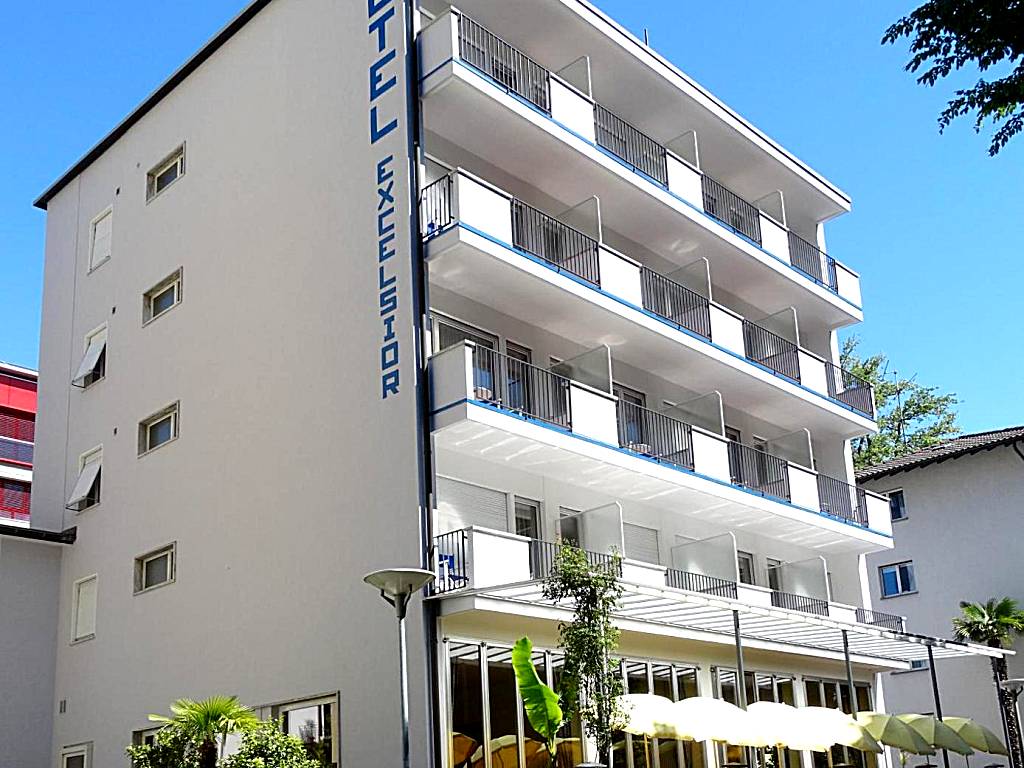 Hotel Excelsior is a charming hotel situated just 100 metres from the waterfront at Lake Maggiore. Guests can enjoy a rich buffet breakfast and relax at the bar with an outside terrace overlooking the beautiful garden. The hotel offers free Wi-Fi and all rooms have private balconies. In addition to its convenient location, Hotel Excelsior also boasts a tennis court and minigolf right in front of the hotel. The spacious rooms feature a seating area with comfortable armchairs, cable TV, telephones, minibars, and private bathrooms with hairdryers. For those looking for relaxation or outdoor activities, the newly built thermal bath and spa of Locarno is only 300 meters away while golf enthusiasts can visit the Golf Club Ascona which is just 5 km away.
– Convenient location near Lake Maggiore
– Rich buffet breakfast
– Bar with outside terrace overlooking garden
– Free Wi-Fi
– Tennis court and minigolf available nearby
Binario 934 Boutique Hotel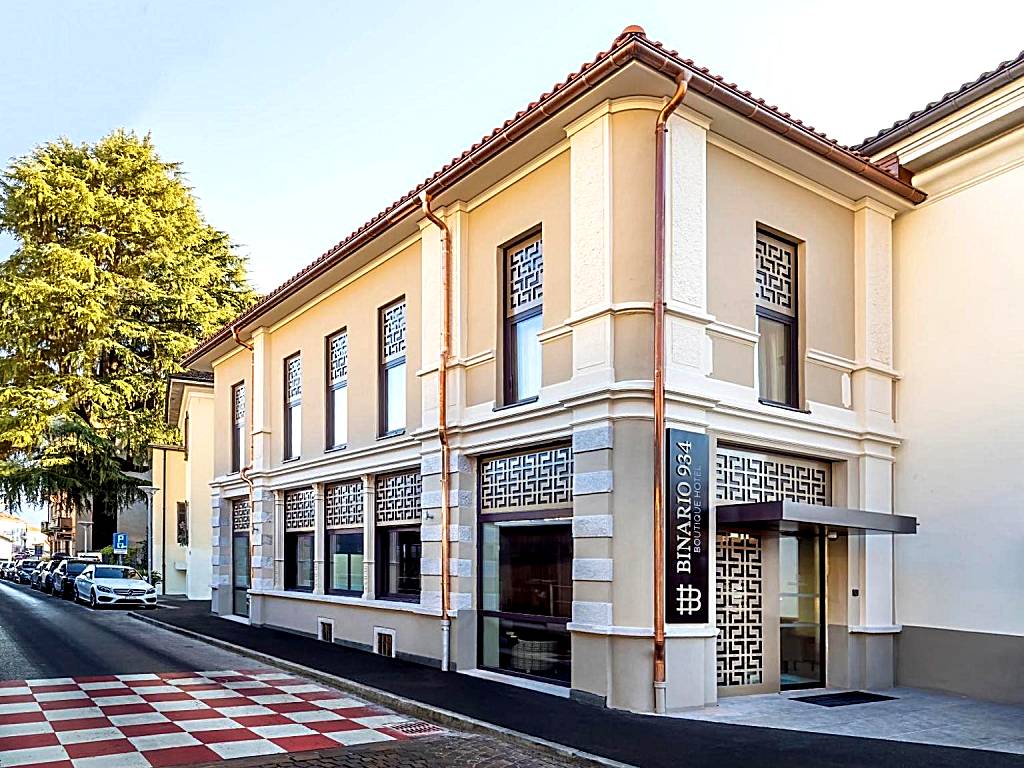 Located in Locarno, Binario 934 Boutique Hotel is a charming boutique hotel that opened its doors in January 2022. Situated just 600 meters away from Piazza Grande Locarno, the hotel offers comfortable non-smoking rooms with free WiFi throughout the property. Golf enthusiasts will be pleased to know that Golfclub Patriziale Ascona is only 5.1 km away, while Lugano Station and Exhibition Center Lugano are within a reasonable distance. The hotel also offers convenient airport transfers and bicycle rental services for guests' convenience. The well-appointed air-conditioned rooms feature modern amenities such as a wardrobe, coffee machine, minibar, safety deposit box, flat-screen TV, and a private bathroom with a shower. Some units even come with balconies and kettles for added comfort. Guests can start their day on the right note with a delicious continental, vegetarian or gluten-free breakfast served daily at the property. With its prime location in Locarno, guests can indulge in various outdoor activities like hiking, skiing and cycling during their stay. For those interested in exploring further attractions around the area, Swiss Miniatur is just 45 km away. Milan Malpensa Airport serves as the nearest airport to Binario 934 Boutique Hotel at approximately 101 km distance.
– Convenient location near Piazza Grande Locarno
– Comfortable non-smoking rooms
– Free WiFi throughout the property
– Access to a tennis court
– Varied breakfast options available
Locarno Hotels with Tennis Court Main Information
| | |
| --- | --- |
| 🛏️ Hotels with Tennis Court in Locarno | 9 |
| 💵 Hotels Prices From | $232 |
| 💰 Average price | 653 |
| ⭐ Number of Hotels Reviews | 470 |
FAQ
1. Are there any hotels in Locarno, Switzerland that have tennis courts on site?
Yes, there are several hotels in Locarno, Switzerland that offer tennis courts for their guests to enjoy. One of the highly recommended options is Hotel Belvedere Locarno, which features a beautiful outdoor tennis court with stunning views of Lake Maggiore. Guests can indulge in a friendly match or take private lessons from professional coaches at the hotel's tennis facilities.
2. How can I find hotels with tennis courts in Locarno?
To find hotels with tennis courts in Locarno, you can start by using online travel platforms and searching for accommodations that specifically mention "tennis court" in their amenities or facilities section. Additionally, you can directly contact the hotels you are interested in and inquire about the availability of tennis courts for guests.
3. Can non-guests use the tennis courts at hotels in Locarno?
Most of the hotels with tennis courts in Locarno allow non-guests to use their facilities for a fee. However, it's always best to check with each hotel individually regarding their policy on allowing external visitors to play on their tennis courts.
4. Do I need to bring my own tennis equipment when staying at a hotel with a court in Locarno?
While some hotels provide complimentary equipment such as rackets and balls to their guests, it's advisable to bring your own gear if possible. Nevertheless, even if you forget your equipment or prefer not to carry it during your trip, most accommodations will be able to arrange rentals upon request.
5. Are there any specific guidelines or dress codes when playing on the hotel's tennis court?
Each hotel may have its own set of guidelines and dress codes for using their tennis court facilities. Generally speaking, proper sports attire such as sport shoes and appropriate clothing is expected while playing on these courts. It's recommended to check with the hotel ahead of time to ensure you comply with their specific requirements.
Popular Hotels with Tennis destinations