Welcome to the tropical paradise of Bali, Indonesia, where sunshine, palm trees, and pristine white sand beaches await you. Nestled amidst this idyllic setting are some of the finest hotels that cater to avid tennis enthusiasts. Whether you are a seasoned player or simply looking to enjoy a friendly game with friends and family, Bali offers an array of accommodations with excellent tennis court facilities.
Immerse yourself in luxury at one of Bali's exquisite resorts that boast state-of-the-art tennis courts. These meticulously maintained courts provide the perfect backdrop for both leisurely matches and intense training sessions. After a thrilling game on the court, unwind and relax by taking a dip in the sparkling pool or indulging yourself with spa treatments offered by these top-notch hotels.
Bali is not only renowned for its stunning natural beauty but also for its vibrant tennis scene. If you're looking to improve your game or try your hand at this popular sport, many hotels offer professional coaching services led by experienced instructors who will help you take your skills to new heights. So lace up your sneakers, grab your racket, and get ready to experience the ultimate blend of relaxation and active recreation at these exceptional hotels with top-notch tennis court facilities.
Best Bali Hotels with Tennis
Handara Golf & Resort Bali (Bedugul)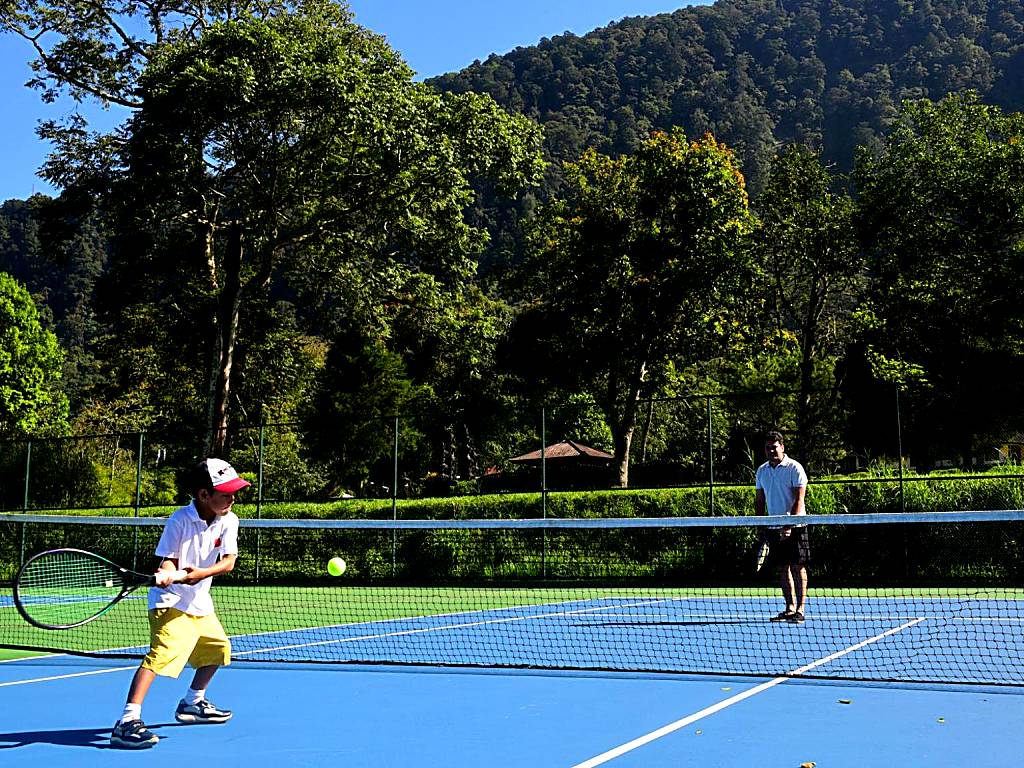 Located in Bedugul, Handara Golf & Resort Bali is a resort that offers a unique blend of golf and relaxation. With its stunning par-72 golf course set against the backdrop of mountain scenery and Lake Buyan, this resort provides an unforgettable experience for avid golfers. The rooms at Handara Golf & Resort Bali offer breathtaking views of the golf course, allowing guests to indulge in the beauty of their surroundings. In addition to golf, the resort also features a tennis court for those looking to engage in some friendly competition. The resort's location, 1,142 metres above sea level, ensures cooler temperatures ranging from 14 to 20 degrees Celsius, making it an ideal retreat from the heat of Bali's coastal areas. Guests can enjoy various amenities such as free WiFi access, cable TV, a seating area, and a minibar in their rooms. For dining options, Soyokaze Restaurant specializes in fusion Japanese cuisine while Breeze Terrace Lounge serves international and Indonesian dishes; both offer panoramic views of Lake Buyan. Other facilities at Handara Golf & Resort Bali include a Proshop where guests can find souvenir golf items and rent equipment if needed. Additionally, the resort offers golf lessons for those who want to improve their game. For relaxation purposes, guests can opt for soothing massages or enjoy an evening of karaoke with friends. Families traveling with children will appreciate the outdoor playground and tree house available on-site.
Pros:
– Spectacular views overlooking the mountain scenery and Lake Buyan
– Access to a par-72 golf course
– Tennis court available for active guests
– Comfortable rooms with adjustable heaters
– Various dining options offering international and fusion cuisine
The Edge Bali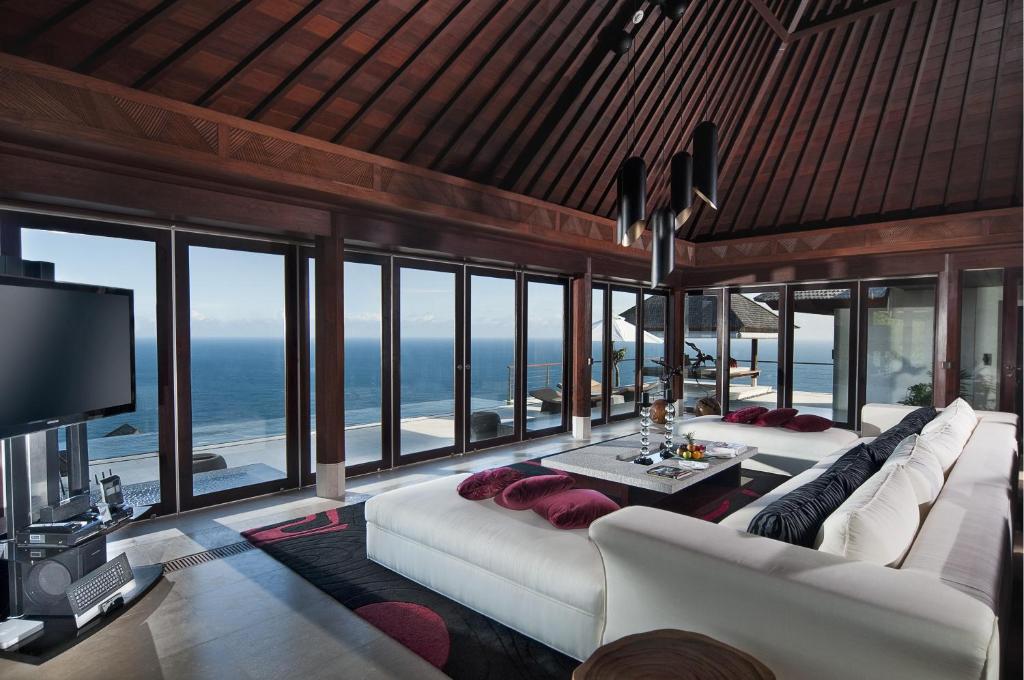 THE edge Bali is a luxurious 5-star hotel located on a cliff overlooking the ocean. The hotel offers spacious villas with private pools, state-of-the-art entertainment systems, and free WiFi. Guests can enjoy the villa's tropical garden or relax on the private sundeck. The hotel also features a world-class spa and fitness center, where guests can indulge in relaxing body treatments and enjoy sweeping ocean views from private steam baths. Personal villa butlers are available to assist with travel and entertainment arrangements, and they also prepare and serve breakfast in the villas' private kitchens. The executive chef crafts personally tailored gourmet menus featuring fresh seafood and European dishes, which can be enjoyed alongside an extensive wine list. THE edge Bali is conveniently located just a 45-minute drive from Ngurah Rai International Airport, and there is an international standard golf course within 3 km of the hotel.
– Luxurious villas with private pools
– State-of-the-art entertainment systems
– World-class spa with breathtaking ocean views
– Personal villa butlers for personalized service
– Gourmet menus crafted by executive chef
Bali Taman Lovina Resort & Spa Suites (Lovina)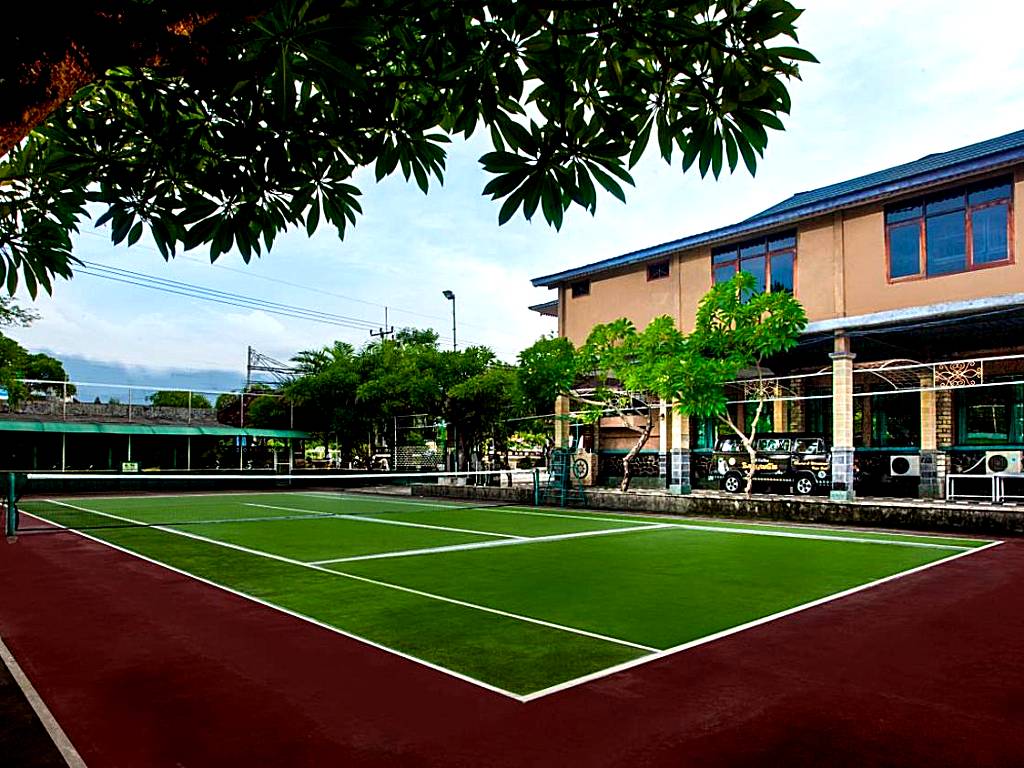 Located in Lovina, Bali Taman Lovina Resort & Spa Suites is a newly opened resort that offers a variety of amenities to ensure a comfortable and enjoyable stay. The resort features an outdoor swimming pool, free private parking, a garden, and a terrace. Guests can also take advantage of the on-site restaurant and bar. Tennis enthusiasts will be pleased to know that the resort has its own tennis court available for use. The accommodation includes air-conditioned rooms with modern amenities such as flat-screen TVs, private bathrooms with showers, and free WiFi access throughout the property. Additionally, guests can enjoy breakfast options ranging from continental to American and Asian cuisine. For those traveling with children, there is a playground on-site for their entertainment. With its convenient location near popular attractions like Happy Beach Tukad Mungga and Celuk Agung Beach, as well as activities like cycling in the surrounding area of Lovina, Bali Taman Lovina Resort & Spa Suites is an excellent choice for travelers seeking both relaxation and adventure.
Other places to stay in Bali
Luxury Hotels With Tennis Courts In Bali
Bali, the enchanting island in Indonesia, is not just known for its pristine beaches and lush landscapes but also for its luxurious hotels that cater to every traveler's desire. Amongst the plethora of amenities offered by these lavish accommodations, tennis enthusiasts will be delighted to find top-notch tennis courts available for their enjoyment. Whether you are a passionate player or simply wish to indulge in a friendly game amidst the tropical surroundings, Bali's luxury hotels with tennis courts provide the perfect setting to unleash your sporting prowess while pampering yourself with opulence and tranquility.
Discovery Kartika Plaza Hotel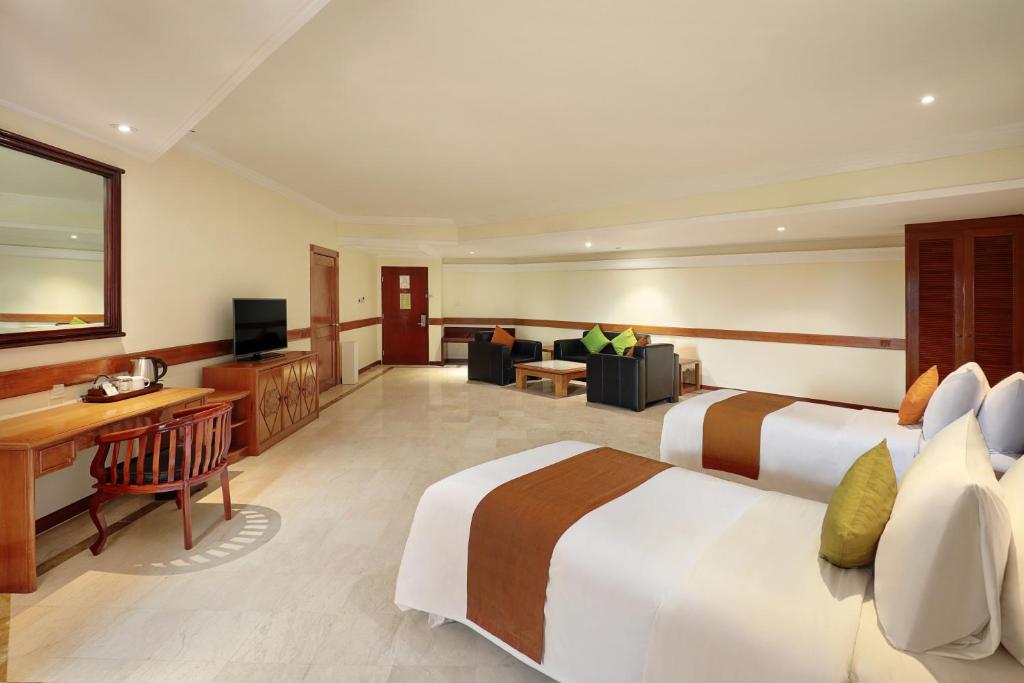 Discovery Kartika Plaza Hotel is a beachfront resort located next to Discovery Shopping Mall in South Kuta. Surrounded by beautiful tropical gardens, the hotel offers beachfront rooms with private balconies and stunning views of the garden, pool, or ocean. The hotel provides a range of amenities for families, including a kids' pool and kids' club. Guests can also enjoy the outdoor pool, spa services, fitness center, and three on-site restaurants. The hotel's Activity Centre can assist with booking tours and activities such as low-altitude helicopter rides above Bali Island. The convenient location of the hotel allows guests to easily explore attractions like Kuta center and Waterbom Bali, both within walking distance. Ngurah Rai International Airport is just a 10-minute drive away.
Pros:
– Beachfront location with stunning views
– Range of amenities for families including kids' pool and club
– Outdoor pool and spa services available
– Conveniently located near shopping mall and popular attractions
– Assistance with tour bookings available at the Activity Centre
Luxury Boutique Hotel Bali (Tanah Lot)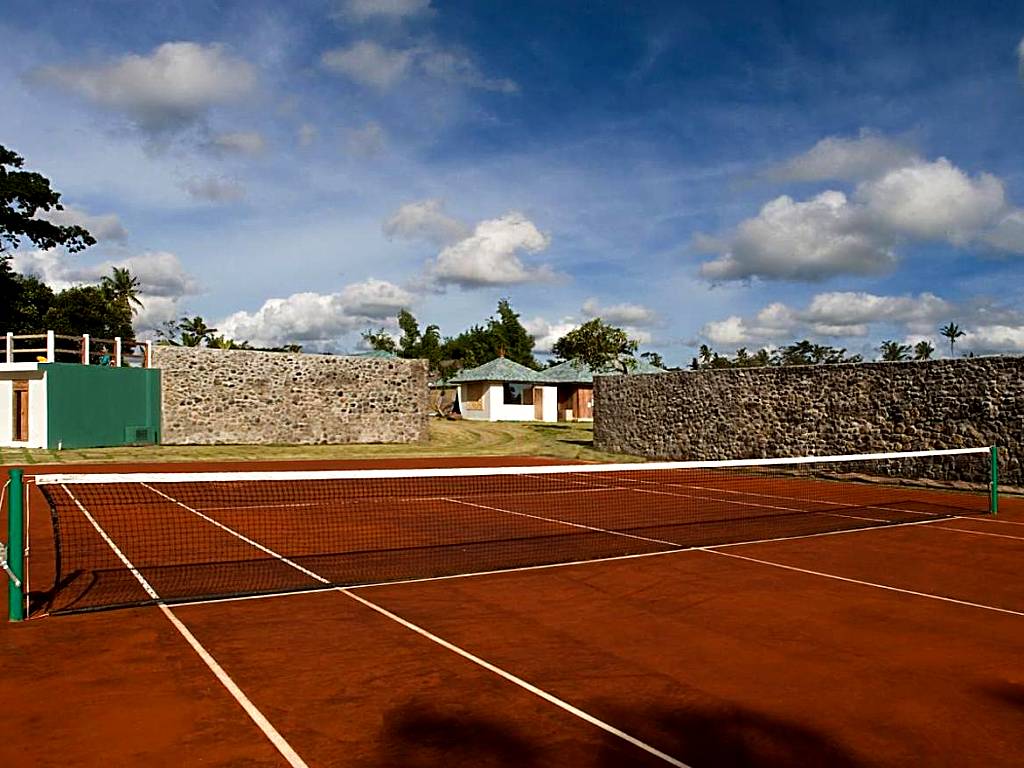 Luxury Boutique Hotel Bali is a beautiful resort located in Tanah Lot, just 4.6 km from Tanah Lot Temple. This resort offers a range of fantastic amenities including an outdoor swimming pool, free parking, fitness centre and a tennis court. The property also features a shared lounge, bar and entertainment staff to keep guests entertained during their stay. The rooms are air-conditioned and equipped with modern facilities such as a desk, coffee machine, fridge, dishwasher, safety deposit box and flat-screen TV. Guests can enjoy the convenience of free WiFi throughout the resort and have access to a hot tub for relaxation. The on-site restaurant serves delicious American, Australian and Asian cuisine with options for vegetarian, dairy-free and halal diets. Luxury Boutique Hotel Bali also provides a children's playground and offers bike hire and car rental services for those looking to explore the area by cycling or driving around. Other amenities include billiards facilities and a business centre for guests' convenience. With its convenient location near popular attractions like Petitenget Temple and Ngurah Rai International Airport only 24 km away, Luxury Boutique Hotel Bali is the perfect choice for travelers seeking an unforgettable stay in Tanah Lot.
Pros:
– Resort with tennis court
– Outdoor swimming pool
– Free private parking
– Fitness centre available
– Hot tub for relaxation
The Laguna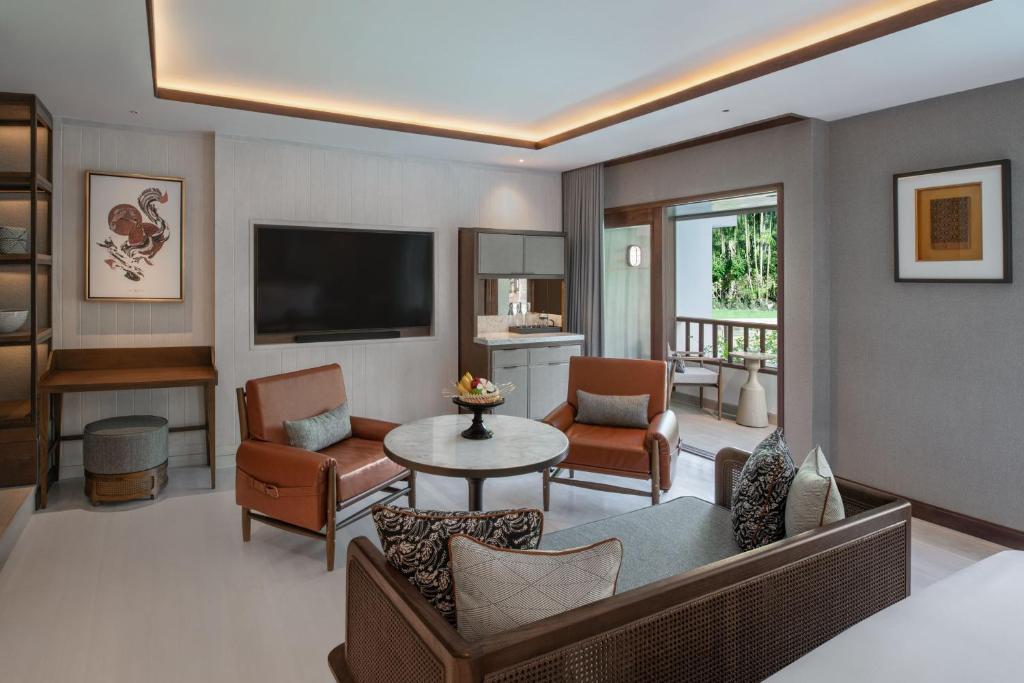 The Laguna is a stunning resort located by a white sandy beach, offering breathtaking views of the Indian Ocean. With its 7 large lagoon swimming pools and beautiful tropical gardens, guests can relax in spacious accommodations with around-the-clock butler service. The hotel features various bars where guests can enjoy signature cocktails and light refreshments by the poolside or at the lounge. The friendly concierge staff can assist in arranging recreational activities such as kite flying, sand sculpture, and water sports. Additionally, the hotel offers a fitness center, free Wi-Fi throughout the building, and free on-site parking. With direct access to Nusa Bagus and Nusa Peninsula islands from the beach, guests have plenty of options for exploration. The Laguna is conveniently located just a short drive away from Bali Collection Shopping Gallery and Uluwatu Temple. All-day dining is available at Banyubiru which serves Western and pan-Asian dishes while fresh seafood can be enjoyed at Arwana restaurant.
Pros:
– Beautiful location with stunning views of the Indian Ocean
– Spacious accommodations with around-the-clock butler service
– Numerous lagoon swimming pools for relaxation
– Wide range of recreational activities available
– Close proximity to shopping areas and popular attractions
Best Bali Hotels With Tennis Courts
Bali, the tropical paradise located in Indonesia, offers a multitude of luxury accommodations for travelers seeking a perfect blend of relaxation and recreation. Amongst its diverse array of hotels, several stand out for their exceptional tennis facilities. These Bali hotels with tennis courts provide guests with an opportunity to engage in their favorite sport while surrounded by stunning natural landscapes. Whether beginners or seasoned players, visitors can expect top-notch court maintenance and equipment availability. The combination of world-class accommodations and state-of-the-art tennis facilities ensures an unforgettable experience for those seeking both relaxation and physical activity during their stay in Bali.
Grand Mirage Resort & Thalasso Bali – All Inclusive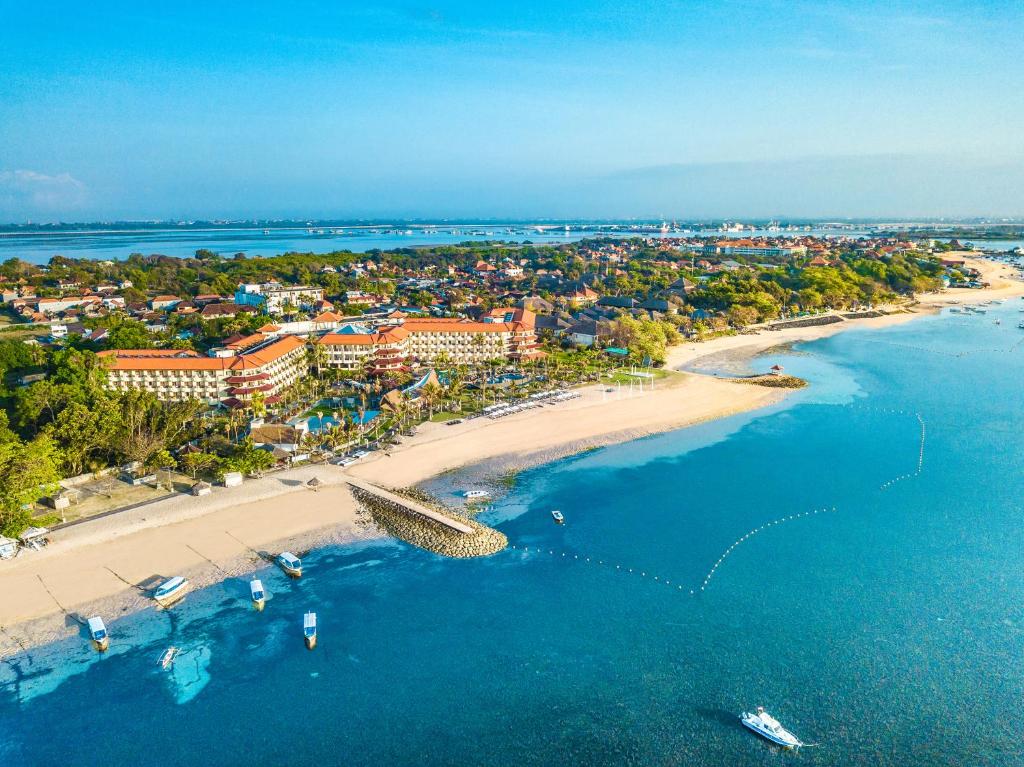 Located along the picturesque shores of Tanjung Benoa, Grand Mirage Resort & Thalasso Bali – All Inclusive provides guests with a wonderful stay and numerous amenities. The hotel offers spacious and well-appointed rooms that feature modern comforts such as air conditioning, flat-screen satellite TVs, and private balconies with either garden or ocean views. Guests can enjoy daily meals at the on-site restaurants, take a refreshing dip in the outdoor swimming pool, or stay active at the fitness center or tennis court. Additionally, free WiFi access is available throughout the property. For those looking to explore, Bali Collection Shopping Center and Bali National Golf Club are just a short drive away. The hotel also offers convenient access to Benoa Harbour and Ngurah Rai International Airport via the toll road.
– Daily breakfast, lunch, and dinner included
– Free WiFi access in all areas of the property
– Outdoor swimming pool for relaxation
– Fitness center and tennis court for staying active
– Proximity to popular attractions like shopping centers and golf clubs
The Samata by LifestyleRetreats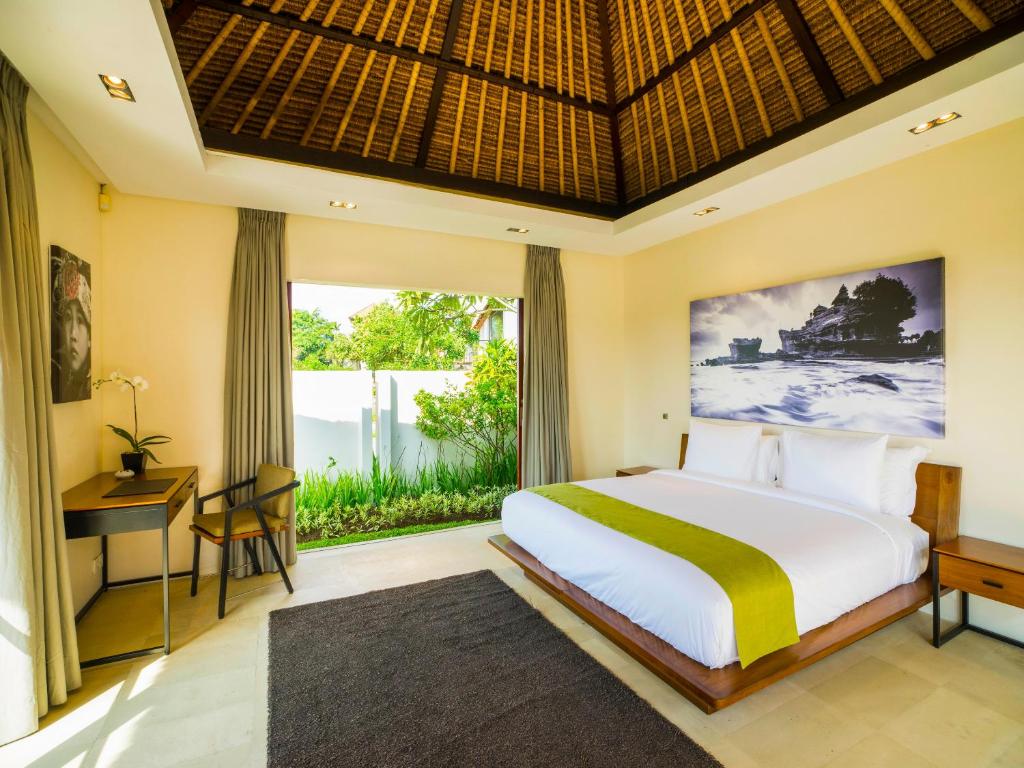 The Samata by LifestyleRetreats is a boutique hotel located on the outskirts of Sanur on the east coast of Bali. It offers suites and Balinese-style villas with private pools, featuring natural surroundings and picturesque views of rice fields. The villas also come with a kitchenette for guests' convenience. The hotel has an outdoor pool where guests can relax in the outdoor pavilion, as well as a library and fitness center for recreational enjoyment. Staff are available to assist with sightseeing arrangements and laundry requests. Guests can enjoy a daily a la carte breakfast with vegetarian and gluten-free options, as well as delicious Indonesian and international dishes at the on-site Zenso restaurant. The hotel also offers free WiFi, free parking, complimentary airport transfers, shuttle drop-off to Sanur area, and daily fruits and cookies for guests' enjoyment. With its serene ambiance and convenient location, The Samata by LifestyleRetreats provides a peaceful retreat for travelers looking to explore Bali's beauty.
– Boutique hotel with suites and Balinese-style villas
– Private pools in each villa
– Outdoor pool with relaxing pavilion
– Complimentary airport transfer
– Delicious Indonesian and international cuisine served at Zenso restaurant
Bali Hotels with Tennis Court Main Information
| | |
| --- | --- |
| 🛏️ Hotels with Tennis Court in Bali | 8 |
| 💵 Hotels Prices From | $299 |
| 💰 Average price | 575 |
| ⭐ Number of Hotels Reviews | 355 |
FAQ
Can you recommend any hotels in Bali that have a tennis court?
Yes, there are several hotels in Bali that offer tennis court facilities. One highly recommended option is the Amankila Resort, located in East Bali. This luxury resort features a well-maintained tennis court where guests can enjoy a friendly game or even receive professional lessons from experienced instructors.
Do I need to bring my own tennis equipment when staying at these hotels?
You don't necessarily need to bring your own tennis equipment as most of the hotels with tennis courts in Bali provide complimentary equipment for guests to use. However, if you have specific preferences or requirements, it's always a good idea to contact the hotel prior to your arrival and inquire about their equipment availability.
Are the tennis courts open all year round?
In general, the majority of hotels with tennis courts in Bali keep their facilities open throughout the year. However, occasional maintenance or renovation work might lead to temporary closure of the courts. It is advisable to check with your chosen hotel beforehand or upon arrival regarding any scheduled closures during your stay.
Do I need to book the tennis court in advance?
While some hotels allow walk-ins for their tennis courts, it's generally recommended to make a reservation in advance. Especially during peak travel seasons when demand may be high, securing your preferred time slot can ensure you won't miss out on enjoying this sport during your stay.
Is there an extra charge for using the hotel's tennis court?
The policy regarding charges for using a hotel's tennis court can vary from one establishment to another. Some hotels include access to their sports facilities as part of their standard room rates, while others may require an additional fee or offer packages specifically designed for sports enthusiasts. It is advisable to check directly with each hotel about their pricing and policies regarding usage of their tennis court facilities
Popular Hotels with Tennis destinations