Welcome to the sunny shores of Caloundra, Australia – a haven for tennis enthusiasts and beach lovers alike. Nestled along the picturesque coastline of South East Queensland, Caloundra offers a wealth of accommodation options to suit every traveler's needs. And for those seeking an active getaway with a touch of luxury, look no further than the Hotels with Tennis Court in this vibrant coastal town.
Imagine waking up to warm rays of sunshine streaming through your window as you lace up your tennis shoes and head out onto the court. With a wide array of hotels boasting their own tennis facilities, you can indulge in your love for the sport while enjoying all the comforts and amenities these establishments have to offer. Whether you're a seasoned player or a beginner looking to improve your game, Caloundra has something for everyone.
After an invigorating match on the hotel's private courts, take a leisurely stroll down to one of Caloundra's pristine beaches and feel the sand between your toes. From golden stretches lined with palm trees to secluded coves perfect for relaxation, there is no shortage of natural beauty surrounding these Hotels with Tennis Court. Unwind by taking a refreshing dip in crystal-clear waters or simply bask in the tranquility as you soak up some sun.
In conclusion, if you're seeking an unforgettable vacation that combines sport and relaxation in equal measure, look no further than Caloundra's Hotels with Tennis Court offerings. With exceptional facilities nestled amidst breathtaking natural surroundings, these accommodations provide not only an opportunity to refine your tennis skills but also create cherished memories that will last a lifetime. So pack your racket and book your stay – adventure awaits!
Best Caloundra Hotels with Tennis
Burgess @ Kings Beach Apartments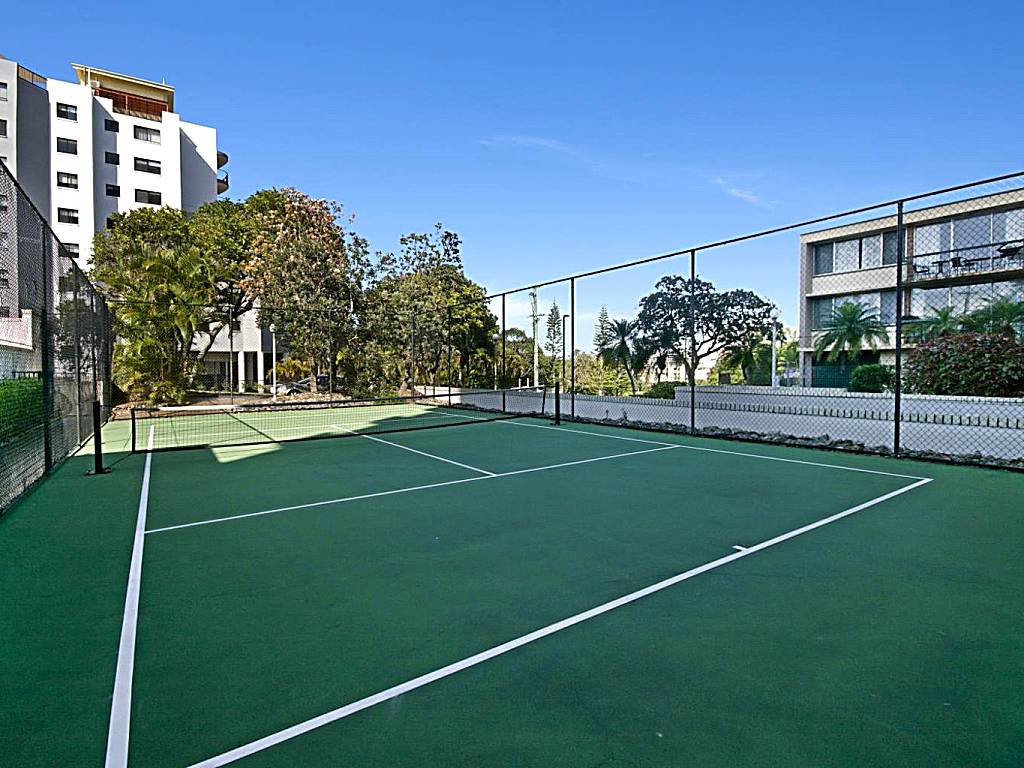 Located in Caloundra, Queensland, Burgess @ Kings Beach Apartments is an apartment hotel that offers comfortable accommodation with free WiFi and complimentary private parking. Situated near Kings Beach and Shelly Beach, guests can enjoy the convenience of these beautiful coastal areas. The property also features a sauna and spa facilities, including a steam room, for guests to relax and unwind. Additionally, there is an outdoor swimming pool available for use. For those who love tennis, this hotel provides access to a tennis court where guests can indulge in their favorite sport. With popular attractions such as Bulcock Beach, Moffat Beach, and Dicky Beach nearby, there is plenty to explore during your stay. The nearest airport is Sunshine Coast Airport which is 29 km away from the apartments; an airport shuttle service is available at an additional cost.
Pros:
– Free WiFi
– Free private parking
– Sauna and spa facilities
– Outdoor swimming pool
– Close proximity to beaches and popular attractions
Pelican Waters Resort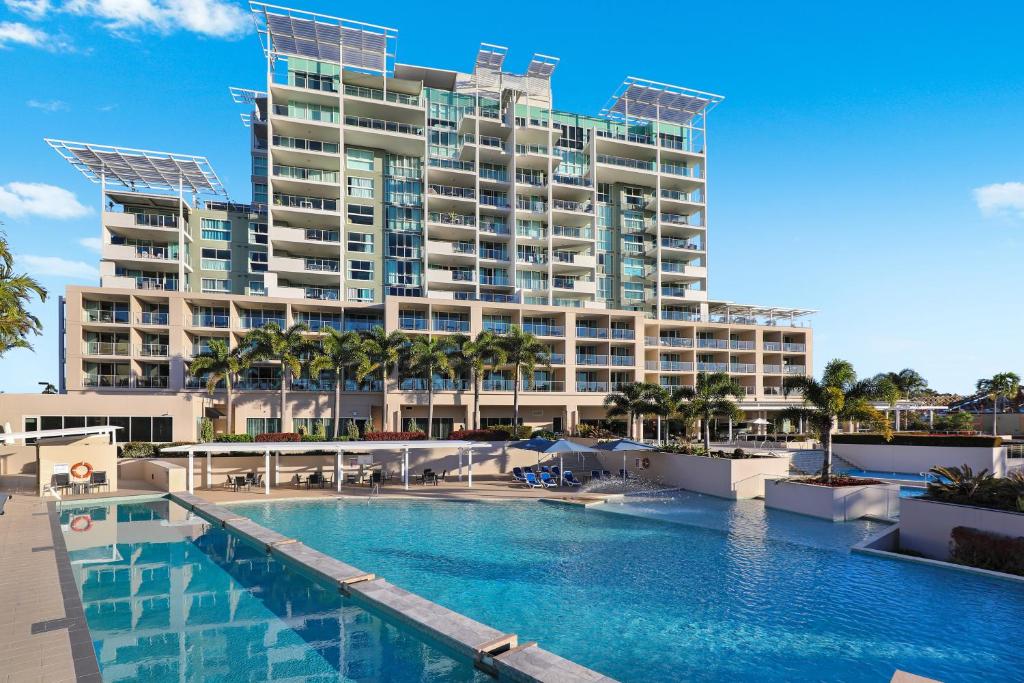 Pelican Waters Resort is a beautiful resort located just 15 minutes' drive from Caloundra Beach in Australia. The resort features an outdoor pool, as well as two tennis courts and two pools for guests to enjoy. With a balcony in every accommodation option, guests can soak up stunning views of the golf course, pool, or gardens. Free WiFi is available throughout the property, ensuring that guests can stay connected during their stay. Pelican Waters Resort is also home to a Greg Norman designed championship golf course, offering golf enthusiasts an exceptional experience. For those looking to explore the area, popular attractions such as Steve Irwin's Australia Zoo and The Big Pineapple are within a convenient 30-minute drive.
– Outdoor pool for relaxation and recreation
– Two tennis courts for sports enthusiasts
– Stunning views from balconies in all accommodations
– Convenient location near popular attractions
– Free WiFi available throughout the property
Casablanca Beachfront Apartments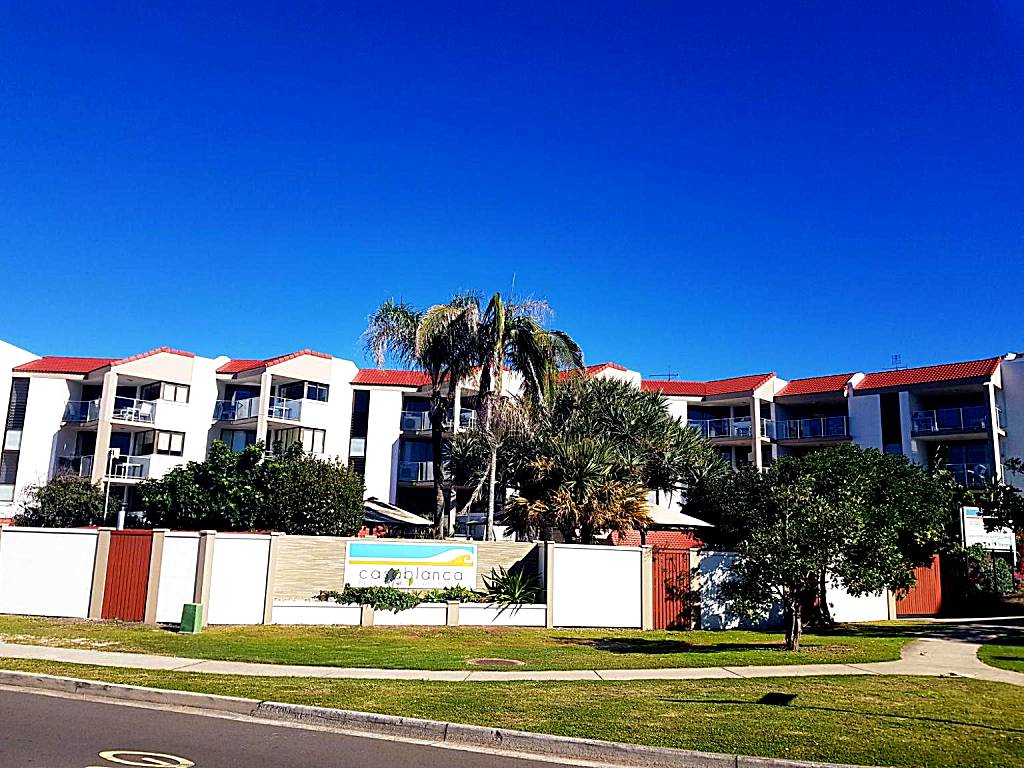 Casablanca Beachfront Apartments is an apartment hotel located just a 5-minute walk from Kings Beach. This hotel offers free Wi-Fi, a heated swimming pool, and a half-size tennis court for guests to enjoy. Each apartment features a balcony and fully equipped kitchen, along with laundry facilities and an outdoor setting. The lounge room includes a sofa, flat-screen TV with cable channels, and DVD player. Bed linen is provided in each apartment. Additionally, guests can take advantage of the free parking available at the hotel. Situated within walking distance are various cafes, restaurants, and shops. Shelly Beach is also just a 10-minute walk away, while the Sunshine Coast can be reached within 30 minutes.
Pros:
– Convenient location near Kings Beach
– Free Wi-Fi and parking
– Heated swimming pool for relaxation
– Fully equipped kitchens in each apartment
– Half-size tennis court for sports enthusiasts
Luxury Hotels With Tennis Courts In Caloundra
Caloundra, a coastal destination in Australia known for its stunning beaches and scenic views, is also home to several luxurious hotels that cater to tennis enthusiasts. These hotels offer guests the opportunity to indulge in their passion for the sport while enjoying the high-end amenities and services synonymous with luxury accommodation. With well-maintained tennis courts tucked amidst lush surroundings, these hotels provide the perfect setting for guests to improve their game or simply enjoy a friendly match with friends or family. Whether it's a professional player seeking top-notch facilities or a leisure traveler looking to unwind with a few sets, Caloundra's luxury hotels with tennis courts ensure an unforgettable experience for all lovers of this beloved sport.
Ramada Resort by Wyndham Golden Beach
Located in Pumicestone Passage along the Golden Coast, Ramada Resort by Wyndham Golden Beach is a 4-star resort with an outdoor pool and a heated lagoon-style swimming pool. Guests can also enjoy the spa pool, full-size tennis court, restaurant, bar, and games room. The resort offers a BBQ area for outdoor dining and a fitness centre for those looking to stay active. Each accommodation comes with a private balcony, some offering beautiful city, ocean, and beach views. The apartments also feature a kitchenette, TV, and DVD player. Surrounded by tropical gardens, Ramada Resort Golden Beach is conveniently situated just 10 minutes' walk from Golden Beach. Additionally, there are various arts and crafts shops as well as cafes and dining options within a 15-minute walk.
– Outdoor pool
– Heated lagoon-style swimming pool
– Full-size tennis court
– Private balconies with stunning views
– Fitness centre for staying active
Oaks Sunshine Coast Oasis Resort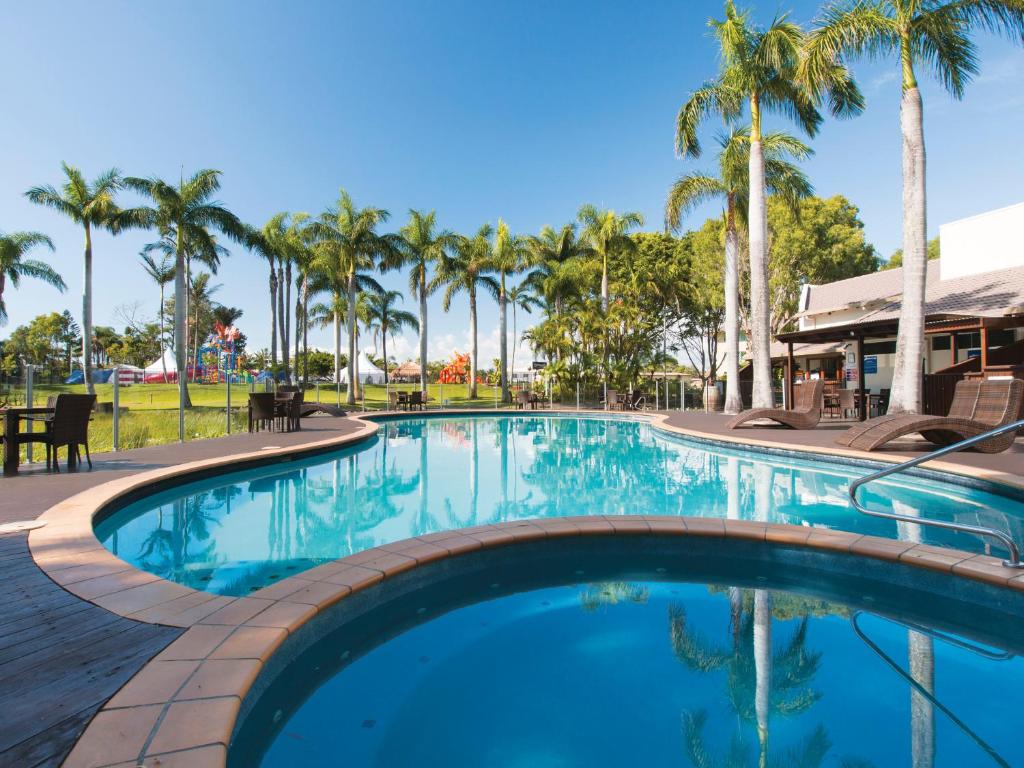 The Oaks Sunshine Coast Oasis Resort is a fantastic family-friendly accommodation in Caloundra, offering guests a wide range of amenities and activities. The resort boasts beautiful tropical grounds, an outdoor pool, a water park, and a resort-style pool. Guests can also enjoy playing putt-putt golf or exploring the sandpit, climbing frame and giant Kangaroo Jumper. With its prime location just 200 meters from the beach and a short walk to the bustling hub of Caloundra, guests have easy access to all that the area has to offer. The resort features Legends Bar with poolside access for unwinding after a day of activities. Spacious and comfortable accommodations are available in one-bedroom apartments up to three-bedroom Villas, all equipped with air-conditioning, cable TV and kitchen or kitchenette facilities. The Reflections restaurant offers delicious meals for breakfast every day and dinner on Tuesday to Saturday nights in a charming setting around a waterlily-filled pond. Free WiFi is offered throughout the property. Some additional pros about this hotel include:
– Convenient location near the beach
– Variety of spacious accommodations
– Resort-style amenities including an outdoor pool and water park
– On-site dining options at Reflections restaurant
– Close proximity to popular attractions like Australia Zoo and Underwater World
Caloundra Hotels with Tennis Court Main Information
| | |
| --- | --- |
| 🛏️ Hotels with Tennis Court in Caloundra | 5 |
| 💵 Hotels Prices From | $261 |
| 💰 Average price | 805 |
| ⭐ Number of Hotels Reviews | 261 |
FAQ
1. Are there any hotels in Caloundra with tennis courts?
Yes, there are several hotels in Caloundra that offer tennis courts for guests to enjoy. One of the popular options is the "Caloundra Tennis Court Hotel" located near the city center. This hotel features well-maintained tennis courts where guests can indulge in a friendly match or take lessons from professional instructors.
2. Can I rent tennis equipment at these hotels?
Certainly! Most hotels in Caloundra with tennis courts provide rental services for tennis equipment such as rackets and balls. Whether you forgot to pack your gear or simply don't have any, you can easily rent everything you need to have a great game on the court.
3. Do I need to book a time slot to use the hotel's tennis court?
It is advisable to book a time slot if you want to ensure availability and avoid any scheduling conflicts. Many hotels with tennis courts operate on a first-come, first-served basis which means that during peak times, it may be more challenging to secure court time without prior reservation.
4. Are the hotel's tennis courts suitable for all skill levels?
Absolutely! Hotels in Caloundra design their tennis courts keeping in mind players of all skill levels, from beginners to advanced players. So whether you're just starting out or have been playing for years, you'll find a suitable environment and court conditions that cater to your proficiency level.
5. Are there any additional amenities available at these hotels apart from the tennis court?
Definitely! Hotels with tennis courts usually offer an array of additional amenities and facilities for their guests' comfort and enjoyment. Some common features include swimming pools, fitness centers, spa services, restaurants, bars, and even kids' play areas – ensuring there's something for everyone during their stay.
Popular Hotels with Tennis Court destinations