Welcome to the dazzling coastal town of Cala Millor, situated in the mesmerizing Balearic Islands of Spain. Nestled amidst breathtaking landscapes and adorned with pristine beaches, this charming destination offers a perfect blend of relaxation and exhilaration. For all the tennis enthusiasts out there, Cala Millor is an ideal haven as it boasts a splendid collection of hotels with magnificent tennis facilities. Immerse yourself in the vibrant Mediterranean atmosphere while indulging in your favorite sport at these stellar accommodations.
Whether you are a seasoned player or simply looking to have some fun on the court, Cala Millor has something for everyone. These remarkable hotels provide top-notch tennis courts that are meticulously maintained and offer seamless playing experiences. Enjoy a friendly match with fellow guests or seek professional coaching from experienced instructors who will enhance your skills and techniques. As you engage in lively matches amidst the glorious Spanish sunshine, you will truly feel captivated by the sheer beauty surrounding these exceptional hotels.
So pack your racquet and get ready to experience an unforgettable vacation where luxury meets athleticism. Join us on this exclusive journey as we explore some of the finest hotels with tennis amenities that Cala Millor has to offer. Get ready for an adrenaline-fueled adventure accompanied by stunning views, warm hospitality, and endless opportunities to perfect your game on these remarkable tennis courts.
Best Cala Millor Hotels with Tennis
Hipotels Flamenco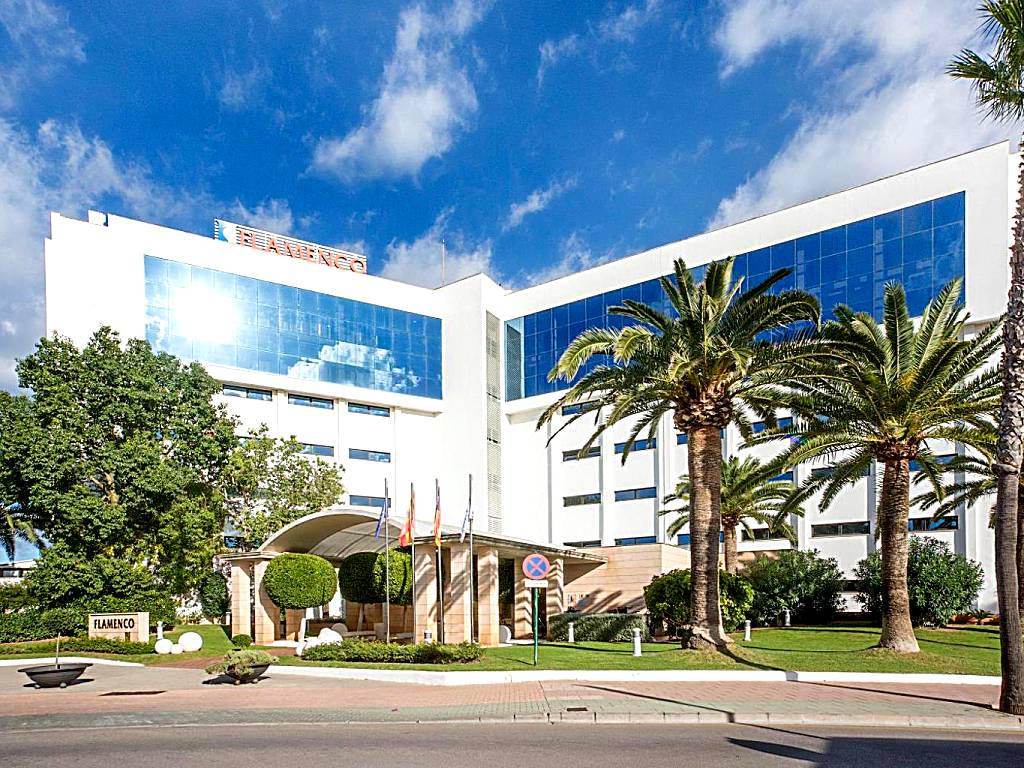 Located in the popular Cala Millor, the Hipotels Flamenco is a modern, family-friendly hotel situated right on the beach front. With superb facilities including a great outdoor pool and well-equipped fitness centre, guests can enjoy free Wi-Fi throughout their stay. The hotel offers wonderful sea views and is conveniently located for guests to make the most of the nearby popular beach where they can swim in the mild waters and participate in various water sports. The Flamenco restaurant serves hearty meals with a variety of hot and cold dishes that include both international and regional cuisine. Guests can also be entertained by live music shows put on by the Flamenco team. For those looking to stay active, there are plenty of options such as swimming in the outdoor pool, working out in the gym or joining fun activities organized by the entertainment team. After an active day, guests can relax in the sauna and hot tub available at the hotel. Plus, there is even a tennis court for those who enjoy playing this sport.
– Situated right on the beach front
– Superb facilities including an outdoor pool and well-equipped fitness centre
– Free Wi-Fi provided
– Variety of hot and cold dishes served at Flamenco restaurant
– Live music shows performed by Flamenco team
Cala Millor Garden Hotel – Adults Only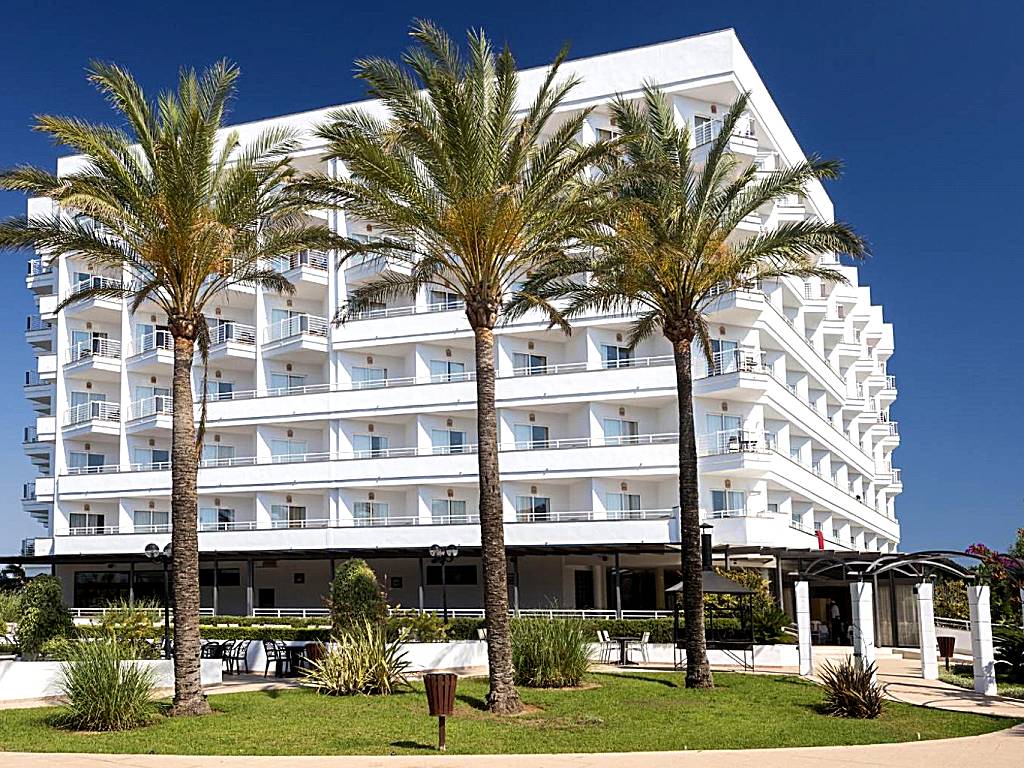 Located near the stunning Cala Millor Beach, the Cala Millor Garden Hotel – Adults Only is a perfect choice for adults looking for a relaxing getaway. The hotel offers multiple swimming pools, live music, and a serene atmosphere. Guests can enjoy various sports facilities including multi-sports courts, a tennis court, gym, air rifle range, and putting green. The modern air-conditioned rooms provide free WiFi, satellite TV, and minibar. Additional amenities include outdoor and indoor hot tubs, heated indoor swimming pool in winter months (some accessible to guests with reduced mobility), sauna, and massage services. Fitness activities like dance classes and bike trips are available during the day while live shows entertain guests at night. The hotel boasts an air-conditioned restaurant serving delectable dishes like fish or steak with gourmet desserts that caters to celiacs. There is also a snack bar with a spacious terrace as well as a poolside bar-restaurant for added convenience. Nearby attractions such as Punta de n'Amer country estate, Hams Caves, and Mallorca's charming coves offer opportunities for exploration. Free private parking is available on-site.
Pros:
– Close proximity to Cala Millor Beach
– Multiple swimming pools
– Diverse sports facilities including tennis court
– Relaxing atmosphere with live music entertainment
– Variety of dining options catering to different dietary needs
Hotel Girasol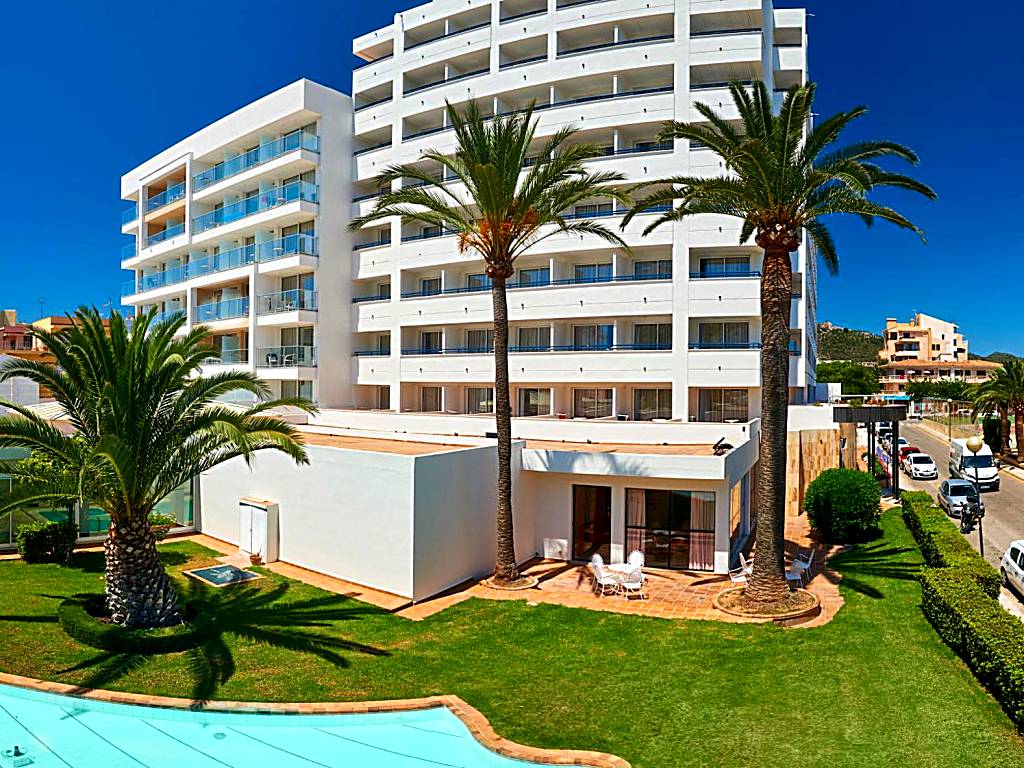 Hotel Girasol, opened in March 2021, is a conveniently located hotel in the center of Cala Millor, just 100m from the beach. This hotel offers a range of amenities including a restaurant, free private parking, a seasonal outdoor swimming pool on the solarium terrace, and a beach-bar. Guests can also enjoy facilities such as a shared lounge, garden, ping pong table, tennis court, and sauna. The hotel provides evening entertainment and has a 24-hour front desk for guests' convenience. A continental or buffet breakfast is available for guests to enjoy. Additionally, car hire services are offered at the property. Nearby attractions include Cala Bona Beach (1.3 km) and Sa Coma Beach (2.5 km). The closest airport is Palma de Mallorca (56 km), with the hotel offering a paid airport shuttle service.
– Convenient location in the center of Cala Millor
– Close proximity to the beach
– Outdoor swimming pool on the solarium terrace
– On-site tennis court and sauna
– Evening entertainment and 24-hour front desk
Luxury Hotels With Tennis Courts In Cala Millor
Luxury Hotels with Tennis Courts in Cala Millor offer the perfect combination of elegance and active vacationing. Set against a picturesque backdrop, these hotels provide guests with access to world-class tennis facilities, allowing them to indulge in their passion for the sport while enjoying a luxurious stay. With state-of-the-art courts and professional instructors available, tennis enthusiasts can hone their skills or engage in friendly matches amidst stunning surroundings. Alongside the comfort and opulence that luxury hotels provide, the inclusion of tennis courts adds an exciting element for guests seeking a well-rounded getaway experience.
Hipotels Bahía Grande Aparthotel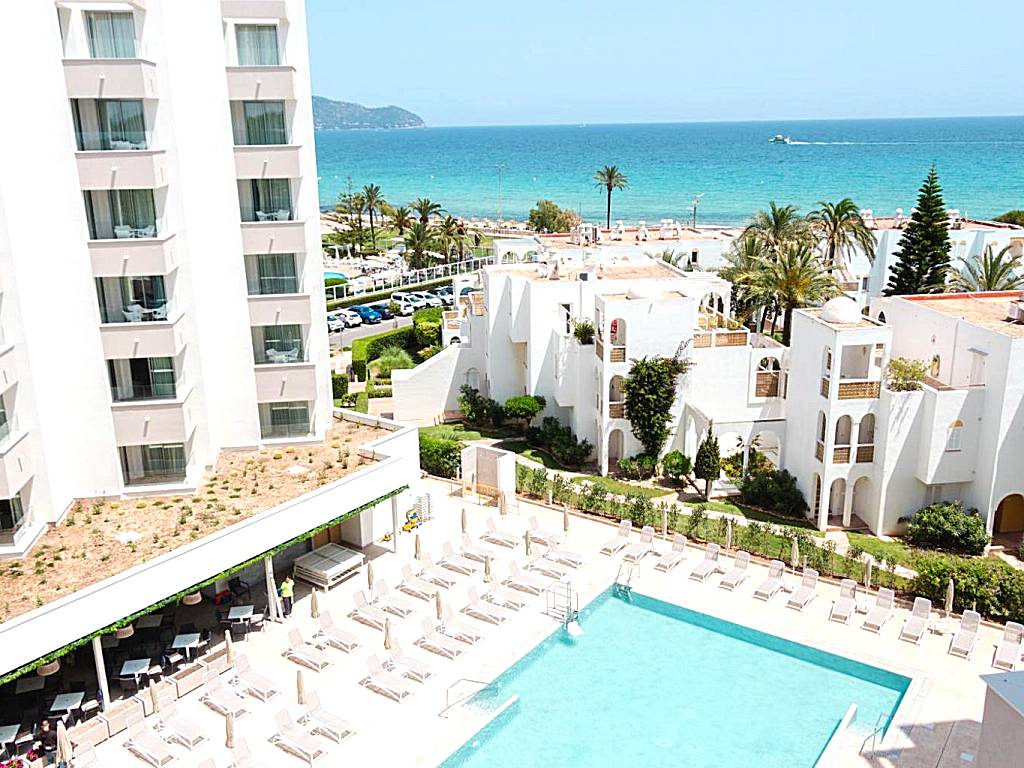 Hipotels Bahía Grande Aparthotel is a modern apartment hotel located just 100 meters from Cala Millor Beach in Majorca. It offers both indoor and outdoor pools, a hot tub, and sauna for guests to enjoy. The hotel is conveniently situated within walking distance of Cala Millor's shops and restaurants. Guests can also take advantage of glass-bottom boat trips departing from the resort as well as a seafront train that provides easy access to nearby destinations like Cala Millor and Sa Coma.
The air-conditioned apartments at Hipotels Bahía Grande are bright and spacious, featuring private balconies, safes, and satellite TVs. Each apartment also includes a kitchen with a microwave and fridge.
In addition to its swimming pools, the hotel boasts a garden and poolside sun terrace equipped with sunbeds and umbrellas. For those looking to stay active during their stay, there is a gym on-site as well as amenities such as a volleyball court and children's play area. Guests can also participate in activities including archery, bowls, and aerobics.
The aparthotel features an on-site restaurant serving local and international cuisine. Please note that formal dress code is required for dinner with men being asked to wear long trousers. There is also a café and bar available for guests' convenience along with additional facilities like a games room and TV lounge.
– Convenient location near Cala Millor's shops, restaurants, glass-bottom boat trips, and seafront train
– Spacious apartments with private balconies
– Indoor/outdoor pools, hot tub, sauna
– On-site gymnasium
– Tennis court available for guest use
Universal Hotel Bikini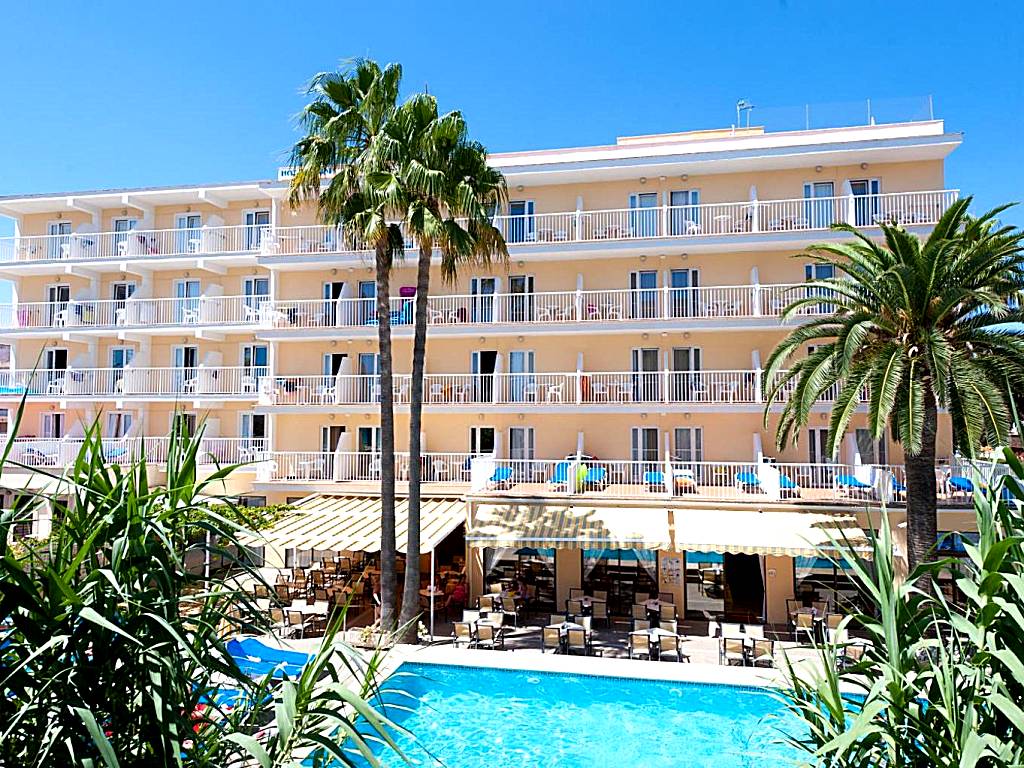 Located just 100 meters from the beautiful sandy Cala Millor Beach, Universal Hotel Bikini offers guests a comfortable and convenient stay. The hotel features an outdoor swimming pool and rooms with balconies, as well as a 24-hour reception and free luggage storage. The air-conditioned rooms are equipped with flat-screen satellite TVs and private bathrooms with hairdryers. Bed linens and towels are provided, and guests have the option to rent safes at an additional cost. Some rooms even offer lateral sea views. For those looking for more space or self-catering options, the hotel also offers apartments with air conditioning, private bathrooms, and kitchenettes.
Guests at Universal Hotel Bikini can enjoy dining at the buffet restaurant which serves themed dinners, including a gala dinner on Fridays. Additionally, there is an option to dine on the pool terrace for added ambiance. Situated in North East Mallorca, the hotel is conveniently located within a 30-minute drive of both sandy Cala Ratjada beach and the rocky beaches around Capdepera. There are also various surfing beaches just a short 10-minute drive away, making it an ideal location for water sports enthusiasts. For those seeking cultural experiences, the picturesque village of Artà is only 14 km away.
Palma Mallorca Airport is located approximately 70 km from Hotel Bikini and guests have the option to arrange airport transfers for an additional charge at reception. And last but not least – guests staying at this property have access to a tennis court.
Pros:
– Conveniently located just steps away from Cala Millor Beach
– Outdoor swimming pool for relaxation
– Comfortable rooms with balconies offering lateral sea views
– Option to rent safes for added security
– Buffet restaurant serving themed dinners
Apartamentos Mallorca SL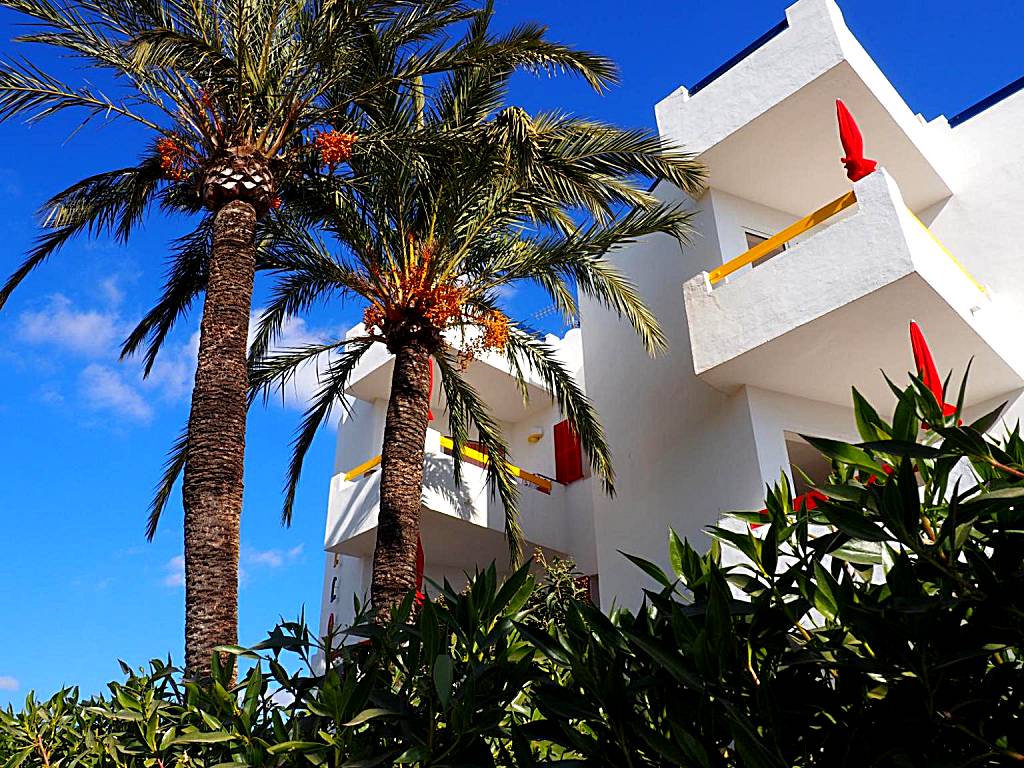 Apartamentos Mallorca SL is an apartment-style hotel located in Cala Millor, just 1 km from Cala Millor Beach and 1.5 km from Cala Bona Beach. The apartments are equipped with air conditioning and offer access to a garden. Free WiFi is available throughout the property. Each unit features a comfortable sofa and seating area, as well as a flat-screen TV with satellite channels. The well-fitted kitchen includes a dining area, oven, microwave, toaster, coffee machine, and kettle. For added convenience, there is also a safety deposit box and private bathroom with a hairdryer. Guests can enjoy hiking nearby or make use of the sun terrace to soak up the sun. It's worth noting that guests have access to a tennis court on-site for their enjoyment. Natural Park S'Albufera de Mallorca is 39 km away while Alcudia Old Town is 45 km from Apartamentos Mallorca SL. The nearest airport is Palma de Mallorca Airport at a distance of 69 km.
– Convenient location near the beach
– Well-equipped kitchens in each unit
– Free WiFi throughout the property
– Access to an on-site tennis court
– Sun terrace for relaxation
Best Cala Millor Hotels With Tennis Courts
Cala Millor is known for its beautiful beaches and vibrant atmosphere, making it a popular destination for travelers seeking both relaxation and adventure. For those who enjoy playing tennis, there are several hotels in Cala Millor that offer onsite tennis courts. These hotels provide guests with the opportunity to indulge in their favorite sport while enjoying the stunning surroundings of this coastal town. Whether you're a beginner or a seasoned player, these hotels with tennis courts ensure that you can stay active and have fun during your vacation in Cala Millor.
Hipotels Dunas Aparthotel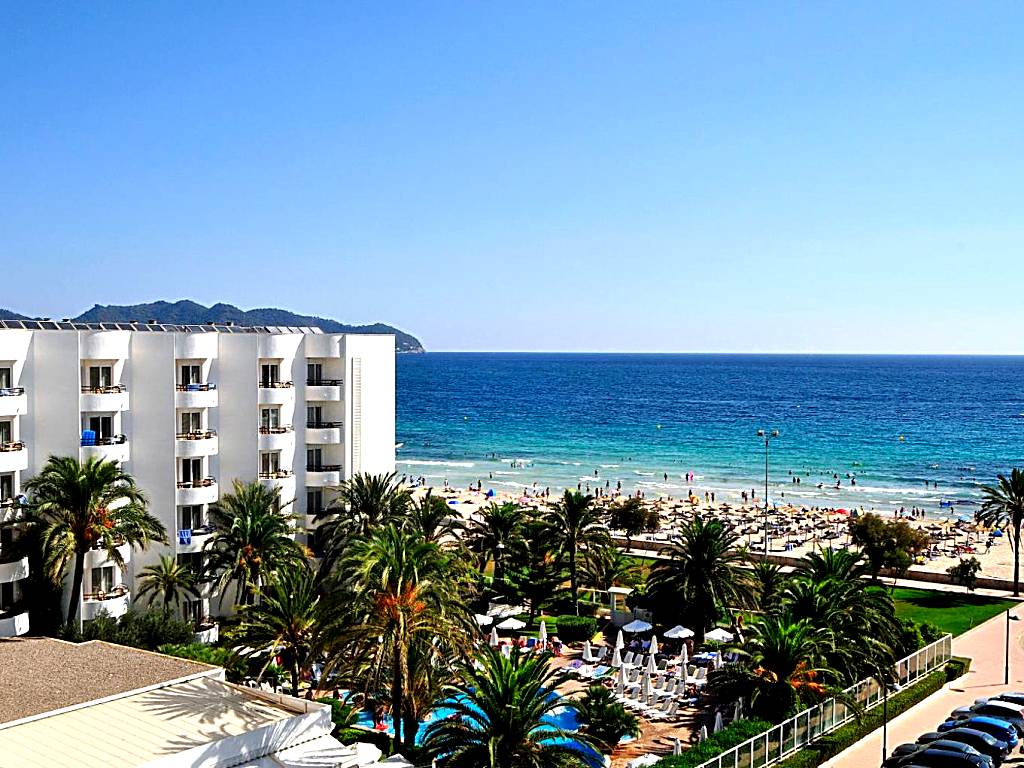 The Hipotels Dunas Aparthotel is a modern apartment hotel situated in the resort of Cala Millor in the East of Mallorca. Offering comfortable rooms with views of the Mediterranean Sea, this aparthotel features both an indoor and outdoor swimming pool as well as a gym. Guests can enjoy free WiFi throughout the property. The hotel boasts various amenities including a large outdoor pool for adults, a kids' pool, a heated indoor pool, and a children's playground. For relaxation, there is also a sauna and hot tub available along with spa services such as Turkish baths, Vichy showers, beauty treatments, and massage therapies at an extra charge. The on-site bar-cafeteria serves snacks and à la carte meals on the terrace overlooking the swimming pool, while there is also a continental buffet restaurant for dining options. Additional services include bicycle and car rental, currency exchange facilities, and a self-service laundrette. One of the highlights of this hotel is that guests have access to their own tennis court.
Pros:
– Scenic views of the Mediterranean Sea from comfortable rooms
– Indoor and outdoor swimming pools for all-year-round enjoyment
– Access to spa facilities including sauna, hot tub, Turkish bath
– On-site bar-cafeteria serving snacks with terrace overlooking the pool
– Availability of tennis court for guests' use
Apartamentos La Santa Maria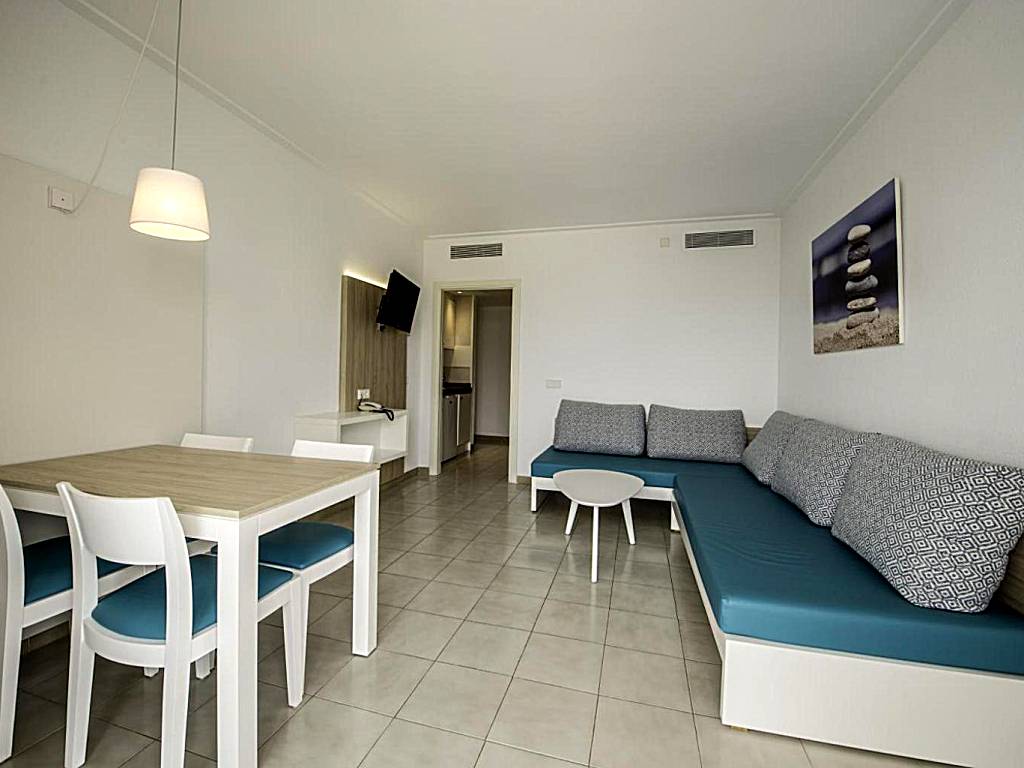 Apartamentos La Santa Maria is an apartment hotel located just 500 meters from Cala Millor Beach. This hotel offers comfortable and air-conditioned accommodation with a balcony and free WiFi. Each unit features a sofa, seating area, flat-screen TV, well-fitted kitchenette, safety deposit box, and a private bathroom with a hairdryer. Guests can enjoy the seasonal outdoor swimming pool, relax on the sun terrace, or explore the nearby cycling routes. The hotel also offers access to a tennis court for guests looking to stay active during their vacation. The beautiful Cala Bona Beach is only 1.9 km away, while Sa Coma Beach is 2.6 km from the property. The nearest airport is Palma de Mallorca Airport, located 70 km from Apartamentos La Santa Maria.
– Convenient location near Cala Millor Beach
– Comfortable and air-conditioned accommodation
– Free WiFi access
– Seasonal outdoor swimming pool
– Access to tennis court
Cala Millor Hotels with Tennis Court Main Information
| | |
| --- | --- |
| 🛏️ Hotels with Tennis Court in Cala Millor | 8 |
| 💵 Hotels Prices From | $251 |
| 💰 Average price | 111 |
| ⭐ Number of Hotels Reviews | 297 |
FAQ
1. Are there any hotels in Cala Millor that offer tennis court facilities?
Yes, there are several hotels in Cala Millor that provide tennis court facilities for their guests. These hotels understand the importance of sports and recreation during vacations and offer well-maintained tennis courts where guests can enjoy a friendly match or take professional lessons from experienced instructors.
2. Do I need to bring my own tennis equipment to these hotels?
No, you don't have to worry about bringing your own tennis equipment as most hotels with tennis court facilities in Cala Millor provide all the necessary equipment, including rackets and balls. This ensures that guests can simply relax and enjoy a game without having to carry bulky sports gear on their trip.
3. Can beginners book tennis lessons at these hotels?
Absolutely! Hotels in Cala Millor with tennis courts cater to guests of all skill levels, including beginners. They often have qualified instructors available who can provide private or group lessons tailored specifically for those who are new to the sport. So whether you're a seasoned player or just starting out, you'll be able to find suitable coaching options at these hotels.
4. Are there any additional charges for using the hotel's tennis court facilities?
While some hotels may charge an additional fee for renting out the tennis court or booking specific time slots, many establishments include the use of their courts as part of their overall amenities package for guests staying at their property. It is always recommended to check with the hotel beforehand regarding any potential extra charges associated with utilizing the tennis court facilities.
5. Can non-guests also use the hotel's tennis courts by paying a fee?
In some cases, non-guests may be permitted to use certain hotel's tennis courts by paying a fee or purchasing day passes specifically for access to sports facilities like the tennis court. However, this policy varies depending on each individual hotel's rules and regulations. It is advisable to contact the hotel directly to inquire about availability and pricing for non-guests wishing to use their tennis courts.
Popular Hotels with Tennis Court destinations