Welcome to Forte dei Marmi, the enchanting destination nestled along the picturesque coast of Italy. Known for its stunning beaches and luxurious resorts, this idyllic seaside town offers a haven for both relaxation and recreation. Today, we will be exploring the finest hotels in Forte dei Marmi that cater to tennis enthusiasts.
Immerse yourself in the fusion of elegance and athleticism as these hotels provide you with top-notch facilities to indulge your passion for tennis. Whether you are a seasoned player or just starting out, these establishments offer well-maintained courts that guarantee an exhilarating game under the warm Mediterranean sun.
Beyond the tennis courts, these hotels also boast a myriad of amenities to ensure an unforgettable stay. Indulge in gourmet dining options that tantalize your taste buds with delectable flavors from both locally-sourced ingredients and international cuisines. Unwind at their lavish spa centers where skilled therapists provide rejuvenating treatments to soothe your body and mind after an intense match on the court.
Join us on this virtual journey as we discover some of Forte dei Marmi's finest accommodations where luxury meets sport – providing an unparalleled experience for tennis lovers from around the world.
Best Forte dei Marmi Hotels with Tennis
Albergo Villa Gradita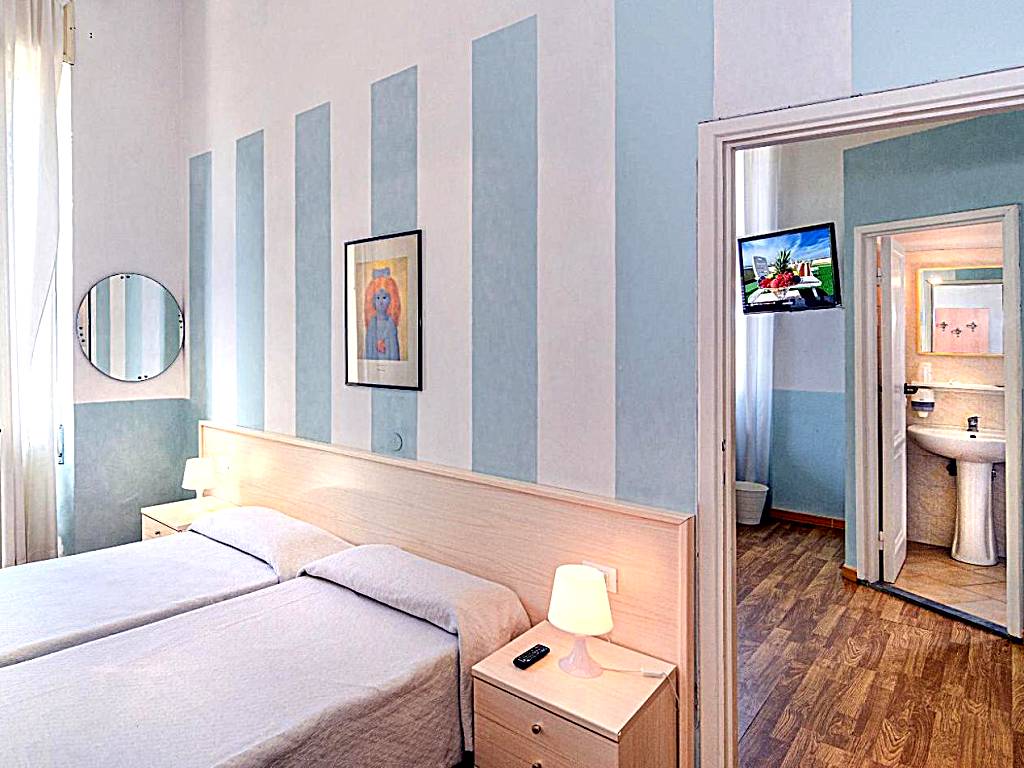 Albergo Villa Gradita is situated just 150 meters away from the beautiful beaches of Forte dei Marmi. This charming hotel features a serene garden adorned with palm trees, providing a peaceful retreat for guests. Conveniently located only 200 meters from the city center, it offers easy access to various attractions and amenities. The hotel boasts well-appointed rooms decorated in a classic style, each equipped with a private bathroom. All rooms are air-conditioned and feature a TV and desk. For those looking to engage in some sporting activities during their stay, Albergo Villa Gradita provides guests with access to a tennis court on-site. Additionally, the nearby towns of Viareggio (16 km away) and Lucca (30-minute drive) offer further opportunities for exploration.
– Convenient location near beaches and city center
– Relaxing garden with palm trees
– Well-appointed rooms with private bathrooms
– Access to on-site tennis court
– Close proximity to Viareggio and Lucca for further sightseeing options
Hotel Viscardo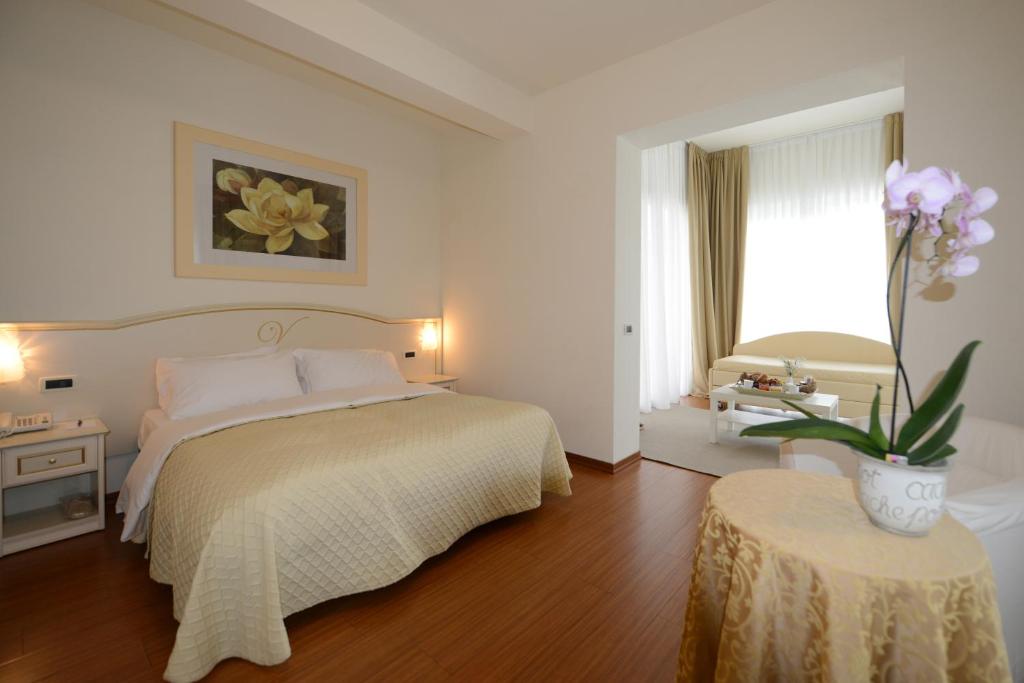 Hotel Viscardo is a charming hotel located in the peaceful area of Forte Dei Marmi, close to both the beach and the city center. Guests can enjoy a delicious buffet breakfast until 11:00 each morning. Forte Dei Marmi is perfectly situated for exploring the stunning Tuscan cities of Pisa, Lucca, Florence, and Siena, as well as taking a ferry to visit Le Cinque Terre. After a day of sightseeing or relaxing on the beach, guests can unwind with a drink on the rooftop terrace. The hotel is managed by a friendly family who are dedicated to ensuring guests have an enjoyable stay. Please note that there is no restaurant service provided at the hotel, but there is a partner restaurant just 80/100 meters away. The hotel features 18 unique rooms, each adorned with its own floral theme reflected in the choice of furniture.
– Tranquil location near both the beach and city center
– Buffet breakfast served until 11:00
– Perfect base for exploring beautiful Tuscan cities
– Rooftop terrace for relaxation after a day of activities
– Family-managed hotel with attentive service
Grand Hotel Imperiale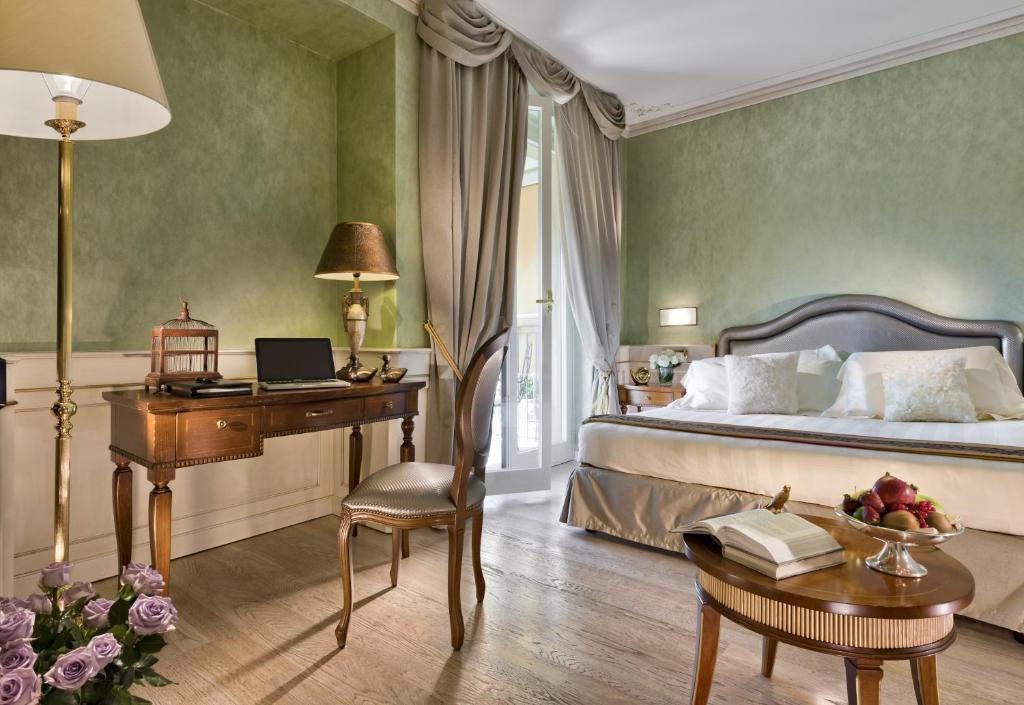 The Grand Hotel Imperiale in Forte dei Marmi is a luxurious 5-star hotel nestled in the midst of pine woods, offering guests a serene and indulgent experience. Located just 300 metres from the sea, this hotel boasts both indoor and outdoor pools, as well as a private beach for guests to enjoy. The rooms and suites are exquisitely designed with marble bathrooms, private balconies, LCD TVs, fax machines, multi-function telephones, and free Wi-Fi. The attentive and friendly staff at the Grand Hotel Imperiale are always available to assist guests with recommendations for tours, restaurants, and local activities. Additionally, guests can indulge in fine dining at the elegant on-site restaurant.
Pros:
– Luxurious rooms and suites with marble bathrooms
– Indoor and outdoor pools for relaxation
– Private beach access
– Attentive and friendly staff providing excellent service
– Elegant on-site restaurant for fine dining
Other places to stay in Forte dei Marmi
Luxury Hotels With Tennis Courts In Forte dei Marmi
Forte dei Marmi, a renowned Italian beach destination, offers luxury hotels with tennis courts that cater to the discerning traveler seeking both relaxation and an active lifestyle. With a perfect combination of world-class accommodations and top-notch tennis facilities, guests can indulge in the elegant ambiance and enjoy a game or two on well-maintained courts. These luxurious hotels provide a haven for tennis enthusiasts who appreciate the opportunity to perfect their skills while surrounded by the natural beauty of Forte dei Marmi. Whether it's a friendly match or rigorous training session, these hotels ensure an unforgettable stay for those looking to combine their love for tennis with a lavish getaway experience.
Hotel Il Negresco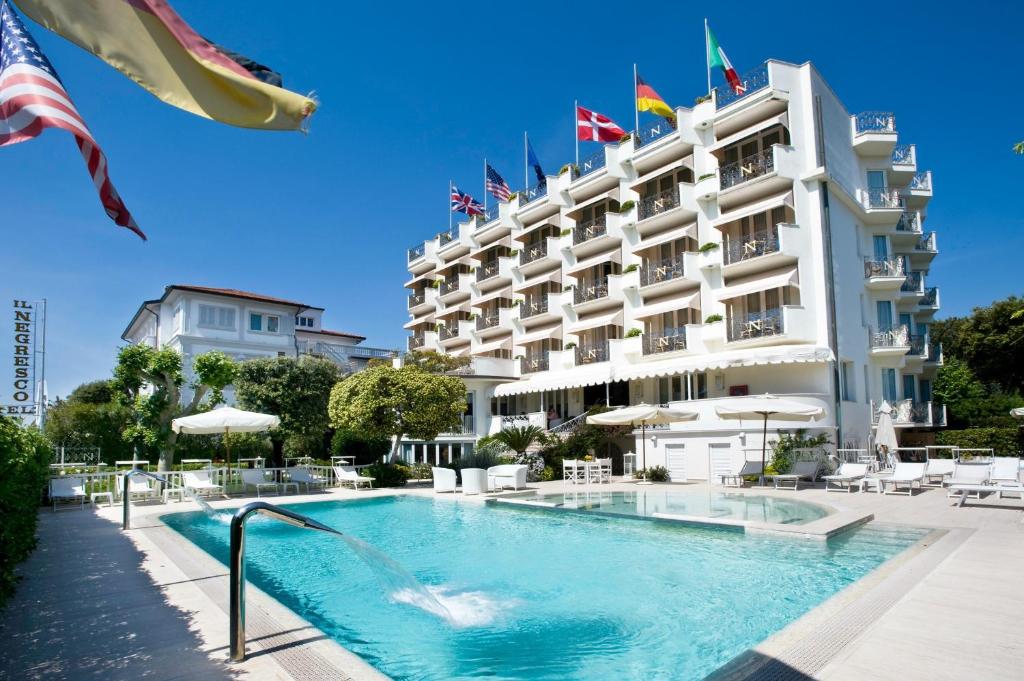 Hotel Il Negresco is a stunning seaside hotel located just 1 km from the town centre of Forte dei Marmi. With its prime location, guests can enjoy breathtaking views of the surrounding area for an unforgettable stay. Each room offers astonishing views either over the beach or the majestic peaks of the Apuan Alps. The rooms are beautifully furnished with a balcony, ensuring a comfortable and relaxing experience. The hotel features parquet floors and bright furniture and upholstery, creating a stylish yet cozy ambiance. Additionally, all bathrooms have been completely renovated in white Carrara marble, adding a touch of luxury to your stay. Indulge in delicious Italian Mediterranean cuisine made from fresh local products at Il Negresco's restaurant. For panoramic views of the Versilian Riviera, head up to the sun terrace on the 5th floor. With convenient transport links, exploring nearby cities such as Florence, Lucca, Pisa, and even the famous Cinque Terre is easy from this hotel.
Pros:
– Stunning seaside location
– Breathtaking views of both the beach and mountains
– Comfortably furnished rooms with balconies
– Renovated bathrooms in white Carrara marble
– Convenient transport links for easy exploration
Hotel 1908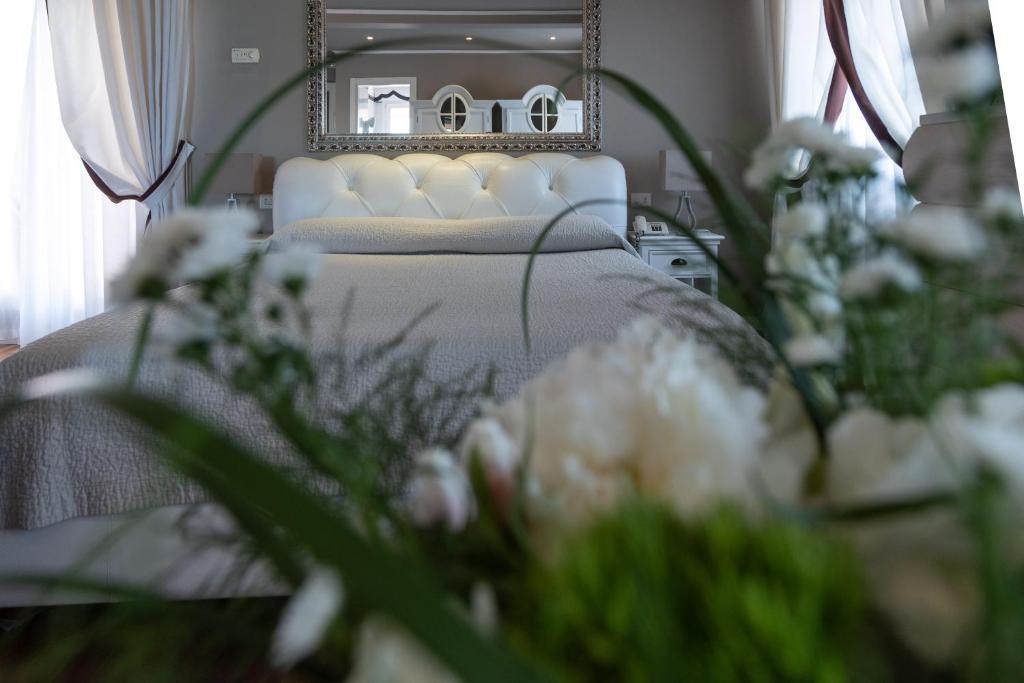 Hotel 1908 is a luxurious hotel located in Forte dei Marmi, offering guests impeccable services and stunning sea views. Situated between the renowned Capannina discotheque and the city centre, it allows guests to easily explore all that Forte dei Marmi has to offer. The hotel is situated in the elegant Roma Imperiale area, placing guests within close proximity to the city's main shopping streets. Hotel 1908 provides valet service, car rentals, and complimentary parking for added convenience. Guests can enjoy spacious rooms with either sea or garden views, accompanied by 24-hour room service. Additionally, transfer services are available to various destinations including the city centre, railway station, and Florence and Pisa Airports.
– Luxury services
– Outdoor pool with sea views
– Convenient location near shopping streets
– Spacious rooms with beautiful views
– Transfer services available
Raffaelli Park Hotel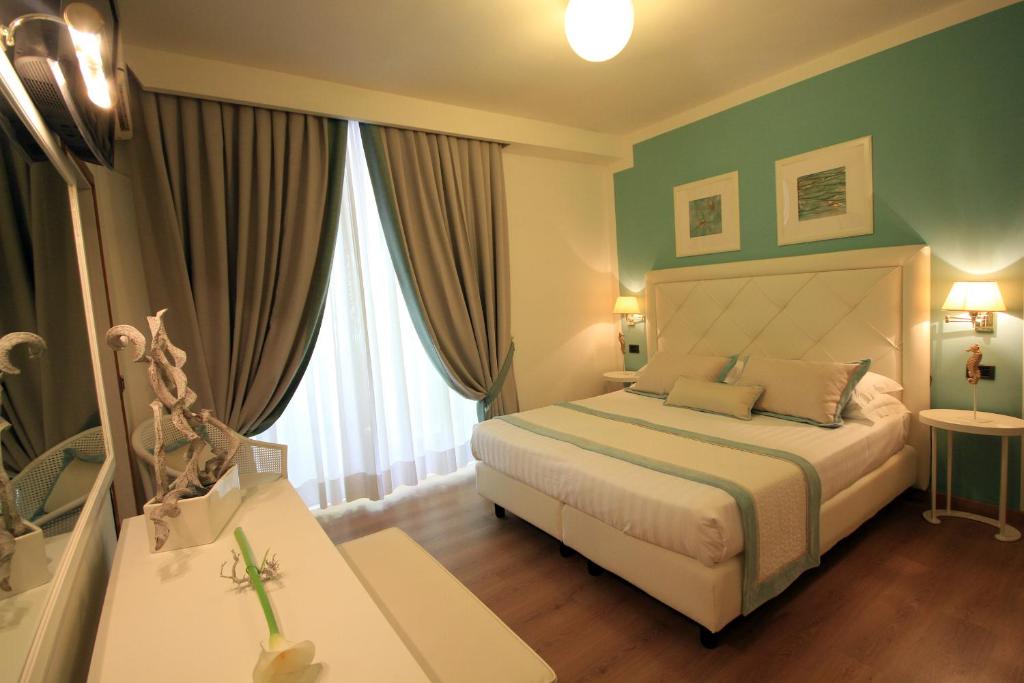 Located just 200 meters from the beach in Forte dei Marmi, Raffaelli Park Hotel is a charming retreat surrounded by a lush garden filled with trees. The hotel offers a range of amenities including free WiFi, complimentary parking, and air-conditioned rooms equipped with LCD TVs. Guests can indulge in delicious Tuscan cuisine at the hotel's Taverna Toscana restaurant, where they can savor fine local flavors. Breakfast is served as a varied buffet and can also be enjoyed in the comfort of your own room. The rooms at Raffaelli are elegantly decorated with soft parquet floors and classic-style wooden furniture, creating an inviting atmosphere. Additionally, each room comes with a tea/coffee maker for added convenience. For those who require it, ironing facilities are available upon request.
Pros:
– Conveniently located near the beach
– Free WiFi and parking
– Air-conditioned rooms for maximum comfort
– Delicious Tuscan cuisine at Taverna Toscana restaurant
– Complimentary breakfast buffet served in-room option
Forte dei Marmi Hotels with Tennis Court Main Information
| | |
| --- | --- |
| 🛏️ Hotels with Tennis Court in Forte dei Marmi | 6 |
| 💵 Hotels Prices From | $99 |
| 💰 Average price | 163 |
| ⭐ Number of Hotels Reviews | 392 |
FAQ
1. Are there hotels with tennis courts in Forte dei Marmi?
Yes, Forte dei Marmi offers a variety of hotels that provide tennis court facilities for guests. These hotels understand the importance of catering to sports enthusiasts and have made sure to include well-maintained tennis courts on their premises. Whether you are a beginner or an experienced player, you can enjoy playing tennis while staying at these hotels.
2. Do I need to bring my own tennis equipment to these hotels?
No, you do not need to bring your own tennis equipment when staying at hotels with tennis courts in Forte dei Marmi. These establishments typically offer complimentary use of rackets and balls to their guests. However, if you have specific preferences or requirements regarding the equipment, it is always advisable to contact the hotel in advance and inquire about their offerings.
3. Can non-guests also access the tennis courts at these hotels?
In most cases, access to the tennis courts is limited to hotel guests only. Hotels prioritize providing their guests with exclusive amenities and facilities, including the use of their sports facilities such as tennis courts. However, some hotels might allow non-guests access for a fee or during certain times when there is availability. It is best to check with individual hotels regarding their policies on non-guest usage of their tennis courts.
4. Are there any additional fees associated with using the hotel's tennis court?
While each hotel may have different policies regarding fees for using the tennis court, many establishments include this as part of their overall package and do not charge extra fees for its use by guests. However, it is always recommended to clarify this information while making your reservation or during check-in so that you are aware of any potential charges beforehand.
5. Can beginners take lessons on these hotel's tennis courts?
Absolutely! Many hotels with tennis courts in Forte dei Marmi offer tennis lessons for beginners. Professional instructors are available to guide you through the basics and help improve your skills. Whether you are just starting out or looking to enhance your technique, these lessons provide a great opportunity for beginners to learn and enjoy the sport in a comfortable and convenient setting.
Popular Hotels with Tennis destinations