Welcome to the breathtaking Caribbean Islands of Aruba, where tropical paradise meets a love for tennis. If you're yearning for an unforgettable getaway filled with sun-soaked days and exhilarating matches on the court, then look no further than the delightful selection of hotels in Aruba that offer top-notch tennis facilities. Nestled amidst palm-fringed beaches and crystal-clear turquoise waters, these exceptional accommodations not only cater to your desire for relaxation but also provide an opportunity to indulge in one of the most popular sports on the island.
Imagine waking up each morning to warm ocean breezes, stepping onto meticulously maintained tennis courts overlooking stunning vistas. Whether you're a seasoned player or just starting out with a racket in hand, these hotels offer courts suitable for all levels of play, ensuring that every guest can fully enjoy their time on this stunning Caribbean gem. From private lessons with experienced instructors to casual matches with fellow guests, there is something for everyone here.
After working up a sweat on the court, unwind by taking a dip in pristine swimming pools or rejuvenate your senses at luxurious spas. Indulge in delectable dining options featuring local flavors and international cuisine while soaking up mesmerizing sunsets from beachfront terraces. With an array of activities including snorkeling, diving, and exploring vibrant coral reefs nearby, Aruba effortlessly blends adventure and relaxation into an unforgettable tennis-centric vacation.
So pack your bags and get ready to experience an unparalleled level of luxury combined with your passion for tennis as you embark on an idyllic escape to Hotels with Tennis Court in beautiful Aruba—the ultimate destination for those seeking both sporting excitement and tropical tranquility.
Best Caribbean Islands Hotels with Tennis
Eagle Aruba Resort & Casino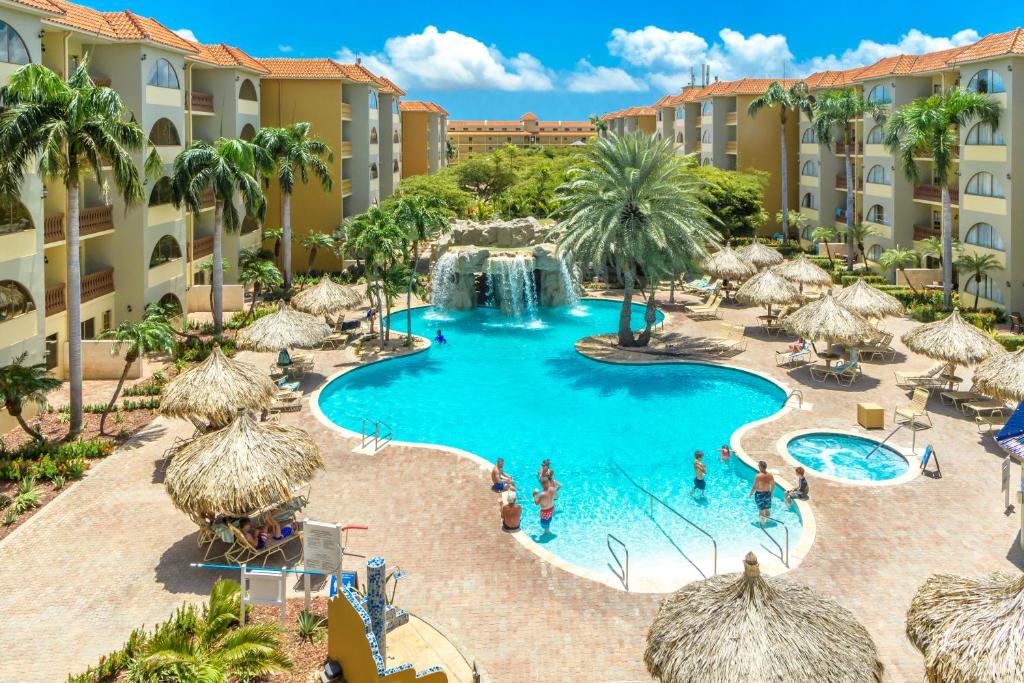 Located just 500 meters from the stunning Eagle Beach and 2 kilometers from the Divi Village Golf Course, Eagle Aruba Resort & Casino is a fantastic choice for travelers looking to enjoy both beach relaxation and outdoor activities. The resort offers a variety of amenities including a casino, gym, spa services, 16 beach tennis courts, and 3 swimming pools. Guests can enjoy free Wi-Fi in all areas and rooms. The spacious suites are elegantly furnished with wooden furniture and tiled floors, featuring a seating area, two flat-screen TVs, a patio or balcony, and a fully equipped kitchen. The private bathrooms are equipped with showers. Uncle Tony's Restaurant serves delicious breakfast, lunch, and dinner options while the Bar offers an extensive selection of beverages along with live music three times a week and daily happy hours. For added convenience, there is also a Dunkin' Donuts & Baskin-Robbins and supermarket on-site. The resort staff can arrange various activities such as snorkeling, scuba diving, sailing, horseback riding as well as Jeep Safaris and town center walking tours. With Oranjestad Main Square just 10 minutes away and Queen Beatrix International Airport only 20 minutes away by car, guests have easy access to explore the local attractions while enjoying their stay at this impressive resort.
– Excellent location near Eagle Beach
– Wide range of amenities including casino
– Spacious suites with fully equipped kitchens
– On-site restaurant serving tasty dishes
– Activities arranged for guests' enjoyment
Dreams Royal Beach Punta Cana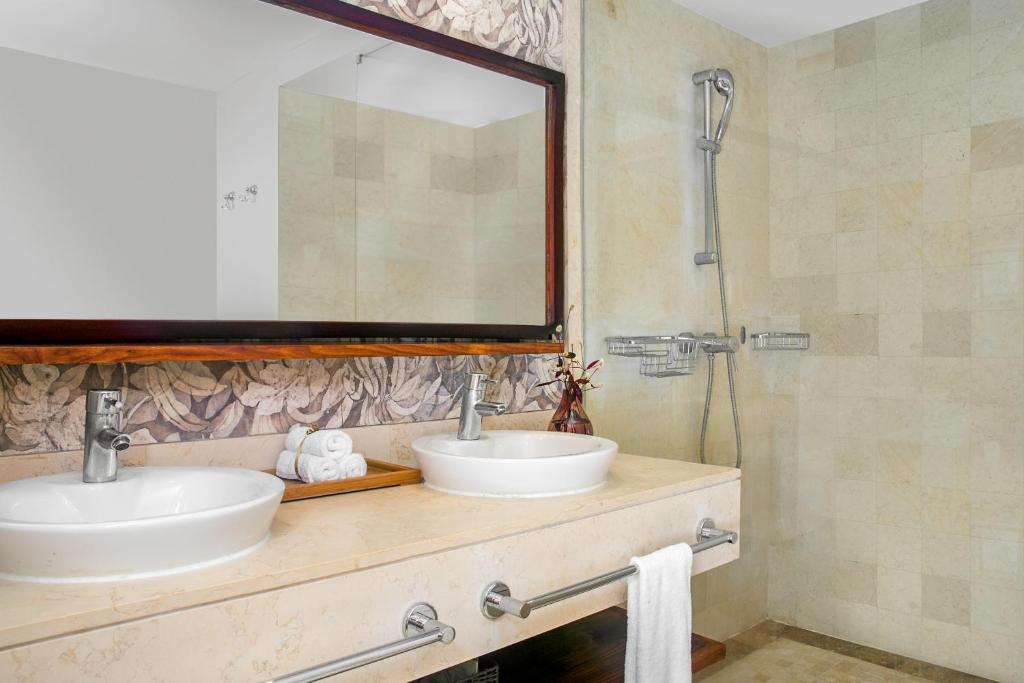 Dreams Royal Beach Punta Cana is a beautiful hotel located on Bavaro Beach, just 14 km from Punta Cana International Airport. The hotel offers a wide range of amenities including a casino, movies on the beach, and seven restaurants to cater to every guest's taste. Guests can enjoy their stay in Caribbean-style guest rooms with furnished private patios or balconies that provide stunning views. Each room is equipped with a minibar and a flat-screen cable TV for entertainment. The hotel also features five swimming pools for guests to relax and cool off in. For those who love water sports, the water sports facility offers activities such as sailing, windsurfing, and kayaking. Sports enthusiasts can also make use of the various courts available including basketball and beach volleyball. Additionally, guests can participate in daily classes at Punta Cana Now Larimar which include dancing and Spanish lessons. Dining options at Dreams Royal Beach Punta Cana are diverse with casual dining at Carnival International Café offering outdoor seating, gourmet á la carte items served at Capers Italian restaurant, and beachside offerings of hamburgers and hotdogs at Barefoot Grill. This family-friendly hotel is an excellent choice for travelers looking for an enjoyable vacation experience.
– Beautiful location on Bavaro Beach
– Wide range of amenities including a casino
– Five swimming pools to choose from
– Water sports facilities available
– Multiple dining options
Hotel Casa Hemingway (Juan Dolio)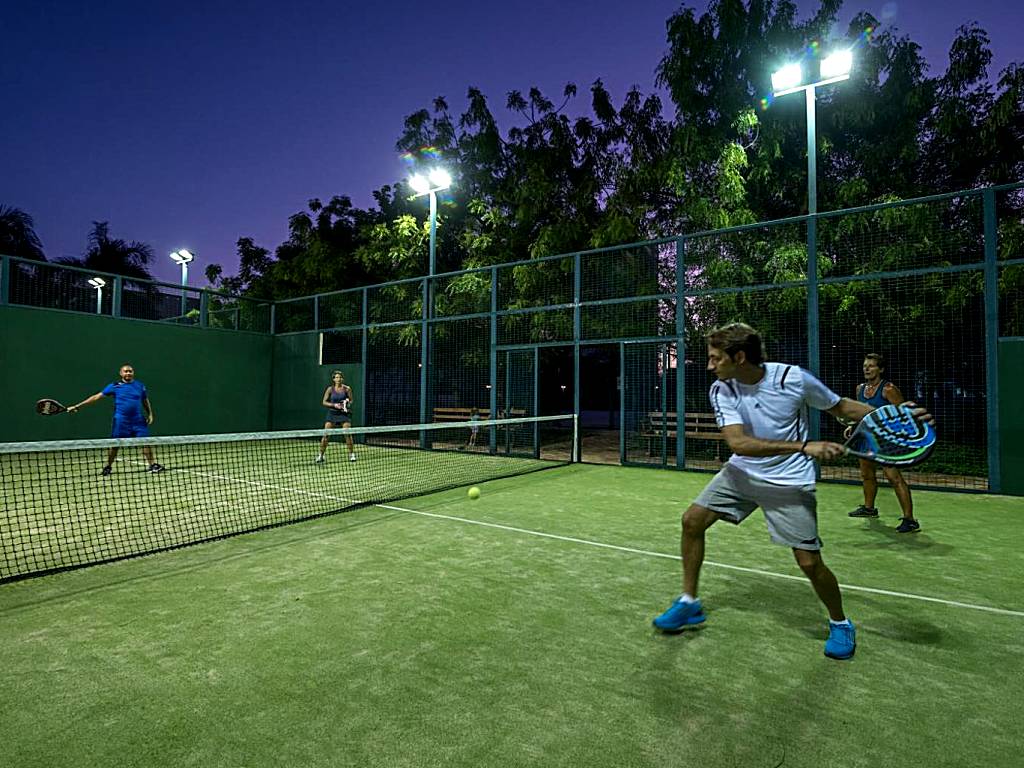 Hotel Casa Hemingway is a charming boutique hotel situated within the prestigious Club Hemingway Residences and Hotel in Juan Dolio, offering guests access to one of the best beaches in the Dominican Republic. Conveniently located only 20 minutes away from Las Americas International Airport (SDQ) and 45 minutes from Santo Domingo, this hotel provides a tranquil escape while still being easily accessible. The hotel features tennis courts for guests who enjoy staying active, along with a private transportation service that can take you to nearby golf courses, the airport, and other popular landmarks. The spacious one and two bedroom suites at Casa Hemingway are equipped with kitchenettes, living rooms, and large terraces complete with lounge areas and dining tables. Guests also have access to a range of amenities including five restaurants (three of which are located on the beach), two gyms (one with beach views), an equestrian center offering private lessons, and five swimming pools (two of which are right on the beach).
Luxury Hotels With Tennis Courts In Caribbean Islands
The Caribbean Islands are a haven for luxury travelers seeking sun, sand, and the perfect game of tennis. With its pristine beaches and tropical climate, this paradise offers an array of exquisite hotels that cater to guests' every desire—including state-of-the-art tennis courts. Whether you're a seasoned player or looking to pick up a racket for the first time, these luxury resorts provide the perfect setting to practice your backhand while enjoying breathtaking ocean views and world-class amenities. From private lessons with professional instructors to friendly matches with other guests, these Caribbean hotels ensure that your holiday is filled with both relaxation and exhilaration on and off the court.
Majestic Colonial Punta Cana – All Inclusive
Majestic Colonial Punta Cana – All Inclusive is a stunning oceanfront resort located on Arena Gorda Beach, offering breathtaking views of the Caribbean Sea. This luxurious hotel features an array of amenities including tennis courts, a spa, private beach access, and seven exquisite restaurants. The spacious suites at Majestic Colonial are elegantly furnished with tile floors and four-poster beds. Each suite includes a minibar, large seating area with a desk, and a bathroom with a walk-in shower and bathrobes. Guests can unwind at the Spa Resort Colonial which offers 10 treatment rooms surrounded by lush gardens, as well as two saunas and a large hot tub for ultimate relaxation. There are 11 bars throughout the resort where guests can enjoy live music along with refreshing drinks. The outdoor pool spans 400 meters and has two hot tubs for guests to take advantage of. For those looking to stay active during their vacation, there is also a gym and basketball courts available on-site. Families will appreciate the kid's club that features a large playground designed like a castle. Additionally, various body and beauty treatments are offered for those seeking pampering during their stay.
– Oceanfront location overlooking the beautiful Caribbean Sea.
– Luxury spa offering an array of treatments.
– Multiple dining options including local Caribbean cuisine.
– Private beach access for guests to enjoy.
– Tennis courts available for sports enthusiasts.
(Note: The pros listed above have been derived from the information provided about Majestic Colonial Punta Cana – All Inclusive.)
Majestic Mirage Punta Cana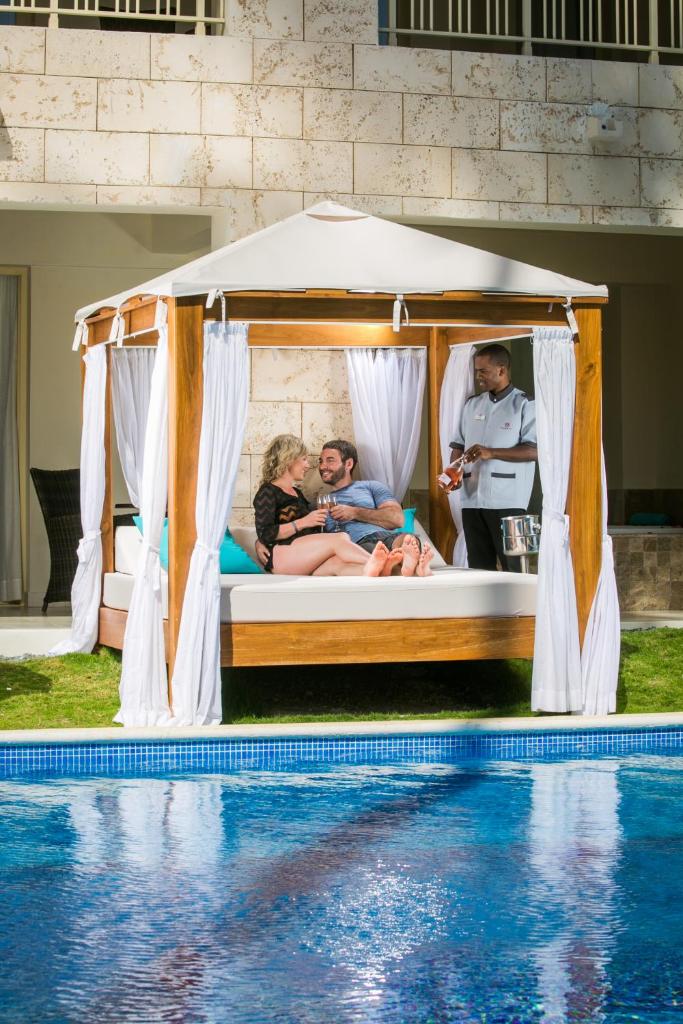 Located in Punta Cana, Majestic Mirage is a resort that offers free WiFi and a range of amenities for its guests. The hotel features a private beach area, water sports facilities, a restaurant, and a bar. Each room at the resort is air-conditioned and equipped with a flat-screen TV. Some rooms even offer views of the pool or garden. For added comfort, guests are provided with bathrobes, slippers, and free toiletries. The property also includes a 24-hour front desk, cash machine, hairdresser's salon, and gift shop. Additionally, the hotel provides free private parking on site. Golf enthusiasts will be pleased to know that there is a golf club nearby called Punta Blanca. Majestic Mirage is conveniently located near various attractions such as Cap Cana Marina and Playa Juanillo which are both 27 km away from the property. The nearest airport is Punta Cana International Airport which is only 21 km away.
Pros:
– Free WiFi
– Private beach area
– Water sports facilities
– Air-conditioned rooms with flat-screen TVs
– Convenient location near attractions
The Liguanea Club (Kingston)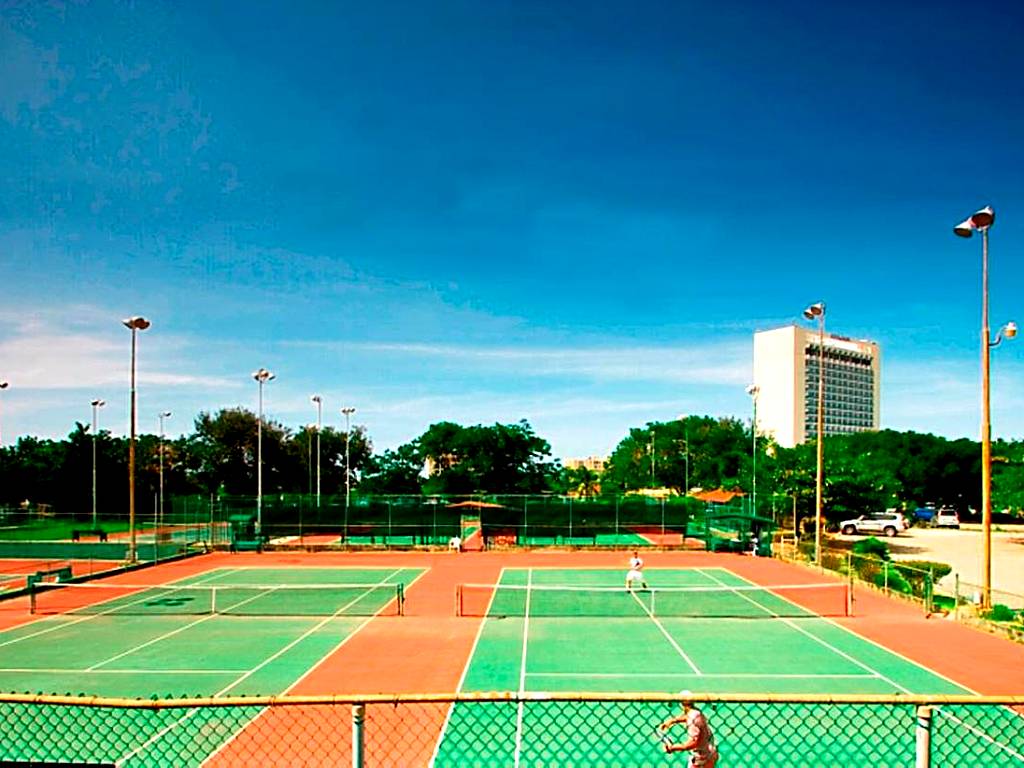 The Liguanea Club is a hotel located in New Kingston, just a 15-minute drive from Kingston city centre and 2.5 km away from the famous Bob Marley Museum. This hotel offers a range of amenities including a swimming pool, gym, tennis and squash courts, and free Wi-Fi. The rooms and suites are simply decorated with air conditioning, cable TV, and private bathrooms. Guests staying at The Liguanea Club have access to eight tennis courts and six squash courts as well as the fitness centre. Suites also come equipped with a microwave and fridge. The property features a restaurant and bar serving local and international cuisine, while additional dining options can be found within 500 metres of the hotel. Meeting and event facilities are available for guests' convenience. Nearby attractions include Nelson Mandela Park (a 5-minute drive) and Trench Town Culture Yard Museum (5 km away). Emancipation Park is just 450 metres from the hotel while Norman Manley International Airport is approximately a 30-minute drive away.
Pros:
– Eight tennis courts available for guests to use
– Convenient location in New Kingston
– Accessible to various dining options within walking distance
– Complimentary Wi-Fi throughout the entire property
– Additional amenities including swimming pool, gym, squash courts
Best Caribbean Islands Hotels With Tennis Courts
The Caribbean Islands are a paradise for tennis enthusiasts, offering a plethora of hotels with top-notch tennis courts. Whether you are a novice or a seasoned player, these hotels provide the perfect setting to indulge in your love for the sport while enjoying breathtaking tropical surroundings. With well-maintained facilities and experienced instructors to guide you, these hotels ensure an unforgettable tennis experience amidst the stunning landscapes of the Caribbean. Soak up the sun, feel the ocean breeze, and immerse yourself in thrilling matches at these incredible Caribbean hotels with tennis courts.
The Buccaneer Beach & Golf Resort (Christiansted)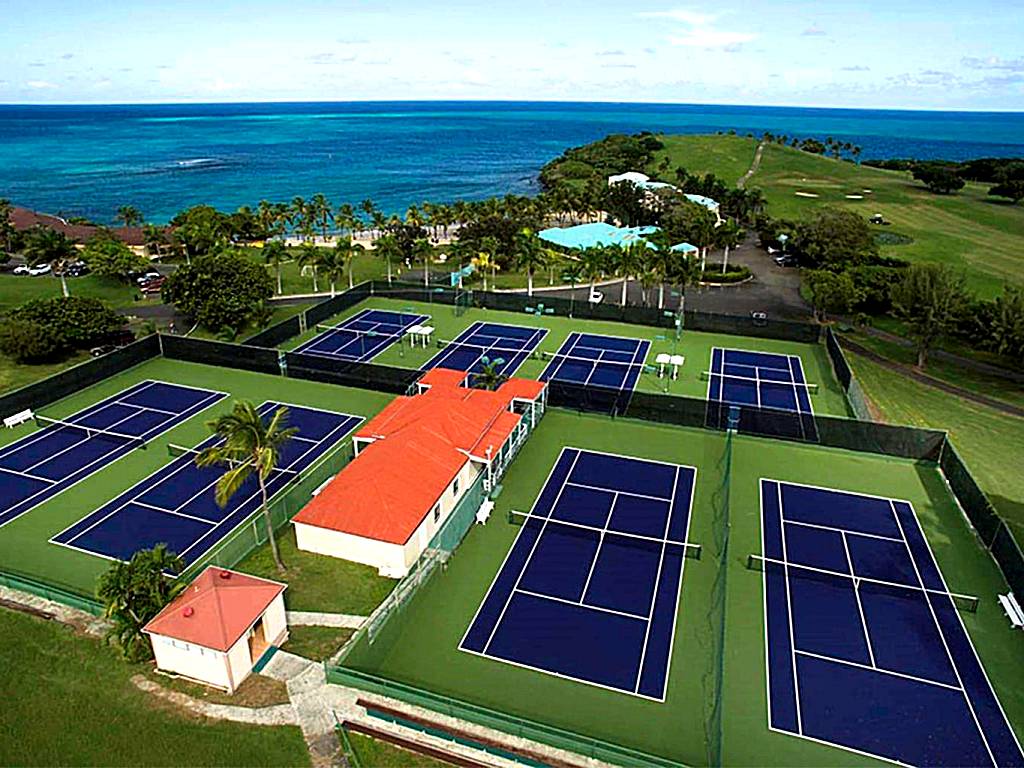 The Buccaneer Beach & Golf Resort in Christiansted is a historic and family-owned resort that offers a country club atmosphere on 340 tropical acres. With 131 accommodations, including rooms with balconies or patios and mini-refrigerators, this luxurious resort provides the perfect setting for a memorable vacation. Guests can enjoy three private beaches, three restaurants, boutiques, an 18-hole golf course, spa, two pools, fitness center, jogging trail, and even a water sports center. The resort also features eight tennis courts for guests to practice their skills and enjoy friendly matches. Located just 7 minutes from the dining and sightseeing options in historic Christiansted and only twenty minutes from St Croix's airport, The Buccaneer Beach & Golf Resort offers convenience as well as luxury. As an added bonus, breakfast is included along with a welcome drink and daily maid service. Guests can also take advantage of complimentary snorkeling gear, kayaks, paddleboards, and various guest activities and entertainment offered by the resort.
– Resort with tennis courts (and paddle)
– Private beaches
– Multiple dining options
– Convenient location near historic Christiansted
– Complimentary snorkeling gear
St. James's Club Resort – All Inclusive (English Harbour Town)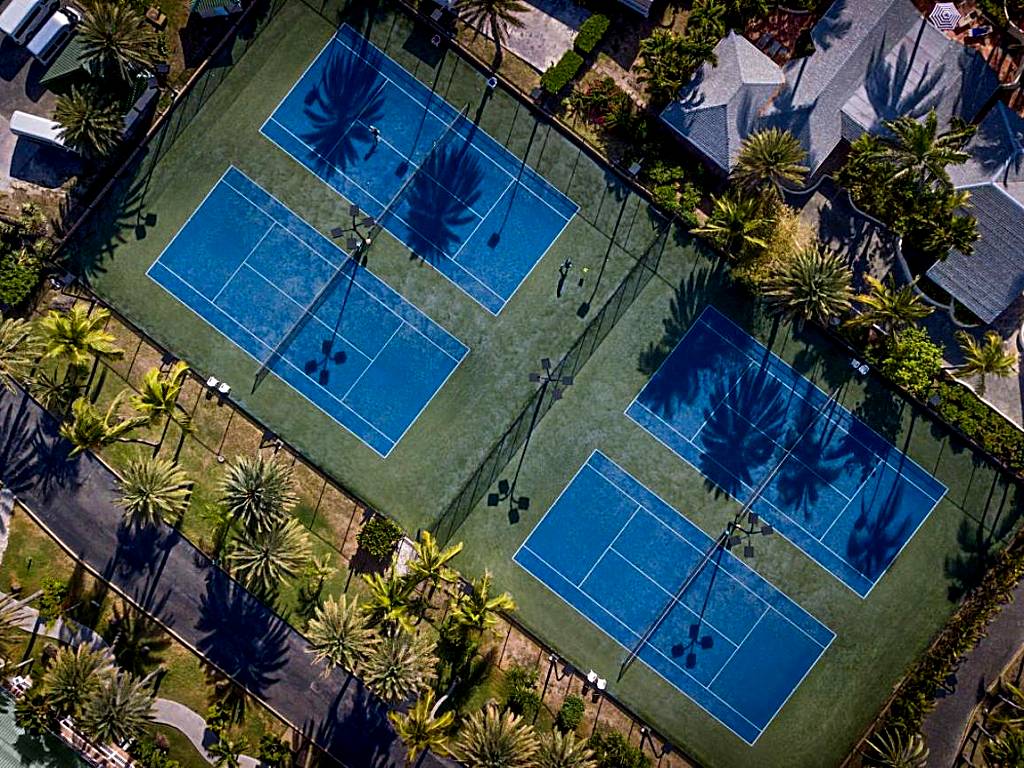 St. James's Club Resort – All Inclusive is a 4-star resort located in English Harbour Town, Antigua. This beautiful resort boasts two private beaches along the Caribbean Sea and Mamora Bay. With its six tennis courts, guests can enjoy a game of tennis while taking in the breathtaking views of the ocean and gardens. The resort also features four restaurants, including Rainbow Garden with its spacious dining room and wrap-around patio, and The Docksider which offers panoramic ocean views and Caribbean-inspired dishes. Guests can relax at one of the four outdoor pools, including a children's pool and a three-tiered tranquility pool. For those looking for some adventure, there is an on-site Watersports Center that offers free windsurfing, sailing, or kayaking lessons and equipment. The state-of-the-art gym provides floor-to-ceiling windows with sea views for those who want to stay active during their stay. Additionally, the resort has a Billiards Center with pool and ping pong tables for guests to enjoy. With its convenient location near Antigua rainforest canopy tour just 20 minutes' drive away, St.James's Club Resort – All Inclusive offers endless possibilities for relaxation and adventure.
– Six tennis courts
– Two private beaches
– Four restaurants
– State-of-the-art gym with sea views
– On-site Watersports Center
Caribbean Islands Hotels with Tennis Court Main Information
| | |
| --- | --- |
| 🛏️ Hotels with Tennis Court in Caribbean Islands | 8 |
| 💵 Hotels Prices From | $211 |
| 💰 Average price | 772 |
| ⭐ Number of Hotels Reviews | 793 |
FAQ
1. Are there any hotels in Aruba's Caribbean Islands that have a tennis court?
Yes, there are several hotels in Aruba's Caribbean Islands that offer tennis court facilities. These hotels understand the importance of catering to tennis enthusiasts and provide well-maintained courts for their guests' enjoyment. Whether you're a beginner or an experienced player, these hotels offer the perfect opportunity to stay active and indulge in your passion for tennis while enjoying the beautiful island views.
2. Can I book a hotel with a tennis court in advance?
Absolutely! It is advisable to book your hotel with a tennis court in advance to ensure availability during your stay. Popular hotels often have high demand for their sports facilities, including tennis courts, so booking ahead will guarantee you access to these amenities without any hassle.
3. Do all hotels provide equipment or should I bring my own racquet?
Most hotels that offer tennis courts also provide basic equipment such as racquets and balls for their guests' convenience. However, it is always recommended to check with the hotel beforehand if they have specific policies regarding equipment rentals or if bringing your own racquet is preferred.
4. Are there any additional fees associated with using the tennis courts at these hotels?
While some hotels may include complimentary use of their tennis courts as part of their amenities, others might charge additional fees for renting the court or accessing certain services like coaching or organized tournaments. It's best to inquire about any potential charges directly at the time of booking or upon arrival to avoid any surprises.
5. Can non-guests use the hotel's tennis facilities?
In most cases, access to hotel amenities such as tennis courts is limited to registered guests only. However, some properties may allow non-guests access by paying a fee or through special arrangements like day passes or memberships. It's advisable to contact the respective hotel directly and inquire about their policy regarding non-guest usage of their tennis facilities.
Popular Hotels with Tennis Court destinations