Welcome to the enchanting destination of Gstaad, nestled in the heart of Switzerland's majestic Alps. Known for its picturesque landscapes and world-class amenities, Gstaad is a haven for tennis enthusiasts seeking a luxurious escape. Immerse yourself in the alpine charm as you explore the myriad of Hotels with Tennis Court dotting this charming town.
Indulge in an opulent stay at one of Gstaad's exquisite accommodations that cater to both your love for tennis and desire for lavishness. These extraordinary hotels offer state-of-the-art tennis facilities adorned with breathtaking mountain views. Whether you are a seasoned player or a beginner looking to improve your skills, these renowned establishments provide professional coaching services tailored to meet all levels of expertise.
Beyond the thrill of playing on immaculate courts, Gstaad boasts an array of activities that will captivate even non-tennis enthusiasts. Spend your afternoons exploring the quaint cobblestone streets lined with boutique shops and local eateries serving delectable Swiss delicacies. Unwind from a competitive match with a tranquil hike through lush green meadows or rejuvenate at one of the town's renowned wellness spas.
Embark on an unforgettable journey where luxury and athleticism intertwine seamlessly in Gstaad's exceptional Hotels with Tennis Court.
Best Gstaad Hotels with Tennis
Le Grand Bellevue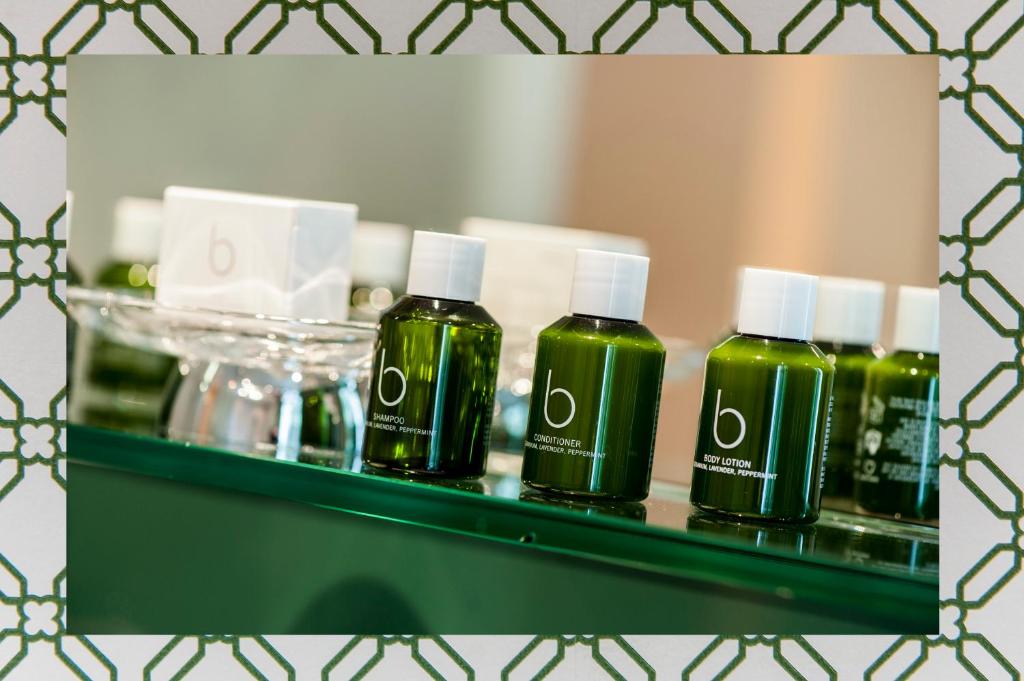 The luxurious 5-star superior Hotel Le Grand Bellevue is located in a beautiful park in the centre of Gstaad. It is home to the stylish Leonard's restaurant, which has been awarded with 16 Gault and Millau points. Guests can indulge themselves in the exclusive wellness centre or unwind in the private on-site cinema. Dining options are plentiful, including Le Petit Chalet, a charming Swiss mountain cabin serving traditional local specialties, The Sushi Bar for fresh hand-rolled sushi, The Lounge for afternoon tea and pastries, and The Bar with its stylish interior and range of cocktails accompanied by live piano music. Wine lovers will be thrilled by Leonard's Cellar and its collection of over 9000 bottles from around the world. The hotel also boasts an elegant 3,000 sqm spa with facilities such as an indoor pool, hot tub, bio sauna, Turkish steam bath, laconicum (a type of sauna), Himalayan salt room and ice grotto. There are limited free outdoor parking spaces available in front of the hotel, while a parking garage can be used at an additional cost.
– Located in a park setting
– Award-winning restaurant
– Exclusive wellness center
– Private on-site cinema
– Extensive dining options
Ultima Gstaad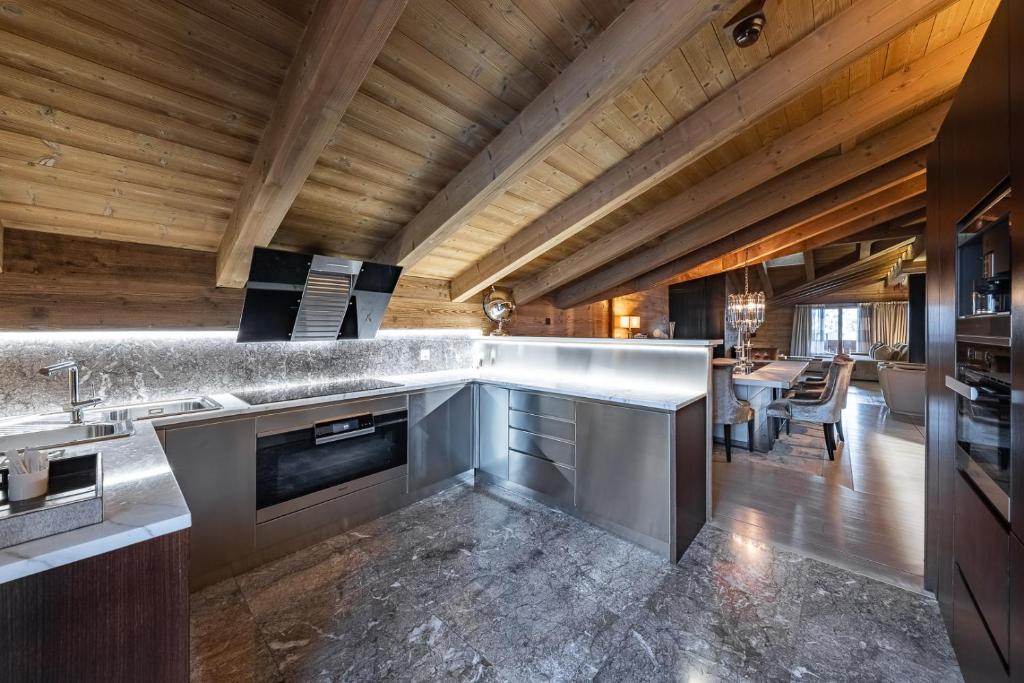 Ultima Gstaad is a beautiful hotel located just a 10-minute walk from the Gstaad promenade. It consists of three large wooden chalets and offers guests an unforgettable experience. The hotel features an impressive 800 m² spa area, perfect for relaxation and rejuvenation. Additionally, guests can enjoy free WiFi and complimentary parking during their stay. Ultima Gstaad also boasts an on-site restaurant and three hotel bars that are open during the winter season, serving gastronomic cuisine combined with Alpine specialties and regional products. Each room at the hotel comes with a terrace or balcony offering stunning views of Gstaad and the Bernese Alps, as well as luxurious amenities like a bronze fireplace, walk-in wardrobe, Nespresso coffee machine, and bathroom with free Bvlgari toiletries. For those seeking more spacious accommodations, the residences and presidential suite include a private entrance and fully equipped kitchen. The seasonal bars at Ultima Gstaad offer unique experiences such as a shisha bar, smokers' lounge, lobby bar serving snacks and cocktails, and even a health bar with fresh juices and smoothies. The Ultima spa is truly exceptional with its aesthetics clinic, five treatment rooms, steam bath, Finnish sauna, indoor and outdoor hot tubs, 15-meter swimming pool, and gym facilities. Guests can also take advantage of the hotel's cinema room or ski room for added convenience. Outdoor enthusiasts will appreciate the proximity to various ski lifts such as Wispile (50 meters), Eggli (400 meters), Rütti-Bodmen (100 meters). Lastly, Bern-Belp Airport is conveniently located 80 km from Ultima Gstaad.
– Three large wooden chalets provide a cozy atmosphere
– Luxurious rooms featuring stunning views
– Impressive 800 m² spa area for ultimate relaxation
– On-site restaurant offering gastronomic cuisine
– Proximity to multiple ski lifts for easy access to the slopes.
Boutique Hotel Alpenrose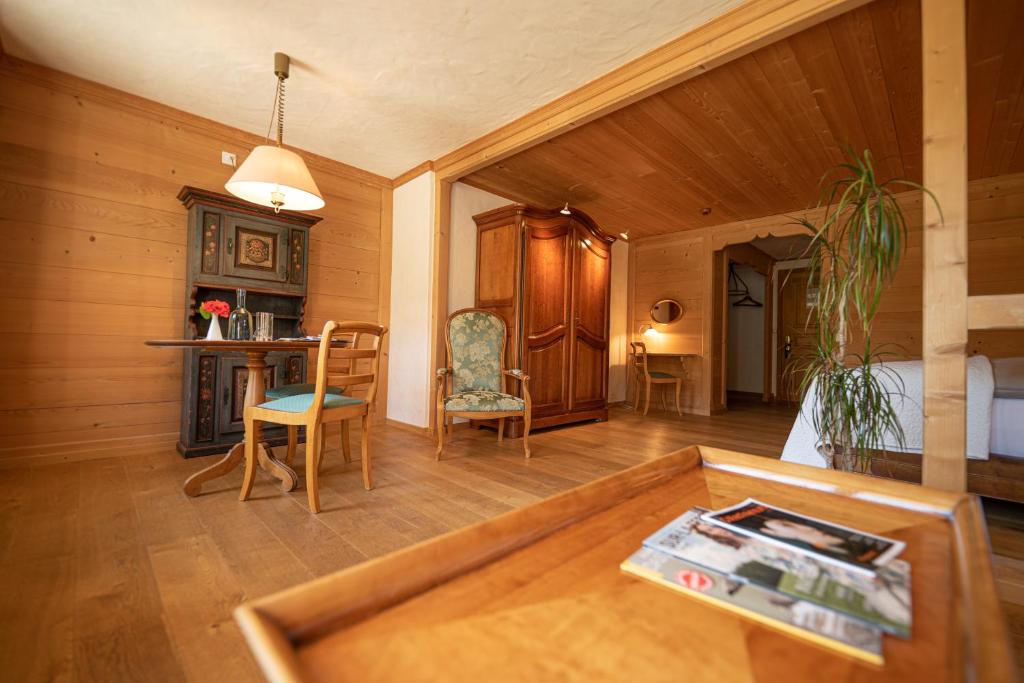 The Boutique Hotel Alpenrose is situated on the picturesque sunny plateau of Gstaad-Saanenland, a popular destination for skiing and hiking enthusiasts. This charming hotel boasts two exquisite restaurants that cater to every culinary desire. The south-facing rooms are adorned with sunny balconies, allowing guests to bask in breathtaking views of the surrounding mountains and glaciers. For an exceptional dining experience, guests can indulge their taste buds at the award-winning gourmet restaurant Azalée, which has been honored with 15 GaultMillau points. After an adventurous day in the mountains, guests can unwind at the spa area, which includes a hot tub and various massage treatments for complete relaxation. Additionally, Garage parking is available for added convenience.
– Spectacular mountain and glacier views from sunny balconies
– Exquisite cuisine with 15 GaultMillau points awarded
– Relaxing spa area including a hot tub
– Convenient garage parking availability
Luxury Hotels With Tennis Courts In Gstaad
Gstaad, nestled in the heart of the Swiss Alps, offers a truly luxurious experience for tennis enthusiasts. With its picturesque backdrop and pristine mountain air, this destination is a haven for those seeking to combine their love for both relaxation and sport. Luxury hotels in Gstaad offer state-of-the-art tennis facilities that cater to players of all levels. Whether you are a beginner or an advanced player, you can enjoy the thrill of playing on well-maintained courts surrounded by stunning natural beauty. After an exhilarating match or two, unwind in the hotel's spa or indulge in gourmet dining options, ensuring an unforgettable stay that combines luxury with your passion for tennis.
Beau-Rivage Palace
The Beau-Rivage Palace is a renowned hotel in Europe, beloved for its exceptional service and top-notch quality. Situated amidst 10 acres of beautiful parkland on the shores of Lake Geneva in Lausanne, this elegant belle époque establishment offers mesmerizing views of the lake and the majestic French Alps. The hotel's sumptuous architecture, adorned with antiques and fine replicas, immerses guests in a rich historical atmosphere throughout both public and private spaces. However, despite the grandeur, visitors instantly feel at ease thanks to the attentive and welcoming staff, which notably includes Switzerland's only female chief concierge.
– Spectacular location by Lake Geneva with stunning views
– Luxurious surroundings steeped in history
– Warm and attentive staff providing excellent service
– Expansive parkland for leisurely walks or outdoor activities
– Switzerland's only female chief concierge ensures personalized assistance
Gstaad Palace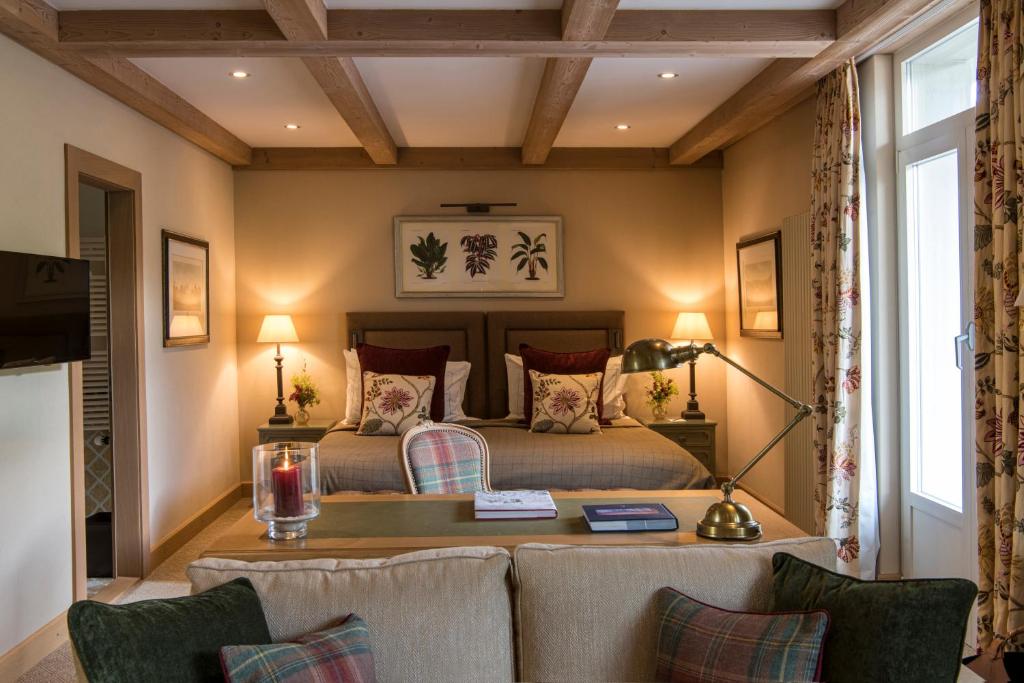 Overlooking the picturesque town of Gstaad, the Gstaad Palace is a historic hotel that offers stunning views of the Swiss Alps. Established in 1913, this renowned establishment has built a reputation for providing discreet and refined hospitality to its discerning international clientele. The hotel boasts an expansive spa and health club spanning over 1,800 square meters, featuring eight treatment rooms, saunas, steam baths, relaxation areas with panoramic vistas, an indoor pool, an outdoor pool with Jacuzzi, a state-of-the-art gymnasium, an activity room, and a unique hammam experience with seven rooms. With over 250 dedicated staff members ensuring guests' every need is met, this elegant hotel guarantees an unforgettable stay in a distinguished setting with a relaxed ambiance. Indulge in traditional Swiss cuisine or savor delectable barbecue specialties at one of the hotel's five outstanding restaurants offering Italian and gourmet options. Unwind further at the laid-back lobby bar or the stylish Bar du Grill before dancing the night away at the famous GreenGo nightclub. In addition to all these amenities and activities available on-site, guests can also enjoy a game of squash or play tennis on any of their four outdoor tennis courts.
– Breathtaking view of the Swiss Alps
– Expansive spa and health club facilities
– Five superb restaurants offering diverse cuisines
– Laid-back lobby bar and stylish nightclub
– Squash court and four outdoor tennis courts
Bauernhotel Gässlihof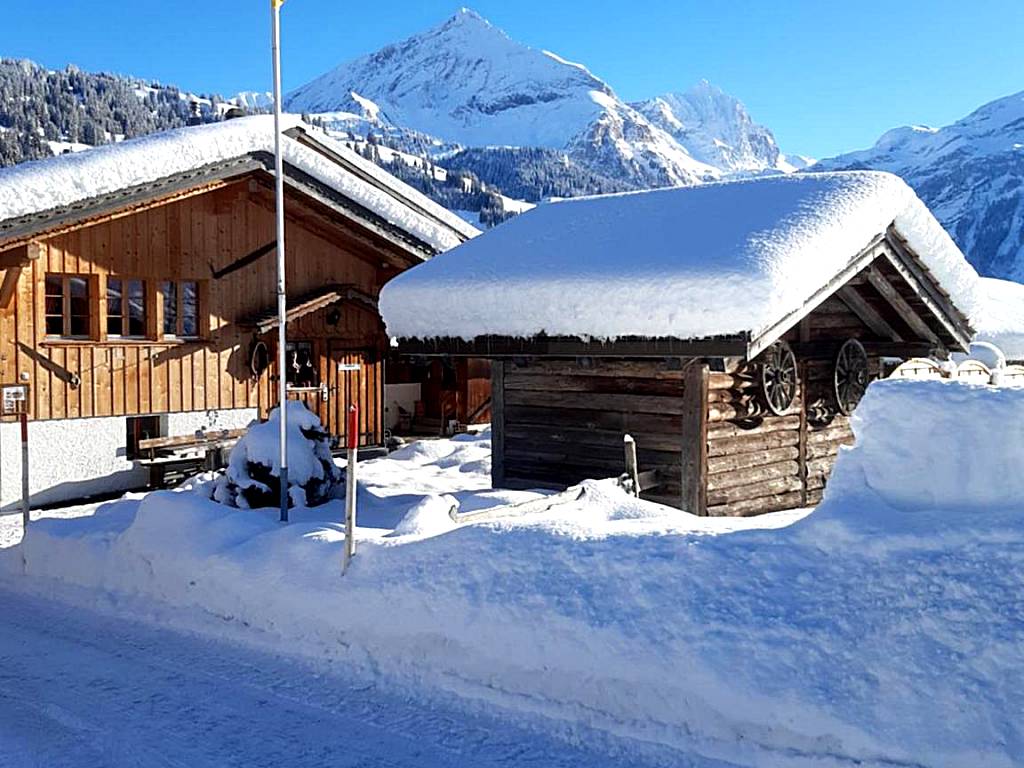 Located above the village of Feutersoey, Bauernhotel Gässlihof is a charming organic farm offering rustic rooms with stunning mountain views. Situated at an elevation of 1160 meters, this cozy Bed and Breakfast provides guests with free Wi-Fi and parking. The hotel features a shared TV room where guests can unwind and enjoy complimentary drinks. For outdoor enthusiasts, there is a tennis court on-site, as well as easy access to cross-country skiing trails. Additionally, the Glacier 3000 Ski Area is just 7 km away, making it an ideal destination for year-round skiing. Guests can start their day with a delicious buffet breakfast before exploring nearby attractions such as Gstaad and Les Diablerets.
– Rustic rooms with beautiful mountain views
– Free Wi-Fi and parking
– Shared TV room with complimentary drinks
– Access to tennis court on-site
– Close proximity to ski areas and other attractions
Gstaad Hotels with Tennis Court Main Information
| | |
| --- | --- |
| 🛏️ Hotels with Tennis Court in Gstaad | 6 |
| 💵 Hotels Prices From | $110 |
| 💰 Average price | 862 |
| ⭐ Number of Hotels Reviews | 402 |
FAQ
Can you recommend any hotels in Gstaad that have a tennis court?
Certainly! One highly recommended hotel in Gstaad with a tennis court is The Alpina Gstaad. This luxurious hotel not only offers beautifully appointed rooms and stunning mountain views but also boasts two outdoor tennis courts for guests to enjoy.
Are there any budget-friendly options for hotels with tennis courts in Gstaad?
Yes, if you're looking for more budget-friendly options, Hotel Bellerive is a great choice. Situated in the heart of Gstaad, this charming hotel features a well-maintained tennis court where guests can play and unwind after exploring the city.
Do any of the hotels offer tennis lessons or coaching services?
Absolutely! If you're looking to improve your tennis skills or simply want some guidance on the court, The Grand Hotel Bellevue offers professional coaching services. Their experienced instructors will help you enhance your game while enjoying your stay in Gstaad.
Are there any family-friendly hotels with tennis courts in Gstaad?
Yes, there are several family-friendly hotels in Gstaad that also offer tennis courts. One such option is Huus Hotel, which provides both indoor and outdoor courts along with various other amenities perfect for families such as spacious rooms and an on-site kids' club.
Is it possible to book a hotel room specifically overlooking the tennis court?
Indeed! For those who would like a room with a view of the tennis court, The Park-Gschwend Chalet is an excellent choice. This boutique-style hotel offers comfortable accommodations and some rooms even feature balconies that overlook their very own private tennis court.
Popular Hotels with Tennis destinations