Welcome to our latest guide on accommodations with a tennis court in the beautiful coastal town of Cascais, Portugal. Nestled along the stunning shores of the Atlantic Ocean, Cascais offers a perfect blend of natural beauty, historical charm, and an array of outdoor activities for all travelers to enjoy. Whether you're a professional tennis player looking to practice your skills or simply someone who enjoys a friendly game amidst breathtaking surroundings, Cascais has some excellent options that cater to your needs.
From luxurious resorts to boutique hotels, there are various options available that offer top-notch amenities including state-of-the-art tennis courts. Imagine waking up in the morning and stepping onto the court for an invigorating match before exploring all that Cascais has to offer. These hotels not only provide first-class facilities but also boast attentive staff who ensure your every need is met. Soak up the Mediterranean sun as you indulge in a little healthy competition and improve your game while enjoying exceptional hospitality.
Cascais truly is a haven for tennis enthusiasts seeking both relaxation and sporting thrills. Whether you're planning a romantic getaway or a family vacation, these hotels offer something for everyone. So pack your racquets and get ready for an unforgettable stay surrounded by stunning landscapes and fantastic opportunities to play tennis at some of the best accommodations Cascais has to offer!
Best Cascais Hotels with Tennis
Hotel Fortaleza do Guincho Relais & Châteaux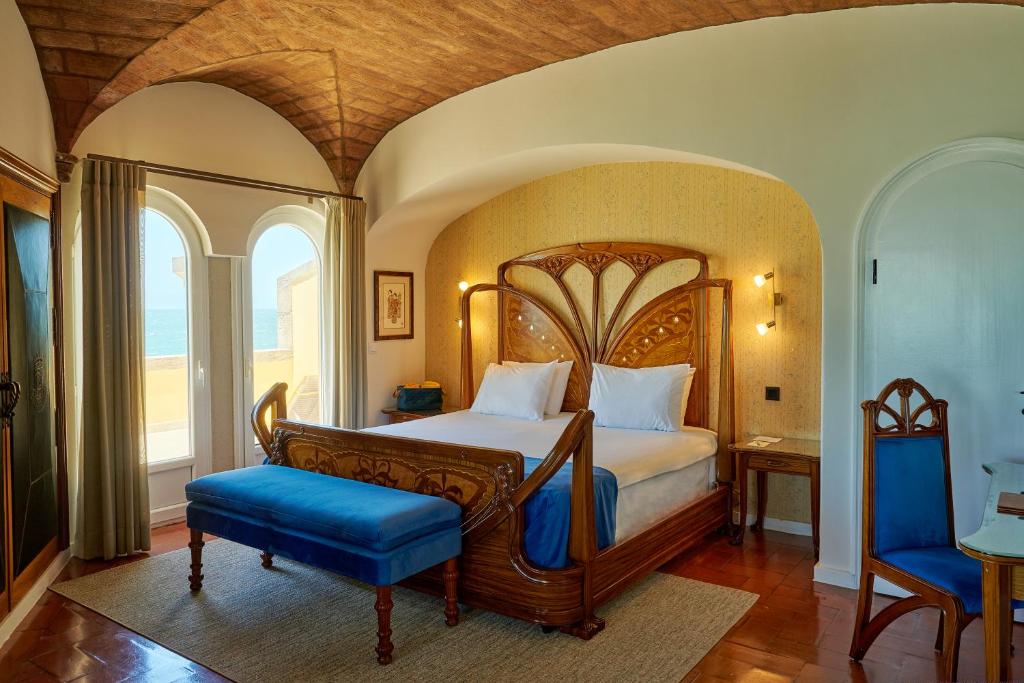 Hotel Fortaleza do Guincho Relais & Châteaux is a charming boutique hotel located on the site of a 17th-century fortress with stunning views of the Atlantic Ocean. The highlight of this hotel is its Michelin star award-winning gourmet restaurant, which offers delicious dishes with strong Portuguese influences and uses high-quality national ingredients. The wine list is carefully curated by an expert sommelier. In addition to its exceptional dining options, the hotel also has a second restaurant called Spot by Fortaleza do Guincho. The rooms at Hotel Fortaleza do Guincho Relais & Châteaux are beautifully decorated with rich fabrics, dark wood furniture, and paintings in golden frames. Some rooms even have private balconies with ocean views. After exploring the nearby Sintra-Cascais Natural Park, guests can relax on the vast sun terrace overlooking the ocean while sipping cocktails from the hotel's bar. Another added benefit for guests is their partnership with a lotion SPA located just 5 minutes away by car, where they can enjoy discounted prices for treatments.
– Michelin star award-winning gourmet restaurant
– Sweeping Atlantic Ocean views
– Beautifully decorated rooms with private balconies
– Partnership with nearby lotion SPA offering discounted prices for guests
– Vast sun terrace overlooking the ocean
Hotel Estoril Eden (Estoril)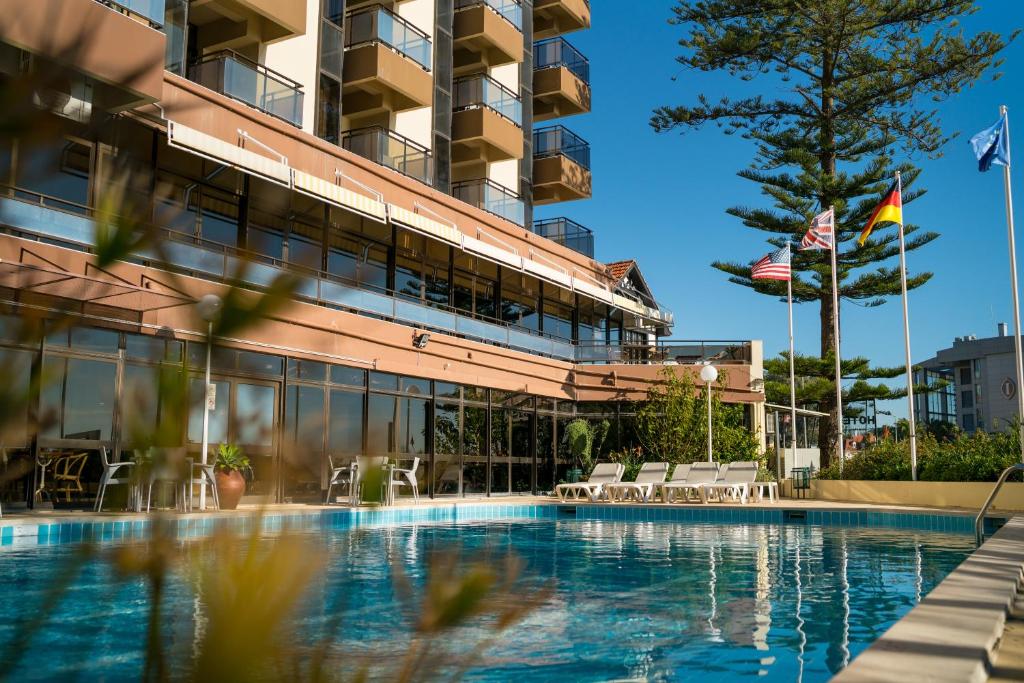 Located on a hilltop in Costa do Estoril, the beachfront Hotel Estoril Eden offers spacious rooms that open onto balconies and are equipped with an LCD TV and free WiFi. The guest rooms include a kitchenette, air conditioning, free wifi, and a seating area. Each room has a private bathroom with a bathtub and hairdryer. Hotel Estoril Eden is situated 200 meters from the beach and a 10-minute walk from the center of Cascais Vila. The Monte Estoril Train Station is just a 2-minute walk away, providing guests with direct access to Lisbon in just 30 minutes.
– Beachfront location
– Spacious rooms with balconies
– Kitchenette in each room
– Close proximity to Cascais Vila center
– Easy access to Lisbon via nearby train station
The Oitavos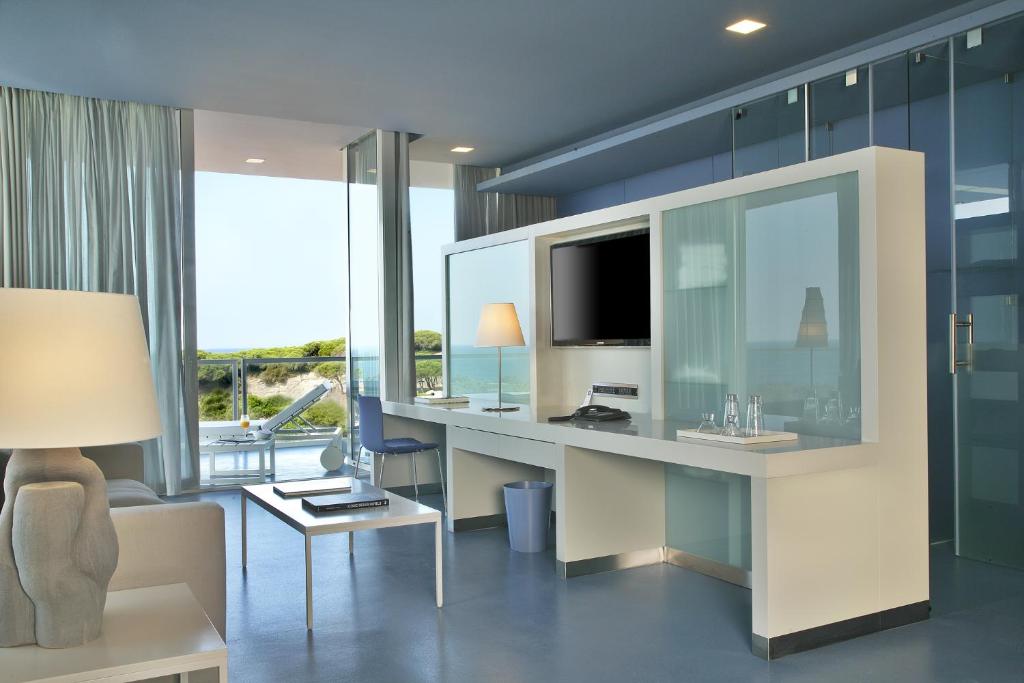 The Oitavos is a luxurious 5-star hotel located within the Sintra-Cascais Natural Park. With its ultramodern design and stunning natural surroundings, this hotel offers an unparalleled experience. Guests can enjoy a range of amenities including pools, sports facilities, an Equestrian Centre, Helipad, and the award-winning Oitavos golf course. The hotel features two restaurants – Ipsylon Lounge with contemporary cuisine and pool views, and Verbasco which specializes in Portuguese dishes and tapas. The elegant lofts and suites are decorated in white and blue colors with modern furnishings. Each unit includes comfortable extra long beds, flat-screen TVs, a Nespresso coffee machine, and a private balcony with scenic views. The full-service spa offers natural and organic treatments as well as 10 massage rooms, hot tubs, saunas, and a fitness center with regular activities such as yoga and pilates classes. The sports facilities include a Tennis court for tennis enthusiasts to enjoy their favorite sport. Other highlights of this hotel include an indoor pool (semi-Olympic size) that is heated from May to September, an outdoor salt-water swimming pool where guests can relax with a cocktail or refreshing beverage from the bar. Located just 5 km from central Cascais and a short drive away from Sintra's famous monuments and palaces, The Oitavos Hotel provides easy access to popular attractions while offering guests a peaceful retreat in nature.
– Ultramodern design surrounded by untouched nature
– State-of-the-art sports facilities including tennis court
– Two restaurants offering contemporary cuisine and Portuguese dishes
– Elegant lofts/suites with modern furnishings
– Full-service spa offering natural/organic treatments
Other places to stay in Cascais
Luxury Hotels With Tennis Courts In Cascais
Cascais, a coastal town known for its picturesque beauty and vibrant atmosphere, is home to a number of luxurious hotels that cater to both leisure and sports enthusiasts. With an emphasis on tennis, these hotels offer top-notch facilities for guests looking to indulge in the sport. Boasting well-maintained courts and professional coaching services, these properties provide the perfect setting for players of all skill levels to enjoy their favorite pastime amidst stunning surroundings. Whether it's a friendly match or a serious competition, guests can take advantage of the excellent tennis amenities offered by these luxury hotels in Cascais.
Bela Vista Palace Apartments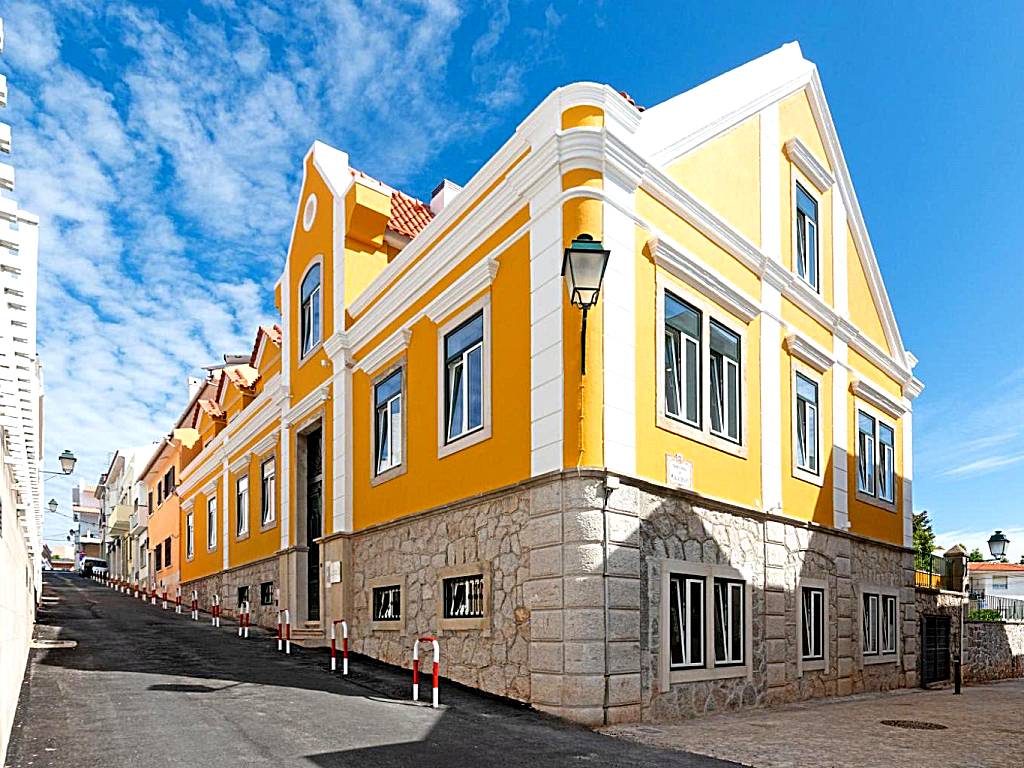 Bela Vista Palace Apartments is a modern and comfortable apartment complex located in Cascais, offering air-conditioned guest accommodations. Situated just 500 meters from Rainha Beach, Conceicao Beach, and Ribeira Beach, guests can enjoy the convenience of being close to beautiful coastal spots. The apartments are well-appointed with amenities such as complimentary WiFi, a flat-screen TV with streaming services, an equipped kitchen with a dishwasher and microwave, and a private bathroom complete with a hairdryer. Some rooms even feature a terrace or balcony for stunning views. Guests can also take advantage of the on-site tennis court for some friendly competition. For those looking to explore the area, fishing and hiking opportunities are nearby. Additionally, popular attractions like Quinta da Regaleira and Sintra National Palace are within driving distance. With its convenient location and excellent facilities, Bela Vista Palace Apartments is an ideal choice for travelers visiting Cascais.
– Convenient location near several beaches
– Well-equipped apartments with modern amenities
– Complimentary WiFi throughout the property
– Access to an on-site tennis court
– Close proximity to popular attractions in Cascais
BeGuest Cascais Inn Apartments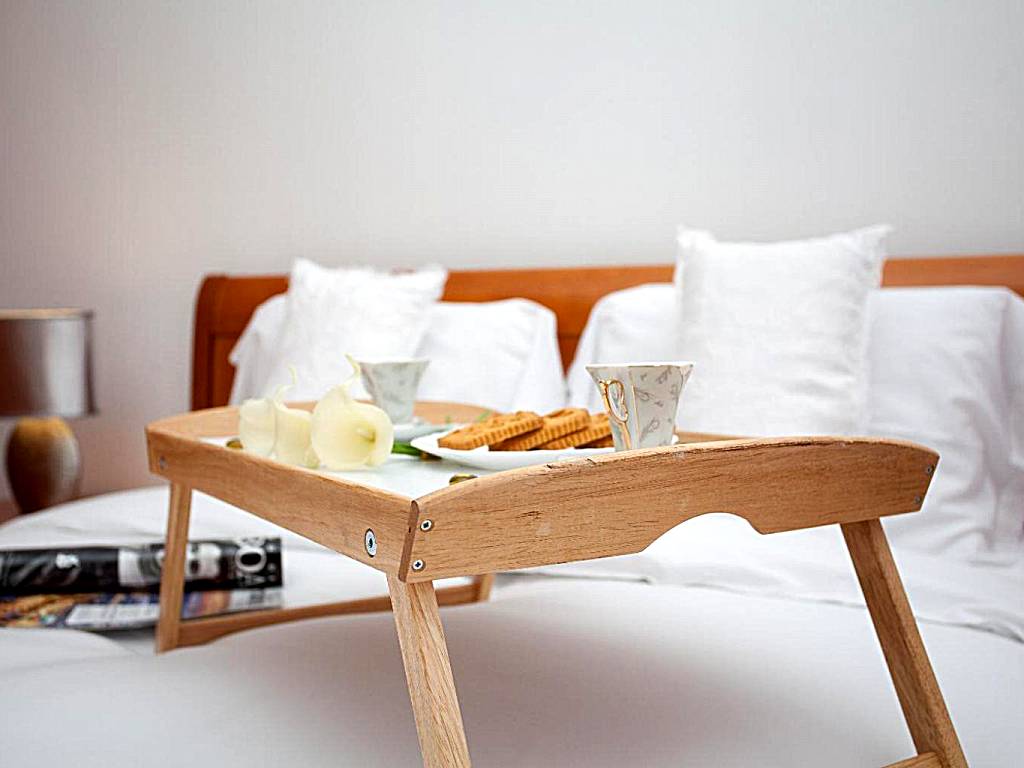 BeGuest Cascais Inn Apartments is a tranquil and comfortable apartment hotel located in Cascais, just a 15-minute walk from the city center. The property offers free WiFi and features well-equipped units with satellite flat-screen TVs. Some of the apartments also include dining areas and balconies. Each unit has a kitchen with appliances such as a dishwasher, oven, microwave, toaster, coffee machine, and kettle. The private bathrooms come with complimentary toiletries, and towels and bed linen are provided. Grocery delivery service is available for added convenience. Guests staying at BeGuest Cascais Inn Apartments have access to a tennis court on-site. Attractions such as Cascais Town Hall and the Museum of the Sea are within close proximity to the property. Lisbon Humberto Delgado Airport is approximately 26 km away.
– Tranquil location in Cascais
– Well-equipped apartments with kitchens
– Free WiFi throughout the property
– Grocery delivery service available
– Access to an on-site tennis court
SeaYa Villas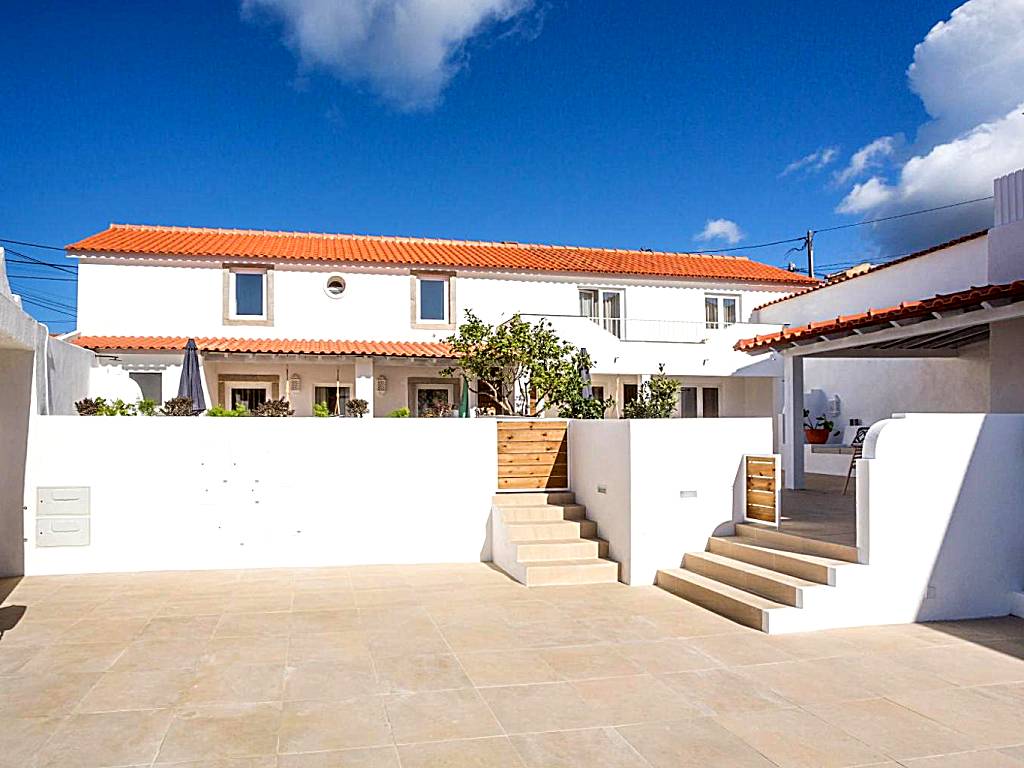 SeaYa Villas is a holiday home located in Cascais, just 1.8 km from Guincho Beach and 2.4 km from Cresmina Beach. This accommodation offers free WiFi, water sports facilities, a terrace, and access to the garden. The units include a seating area with a sofa, a dining area, and a fully equipped kitchen with cooking facilities such as a dishwasher, oven, toaster, and fridge. Some units also feature a balcony with sea views, cable flat-screen TV, and air conditioning. Guests at SeaYa Villas can enjoy access to their own tennis court on the property. Additionally, they offer amenities such as a picnic area for guests to relax or dine outdoors. Bicycle rental and car rental services are available for those who wish to explore the surroundings or engage in activities like windsurfing or hiking nearby. Abano Beach is located 2.6 km away from the accommodation while Pena National Palace is approximately 13 km away. For convenience, Humberto Delgado Airport is situated at a distance of 33 km from SeaYa Villas where paid airport shuttle service can be arranged.
– Free WiFi
– Water sports facilities
– Terrace and garden access
– Fully equipped kitchens
– Access to private tennis court
Best Cascais Hotels With Tennis Courts
Cascais, a charming coastal town in Portugal, offers an array of luxurious and inviting hotels with tennis courts. These hotels provide the perfect retreat for tennis enthusiasts who want to combine relaxation with their favorite sport. With well-maintained courts and professional instructors available, guests have the opportunity to improve their skills or simply enjoy a friendly game amidst stunning surroundings. Whether it's a family vacation or a romantic getaway, Cascais' top-notch hotels with tennis courts cater to every guest's needs while providing an unforgettable experience in this picturesque destination.
Villa Cascais Boutique Hotel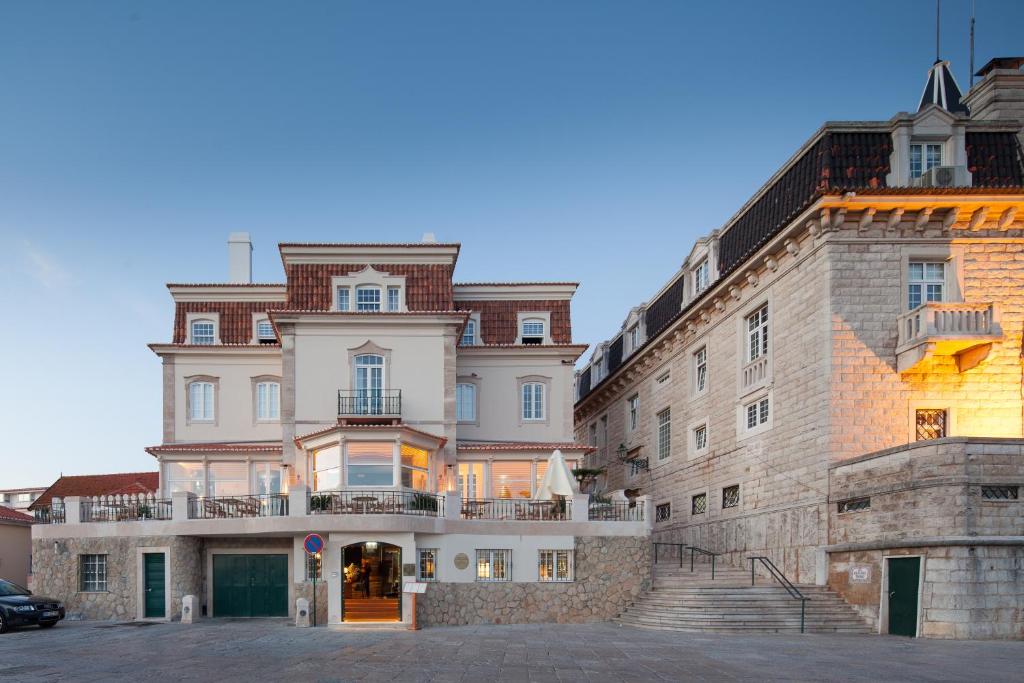 Villa Cascais Boutique Hotel is a charming guest house located in the historical centre of Cascais. Housed in a beautifully renovated aristocratic residence from the 19th century, this hotel offers an elegant atmosphere and stunning views of Cascais Bay and the beach. The rooms are tastefully decorated with a mix of modern and vintage styles, each floor featuring a unique color theme. Guests can enjoy delicious meals at the Reserva da Villa Restaurant, which serves Portuguese contemporary cuisine, while taking in the picturesque surroundings from the terrace. The hotel also has an on-site bar with an impressive selection of 48 different Portuguese wines. With its convenient location, guests can easily explore popular attractions such as Sintra's beautiful palaces and Estoril Golf course. Additionally, transfers to and from Lisbon International Airport can be arranged upon request.
– Renovated aristocratic residence
– Excellent location in historical center
– Stunning views of Cascais Bay
– Delicious Portuguese cuisine at Reserva da Villa Restaurant
– On-site bar with extensive wine selection
Cascais Boutique Hostel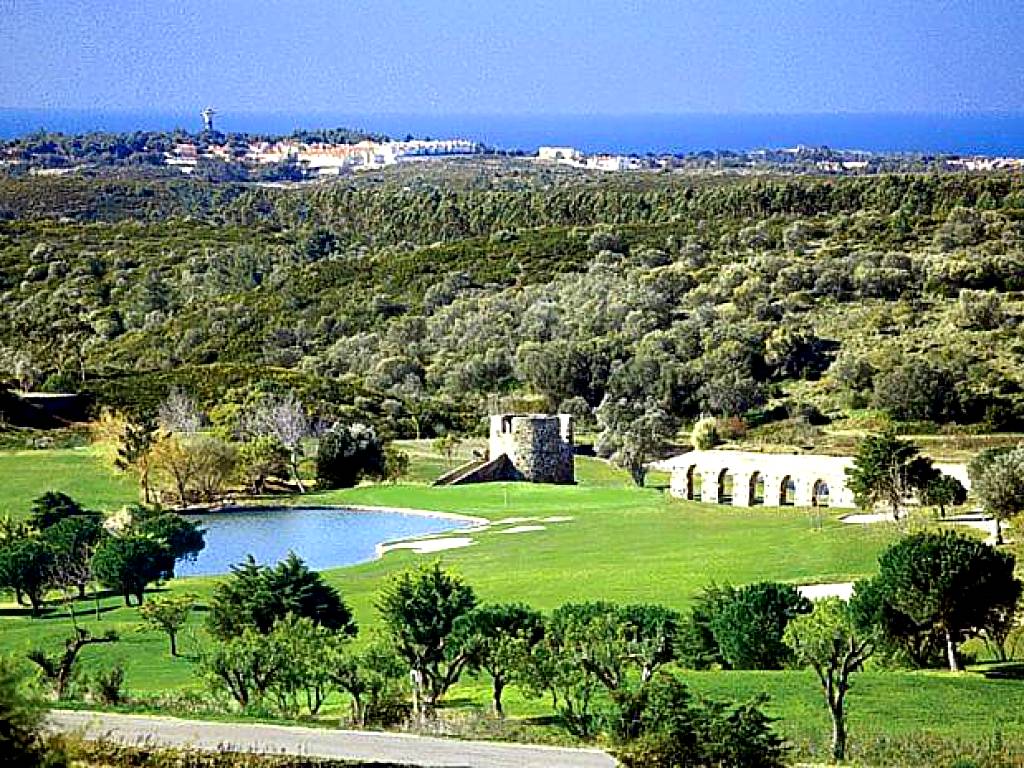 Cascais Boutique Hostel is a charming accommodation situated in the heart of Cascais, just a short stroll from the beach and the bustling commercial area. The hostel boasts a distinctive design and decor, as well as complimentary WiFi throughout. Housed in a century-old building, it features five cozy double rooms complete with heating, flat-screen cable TVs, and wardrobes. Guests can enjoy lovely garden views from their rooms and have access to two shared bathrooms. A delectable traditional Portuguese breakfast is included in the stay, while guests also have the option of preparing their own meals using the communal kitchen facilities available. Additional amenities at Cascais Boutique Hostel include a snack bar, outdoor barbecue facilities, and an atmospheric old wine cellar. Within just a five-minute walk from the property, guests will find an array of authentic Portuguese restaurants specializing in delicious fish and seafood dishes. For those seeking vibrant nightlife options, Cascais town center offers numerous bars and pubs to explore. The friendly staff at Cascais Boutique Hostel are more than happy to assist with organizing various activities such as bike rental, surf equipment rental, surf lessons, golf outings, sailing excursions or horse riding adventures for guests' enjoyment. Conveniently located within walking distance of Cascais Train Station (a 10-minute walk) and just 32 km away from Lisbon International Airport by car or taxi transfer makes getting to and from this delightful hostel hassle-free for travelers arriving by plane or train alike. Moreover,
Sintra – famous for its stunning landscapes and historical sites – is only a 15-minute drive away.
– Located minutes away from both the beach and commercial area
– Unique design and décor
– Free WiFi throughout
– Traditional Portuguese breakfast included
– Wide range of activities organized by staff
Parque De Campismo Orbitur Guincho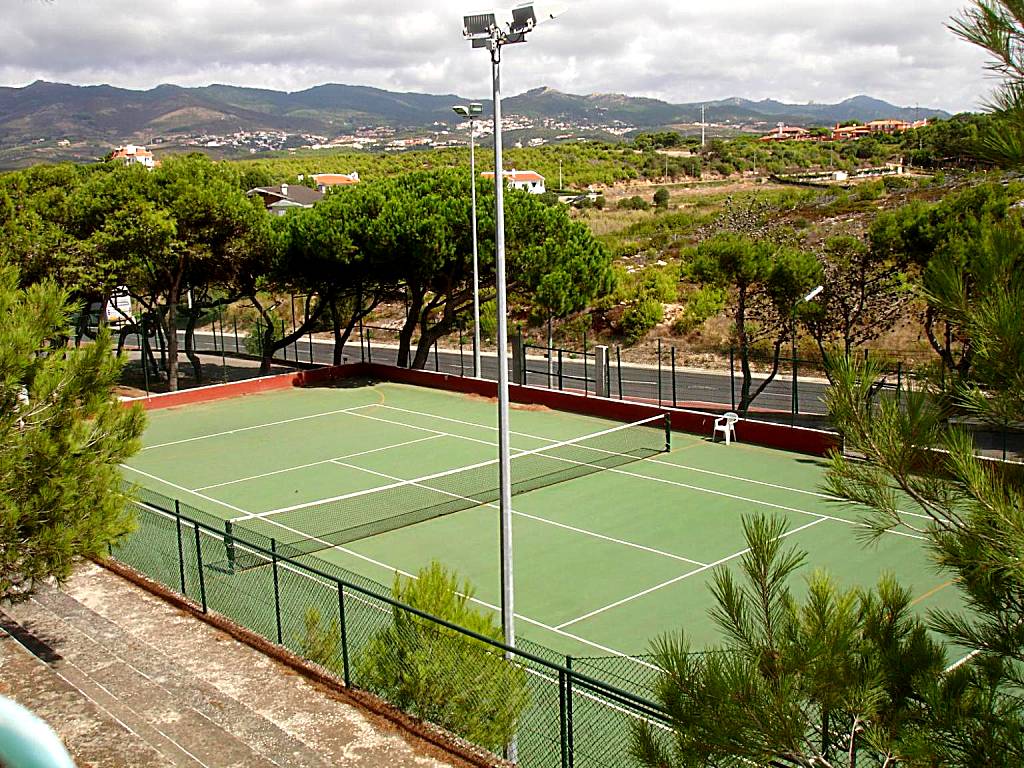 Located in the beautiful Sintra-Cascais Natural Park, Parque De Campismo Orbitur Guincho is a campsite that offers an array of amenities for its guests. With an outdoor swimming pool and just a kilometer away from the beach, it is the perfect destination for those seeking relaxation and outdoor activities. The highlight of this campsite is its tennis court, where guests can enjoy a friendly match or two. In addition to tennis, there is also table tennis available free of charge. The heated bungalows at Parque De Campismo Orbitur Guincho are equipped with small balconies, private bathrooms, kitchenettes, TVs, and seating areas. Guests have the option to cook their own meals in their bungalows' kitchenettes or dine at the in-house restaurant and bar. Children can have fun at the on-site playground while adults explore nearby attractions like Cascais with its beaches and marina or take a short drive to Estoril's renowned casino. Additionally, golf enthusiasts will appreciate that the nearest golf course is just a 9-minute drive away. With its convenient location near Lisbon's Portela International Airport (32-minute drive), Parque De Campismo Orbitur Guincho provides easy access to all that this region has to offer.
– Located in Sintra-Cascais Natural Park
– Outdoor swimming pool
– Free use of tennis court and table tennis
– Heated bungalows with various amenities
– Close proximity to Cascais beaches and marina
Spa Hotels With Tennis Courts In Cascais
Cascais, a coastal town on the outskirts of Lisbon, offers the perfect combination of relaxation and recreation with its selection of spa hotels featuring tennis courts. These idyllic retreats invite guests to indulge in rejuvenating spa treatments while also enjoying their passion for tennis. Whether you are a beginner or an experienced player, these hotels provide excellent facilities and opportunities to embrace the sport amidst stunning surroundings. Immerse yourself in the tranquility of Cascais as you unwind at a spa hotel with a tennis court, where wellness and athletic pursuits come together for a truly unforgettable getaway.
Manelisa Cascais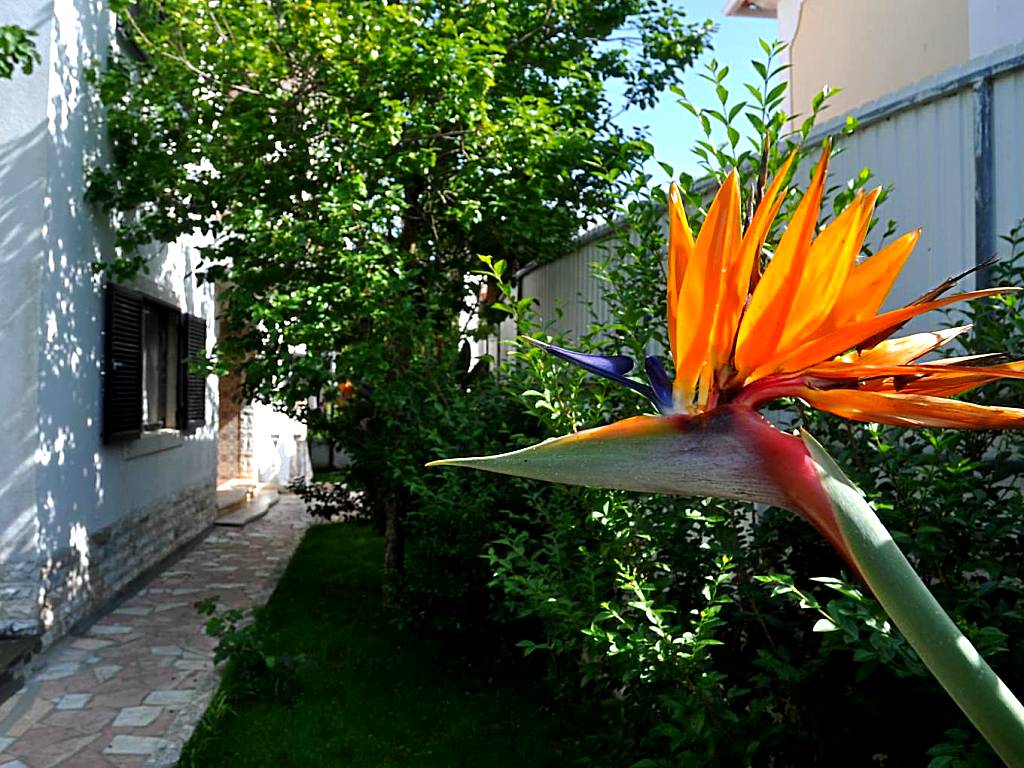 Located in Cascais, just 2.7 km from Boca do Inferno, the Manelisa Cascais is a cozy Bed and Breakfast that offers comfortable rooms with free WiFi. The property features a shared kitchen and a barbecue area for guests to enjoy. Each room is equipped with a flat-screen TV. The Cascais Town Hall is only 2.8 km away, making it convenient for guests to explore the city. Additionally, there are plenty of activities to enjoy in and around Cascais, such as cycling. The Casa das Historias – Paula Rego Museum and Museum of the Sea are also within close proximity, just 3.2 km away from the accommodation. For travelers arriving by air, Humberto Delgado Airport is approximately 35 km from the property.
– Free WiFi
– Shared kitchen
– Barbecue area
– Close proximity to tourist attractions
– Ideal for cyclists
The Albatroz Hotel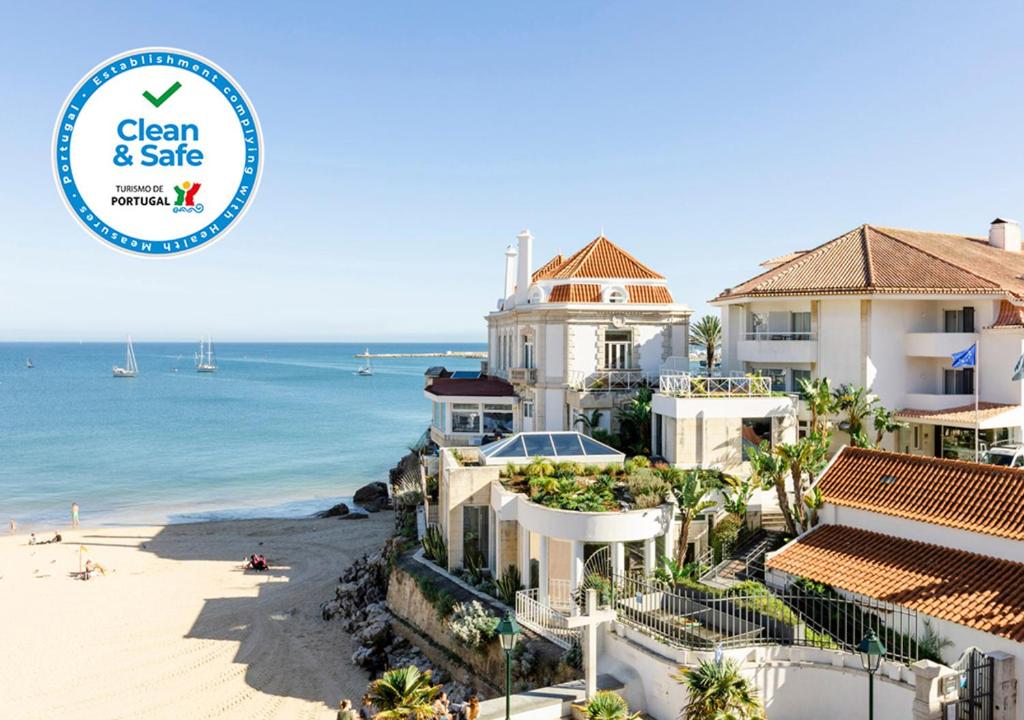 Situated on the cliffs of the Estoril Coast, The Albatroz Hotel offers stunning views of Cascais Bay. This 5-star hotel features a sea-view swimming pool and a sunny terrace where guests can relax and enjoy the beautiful surroundings. The Panoramic Restaurant serves a delicious buffet breakfast with spectacular sea views, or guests can choose from various restaurants in the Cascais center, just a 5-minute walk away. The individually themed rooms overlook either the bay or picturesque Cascais and come with air conditioning and large bathrooms stocked with Castelbel toiletries. Guests will also receive a wicker basket with towels to use at the beach or by the pool. The hotel offers an extensive menu for lunch and dinner, as well as refreshments at their terrace bar throughout the day. Wine tastings and show cooking events are available on selected dates. The landscaped grounds feature a peaceful pool area where guests can soak up the sun on loungers. For those who want to explore, bike and car rentals are available onsite. A gourmet shop is part of the hotel, offering various products for foodies and wine enthusiasts. Popular Cascais Beach is just a 5-minute walk away, perfect for enjoying sunbathing or a refreshing swim. Additionally, Cascais Train Station is conveniently located within walking distance from the hotel, making it easy to explore nearby attractions such as scenic Sintra (less than 17 km away) or take a short 30-minute drive to Lisbon's city center. Portela International Airport is also easily accessible at just 35 km away.
– Stunning views of Cascais Bay
– Sea-view swimming pool
– Sunny terrace
– Individually themed rooms with air conditioning
– Gourmet shop onsite
Cascais Hotels with Tennis Court Main Information
| | |
| --- | --- |
| 🛏️ Hotels with Tennis Court in Cascais | 11 |
| 💵 Hotels Prices From | $205 |
| 💰 Average price | 937 |
| ⭐ Number of Hotels Reviews | 840 |
FAQ
Are there any hotels in Cascais with a tennis court?
Yes, there are several hotels in Cascais that offer tennis courts. Some notable options include Hotel Cascais Miragem, Grande Real Villa Italia Hotel & Spa, and Pestana Cidadela Cascais – Pousada & Art District. These hotels provide well-maintained tennis courts where guests can enjoy a game or two during their stay.
Is there a fee to use the tennis court at hotels in Cascais?
The fees for using the tennis courts at hotels in Cascais may vary depending on the property. While some hotels may offer complimentary use of the tennis court for their guests, others may charge an additional fee. It is advisable to check with your chosen hotel prior to your arrival to inquire about any potential charges or restrictions.
Do I need to bring my own equipment to play tennis at these hotels?
Most of the hotels in Cascais that have tennis courts provide all necessary equipment such as rackets and balls for their guests. However, it is always a good idea to confirm this information with your hotel beforehand, just in case they have any specific policies or restrictions regarding equipment rental.
Can beginners play on the tennis courts at these hotels?
Absolutely! The majority of hotels offering tennis courts in Cascais welcome players of all skill levels, including beginners. Whether you're new to the sport or looking for some friendly competition, you can enjoy playing on these courts without feeling intimidated by more experienced players.
Do I need to book a time slot for using the hotel's tennis court?
It is highly recommended to book a time slot if you plan on using the hotel's tennis court during your stay in Cascais. This helps ensure that you have guaranteed access to the court and avoids any potential conflicts with other guests who may also want to play. Contacting your hotel's front desk or concierge in advance will allow you to reserve a suitable time slot for your game.
Popular Hotels with Tennis Court destinations