Welcome to the vibrant county of Hampshire, situated in the picturesque region of Southern England. Known for its rich history, stunning landscapes, and a plethora of outdoor activities, Hampshire is a true haven for sports enthusiasts. In this guide, we will explore the top hotels in Hampshire that offer exceptional tennis facilities for both recreational players and avid competitors.
Hampshire boasts an impressive selection of hotels with tennis courts, making it an ideal destination for those who enjoy staying active during their travels. Whether you're a seasoned player or simply looking to try your hand at a new sport, these hotels provide world-class facilities coupled with stunning surroundings. From charming country retreats nestled amidst rolling hills to luxurious resorts offering state-of-the-art amenities, there's something to suit every taste and budget.
Imagine waking up to the sound of birds chirping and stepping onto a beautifully manicured court bathed in golden sunlight. After an invigorating match or two, you can relax and unwind by exploring the local attractions or indulging in some well-deserved pampering at the hotel spa. With access to top-notch coaches and equipment rentals available at many establishments, you can enhance your skills while immersing yourself in the beauty of Hampshire's idyllic countryside. So pack your racket and let's dive into the world of hotels with tennis courts that await you in breathtaking Hampshire!
Best Hampshire Hotels with Tennis
Solent Hotel and Spa (Fareham)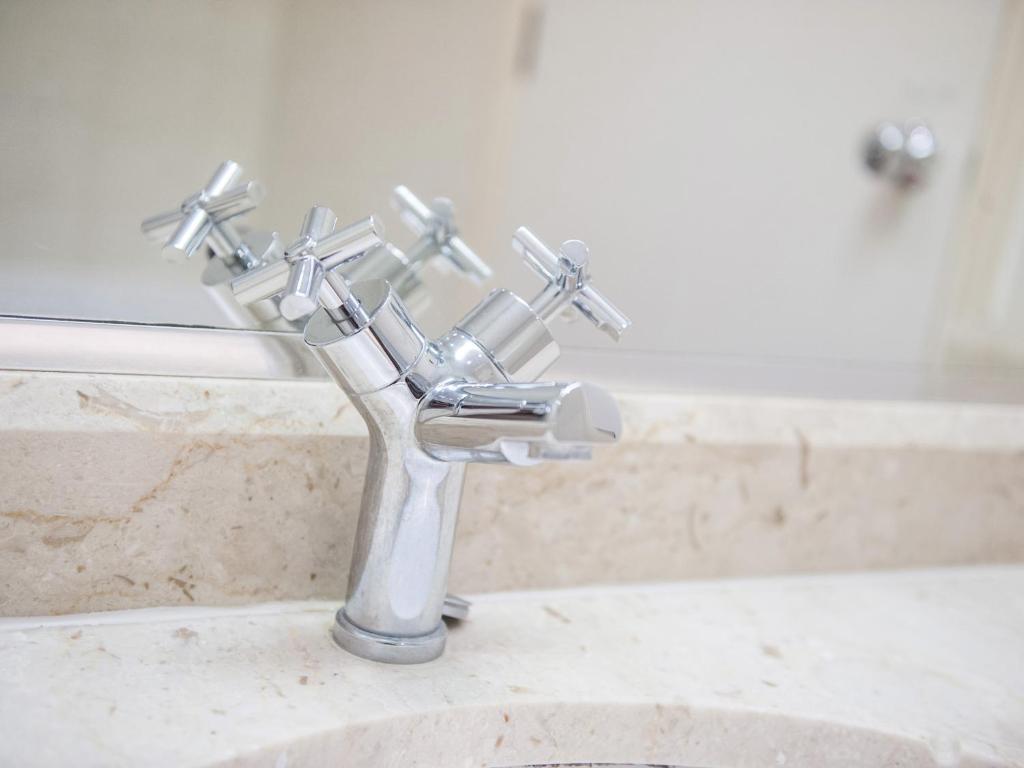 The Solent Hotel and Spa is a 4-star hotel located in Fareham, set amidst picturesque woodland between Southampton and Portsmouth. This hotel offers a range of amenities including an indoor pool, spa, gym, and an AA Rosette restaurant with an outdoor terrace for summer dining. Each room features modern décor, air conditioning, free WiFi, mineral water, ground coffee, and fresh milk. Guests can also enjoy the additional Health & Fitness facilities at an extra cost which include a fully-equipped gym, functional studio, swimming pool, hot tub, sauna and steam room. The location of the hotel allows easy access to nearby attractions such as the New Forest (a 25-minute drive away), Goodwood (55 miles away), Portsmouth's Historic Dockyard (12 miles away), and Peppa Pig World (18 miles away). For those looking to relax further, spa treatments are available by appointment only. Adjacent to the hotel is Parson's Collar – a charming country-style pub serving Thwaites beers and delicious home-cooked meals including Sunday roasts.
Pros:
– Indoor pool
– Spa facilities
– Modern décor in rooms
– Convenient location near major attractions
– Charming country-style pub next door
Rhinefield House Hotel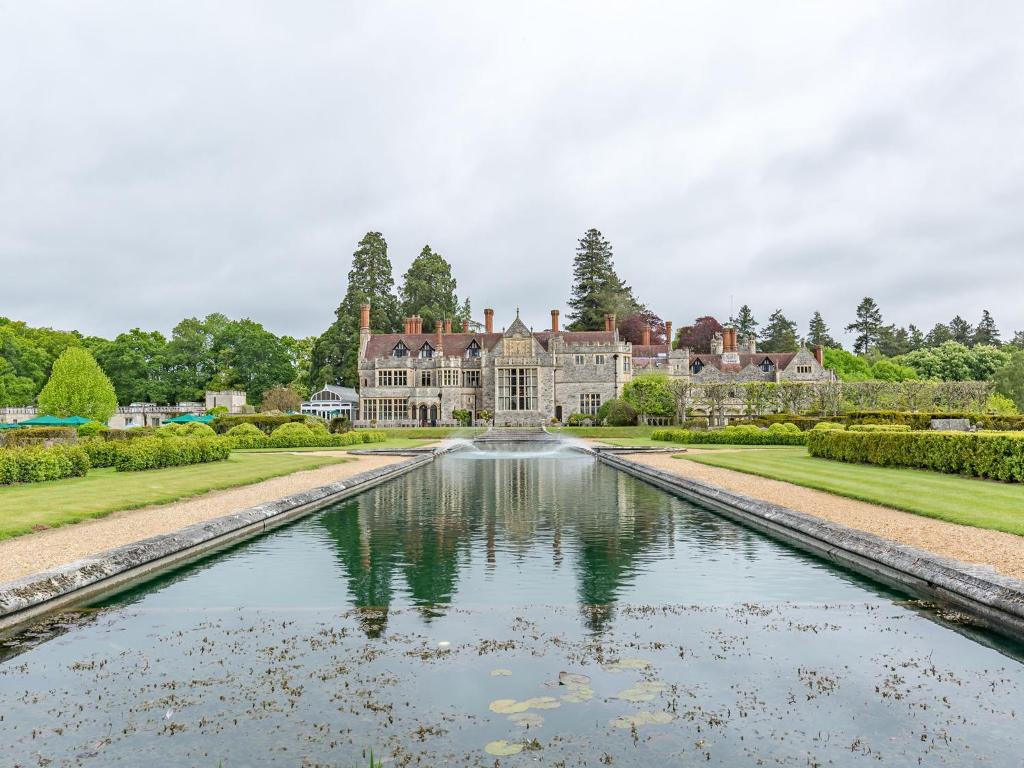 Located in the heart of the New Forest, Rhinefield House Hotel is a grand country house that was built in 1887. With its spa, ornamental garden, and fine dining restaurant, this hotel offers guests a luxurious and relaxing retreat. The Armada Restaurant serves fresh local produce and creative dishes, earning it 2 AA Rosettes. The hotel's Gothic building features a spa with a crystal steam room, spa bath, indoor and outdoor pools. The sumptuous 4-star bedrooms are equipped with flat-screen satellite TVs, DVD players, free Wi-Fi, and work desks. The bathrooms are equally luxurious with fluffy bathrobes and bespoke toiletries. Guests can enjoy afternoon teas in the elegant lounge or indulge in al fresco dining on the terrace at the Brasserie. For those looking to stay active, there is a modern gym and tennis courts available. With 40 acres of leafy grounds surrounding the hotel, guests can also enjoy leisurely walks or simply soak up the peaceful atmosphere. Rhinefield House Hotel is conveniently located just outside Brockenhurst and is only a 30-minute drive from both Southampton and Bournemouth. There is free on-site parking for guests' convenience, while Brockenhurst Station is just a short 20-minute walk away.
– Grand country house with stunning Gothic architecture
– Spa with crystal steam room, spa bath, indoor/outdoor pools
– Award-winning restaurant serving fresh local produce
– Luxurious bedrooms with modern amenities
– On-site gym and tennis courts for fitness enthusiasts
Macdonald Elmers Court Resort (Lymington)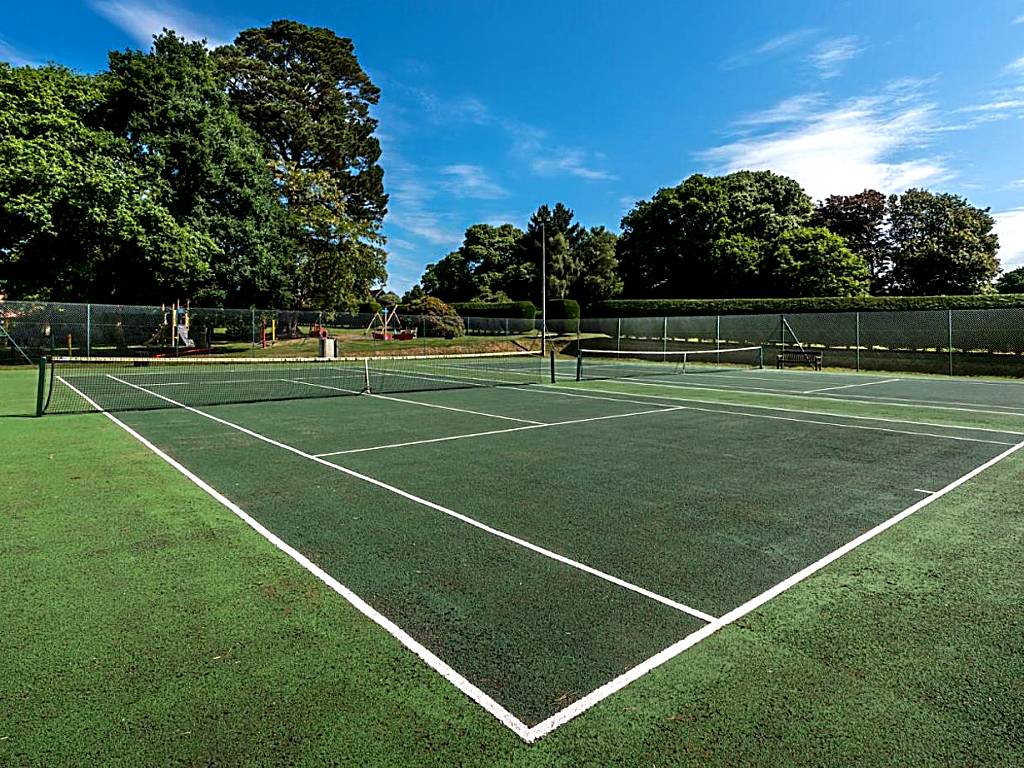 Macdonald Elmers Court Resort, located in Lymington, offers a variety of amenities for guests to enjoy. The resort features a seasonal outdoor pool and spa center, as well as a terrace and sauna. Guests can relax at the bar and indulge in their favorite drinks. Furthermore, this resort is perfect for tennis enthusiasts as it provides access to a tennis court. For those interested in exploring the surroundings, horse riding is a popular activity in the area. The rooms are equipped with modern facilities including Smart TVs with satellite channels and private bathrooms with baths. Additionally, free private parking is available on site while WiFi is accessible at an extra fee. The nearby cities of Southampton and Portsmouth offer further opportunities for exploration.
Other places to stay in Hampshire
Luxury Hotels With Tennis Courts In Hampshire
Hampshire, a picturesque county in England, offers an array of luxurious hotels with tennis courts, making it a haven for tennis enthusiasts. These opulent accommodations seamlessly blend elegance with sport, providing guests with the perfect balance of relaxation and physical activity. With well-maintained courts nestled amidst stunning landscapes, visitors can indulge in friendly matches or receive professional coaching while enjoying the natural beauty Hampshire has to offer. Whether you are a seasoned player or just starting out, these luxury hotels provide an ideal setting to enhance your tennis skills while immersing yourself in the serene surroundings of this charming county.
Passford House Hotel (Lymington)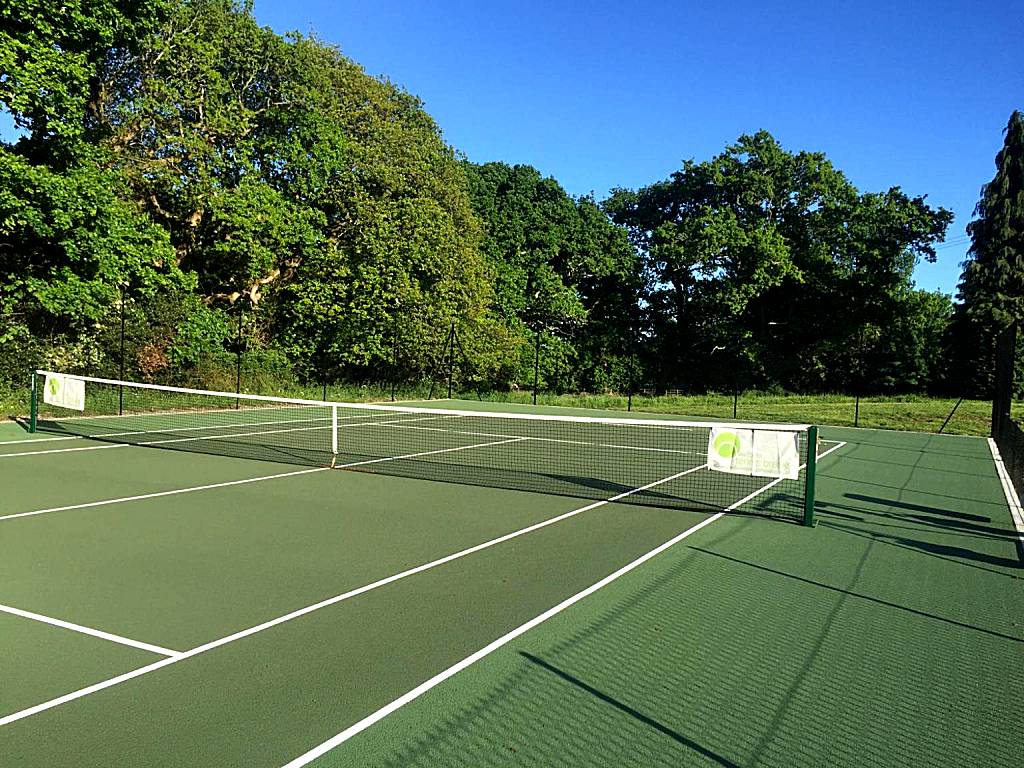 Passford House Hotel is a historic hotel nestled amidst 10 acres of stunning gardens, conveniently located between Sway and Lymington. The hotel boasts a Leisure Centre with a well-equipped gym and a relaxing poolside sauna. Guests can dine in the elegant dining room, which offers a menu that combines traditional and contemporary cuisine, accompanied by an impressive selection of wines from the cellar. The rooms are tastefully decorated in a traditional style and come complete with modern amenities such as TV and tea/coffee making facilities. Additionally, guests have access to various recreational activities including rowing, cycling, running, and weight training equipment in the multi-gym. Children can enjoy themselves with the heated indoor pool, lawn croquet, petanque court, and tennis court on site.
– Historic hotel surrounded by 10 acres of beautiful gardens
– Leisure Centre with gym and poolside sauna
– Elegant dining room serving delicious cuisine
– Well-appointed rooms with modern amenities
– Access to various recreational activities including tennis court
Britannia House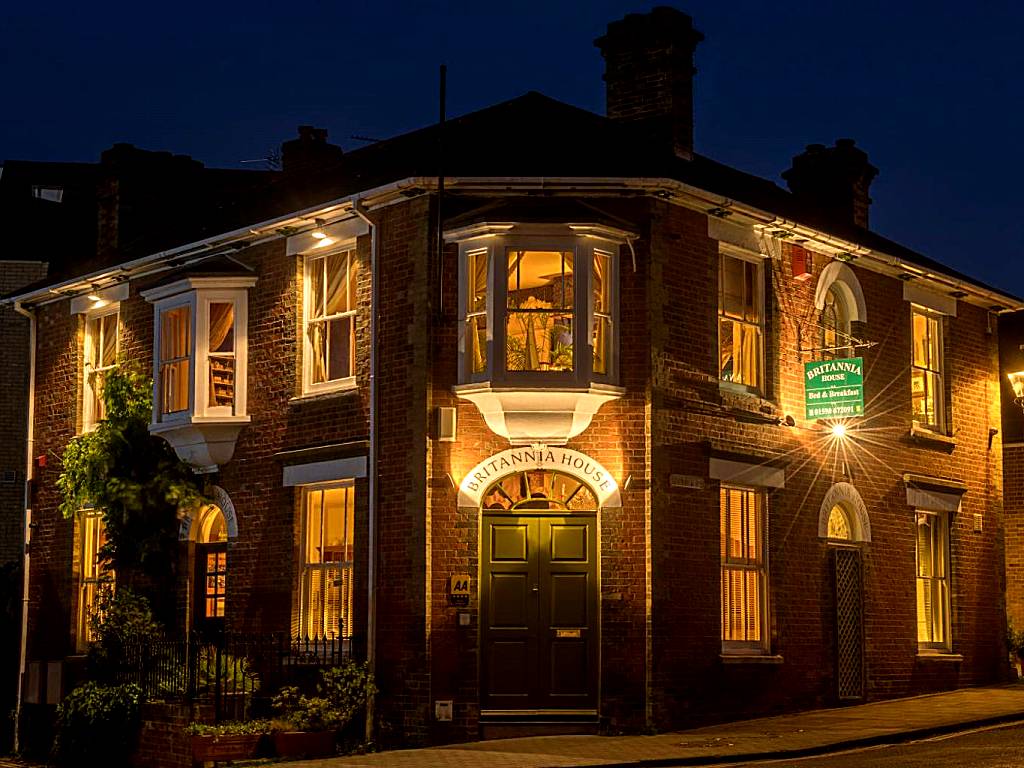 Britannia House is a charming bed and breakfast located in the heart of Lymington town centre. Overlooking the waterfront, this award-winning accommodation offers guests a super central location. The rooms are elegantly designed, each with picturesque views and equipped with modern amenities such as flat-screen TVs, tea and coffee making facilities, fans, and hairdryers. Guests can enjoy a delicious full English breakfast cooked to order in the charming eating area. The property also provides free Wi-Fi and both on-site and off-site parking options for guests' convenience. Relaxation can be found in the guest lounge or courtyard garden. With its close proximity to the harbour, High Street shops, restaurants, as well as being just minutes away from New Forest National Park by car, Britannia House is an ideal choice for those looking to explore Lymington.
– Super central location
– Overlooks waterfront
– Free Wi-Fi
– Free on/off-site parking
– Delicious full English breakfast
Lainston House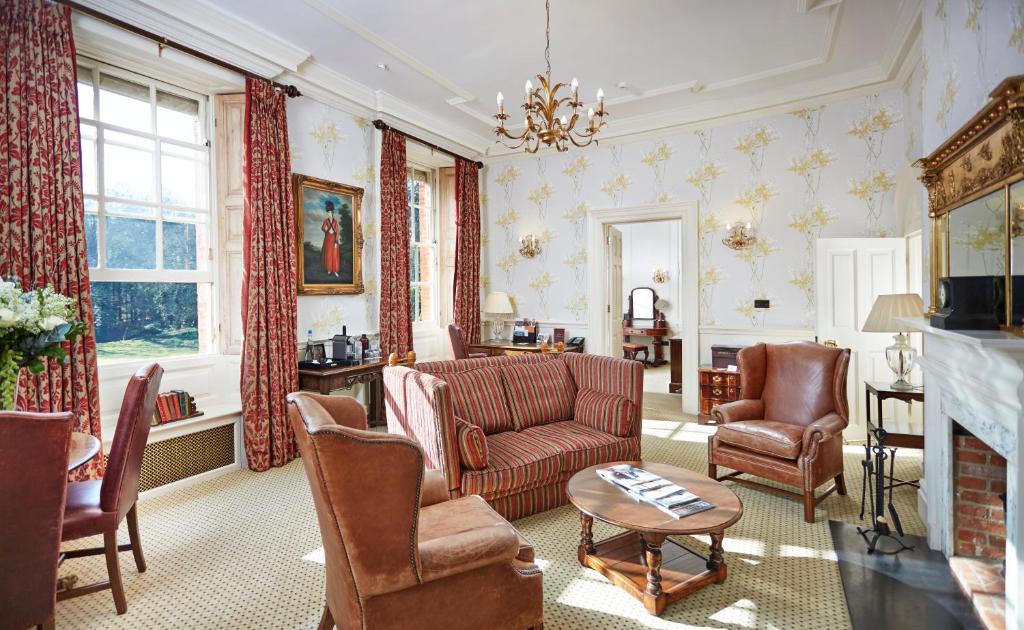 Lainston House is a luxurious 17th-century country house hotel situated in the stunning Hampshire parkland of Winchester. With its charming courtyard entrance and enchanting 12th-century chapel ruin, this elegant hotel offers an unforgettable experience. The hotel boasts 50 individually designed bedrooms, some featuring four-poster beds and roll-top baths, creating a truly characterful stay. Guests can enjoy the award-winning Avenue Restaurant, serving a menu of local and seasonal British cuisine with ingredients sourced from the kitchen garden. The hotel also features two tennis courts, a well-equipped gym, WiFi throughout, and even its own resident ducks. Conveniently located near historic Winchester, Southampton Docks, and the villages of Overton and Laverstoke, there are plenty of activities to explore in the surrounding area.
– Luxurious 17th-century country house setting
– Individually styled bedrooms with unique character
– Award-winning restaurant serving local British cuisine
– Well-equipped gym and two tennis courts for active guests
– Convenient location near historic sites and picturesque villages
Best Hampshire Hotels With Tennis Courts
Hampshire, a beautiful county in southern England, boasts a range of hotels with exceptional tennis court facilities. Whether you're a seasoned player or just looking to have some fun, these hotels offer the perfect setting for a game of tennis. With well-maintained courts surrounded by picturesque landscapes, guests can enjoy friendly matches or even participate in tournaments. The hotels provide all the necessary equipment and amenities for their guests' convenience and ensure a memorable experience for both leisure and professional players alike. Hampshire's hotels with tennis courts guarantee an enjoyable stay with plenty of opportunities to improve your skills while enjoying the serene surroundings.
Highfield Park (Hook)
Highfield Park is a charming 17th-century manor house located between Reading and Basingstoke, offering scenic views and free Wi-Fi access. Situated in 35 acres of tranquil parkland on the Hampshire border, this elegant hotel provides convenient access to Bracknell, Guildford, and Slough within a 20 mile radius. Guests can choose from 86 stylish and modern rooms that are set either in the stunning Manor House or in the nearby Fir Tree Court Building or Wellington Lodge. All accommodations offer a peaceful and relaxing atmosphere. The hotel features a tennis court for guests to enjoy during their stay. After a busy day of work or exploration, guests can unwind on the summer terrace with a refreshing drink. The newly refurbished restaurant serves delicious freshly prepared meals made with locally sourced produce.
– Charming 17th-century manor house
– Scenic views and tranquil parkland setting
– Convenient access to nearby cities
– Modern and stylish rooms in various locations
– On-site tennis court for guest use
Chewton Glen Hotel – an Iconic Luxury Hotel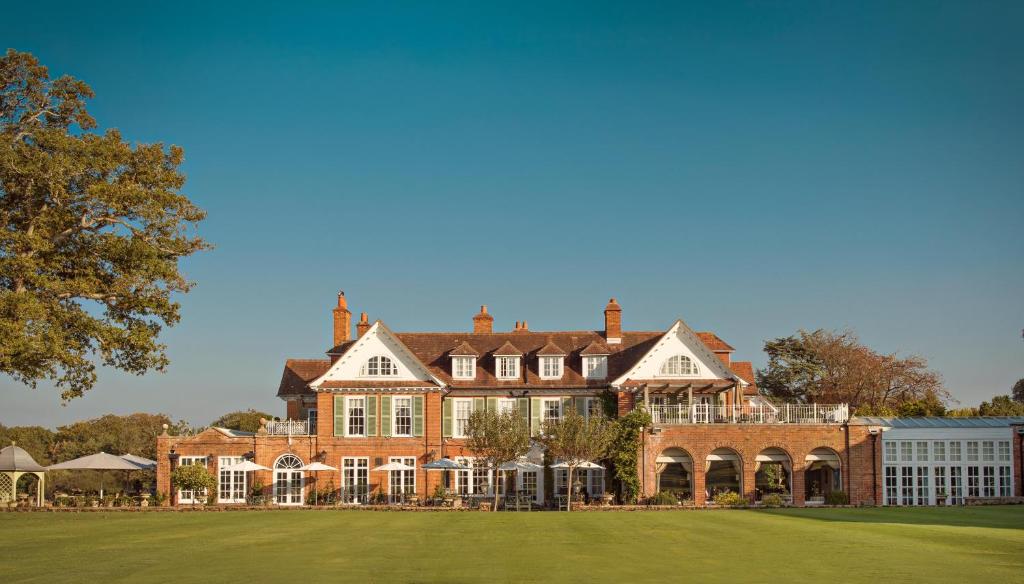 Chewton Glen Hotel – an Iconic Luxury Hotel is a remarkable 5-star country house hotel that offers its guests a truly luxurious experience. With an award-winning restaurant, spa, gym, outdoor pool, and 130 acres of land to explore, this hotel has everything you need for a memorable stay. The property boasts a golf course and 4 tennis courts, both indoor and outdoor, providing plenty of opportunities for sports enthusiasts. Located just a short drive away from the stunning New Forest and less than a mile from the coast, guests can indulge in nature's beauty while enjoying all the amenities the hotel has to offer. The luxurious spa features a sauna, steam room, and whirlpool for ultimate relaxation. The rooms are elegantly designed with some offering balconies and garden views. Each room also includes a luxury bathroom along with modern amenities such as satellite TV with DVD player and minibar. The Dining Room at Chewton Glen offers fine dining experiences using local produce in its seasonal menu which has won multiple awards. Guests can also enjoy traditional afternoon tea in the lounge bar or choose from a range of treatments and massages available at the spa. For those looking for unique experiences within the hotel grounds itself, clay pigeon shooting, falconry displays, and even duck herding are offered as activities to try out. Horse riding and fishing in the nearby New Forest can also be arranged upon request.
– Award-winning restaurant offering fine dining with seasonal menus
– Luxurious spa featuring sauna, steam room, and whirlpool
– Spacious rooms with amenities like satellite TV with DVD player
– Multiple outdoor tennis courts available for sports enthusiasts
– Range of unique activities on offer including clay pigeon shooting and falconry displays
Millers House Boutique B&B (Emsworth)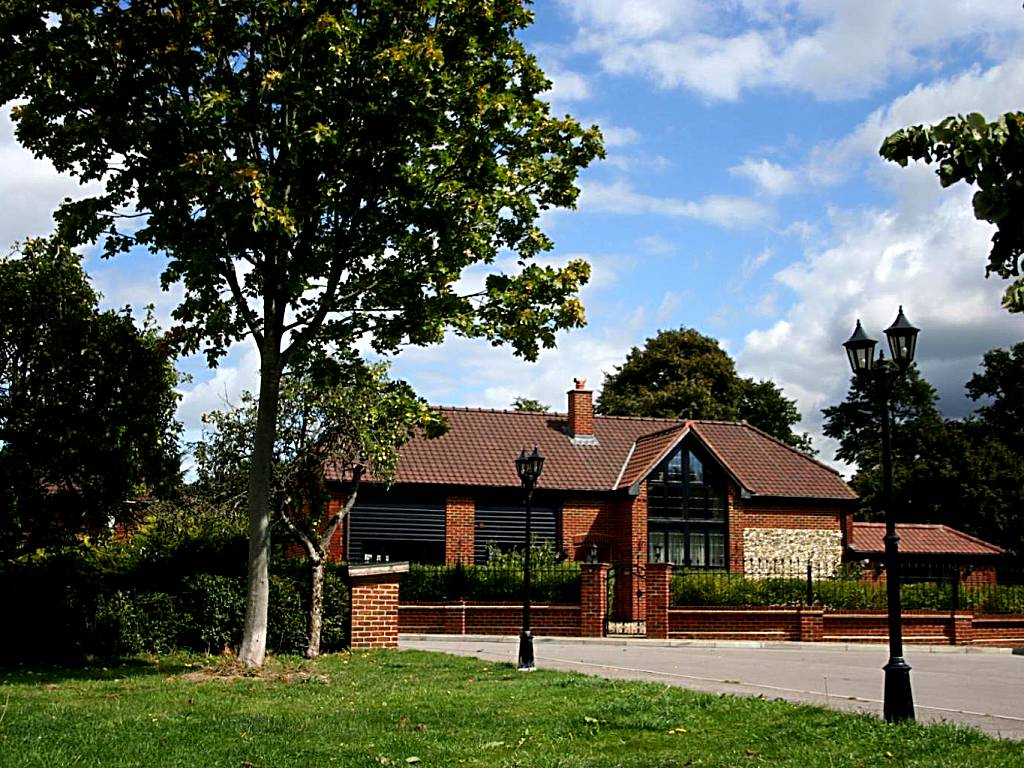 Millers House Boutique B&B is a charming guest house located in a gated development, just a 10-minute walk from the center of Emsworth. The rooms are light and elegant, featuring 32-inch TVs and sleek bathrooms with black granite shower units. Each room is tastefully decorated with wood furnishings and has under-floor heating, as well as free Wi-Fi access. Two ground floor rooms have direct access to the garden through patio doors. A delicious breakfast is available each morning, offering both cooked options and lighter continental choices, all made with locally sourced ingredients. Guests can also enjoy the beautiful garden or take advantage of the convenient location near Emsworth Rail Station for exploring Portsmouth (10 miles away) or Chichester (9 miles away). Additionally, guests have access to an on-site tennis court.
– Light and elegant rooms
– Sleek bathrooms with modern amenities
– Under-floor heating in every room
– Delicious breakfast options using locally sourced ingredients
– Convenient location near Emsworth Rail Station and attractions like Portsmouth and Chichester
Spa Hotels With Tennis Courts In Hampshire
Hampshire, a county in the south of England, offers an array of spa hotels with tennis courts, providing guests with a unique blend of relaxation and physical activity. These hotels boast serene surroundings and luxurious spa facilities, allowing visitors to unwind and rejuvenate. With state-of-the-art tennis courts onsite, guests can indulge in their passion for the sport while enjoying the tranquil ambiance of Hampshire's countryside. Whether you are a novice or an experienced player, these spa hotels provide the perfect escape for those seeking pampering and leisure combined with an active lifestyle.
Otters Green (Botley)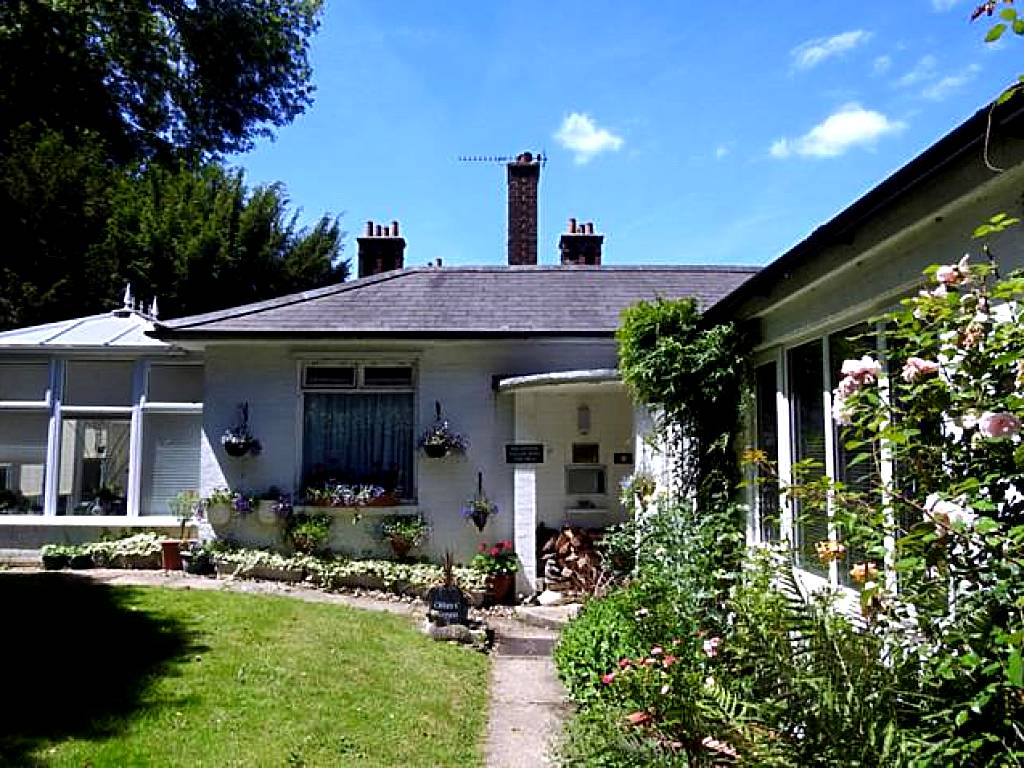 Located in Botley, Otters Green is a charming bed and breakfast offering garden views and convenient amenities. Guests can enjoy free WiFi and private parking during their stay. The rooms are equipped with a seating area, flat-screen TV, and private bathroom with bathrobes and shower. Some units also feature a kitchenette with a microwave. The bed and breakfast provides guests with the option of a continental or gluten-free breakfast. Additionally, there is a picnic area available for use. For those looking to stay active, Otters Green offers access to a tennis court as well as cycling and hiking opportunities nearby. To unwind, guests can relax on the sun terrace. Southampton Guildhall is located 12 km away from the property while The Mayflower Theatre is also within close proximity at 12 km distance. Southampton Airport is the nearest airport situated just 14 km away.
– Beautiful garden views
– Free WiFi and private parking
– Option of continental or gluten-free breakfast
– Access to tennis court
– Close proximity to Southampton attractions
Hampshire Hotels with Tennis Court Main Information
| | |
| --- | --- |
| 🛏️ Hotels with Tennis Court in Hampshire | 10 |
| 💵 Hotels Prices From | $82 |
| 💰 Average price | 126 |
| ⭐ Number of Hotels Reviews | 855 |
FAQ
1
Are there any hotels in Hampshire that have tennis courts?
Yes, there are several hotels in Hampshire that offer tennis court facilities. These hotels recognize the popularity of tennis among their guests and provide well-maintained courts for players of all levels. Whether you are a beginner or a seasoned player, you can find suitable accommodations with tennis courts to enjoy the sport during your stay in Hampshire.
2
What amenities can I expect from hotels with tennis courts in Hampshire?
Hotels with tennis courts in Hampshire not only provide the opportunity to play this popular sport but also offer a range of additional amenities. Along with well-equipped tennis facilities, these hotels often feature luxurious swimming pools, fitness centers, spa services, restaurants, and comfortable accommodations. You can indulge yourself in various activities both on and off the court during your stay.
3
How can I book a hotel room with a tennis court in Hampshire?
Booking a hotel room with a tennis court is simple and convenient. Many travel websites allow you to filter your search results based on specific amenities such as a tennis court. Additionally, when making your reservation directly through the hotel's website or by contacting their reservations team via phone or email, simply request information about availability and booking options for rooms with access to a tennis court.
4
Are there any additional charges for using the tennis courts at these hotels?
While policies may vary between different hotels in Hampshire, it is common for them to include access to their sports facilities within the overall cost of your stay. However, some properties may require an additional fee or have certain restrictions depending on factors such as peak usage hours or advanced bookings for specific time slots. It is advisable to check with the hotel beforehand regarding any potential charges related to using their onsite tennis facilities.
5
Is it necessary to bring my own equipment if I want to play at these hotels?
Generally speaking, most hotels that offer tennis courts will provide basic equipment such as racquets and balls for guests to use. However, it's always a good idea to check with the hotel in advance to confirm if they offer complimentary equipment or if you need to bring your own. Additionally, if you have any specific preferences or requirements for your game, it may be more convenient to bring your own equipment for a more personalized experience on the court.
Popular Hotels with Tennis destinations