Welcome to the enchanting seaside city of Hua Hin, Thailand, where luxury and leisure come together in perfect harmony. If you're an avid tennis enthusiast looking to indulge your passion while enjoying a breathtaking vacation, look no further! Hua Hin offers an array of splendid hotels that boast state-of-the-art tennis courts, ensuring a memorable stay for both athletes and leisure seekers alike.
Nestled along the stunning shoreline of the Gulf of Thailand, Hua Hin presents a wealth of accommodations that cater to tennis aficionados. These magnificent establishments provide not only top-notch facilities but also picturesque views and impeccable service. Whether you prefer a boutique hotel or a lavish resort, you can find the perfect sanctuary where you can hone your skills on the court while reveling in the beauty of this captivating destination.
Imagine waking up to the sound of crashing waves as you step onto well-maintained courts with meticulously lined boundaries. The hotels in Hua Hin boast superbly designed tennis facilities that offer both indoor and outdoor options. Regardless of your skill level or preferred playing conditions, these outstanding amenities ensure an unforgettable experience under glorious Thai sunshine or sheltered against unpredictable weather patterns.
So pack your racquet and prepare for an unforgettable vacation filled with exhilarating matches interspersed with moments of relaxation and exploration. Join us as we explore some exceptional hotels with exquisite tennis courts in Hua Hin – where sport meets serenity amidst stunning surroundings!
Best Hua Hin Hotels with Tennis
Anantara Hua Hin Resort – SHA Certified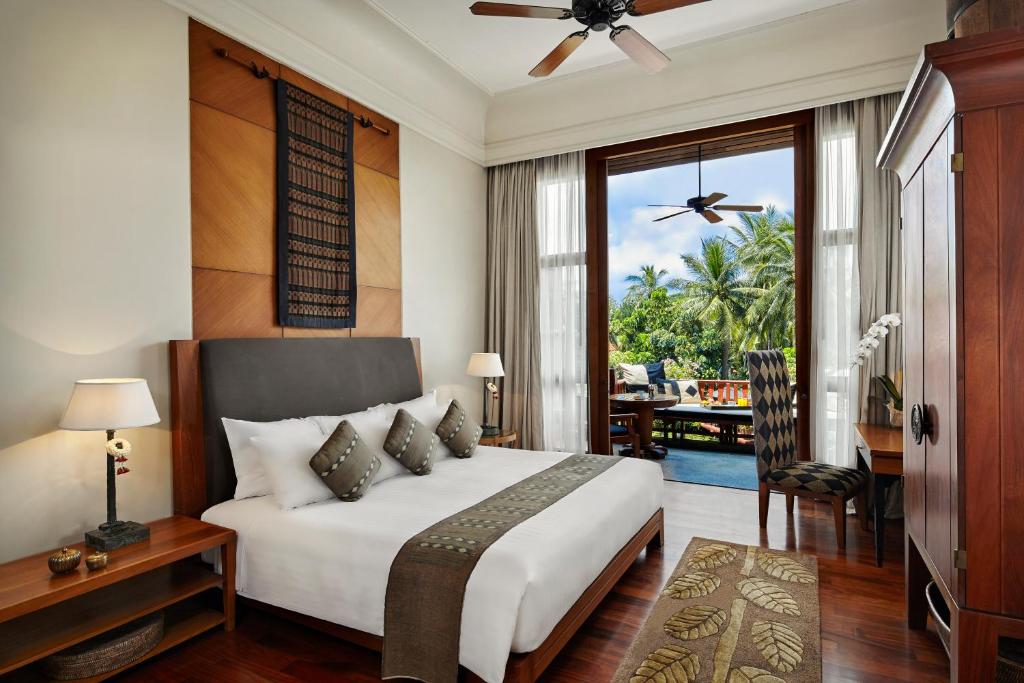 Anantara Hua Hin Resort – SHA Certified is a luxurious and relaxing beachside escape that offers guests a truly indulgent experience. With two outdoor pools, a spa, and a tennis court, this resort provides plenty of opportunities for recreation and relaxation. The resort also boasts seven dining options, including Rim Nam which serves savoury authentic Thai dishes overlooking the pool and tropical garden. The spacious rooms feature stunning views of the garden, sea or lagoon from private balconies or terraces and are equipped with modern amenities such as flat-screen TVs and tea/coffee making facilities. Guests can start their day with yoga classes, take part in fruit carving or Thai cooking lessons, and end it with a soothing herbal massage at the spa. The resort's tour desk can arrange day trips to nearby attractions like Elephant Safari and golf courses. With its luxurious amenities, beautiful surroundings, and excellent dining options, Anantara Hua Hin Resort – SHA Certified ensures an unforgettable stay.
Pros:
– Luxurious beachside resort
– Two outdoor pools for relaxation
– Spa for ultimate pampering
– Tennis court for active guests
– Seven dining options offering various cuisines
Luxury villa with private pool at hua hin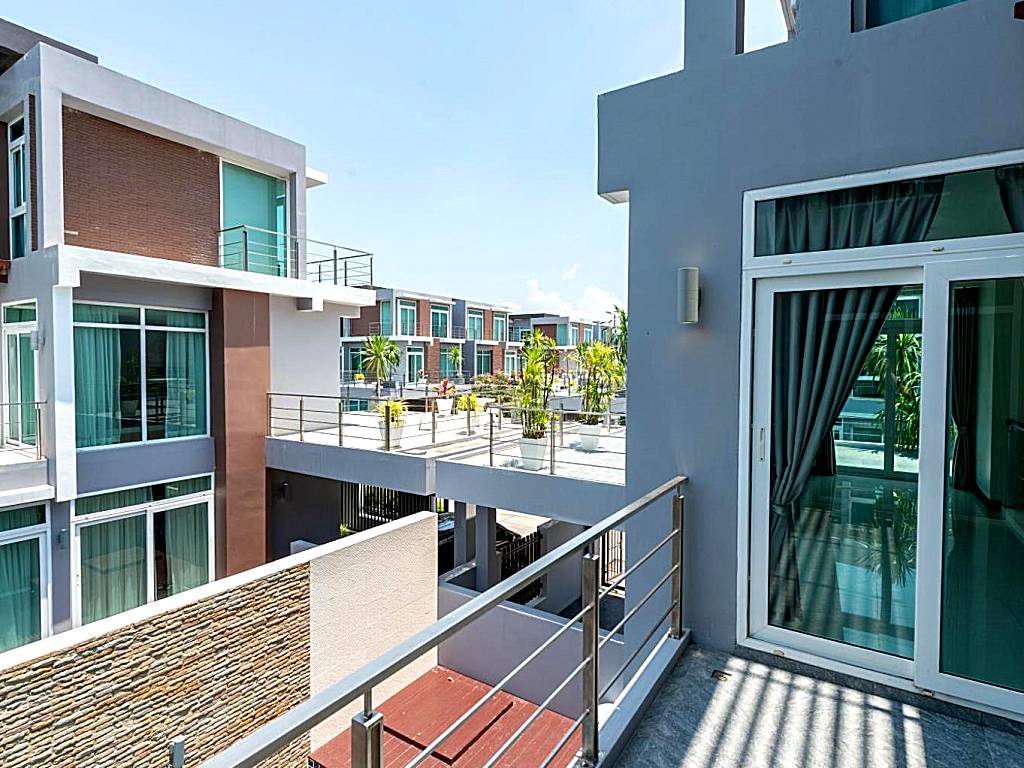 Located in Hua Hin, the Luxury villa with private pool offers a truly luxurious experience for guests. The villa features air-conditioned accommodation with a balcony, providing stunning views of the surrounding area. With 3 bedrooms, a living room, a fully equipped kitchenette, and 3 bathrooms, guests will find all the comforts they need during their stay. The villa also includes a terrace and pool views, allowing guests to relax and unwind in their own private oasis.
Guests can enjoy delicious meals at the in-house restaurant or take advantage of the daily breakfast options which include American, Asian or halal dishes. Free private parking and WiFi are available for added convenience. The staff at the villa's reception are always ready to provide advice and assistance to ensure that guests have an enjoyable stay.
For those looking to keep active during their vacation, Luxury villa with private pool offers a fitness centre on-site. There is also a year-round outdoor pool where guests can take a refreshing dip or simply lounge by the water's edge. Families travelling with children will appreciate the children's playground available on-site.
The location of this villa is ideal for exploring popular attractions such as Hua Hin Beach and Klai Kangwon Palace, both within close proximity. The nearest airport is Hua Hin Airport which is only 5 km away from the property.
– Private pool for exclusive use
– Fully equipped kitchenette
– On-site restaurant
– Fitness centre
– Children's playground
Sky Villa Hua Hin Guesthouse – Adults-Only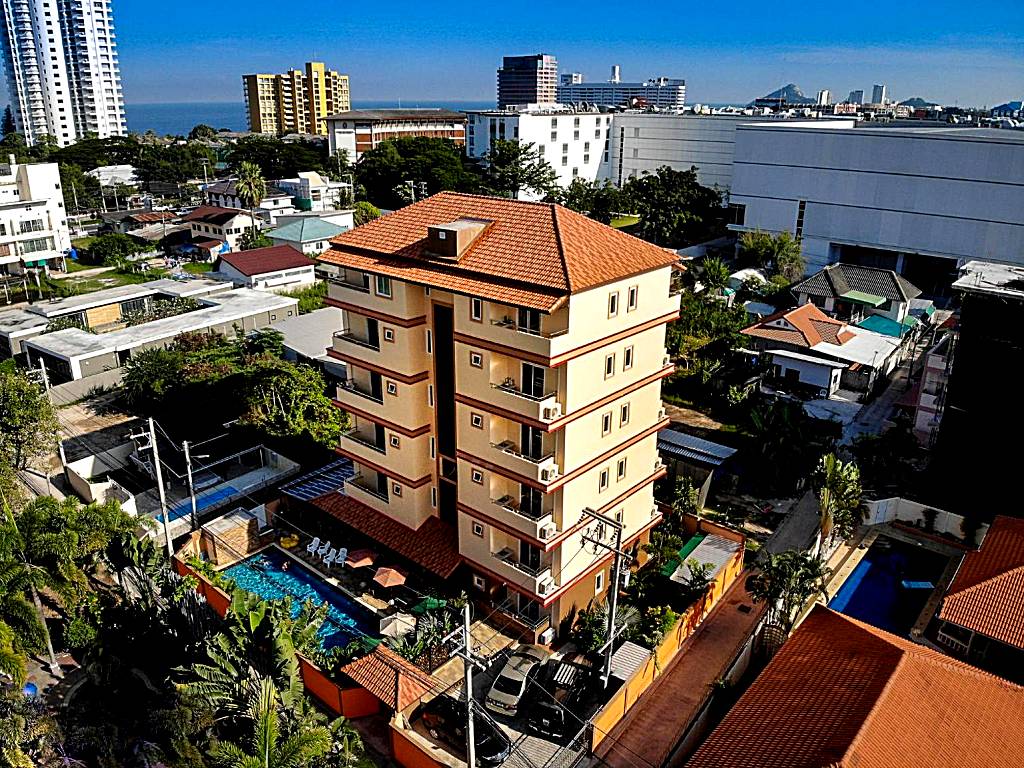 Sky Villa Hua Hin Guesthouse – Adults-Only is a newly opened hotel located in Hua Hin, just 700 meters from Hua Hin Beach. Offering an outdoor swimming pool, free private parking, and a garden, this hotel is the perfect retreat for adults looking for a relaxing getaway. The property is conveniently situated near Hua Hin Bus Station, Hua Hin Market Village, and True Arena Hua Hin. Guests can enjoy air-conditioned rooms equipped with modern amenities such as a desk, kettle, fridge, safety deposit box, flat-screen TV, balcony, and private bathroom with shower. Free WiFi is available throughout the hotel and there is also a paid airport shuttle service. Additionally, guests have access to a tennis court to stay active during their stay. For those who enjoy cycling, bike hire is available at the accommodation. The famous Cicada Market is just 2.4 km away while Hua Hin Railway Station can be reached within 2.7 km. The nearest airport is Hua Hin Airport which is located 10 km from the hotel.
Pros:
– Newly opened hotel with modern amenities
– Located near popular attractions such as the beach and market
– Outdoor swimming pool for relaxation
– Access to on-site tennis court for sports enthusiasts
– Free WiFi throughout the hotel
Luxury Hotels With Tennis Courts In Hua Hin
Hua Hin, a coastal town in Thailand, is renowned for its luxurious hotels with tennis courts. The perfect destination for sports enthusiasts and leisure travelers alike, these exquisite accommodations offer an extraordinary experience. Nestled amidst serene surroundings, guests can indulge in the thrill of a friendly match or professional training sessions on well-maintained courts. From stunning beachfront properties to elegant boutique hotels, Hua Hin's luxury accommodations provide top-notch amenities and services coupled with the opportunity to enjoy the beloved sport of tennis in a picturesque setting.
The BARAI by Hyatt SHA Extra Plus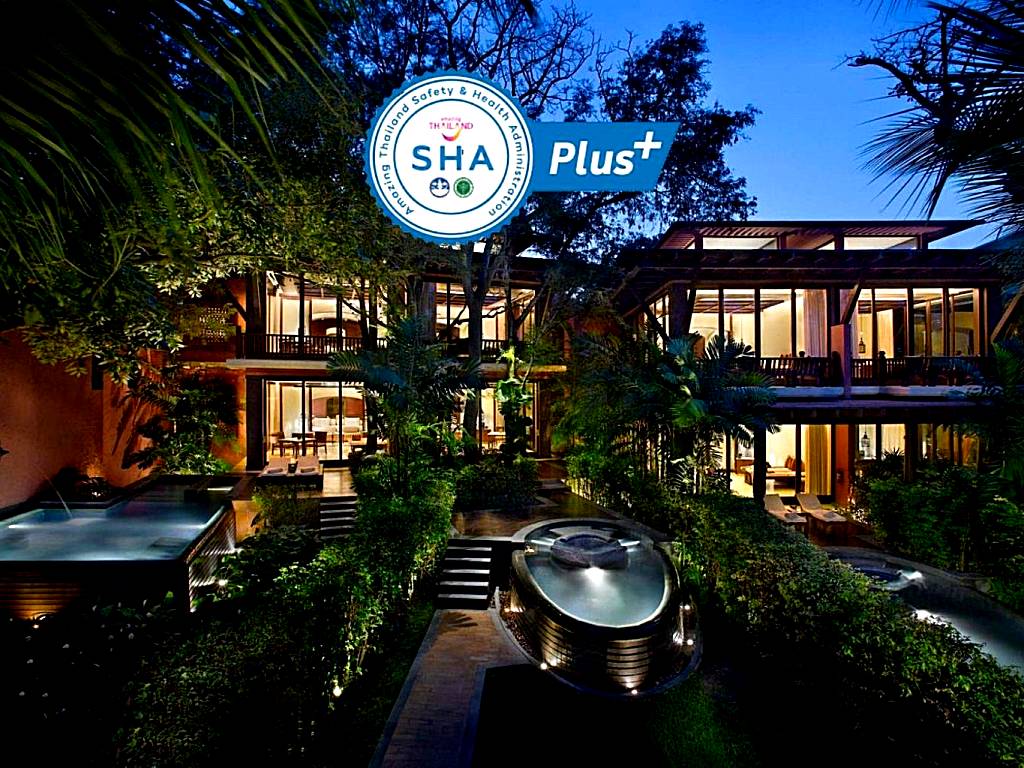 Located on the beachfront of Khao Takiab, THE BARAI by Hyatt Regency Hua Hin is a luxurious resort that offers an ultimate wellness destination for a rejuvenating holiday. With its extensive treatments and programs, it provides a holistic approach to treat the body, mind, and spirit. The resort features rejuvenating spa and wellness experiences, including signature massages and healthy lifestyle programs. The residential spa suites are tastefully furnished with modern decor and offer stunning views of the Gulf of Thailand. Guests can enjoy delicious meals at various dining options such as McFarland House, Figs Restaurant, and Talay Thai. The resort also offers fitness facilities, yoga classes, day trips arrangements, an outdoor pool, a 24-hour front desk assistance for currency exchange and car rentals. Additionally, there is a business center and meeting facilities available for guests' convenience. The resort is conveniently located near popular attractions like Hua Hin Night Market and Railway Station as well as Cicada Market.
– Extensive range of spa treatments
– Luxurious residential spa suites with modern decor
– Stunning views of the Gulf of Thailand
– Various dining options offering different cuisine styles
– Convenient location near popular attractions
Mango Spa & Resort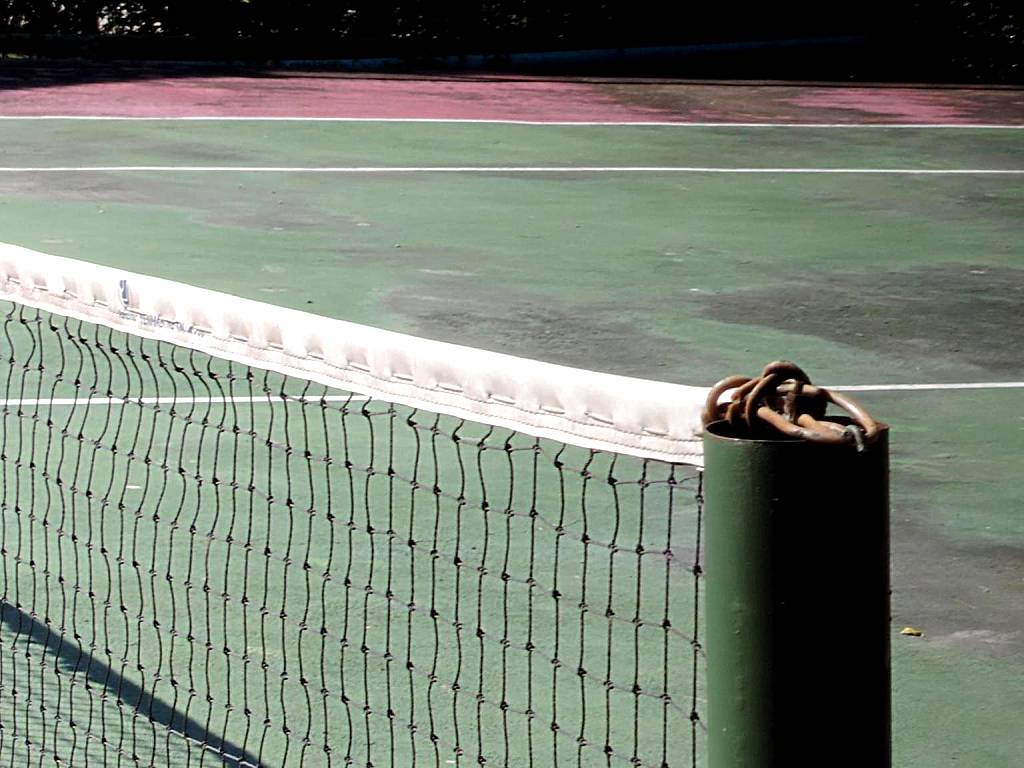 Mango Spa & Resort is a peaceful countryside retreat that offers charming rooms with a patio or balcony, an outdoor pool, and a tennis court. The resort provides free WiFi throughout the property. Conveniently located, it is just a 10-minute drive from Hua Hin's bus and train stations as well as the famous Night Market. Hua Hin Beach is also easily accessible within a 15-minute drive, while Cicada Market and Hua Hin Airport are just 20 minutes away by car. The bright and airy rooms at Mango Spa & Resort are equipped with air conditioning, a comfortable sofa seating area, and satellite TV. The en suite bathrooms come with shower facilities. Guests can make use of the fitness center or indulge in pampering massage treatments during their stay. The friendly staff at the tour desk are available to assist guests with travel arrangements as well as car and bike rental services. When it comes to dining options, guests can sample delicious Thai and western cuisines served at Mango Spa Restaurant.
– Peaceful countryside retreat
– Outdoor pool for relaxation
– Tennis court for sports enthusiasts
– Free WiFi throughout the property
– Easy access to popular attractions in Hua Hin
Hua Hin Hotels with Tennis Court Main Information
| | |
| --- | --- |
| 🛏️ Hotels with Tennis Court in Hua Hin | 5 |
| 💵 Hotels Prices From | $166 |
| 💰 Average price | 795 |
| ⭐ Number of Hotels Reviews | 793 |
FAQ
Can you recommend any hotels in Hua Hin with tennis courts?
Yes, there are several hotels in Hua Hin that offer tennis court facilities. One highly recommended option is the Centara Grand Beach Resort & Villas Hua Hin. This luxurious beachfront resort features a tennis court where guests can enjoy a game or two during their stay. Another great choice is the Hilton Hua Hin Resort & Spa, which also boasts a well-maintained tennis court for guests to use.
Are the tennis courts at these hotels free for guests to use?
Most hotels in Hua Hin with tennis courts offer complimentary use of the facilities for their guests. However, it's always best to check with your chosen hotel directly to confirm their specific policies regarding usage and any associated charges.
Do I need to bring my own racquets and balls?
While some hotels may provide complimentary racquets and balls for guest use, it's advisable to bring your own if possible. This ensures that you have equipment that suits your playing style and preferences. If you're unable to bring your own, most hotels will have rental options available at an additional cost.
Can beginners or non-experienced players make use of these tennis courts?
Absolutely! The tennis courts at hotels in Hua Hin cater to players of all skill levels, including beginners and non-experienced players. Whether you're looking to learn the basics or simply have a casual game, these facilities are designed to accommodate all guests' needs.
Are there any additional amenities near these hotels with tennis courts?
Certainly! Many of the hotels with tennis courts in Hua Hin also feature other fantastic amenities such as swimming pools, fitness centers, spa services, and restaurants. Additionally, being located in Hua Hin means that beautiful beaches are often just steps away from these properties as well.
Popular Hotels with Tennis Court destinations