Welcome to our latest destination spotlight, where we dive into the world of exquisite accommodations and leisurely sports in Cancún, Mexico. In this tropical paradise nestled along the stunning Caribbean coastline, avid tennis enthusiasts can indulge in their passion while enjoying a luxurious hotel experience. Imagine a magnificent retreat that not only offers captivating ocean views and opulent amenities but also boasts state-of-the-art tennis courts for guests to perfect their backhand or challenge friends to a friendly match. Whether you're a seasoned pro or simply looking to test your skills on the court, Cancún's hotels with tennis facilities provide an ideal setting for both relaxation and excitement.
Picture yourself stepping onto perfectly manicured clay or hard-court surfaces in the heart of Cancún's lush resorts. These hotels cater to guests seeking an active vacation by offering top-notch tennis facilities complete with professional-grade equipment and highly trained instructors available for private lessons. As you engage in thrilling matches under the warm Mexican sun, surrounded by tropical greenery and the soothing sound of crashing waves nearby, you'll find yourself immersed in an unforgettable blend of luxury and sporting adventure.
So, if you're ready to combine your passion for tennis with an idyllic beach getaway, join us as we explore some of Cancún's finest hotels with exceptional tennis amenities that promise unforgettable memories both on and off the court. Whether it's serving up aces against breathtaking coastal scenery or unwinding after intense matches with world-class spa treatments and gourmet cuisine, these accommodations have it all – ensuring an unrivaled experience that will leave every guest wishing they could stay forever.
Best Cancún Hotels with Tennis
Grand Oasis Palm – All inclusive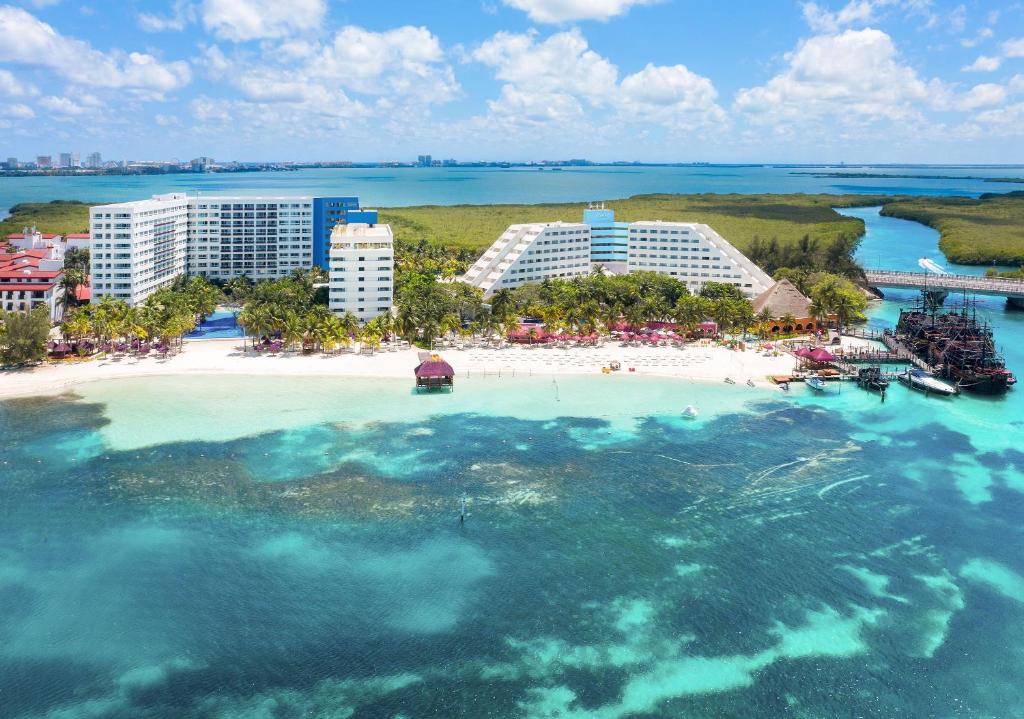 The all-inclusive Grand Oasis Palm is a resort located in the Hotel Zone of Cancún, just 5 km away from the city center. With a private beach and an outdoor pool, guests can enjoy stunning Caribbean Sea views from their rooms. The hotel offers various recreational facilities including squash and tennis courts, as well as a spa for ultimate relaxation. Families will appreciate the kid's club which offers cooking lessons, and there is also a disco and games area with Wii and Xbox consoles. The hotel complex boasts 9 bars and 16 specialty restaurants serving a wide range of cuisines such as sushi, Tex-Mex, and international buffets. Guests can also participate in mezcal, tequila, and wine tasting sessions. Many shops, bars, and restaurants can be found nearby making it convenient for guests to explore the local area. The hotel provides excellent amenities like 24-hour reception service, car hire from the tour desk, free parking facilities, and even a pier where you can take a short boat trip to Mujeres Island.
– Outdoor pool with waterslide
– Private beach access
– Squash and tennis courts on-site
– Wide variety of specialty restaurants
– Convenient location near shops, bars, and restaurants
The Royal Sands Resort & Spa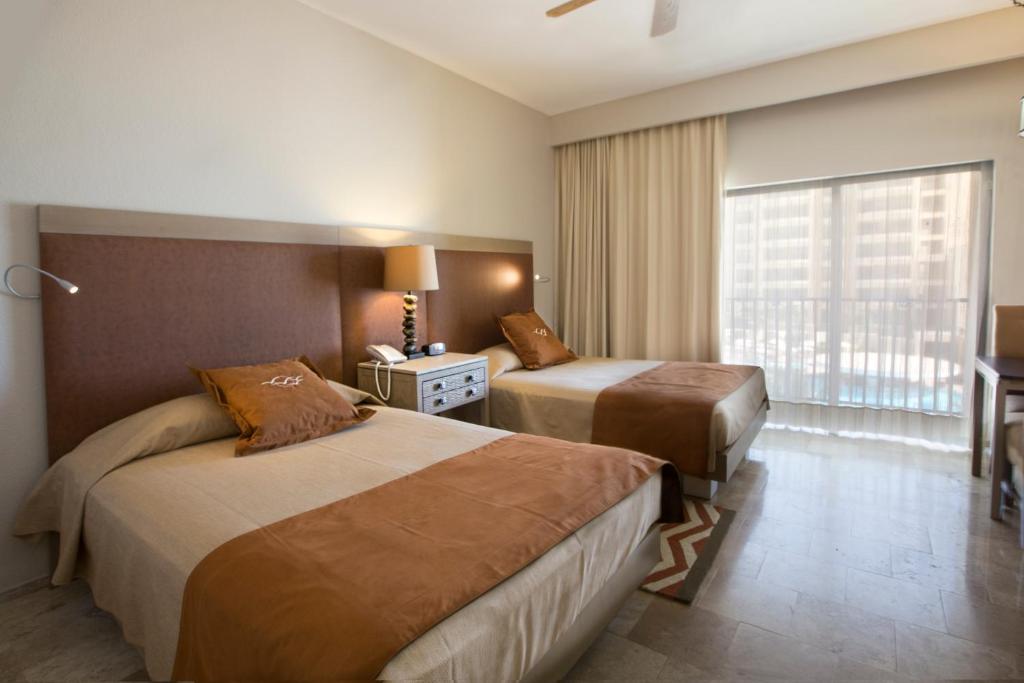 The Royal Sands Resort & Spa is a modern hotel located in central Cancun, right next to the Kukulcan Plaza Shopping Centre. It offers a range of amenities including outdoor pools, a gym, spa, and tennis courts. All rooms come with free Wi-Fi and have balconies with breathtaking sea views. The hotel also provides two complimentary tickets for the Cancun Mayan Museum with every reservation (transportation not included). The air-conditioned rooms and suites are equipped with TVs, DVD players, and private bathrooms with hairdryers. Suites also feature well-equipped kitchens with fridges, microwaves, and coffee makers. Guests can enjoy delicious meals at La Veranda restaurant which serves pasta, steaks, and seafood or head to Hacienda Sisal restaurant for traditional Mexican cuisine. The hotel also has a snack bar and sports bar for lighter bites or refreshing drinks. With its varied entertainment program and close proximity to Cancun's vibrant nightlife area just 10 minutes away by car, guests will never be bored during their stay at The Royal Sands Resort & Spa. Additional perks include free parking on-site as well as car rental services available at the tour desk. For those flying into Cancun Airport, an airport shuttle service is offered for an extra charge making transportation hassle-free (Cancun Airport is just a 20-minute drive away).
– Convenient location next to Kukulcan Plaza Shopping Centre
– Outdoor pools for relaxation
– Well-equipped gym and spa facilities
– Tennis courts available for sport enthusiasts
– Complimentary tickets to the Cancun Mayan Museum
Secrets Playa Mujeres Golf & Spa Resort – All Inclusive Adults Only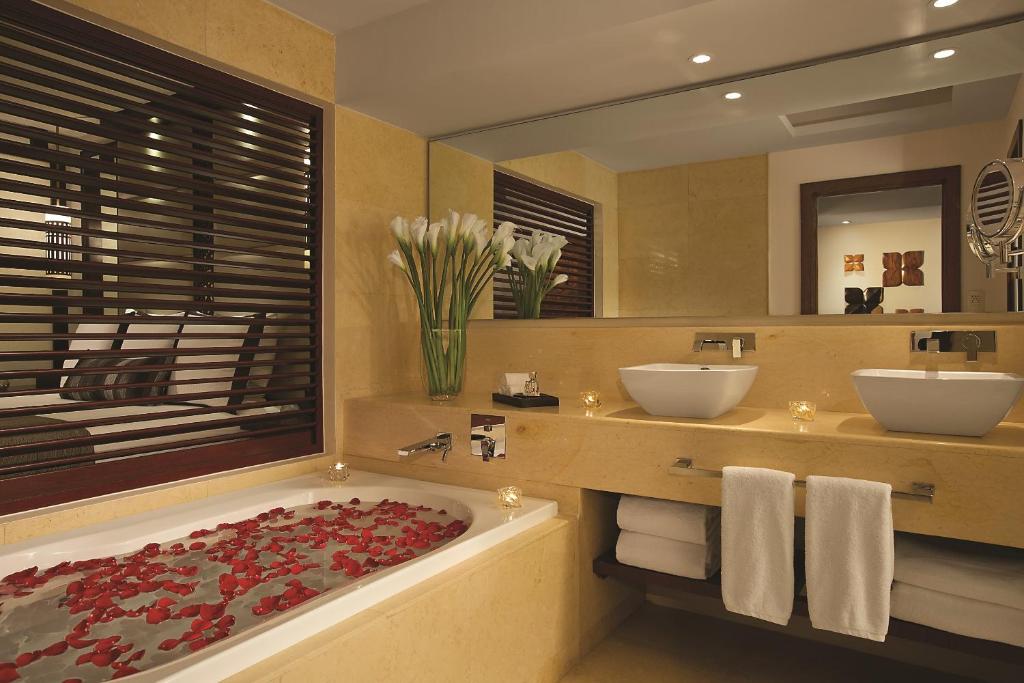 Secrets Playa Mujeres Golf & Spa Resort – All Inclusive Adults Only is a luxurious hotel located on a secluded white-sand beach in Cancun. It offers 2 outdoor pools, 4 hot tubs, and a spa and wellness center for guests to relax and rejuvenate. The hotel is adjacent to an 18-hole signature Greg Norman golf course, providing golf enthusiasts with an exceptional experience. With free WiFi and on-site parking, guests can stay connected and hassle-free throughout their stay. The spacious suites are equipped with amenities such as a spa bath, minibar, flat-screen cable TV, coffee maker, iPod dock, and even tablets with complete hotel information. The resort boasts nine dining options including buffet restaurants, à-la-carte restaurants, grills, and a coffee shop to cater to various culinary preferences. Guests can also enjoy access to the private beach area and the tennis court for some active leisure activities during their stay. Secrets Playa Mujeres holds the prestigious Rainforest Alliance 4 Diamond Award by the AAA certification for its commitment to environmental sustainability. Additionally, guests staying at this resort have shared privileges with Dreams Playa Mujeres Golf & Spa Resort facilities which include access to additional restaurants and bars as well as a water park. They can also take part in traditional Temazcal ceremonies free of charge. With its ideal location near crystal clear waters perfect for snorkeling right off the coast of the hotel and various activities offered on-site such as golfing or exploring nearby attractions like Playa del Carmen or Cancun City Centre within short driving distances; Secrets Playa Mujeres Golf & Spa Resort – All Inclusive Adults Only provides an unforgettable vacation experience.
– Secluded stretch of white-sand beach
– Adjacent to an 18-hole signature Greg Norman golf course
– Nine dining options offering diverse cuisines
– Access to additional facilities at Dreams Playa Mujeres Golf & Spa Resort
– Close proximity to popular attractions like Playa del Carmen and Cancun City Centre
Other places to stay in Cancún
Luxury Hotels With Tennis Courts In Cancún
Cancún, known for its stunning beaches and crystal-clear waters, is also home to a selection of luxurious hotels that cater to tennis enthusiasts. These hotels offer an exceptional experience for guests looking to combine their love for tennis with a lavish stay in paradise. With world-class facilities and beautifully maintained courts, visitors can enjoy a game of tennis while surrounded by the breathtaking beauty of Cancún. Whether you are a beginner or an experienced player, these luxury hotels provide the perfect setting to hone your skills or simply unwind with a friendly match in the warm sunshine.
Ocean Maya Royale Adults Only – All Inclusive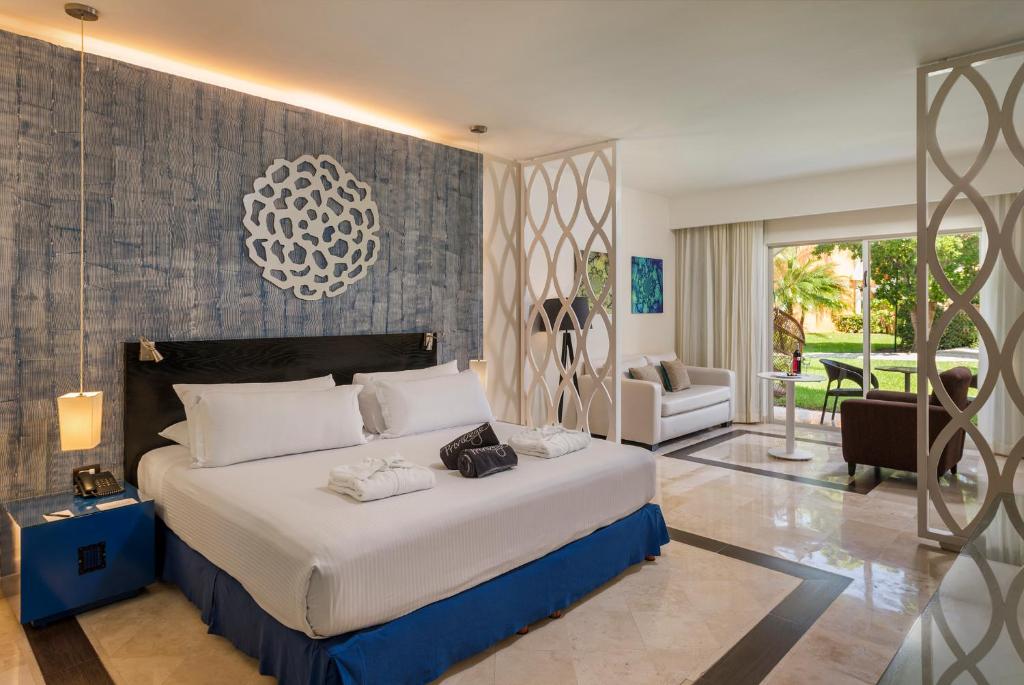 Located in the heart of the Mayan Riviera, near Cozumel and Cancun, Ocean Maya Royale Adults Only – All Inclusive offers oceanfront accommodations with direct beach access. This luxurious resort boasts endless activities, including an on-site scuba diving center and daily organized activities for guests to enjoy. With two oceanfront swimming pools and a full-service spa offering rejuvenating treatments, relaxation is guaranteed. The resort also offers a variety of international dining options, from authentic Japanese cuisine to traditional Mexican dishes. Additionally, guests can take advantage of the nightly live entertainment and the several on-site bars for leisurely evenings. For those who wish to explore beyond the resort, the area surrounding Ocean Maya Royale provides numerous recreational activities such as jet skiing and guided jungle tours. Furthermore, being home to one of the world's largest coral reefs makes it an ideal location for scuba diving or snorkeling.
Pros:
– Direct beach access
– On-site scuba diving center
– Daily organized activities
– Variety of international dining options
– Proximity to recreational activities such as jet skiing and guided jungle tours
Family Selection at Grand Palladium Costa Mujeres Resort & Spa – All Inclusive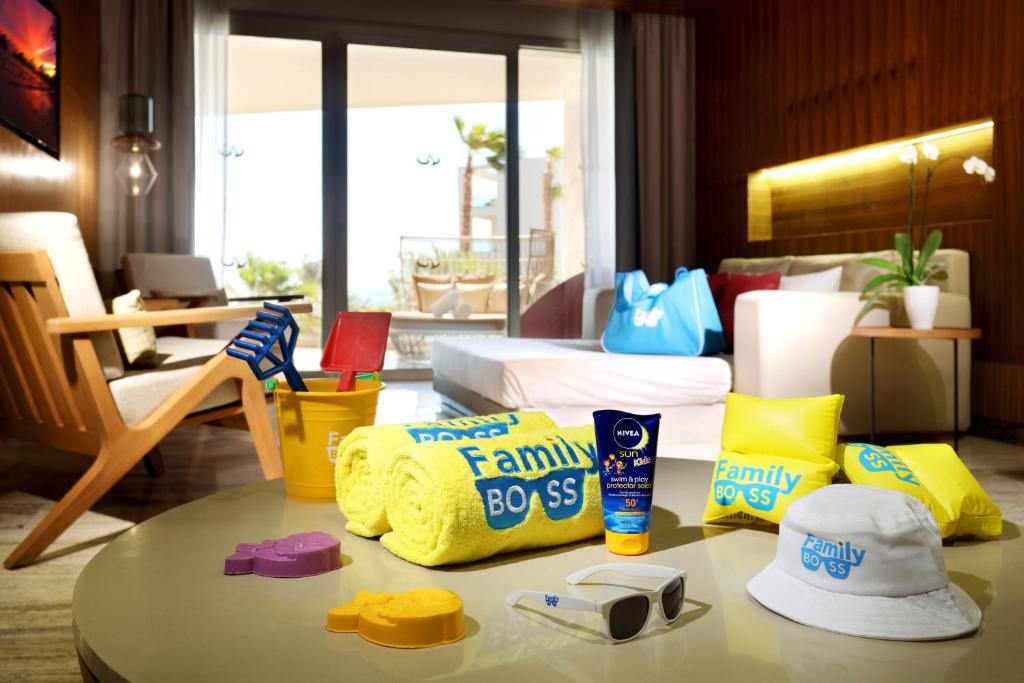 Located in Cancún, 600 meters from Mujeres Beach, Family Selection at Grand Palladium Costa Mujeres Resort & Spa – All Inclusive is a 5-star resort offering a range of amenities for an enjoyable stay. With a garden, free private parking, and a terrace, guests can relax and soak up the beautiful surroundings. The resort also features a restaurant where guests can enjoy delicious meals. The accommodation offers air-conditioned rooms with modern amenities including a desk, coffee machine, minibar, safety deposit box, flat-screen TV, balcony, and private bathroom with shower. Guests can enjoy free WiFi throughout the property and have access to the kids' club for added convenience. For those who love sports activities, the resort offers billiards and tennis facilities on-site. Canoeing is popular in the area as well. Additionally, there is a 24-hour front desk available to assist guests with any requests or information they may need during their stay.
– Beautiful garden and terrace for relaxation.
– Free private parking for convenience.
– Kids' club available for children.
– Tennis court and billiards facilities on-site.
– Close proximity to Mujeres Beach.
Other places to stay in Cancún
Cancún Hotels with Tennis Court Main Information
| | |
| --- | --- |
| 🛏️ Hotels with Tennis Court in Cancún | 5 |
| 💵 Hotels Prices From | $163 |
| 💰 Average price | 905 |
| ⭐ Number of Hotels Reviews | 229 |
FAQ
1. Are there hotels with tennis courts in Cancún?
Yes, Cancún offers a wide range of hotels that feature tennis courts on their premises. These hotels understand the importance of providing recreational activities for their guests, and tennis is a popular choice among sports enthusiasts. Whether you are a beginner or an experienced player, you will find hotels with well-maintained tennis courts that cater to all skill levels.
2. Do I need to bring my own racquet and balls to play?
While some hotels may provide complimentary racquets and balls for their guests to use on the tennis court, it is recommended that you bring your own equipment if possible. This ensures that you have the right size and weight of racquet that suits your playing style. However, it is always better to check with your hotel beforehand regarding the availability of equipment rentals or if they have any restrictions regarding bringing your own gear.
3. Can I book a court in advance at these hotels?
Yes, most hotels with tennis courts in Cancún allow guests to book the courts in advance. This gives you the opportunity to secure your preferred playing time and date during your stay at the hotel. It is advisable to inquire about their booking policies upon check-in or through their website prior to arrival so that you can plan accordingly.
4. Are there any additional fees associated with using the tennis court facilities?
While some hotels include access to their tennis courts as part of their overall amenities package without charging any extra fees, others may have certain charges associated with court usage such as hourly rates or membership fees for non-guests. It is essential to clarify this information at the time of booking or during check-in so that there are no surprises when it comes time to use the facilities.
5. What other facilities are typically available alongside the tennis courts at these hotels?
Hotels in Cancún strive to offer a comprehensive range of amenities to enhance their guests' experience. Alongside the tennis courts, you can often find additional facilities such as swimming pools, fitness centers, spa services, and restaurants. These amenities ensure that guests have a well-rounded stay where they can relax and enjoy various activities beyond just playing tennis.
Popular Hotels with Tennis Court destinations