Welcome to our guide on Hotels with Tennis Court in Lombardy, Italy! If you're a tennis enthusiast looking to combine your love for the sport with a luxurious getaway, Lombardy is the perfect destination for you. Located in northern Italy, Lombardy offers a picturesque setting with its stunning landscapes, charming cities, and of course, world-class hotels that cater to your every need.
Lombardy boasts an impressive selection of accommodations that not only provide exquisite amenities but also feature top-notch tennis facilities. From boutique hotels tucked away in quaint towns to grand resorts nestled amidst serene countryside, there is something for everyone here. Whether you are a seasoned player or someone who simply enjoys a casual game on vacation, these hotels offer well-maintained tennis courts where you can practice your skills or engage in friendly matches with fellow guests.
Immerse yourself in the rich culture and history of Lombardy while indulging in your passion for tennis at these exceptional hotels. After an exhilarating game on the court, unwind by taking leisurely walks along Lake Como's shores or exploring the vibrant streets of Milan. With its perfect blend of sports and relaxation opportunities, Lombardy guarantees an unforgettable experience for both sports enthusiasts and those seeking a tranquil escape. So pack your racket and get ready to serve up some unforgettable memories at Hotels with Tennis Court in scenic Lombardy!
Best Lombardy Hotels with Tennis
Park Hotel Zanzanù (Tignale)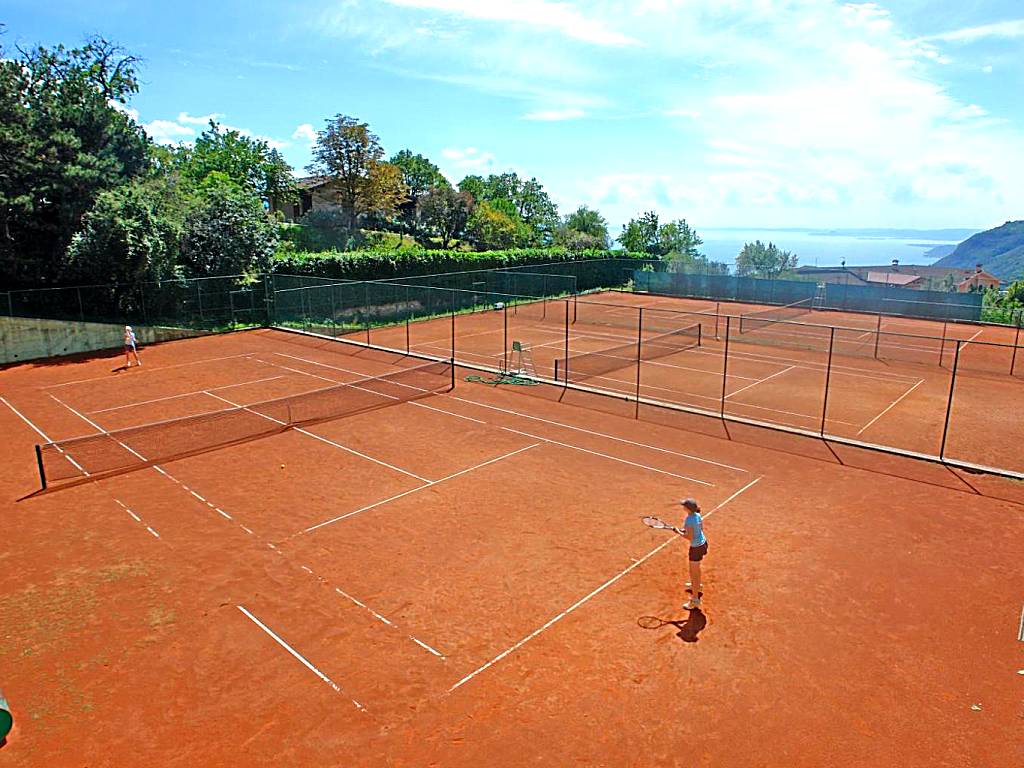 Located in Tignale, the Park Hotel Zanzanù offers a stunning panoramic view of Lake Garda. The hotel features comfortable rooms with balconies overlooking the lake and satellite TV. Guests can enjoy a refreshing swim in the swimming pool or make use of the sports facilities available. The highlight of this hotel is its two tennis courts, perfect for guests who love playing tennis. There is also a multipurpose court that can be used for football and volleyball. The rooms are elegantly decorated with wooden furniture and equipped with a fridge and private bathroom with a hairdryer. Guests can also enjoy activities such as billiards and ping-pong. A delicious continental breakfast is served buffet-style, while the à la carte restaurant offers both Italian and international cuisine. Meals and drinks can be enjoyed on a large terrace boasting magnificent views of Lake Garda. Surrounded by olive groves and vineyards, Hotel Zanzanù provides a tranquil atmosphere just 2 km from Tignale town centre. For those looking to explore further, Riva del Garda is only a 30-minute drive away.
Pros:
– Spectacular panoramic view of Lake Garda
– Two tennis courts available for guests
– Sports facilities including swimming pool
– Elegantly decorated rooms with balconies overlooking the lake
– Convenient location surrounded by olive groves and vineyards
The Garda Village (Sirmione)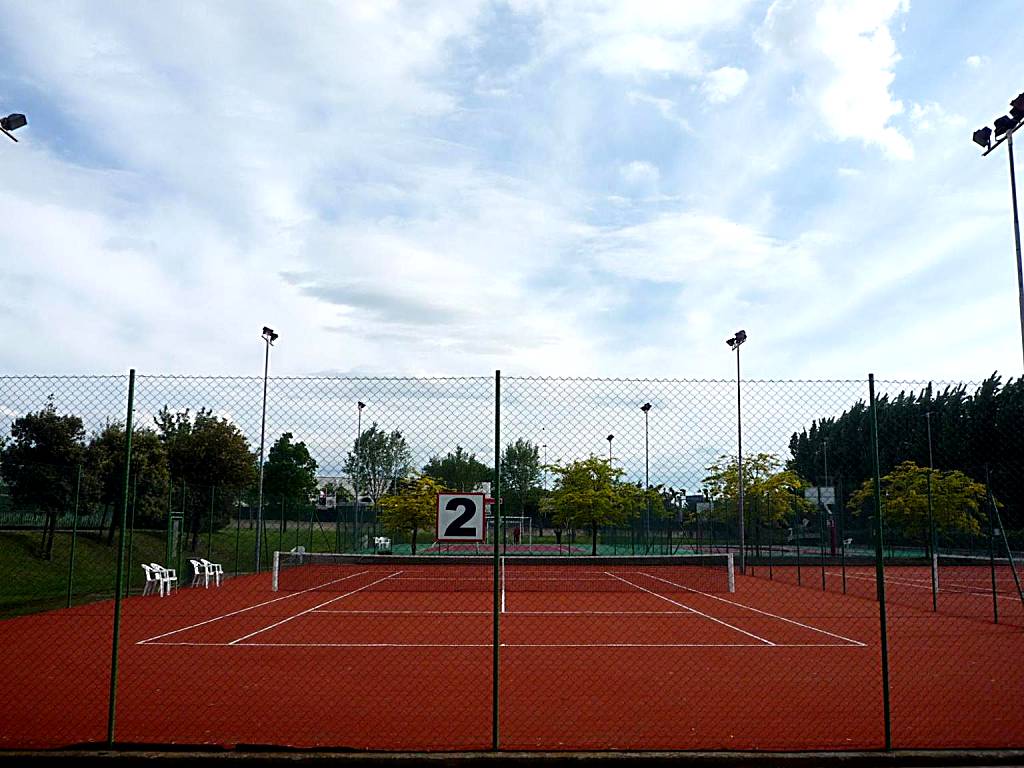 The Garda Village in Sirmione is a holiday park located on Lake Garda, offering a range of amenities and activities for guests. The resort features swimming pools for both adults and children, as well as a hydromassage stream. Sports enthusiasts will be pleased with the array of options available, including mini golf, tennis courts, football pitches, archery range, canoes, motor boats, and pedal-boats that can be rented. Accommodation at The Garda Village consists of bungalows and mobile homes set in a spacious park-like setting. A reserved parking space is provided for all guests. The hotel's convenient location puts it just 3.5 km away from the center of Sirmione and within easy reach of Gardaland, Italy's largest amusement park, which is only a 20-minute drive away. For those who enjoy beach activities, the private beach offers not only beautiful views but also a beach volley court to keep guests entertained. Families traveling with children will appreciate the dedicated playground area as well as the games room and mini club offering various activities and excursions to keep young ones engaged. In addition to all these amenities and facilities, there are also bars on-site where guests can enjoy live music and dancing while sipping their favorite drinks. To top it off, visitors can indulge in delicious meals at the pizzeria restaurant that provides stunning lake views.
– Large resort with swimming pools
– Variety of sports facilities available
– Close proximity to Sirmione city center
– Private beach with beach volleyball court
– Family-friendly amenities such as playgrounds and games room
Villaggio Turistico Internazionale Eden (San Felice del Benaco)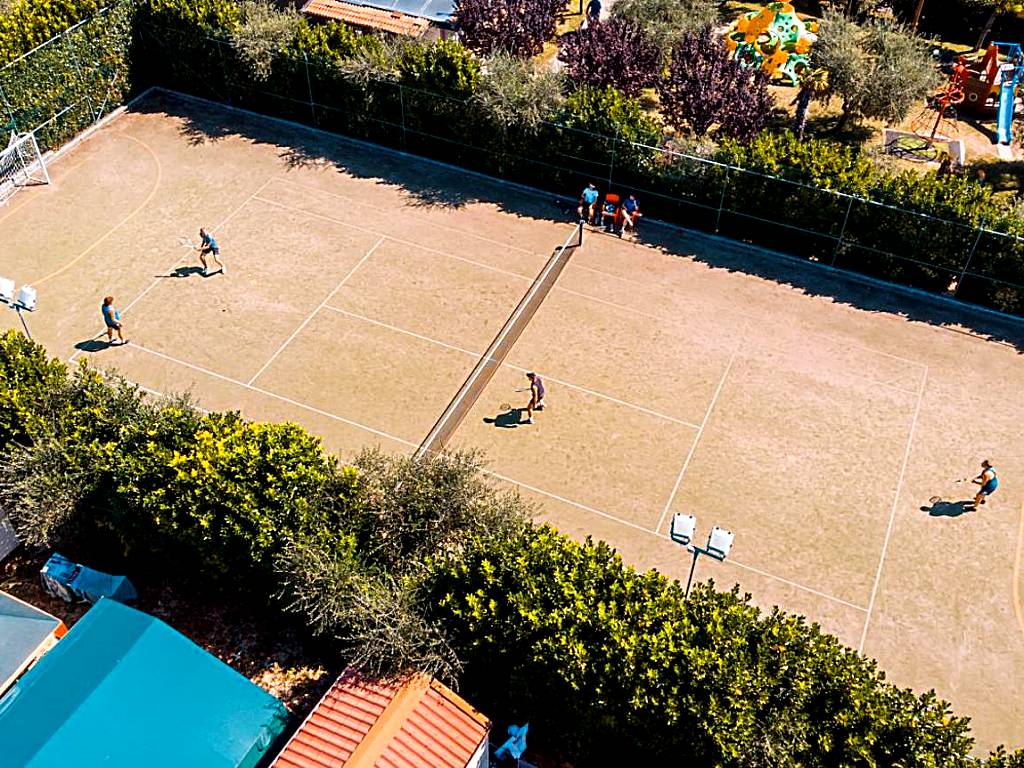 Villaggio Turistico Internazionale Eden is a holiday park located on the beautiful shores of Lake Garda. This resort offers a range of amenities and facilities, making it an ideal destination for families and sports enthusiasts alike. The resort features sports courts, including tennis courts, where guests can enjoy a game or two. Additionally, there are two swimming pools, one of which has water slides for added fun. Children will have plenty of entertainment options with two outdoor play areas available. The resort also boasts a private grassy beach area where guests can relax and soak up the sun. Free parking is provided for added convenience. Situated in a large park setting, Villaggio Turistico Internazionale Eden is just 200 meters away from the harbor and a short 5-minute drive from San Felice Del Benaco center. For those looking to explore further, there are buses to Garda and Desenzano that stop just 300 meters away from the resort. Accommodation options at this resort include chalets and mobile homes, some offering stunning views of the lake. Each unit has its own private entrance, patio, and fully equipped kitchenette for self-catering convenience. In addition to these amenities, guests can also indulge in relaxation with access to a sauna and various massage treatments available on-site. When it comes to dining options, Villaggio Turistico Internazionale Eden has you covered with its restaurant, bar, and pizzeria that even offers takeaway service for those who prefer to dine in their accommodations.
– Holiday park with tennis courts
– Private grassy beach area
– Two swimming pools (one with water slides)
– Children's outdoor play areas
– Range of accommodation options (chalets & mobile homes)
Luxury Hotels With Tennis Courts In Lombardy
Lombardy, a region nestled in the heart of northern Italy, offers an exquisite blend of luxury and outdoor recreation with its selection of hotels boasting tennis courts. Surrounded by picturesque landscapes and breathtaking views, these opulent accommodations provide a haven for tennis enthusiasts seeking both relaxation and sport. Whether indulging in a friendly match or honing their skills with professional coaching, guests can enjoy the perfect balance between serenity and physical activity at these exclusive properties in Lombardy.
Hotel Sporting Brugherio (Brugherio)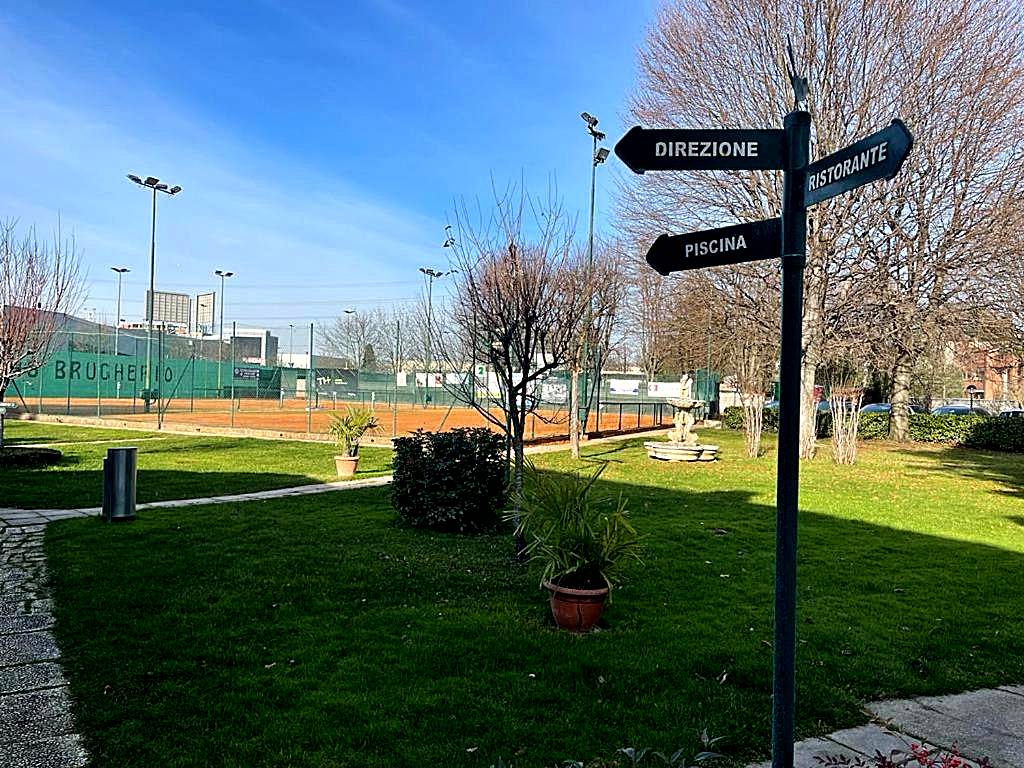 Hotel Sporting Brugherio, located in the charming town of Brugherio just 14 km from central Milan, is a haven for sports enthusiasts. This hotel offers an array of leisure facilities to keep guests entertained, including an outdoor swimming pool, a football pitch, and not one but THREE tennis courts. The hotel's convenient location near the A4 motorway exit makes it easily accessible, with Linate Airport being just a short 25-minute drive away. For those looking to explore Milan center, a local bus conveniently takes you to Cologno Nord Metro Station. The rooms at Sporting Brugherio are well-appointed and feature free internet access, a minibar, and a flat-screen TV with Sky and pay-per-view channels. Guests can also indulge in delectable specialties from the Lombardy region as well as Italian cuisine at the hotel restaurant.
Pros:
– Hotel offers THREE tennis courts
– Convenient location near A4 motorway exit
– Easy access to Milan center via local bus and metro station
– Well-appointed rooms with free internet access and flat-screen TV
– Delicious regional specialties available at the hotel restaurant
Grand Hotel Tremezzo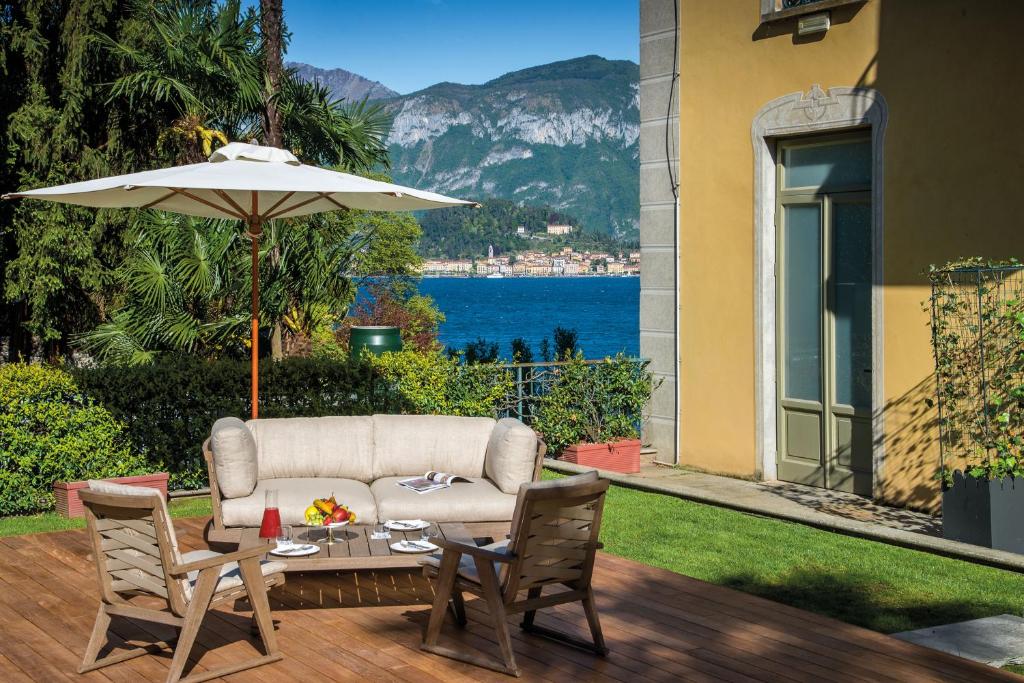 Grand Hotel Tremezzo is a luxurious hotel located in Tremezzo, offering breathtaking views of Lake Como and Bellagio. It is conveniently situated just a 3-minute walk from Villa Carlotta and its stunning botanic garden. The hotel boasts a modern wellness center, multiple dining options, and three swimming pools. Guests can indulge in the T SPA wellness center which includes a sauna, relaxation lounge, and outdoor hot tub overlooking the lake. The rooms and suites are elegantly decorated with free WiFi and air conditioning. Most rooms offer beautiful lake views while some also feature a terrace with a hot tub. Sports enthusiasts will appreciate the gym, tennis court, and jogging paths around the park. For those who want to explore the lake's hidden gems, the hotel offers motorboat rentals upon reservation. Fine Italian cuisine can be enjoyed at La Terrazza panoramic restaurant along with various wine bars and lounges within the hotel premises. Located in Tremezzo, guests have easy access to Cadenabbia harbor for boat trips across the lake. Additionally, guests can benefit from discounts at nearby Menaggio and Cadenabbia golf clubs.
– Breathtaking views of Lake Como
– Modern wellness center with sauna and hot tub
– Elegant rooms with free WiFi
– On-site tennis court for sports enthusiasts
– Motorboat rentals available for exploring hidden gems on the lake
Lombardy Hotels with Tennis Court Main Information
| | |
| --- | --- |
| 🛏️ Hotels with Tennis Court in Lombardy | 5 |
| 💵 Hotels Prices From | $108 |
| 💰 Average price | 278 |
| ⭐ Number of Hotels Reviews | 324 |
FAQ
1. Are there any hotels with tennis courts in Lombardy, Italy?
Yes, Lombardy offers a selection of hotels that feature tennis courts on their premises. These hotels provide excellent opportunities for tennis enthusiasts to enjoy their favorite sport while enjoying their stay in this beautiful region of Italy.
2. How can I find hotels with tennis courts in Lombardy?
To find hotels with tennis courts in Lombardy, you can start by searching online travel websites or hotel booking platforms that allow you to filter your search results based on specific amenities such as a tennis court. Additionally, you can contact the hotel directly to inquire about the availability and facilities they offer for tennis.
3. Do these hotels provide equipment for playing tennis?
Yes, many of the hotels in Lombardy with tennis courts offer rental equipment for guests who do not have their own. You can usually rent racquets and balls from the hotel's front desk or sports center. It is advisable to check with the hotel beforehand to ensure they provide this service.
4. Can beginners also enjoy playing at these tennis court facilities?
Absolutely! Hotels with tennis courts in Lombardy cater to players of all skill levels, including beginners. Whether you are just starting out or looking to improve your game, these facilities are designed to accommodate players of varying abilities and provide a welcoming environment for everyone.
5. Are there any additional fees associated with using the tennis court facility at these hotels?
While policies may vary from one hotel to another, it is common for some properties to charge an additional fee for using the tennis court facility. However, there are also establishments where access to the court is included as part of your room rate or resort fee package. It's recommended to check with your chosen hotel regarding any potential fees before making your reservation
Popular Hotels with Tennis Court destinations