Welcome to our guide on Hotels with Tennis Court in Maui, United States! If you're a sports enthusiast or simply looking for a fun activity during your stay in this breathtaking destination, you've come to the right place. Maui is renowned for its stunning beaches, lush landscapes, and of course, its wide range of accommodations that offer top-notch tennis facilities.
Maui, located within the United States, presents an ideal setting for anyone craving a blend of relaxation and adventure. With its year-round sunny climate and mesmerizing natural beauty, it's no wonder this tropical paradise is a dream destination for tennis lovers. Whether you're an experienced player or just starting out, the hotels here boast an impressive selection of well-maintained tennis courts where you can practice your backhand while soaking up the picturesque surroundings.
Let us be your guide as we explore some of the finest Hotels with Tennis Court in Maui. From luxurious beachfront resorts to charming boutique hotels tucked away in scenic corners of the island, we'll help you discover your perfect accommodation that not only offers exceptional hospitality but also caters to your love for tennis. So grab your racket and get ready to enjoy an unforgettable vacation filled with sun-soaked matches and leisurely days spent exploring all that Maui has to offer!
Best Maui Hotels with Tennis
Maui Sunset (Kihei)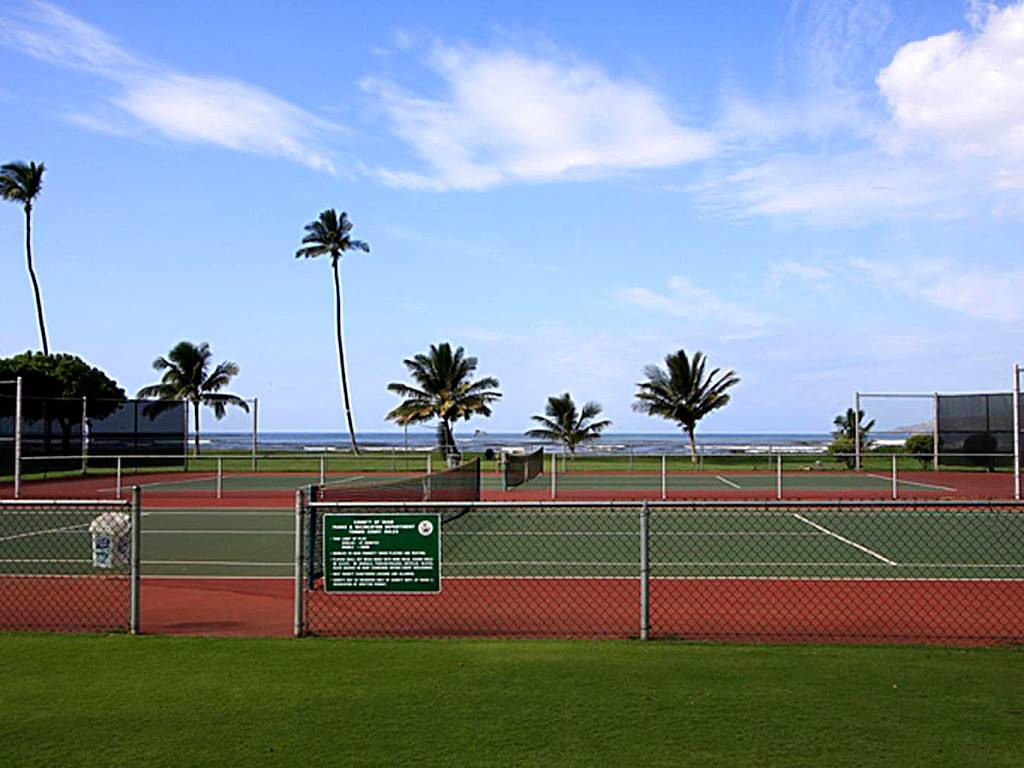 Located on the beach of Waipuilani Park, Maui Sunset in Kihei is an apartment hotel that boasts six tennis courts. This property also features an "L"-shaped outdoor pool, an on-site gym, and a hot tub and sauna for guests to enjoy. Each tropically themed apartment comes equipped with a full kitchen and a balcony, offering stunning views of the surroundings. The apartments also provide amenities such as free Wi-Fi, cable TV, and a DVD player. Additionally, Maui Sunset offers concierge and tour services for guests seeking assistance with planning their activities. For those interested in exploring the area, Maui Nui Botanical Gardens is just a 20-minute drive away while Elleair Maui Golf Club is conveniently located 1.7 miles from the property.
– Six tennis courts available
– Beachfront location at Waipuilani Park
– Full kitchens in each apartment
– Hot tub and sauna facilities
– Concierge and tour services provided
Aston Mahana at Kaanapali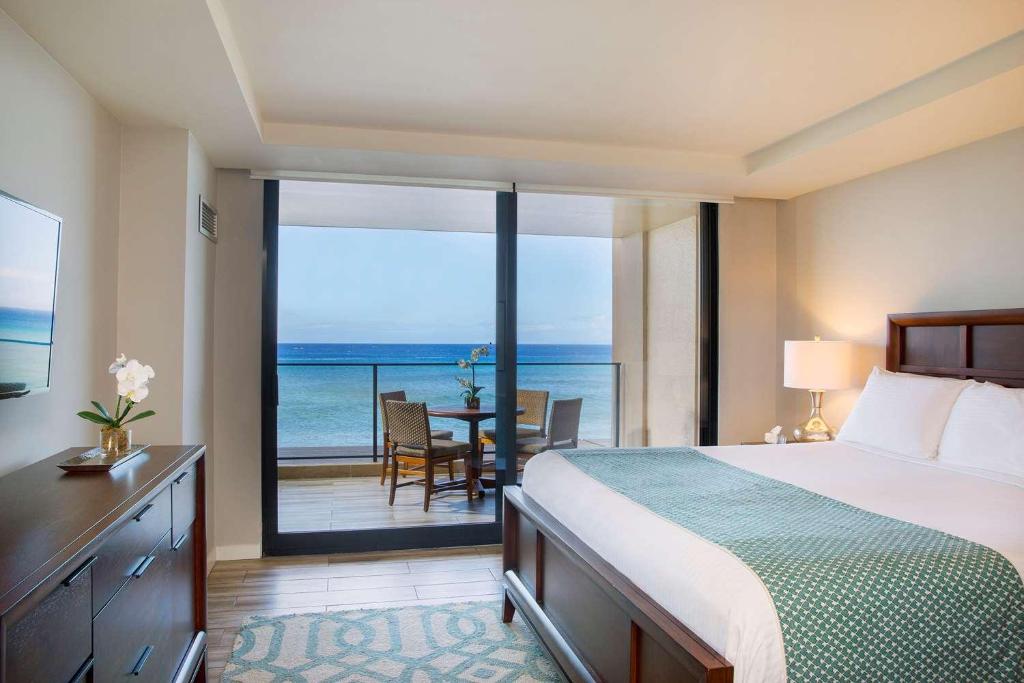 Located oceanfront in Lahaina, Hawaii, Aston Mahana at Kaanapali offers spacious studios and suites with breathtaking ocean views from their balconies. Each accommodation is equipped with a fully equipped kitchen, floor-to-ceiling windows, DVD movie rentals, and cable TV. Guests can also enjoy the convenience of a seating area, safe, washing machine, and dryer in every studio and suite. Upon check-in, children are greeted with a complimentary beach ball to make their stay even more enjoyable. The hotel provides numerous amenities such as an outdoor pool, hot tub, barbecue facilities for grilling delicious meals by the beachside, and a DVD kiosk in the lobby for entertainment options. For sports enthusiasts looking to stay active during their vacation, Aston Mahana at Kaanapali boasts both a tennis court and pickleball court on-site. Honokowai Beach Park is just a short distance away from the hotel while popular attractions like Kaanapali Golf Course Tournament North, Kapalua Airport, and Whalers Village are within easy reach.
Pros:
– Stunning ocean views from balconies
– Fully equipped kitchens in all accommodations
– Complimentary beach ball for children upon check-in
– On-site tennis court and pickleball court for sports enthusiasts
– Convenient location near popular attractions
Royal Lahaina Resort & Bungalows (Lahaina)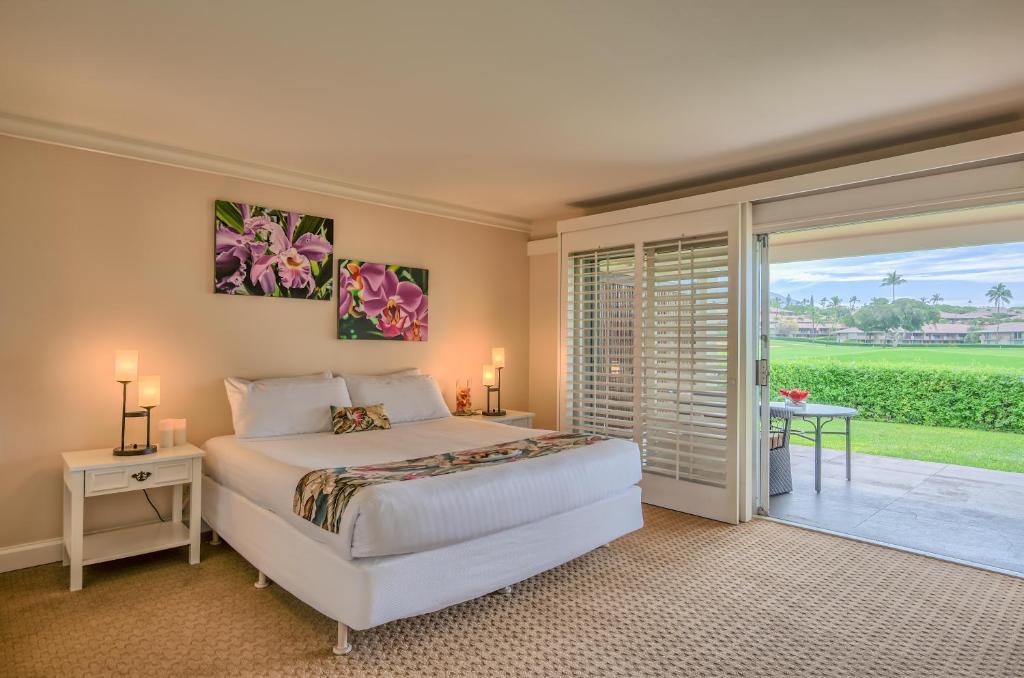 Nestled on an exclusive 800-metre stretch of Kaanapali Beach, the Royal Lahaina Resort & Bungalows in Lahaina, Hawaii, offers a luxurious stay within the beautiful Kaanapali Resort complex. With three outdoor pools, a hot tub, and a fitness centre, guests can relax and enjoy their time at the resort. Each guest room features free WiFi and a TV with cable channels, as well as a coffee machine for convenience. The resort also offers various dining options including a full-service restaurant, ice cream parlor and coffee shop. Guests can participate in flower lei and puka shell making classes while experiencing Hawaiian and Polynesian arts and crafts. Additionally, there are two bars available for guests to unwind after an exciting day. The resort's proximity to Historic Old Town Lahaina and Lahaina Harbor allows guests to explore these attractions easily. For those seeking adventure, Haleakala Crater is nearby where visitors can witness breathtaking sunrises from 3 km above sea level. To make shopping or dining even more convenient for guests, the resort provides a free shuttle service to Whaler's Village.
Pros:
– Exclusive beachfront location
– Three outdoor pools and hot tub
– Fitness centre for active guests
– Variety of dining options including full-service restaurants
– Proximity to popular attractions like Historic Old Town Lahaina
Other places to stay in Maui
Luxury Hotels With Tennis Courts In Maui
Luxury Hotels with Tennis Courts in Maui offer the perfect blend of opulence and recreational activities for tennis enthusiasts. Nestled amidst the breathtaking landscapes and pristine beaches, these hotels provide guests with world-class amenities and services. From well-maintained tennis courts to professional coaching, players can indulge in their passion for the game while enjoying a luxurious stay. Whether you are a beginner or an advanced player, these hotels provide an ideal setting to improve your skills or engage in friendly matches with fellow guests. After a challenging game, unwind by taking a dip in the crystal-clear pools or pamper yourself at the spa facilities. With their impeccable hospitality and stunning surroundings, Luxury Hotels with Tennis Courts in Maui ensure an unforgettable experience for all travelers seeking both relaxation and active pursuits during their stay.
Aston at Papakea Resort (Lahaina)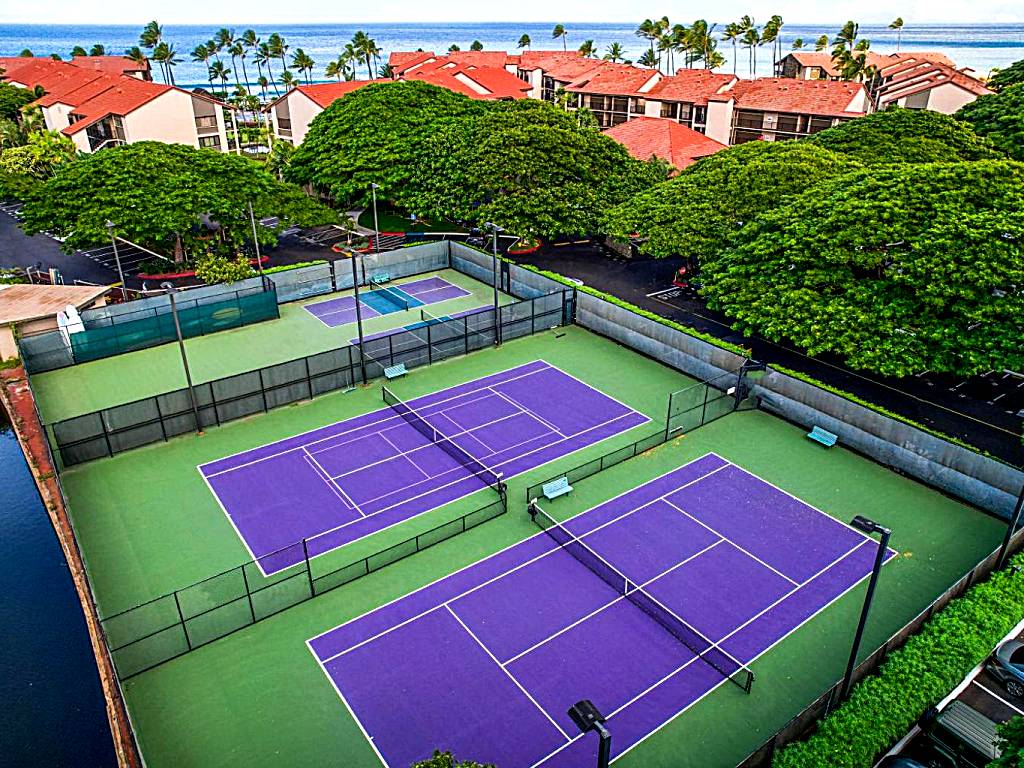 Aston at Papakea Resort in Lahaina is a beautiful apartment hotel situated on a private 13-acre property. The spacious suites feature kitchen facilities, tropical designs, and a private balcony. Guests can enjoy activities such as swimming in the two outdoor pools with hot tubs, practicing their golf skills on the putting greens, and playing tennis on the illuminated courts. Other amenities include free WiFi, laundry facilities, and a dishwasher in each suite. The resort is conveniently located within walking distance of Honokowai Beach Park and the Farmers Market Maui. Additionally, guests can easily access Kaanapali Golf Course Tournament North and Kapalua-West Maui Airport within minutes.
– Spacious suites with kitchen facilities
– Access to illuminated tennis courts
– Two outdoor pools with hot tubs
– Convenient location near beach park and farmers market
– Close proximity to golf course and airport
Kaanapali Alii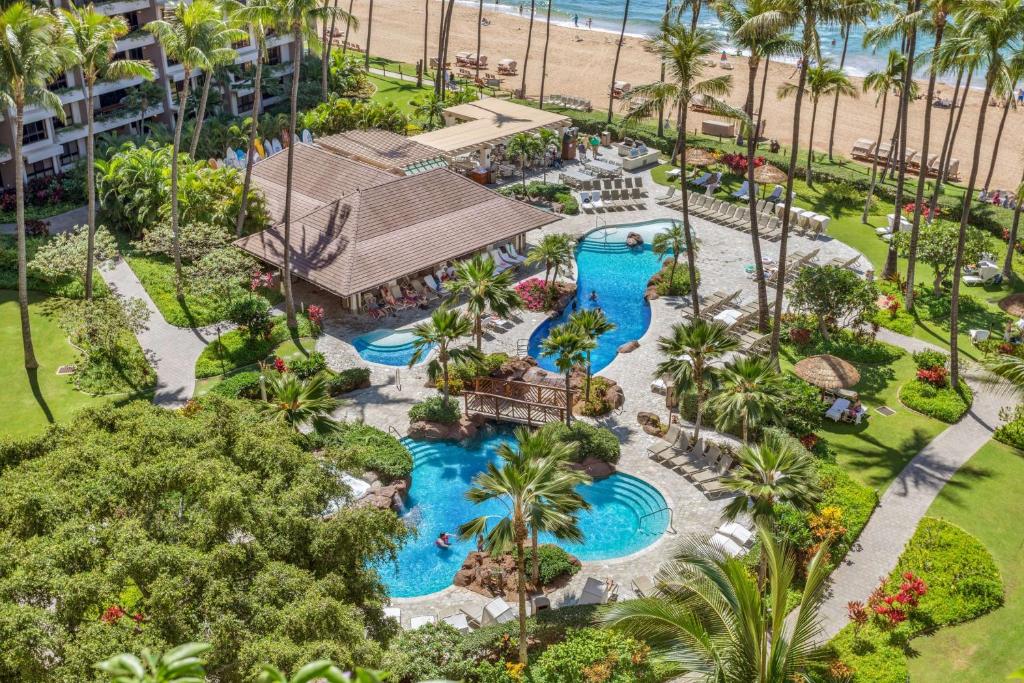 Located directly on Ka'anapali Beach, moments from downtown Lahaina, Kaanapali Alii, a Destination by Hyatt Residence features free WiFi, spacious condominium-style accommodations with fully-equipped modern kitchens and an outdoor pool. All accommodations feature separate living and dining areas and a fully equipped kitchen complete with a refrigerator, a microwave, a stove and oven unit, a coffee machine, a toaster, a blender, and kitchenware. Kaanapali Alii boasts an exceptional location near Whaler's Village and downtown Lahaina where guests can explore unique shops, art galleries, and local restaurants. The hotel offers air conditioning in each room along with two full baths and in-room washing machines and tumble dryers for added convenience. Guests can also enjoy private lanais offering stunning ocean or mountain views. In addition to these amenities, the hotel provides guests with access to three on-site tennis courts as well as select privileges at the nearby Ka'anapali Golf Course. Other services available at the hotel include free on-site movie rentals, an on-site convenience store for any last-minute necessities you may need during your stay,
personal grocery shopping services to stock up your kitchen before arrival or throughout your stay,
and yoga classes for those looking to relax and rejuvenate their body and mind. With its prime location by the beach, variety of amenities offered within the property,
and easy accessibility to cultural activities as well as recreational sports,
Kaanapali Alii is an ideal choice for travelers seeking both relaxation
and adventure during their visit to Maui.
Pros:
– Convenient beachfront location
– Spacious condominium-style accommodations with fully-equipped kitchens
– Access to three on-site tennis courts
– Select privileges at nearby Ka'anapali Golf Course
– Variety of additional services such as personal grocery shopping and yoga classes
Other places to stay in Maui
Maui Hotels with Tennis Court Main Information
| | |
| --- | --- |
| 🛏️ Hotels with Tennis Court in Maui | 5 |
| 💵 Hotels Prices From | $181 |
| 💰 Average price | 744 |
| ⭐ Number of Hotels Reviews | 933 |
FAQ
Can you recommend any hotels in Maui that have tennis courts?
Yes, there are several hotels in Maui that offer tennis courts for their guests to enjoy. One popular option is the Four Seasons Resort Maui at Wailea, which boasts three championship-level tennis courts and even offers private lessons for those looking to improve their game. Another great choice is The Westin Maui Resort & Spa, which features two outdoor courts with stunning ocean views. Additionally, the Ka'anapali Beach Hotel offers two lighted courts perfect for evening matches. Whether you're a seasoned player or just starting out, these hotels provide excellent facilities for tennis enthusiasts.
Do I need to bring my own equipment to play tennis at these hotels?
While some hotels may provide complimentary racquets and balls, it's always a good idea to bring your own equipment if possible. This way, you can ensure that you have gear that suits your playing style and preferences. If you're traveling with limited space or don't want the hassle of carrying your own equipment, most hotels with tennis courts offer rental services where you can borrow racquets and balls for a fee. It's best to check with the specific hotel beforehand to see what options are available.
Are the hotel's tennis courts available year-round in Maui?
Yes, most of the hotels with tennis courts in Maui keep their facilities open year-round for guests' enjoyment. Since Hawaii has a tropical climate with relatively consistent temperatures throughout the year, playing tennis outdoors is generally feasible no matter when you visit. However, it's important to note that weather conditions can sometimes impact court availability. In case of heavy rain or strong winds, certain hotel policies may require closing the courts temporarily for safety reasons.
Is there an additional charge to use the tennis courts at these hotels?
While policies may vary from hotel to hotel, many establishments do not impose an extra fee for using their on-site tennis facilities. Guests are typically able to access the courts free of charge and may even be provided with complimentary equipment, such as racquets and balls. However, private lessons or group clinics offered by the hotels' tennis professionals may come at an additional cost. It's advisable to inquire about any potential fees or reservations required when booking your stay.
Can I make advance reservations for the tennis courts at these hotels?
Yes, it is generally recommended to make advance reservations for using the tennis courts at these hotels, especially during peak travel seasons. By reserving your court time in advance, you can ensure availability and secure a preferred playing time. This also allows the hotel staff to provide any necessary equipment or assistance ahead of time. Reservations can usually be made through the hotel's concierge or recreation desk, either online or by phone.
Popular Hotels with Tennis destinations