Welcome to the enchanting Swiss Alps, a destination that combines breathtaking natural beauty with luxurious amenities for an unforgettable vacation. In this guide, we will delve into the world of resorts nestled amidst the majestic peaks of Switzerland, offering not only stunning vistas but also top-notch facilities such as tennis courts. These Hotels with Tennis Court in the Swiss Alps provide travelers with an idyllic setting where they can indulge in their love for both tennis and the great outdoors.
Picture yourself surrounded by snow-capped mountains and pristine alpine air as you engage in a friendly game of tennis on perfectly maintained courts. Whether you are a seasoned player seeking a challenging match or someone looking to try their hand at this elegant sport for the first time, these hotels cater to all skill levels. Immerse yourself in this sensory experience as you serve and volley against nature's grand backdrop – it is truly an extraordinary way to connect with both your body and the environment.
Beyond tennis, these hotels offer a plethora of activities to keep you entertained during your stay. From hiking through lush meadows to skiing down powdery slopes, there is something for everyone in this outdoor enthusiast's paradise. After an exhilarating day on the court or exploring the awe-inspiring surroundings, unwind in luxurious spa facilities or savor gourmet cuisine crafted from locally sourced ingredients.
Best Swiss Alps Hotels with Tennis
Hotel Christiania (Saas-Fee)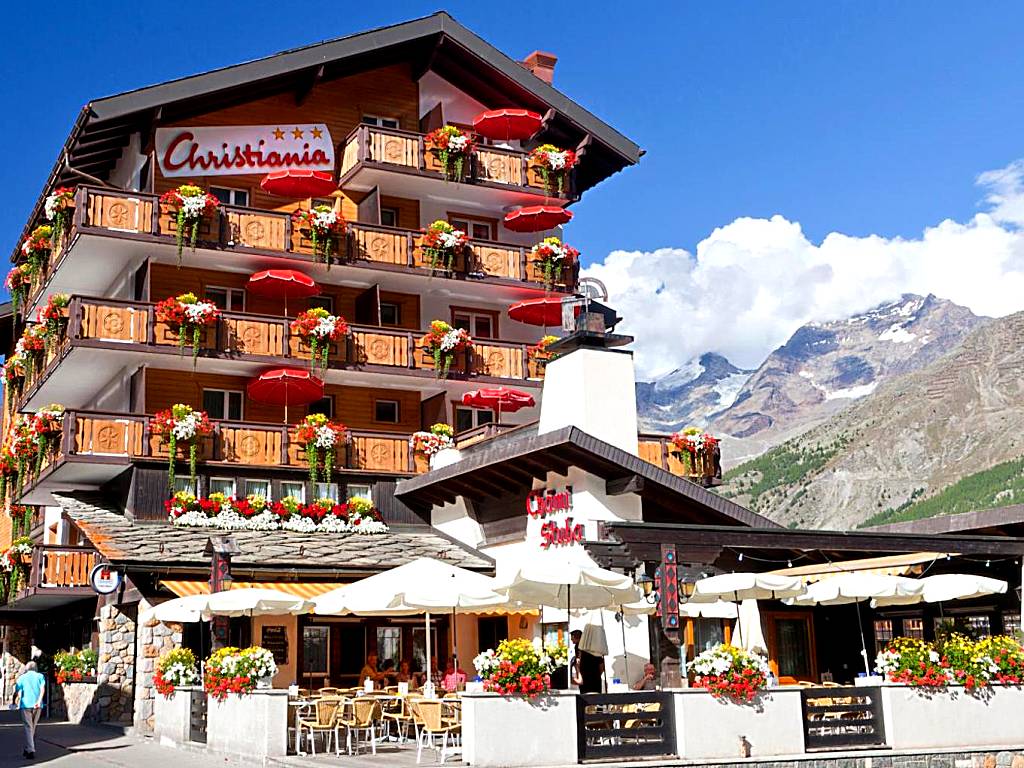 Hotel Christiania in Saas-Fee is a conveniently located hotel, just a 3-minute walk from the ski slopes. The hotel offers free WiFi and a delicious breakfast buffet with service. During the winter season, guests can enjoy the wellness area and take advantage of the advanced booked free pick-up shuttle from the Tourist Centre or parking place to the hotel. Additionally, guests receive a guest card that includes free use of all local buses in the Saas Valley, as well as discounts on various activities. For those looking to stay active, the hotel also provides access to a tennis court.
– Conveniently located near ski slopes
– Free WiFi
– Delicious breakfast buffet
– Access to wellness area during winter
– Free pick-up shuttle service
Gstaad Palace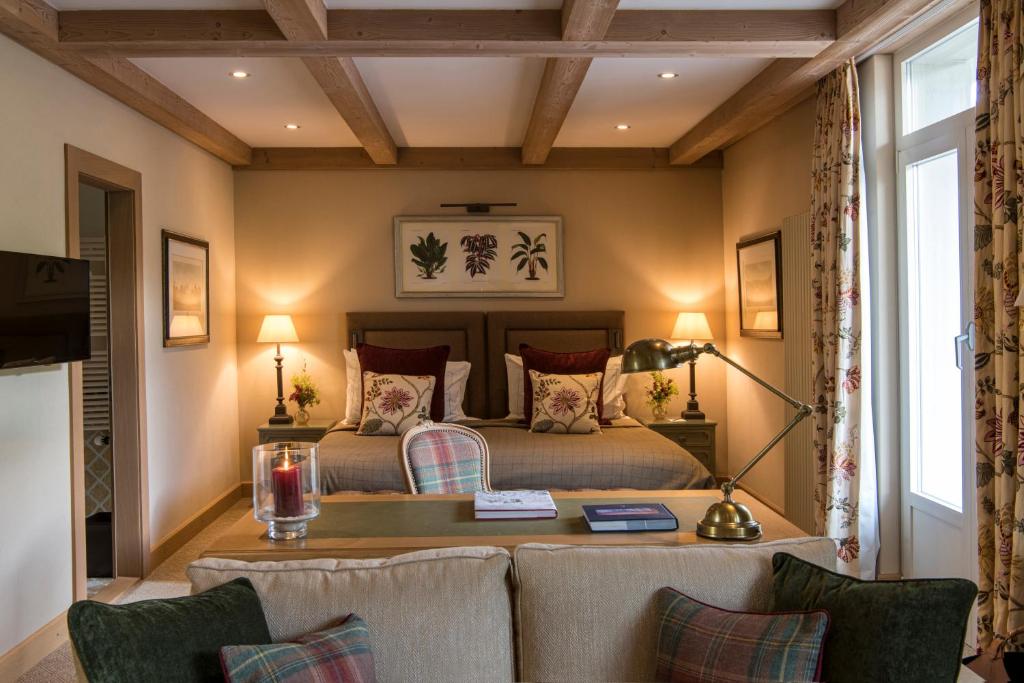 Set on a hill overlooking the picturesque town of Gstaad, the Gstaad Palace is a luxurious hotel that offers stunning views of the Swiss Alps. With a history dating back to 1913, this hotel is renowned for its discreet and refined hospitality, attracting discerning international guests. The 1,800 m² spa and health club provides a range of relaxing amenities, including treatment rooms, saunas, steam baths, indoor and outdoor pools with Jacuzzi, a state-of-the-art gym, an activity room, and a unique hammam experience. In addition to its elegant accommodations and serene ambiance, the Gstaad Palace boasts five exceptional restaurants that serve traditional Swiss dishes, barbecue specials, Italian cuisine and gourmet delicacies. Guests can also unwind at the lobby bar or Bar du Grill or dance the night away at the famous GreenGo nightclub. For those looking for active pursuits during their stay at this distinguished hotel, there is a squash court as well as four outdoor tennis courts.
– Breathtaking view of the Swiss Alps
– Luxurious spa and health club facilities
– Five exceptional restaurants serving various cuisines
– Range of entertainment options including GreenGo nightclub
– Squash court and outdoor tennis courts available
Apartments Residenz Iris (Leukerbad)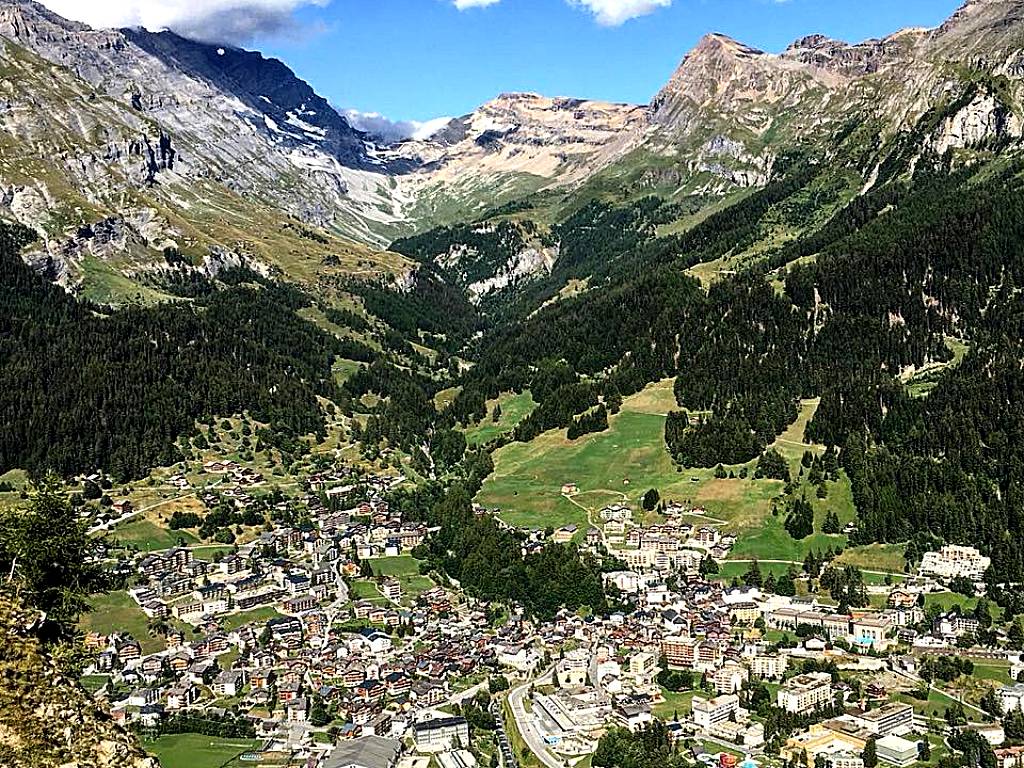 Apartments Residenz Iris in Leukerbad are the perfect choice for those looking for a luxurious and convenient stay. These sleek apartments are situated right next to the slopes of the Torrent ski resort, offering easy access to skiing opportunities. The apartments feature modern technology and household appliances, along with panoramic balconies that provide stunning views of the surrounding area. Guests can enjoy wellness facilities such as a hot tub, sauna, and steam bath, perfect for relaxing after a day on the slopes. Each apartment is self-catering and comes with one or more bathrooms, as well as spacious dining and living rooms luxuriously appointed with some even featuring a cozy fireplace. Grocery stores can be found within a 5-minute walk in the center of Leukerbad, making it convenient for guests to stock up on supplies. Additionally, guests have access to a tennis court on-site, allowing them to stay active during their stay. The hotel also provides guests with the Leukerbad Card Plus Guest Card upon arrival which offers various benefits including discounts for public thermal spas and cable car tickets, free entertainment programs, free use of local bus transportation and free admission to various sports facilities in the area.
– Situated next to Torrent ski resort
– Modern technology and appliances
– Panoramic balconies
– Wellness facilities including hot tub, sauna, and steam bath
– Access to on-site tennis court
Other places to stay in Swiss Alps
Luxury Hotels With Tennis Courts In Swiss Alps
When it comes to luxury travel experiences in the Swiss Alps, few things can rival the exhilarating combination of breathtaking mountain views and world-class sporting facilities. Luxury hotels with tennis courts in this stunning region offer discerning travelers a chance to indulge in their passion for the sport while surrounded by pristine natural beauty. Whether playing a challenging match or simply honing their skills, guests at these exceptional hotels can enjoy state-of-the-art tennis courts that blend seamlessly into the alpine landscape. With impeccable service and lavish accommodations, these luxurious retreats provide an unforgettable experience for both tennis enthusiasts and those seeking a serene escape amidst the majestic Swiss Alps.
Hotel Walther – Relais & Châteaux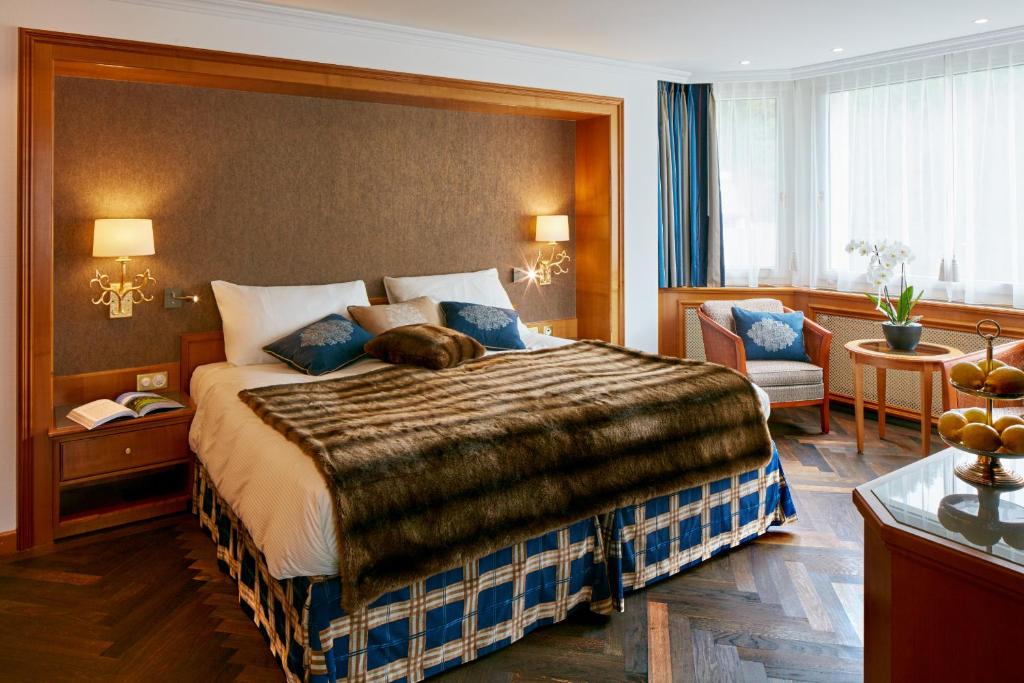 Located in Pontresina, Hotel Walther – Relais & Châteaux is a family-run hotel that has been operating for three generations. This Belle-Époque hotel offers a luxurious experience with its 700 m² Aqua Viva spa area, complete with an indoor pool, hot tub, various saunas, foot bath with waterfall, showers, and rest area. Guests can also indulge in massages and enjoy free WiFi throughout their stay. The on-site La Trattoria restaurant serves delicious Italian pasta dishes in a rustic Mediterranean setting along with fish and meat specialties. The hotel provides a variety of room options including south-, east-, west-facing rooms or quietly located north-facing rooms. All rooms are non-smoking and some even feature terraces or balconies. In addition to the spa facilities and restaurant, guests can enjoy a bar with piano music and an exclusive smoking lounge. There are many complimentary services offered such as baby equipment usage and transfers from Pontresina Train Station. For those looking to stay active during their visit, the hotel offers a small fitness corner equipped with a treadmill, ergometer, and weight bench. Other amenities include electric bike and mountain bike rentals, three tennis courts, children's playgrounds, and parking garage with jet-wash facilities. Golf enthusiasts will receive a 20% discount on green fees at nearby golf courses in Samedan and Zuoz/Madulain.
Pros:
– Family-run establishment
– Luxurious Aqua Viva spa area
– On-site restaurant serving Italian cuisine
– Variety of room options available
– Complimentary amenities like baby equipment usage
Sport & Wellnesshotel San Gian St. Moritz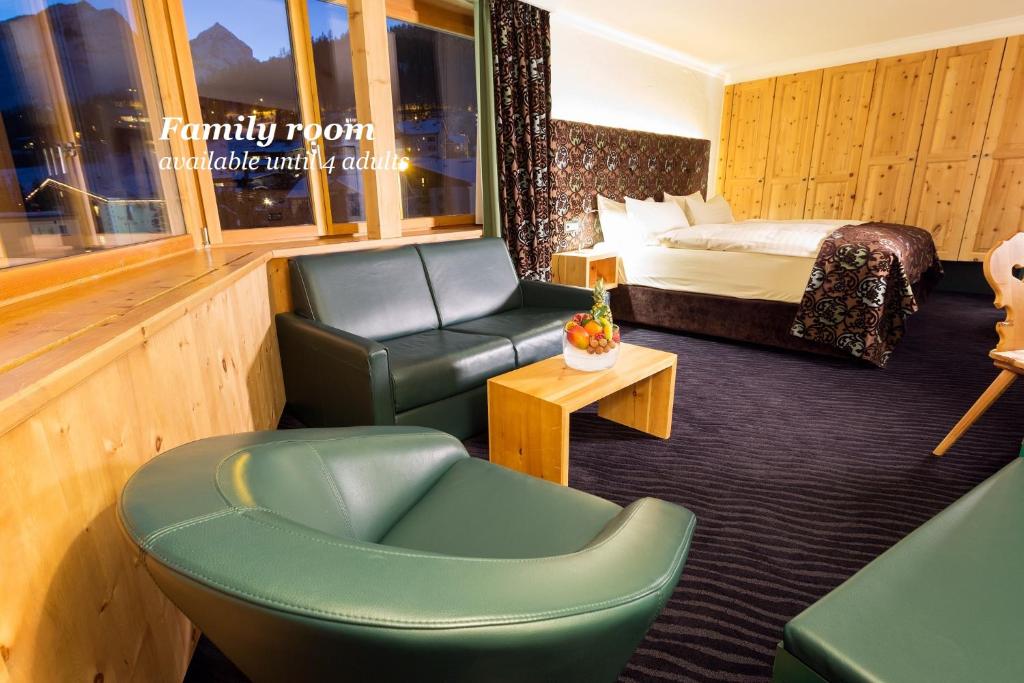 Sport & Wellnesshotel San Gian St. Moritz is a 4-star hotel located just 150 metres from the Sankt Moritz-Signal Cable Car. The hotel offers a range of amenities including various massages and relaxation treatments, free WiFi, and 2 restaurants. Guests also have free access to the Ovaverva recreation complex across the street, which features a swimming pool, spa and wellness area, and fitness centre. The rooms are decorated with contemporary furniture and include a flat-screen TV, minibar, seating area, and bathroom with bathrobes and slippers provided. The Royal Mongolian buffet restaurant serves a wide range of Mongolian and international dishes with an open show kitchen, while Swiss and international dishes are served in the hotel restaurant along with fine wines and a daily breakfast buffet. During the winter season, guests can enjoy reduced rates on ski passes when staying for 2 nights or more, while during the summer season, tickets for cable cars and public transportation are included in the rate for stays of 2 nights or more. The hotel is conveniently located within walking distance of bus stops and is a short drive away from various ski trails and bike paths. Underground parking is available on site at an additional cost.
Pros:
– Convenient location near cable car
– Free access to Ovaverva recreation complex
– Contemporary rooms with modern amenities
– Two restaurants serving diverse cuisine options
– Winter discounts on ski passes
Les Mazots de la Source & Spa (Vercorin)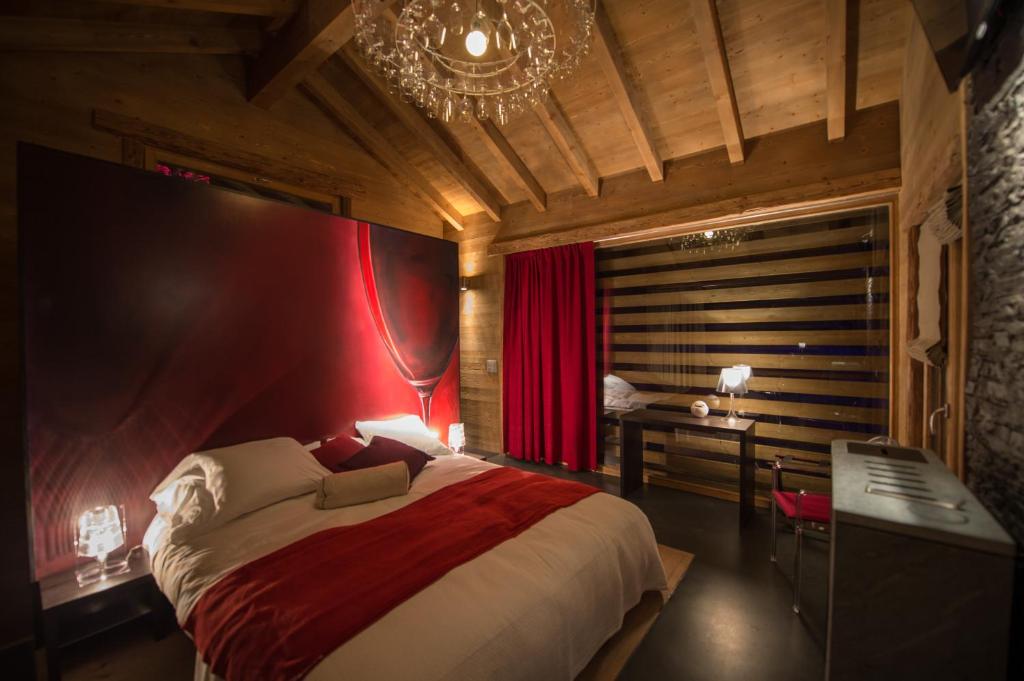 Located in the charming town of Vercorin, in the picturesque Canton of Valais Region, Hotel Les Mazots de la Source & Spa is a delightful getaway for travelers seeking relaxation and outdoor activities. Situated just 800 meters from Télécabine Vercorin – Crêt-du-Midi and 1.3 km from Sigeroulaz, this hotel offers convenient access to skiing and other winter sports. The cozy accommodation features comfortable rooms with flat-screen TVs, some of which include a seating area and terrace. Each unit has a private bathroom with slippers provided. Guests can take advantage of the spa facilities at Hotel Les Mazots de la Source & Spa, including a hot tub and massage treatments. The on-site bar serves refreshing drinks for guests to enjoy after a day on the slopes or exploring the beautiful surroundings. With ski pass sales point, ski storage space, and equipment hire available on-site, skiing enthusiasts will find everything they need for an enjoyable stay. In addition to skiing, guests can also partake in cycling and hiking activities nearby. Tracuit is located 2.6 km away while Sion Airport is approximately 15 km from the property.
– Convenient location near ski lifts
– Cozy rooms with flat-screen TVs
– On-site spa facilities including hot tub
– Ski pass sales point and equipment rental available
– Close proximity to cycling and hiking trails
Best Swiss Alps Hotels With Tennis Courts
The Swiss Alps are renowned for their breathtaking beauty and world-class skiing, but they also offer a wealth of luxurious hotels with tennis courts. Nestled amidst the stunning Alpine landscape, these hotels provide an ideal retreat for tennis enthusiasts looking to combine their love for the sport with a relaxing vacation. With well-maintained courts that offer panoramic views of the surrounding mountains, guests can enjoy a challenging game while immersing themselves in the tranquility of nature. Whether you're a seasoned player or just starting out, these Swiss Alps hotels provide an exceptional experience for both sport and leisure in one unforgettable destination.
Waldhotel & SPA Davos – for body & soul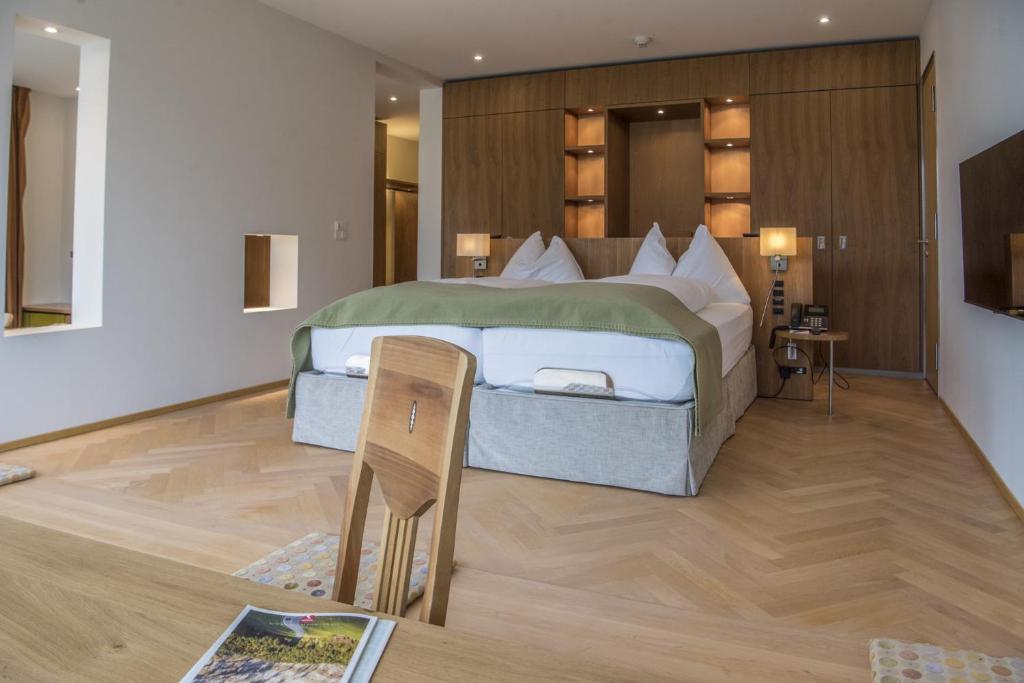 Located in Davos, the Waldhotel & SPA Davos – for body & soul is a 4-star superior hotel offering breathtaking panoramic views of the surrounding area. With its restaurant, bar with an open fireplace, and spa area featuring a heated indoor pool with bubble beds, this hotel is the perfect destination for relaxation and rejuvenation. The Atrium restaurant serves delicious culinary delights including Aroma/Natural cuisine, international dishes, and Grisons specialties. Guests can also enjoy spa facilities such as the aroma grotto, sauna, Turkish steam bath, Kneipp room, and fitness room. The spacious rooms at the Waldhotel offer modern amenities including TV and a bathroom with a hairdryer. Many rooms also have a south-facing balcony with stunning views of Davos. Moreover, history buffs will appreciate that this hotel was once known as the Waldsanatorium and served as inspiration for Thomas Mann's famous novel The Magic Mountain. For added convenience, guests arriving by train can request pick-up from either Davos Dorf or Davos Platz train stations using the hotel's complimentary shuttle bus service which also provides transportation to nearby ski slopes.
– Breathtaking panoramic views over Davos
– Restaurant with delectable culinary offerings
– Spa facilities including heated indoor pool
– Convenient pick-up service from train stations
– Nearby access to ski slopes
Alpen Resort Hotel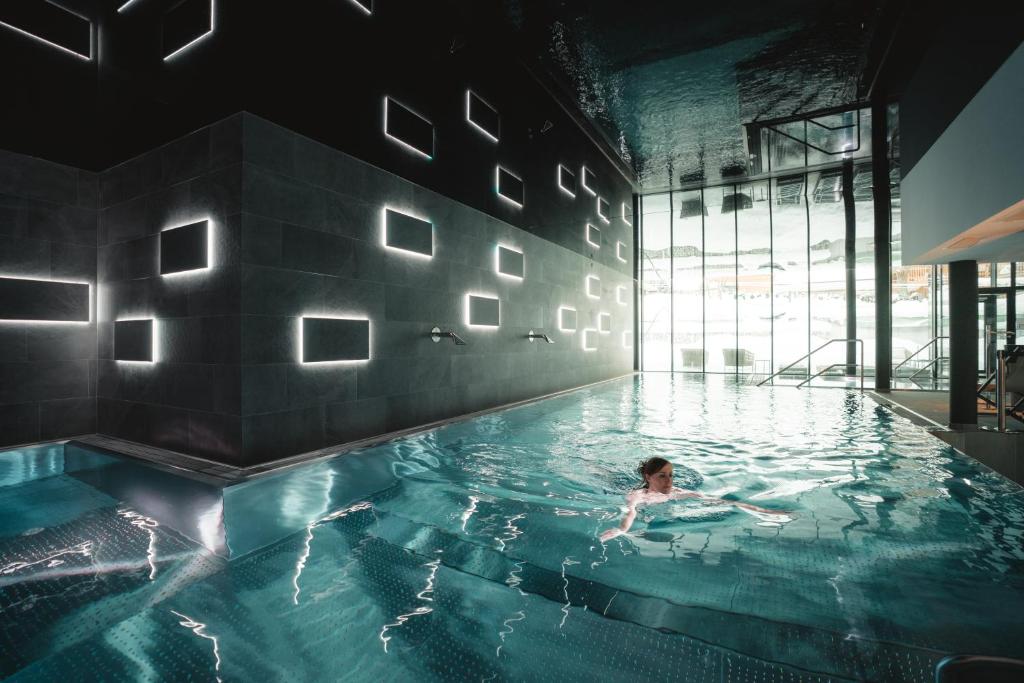 Located near the ski lifts in Zermatt, Alpen Resort Hotel offers a range of amenities for guests to enjoy. The hotel features a restaurant serving Swiss cuisine and a variety of wines. The spacious rooms come equipped with cable TV, minibars, and tea/coffee making facilities. Guests can also take advantage of the free WiFi throughout the building and complimentary transport from Zermatt Train Station during specified hours. Additionally, there is an outdoor tennis court on site, perfect for those looking to engage in some friendly competition or improve their game. Other facilities include a ski storage room with boot dryers and personal lockers, as well as an Internet corner in the lobby. For dining options beyond traditional Swiss fare, guests can visit the Grill restaurant "Hornox" which offers both meat and vegan dishes.
– Convenient location near ski lifts
– Free WiFi and transport from Zermatt Train Station
– Spacious rooms with cable TV
– Outdoor tennis court on site
– Variety of dining options including Swiss cuisine and vegan dishes at Grill restaurant "Hornox"
Hotel Waldhaus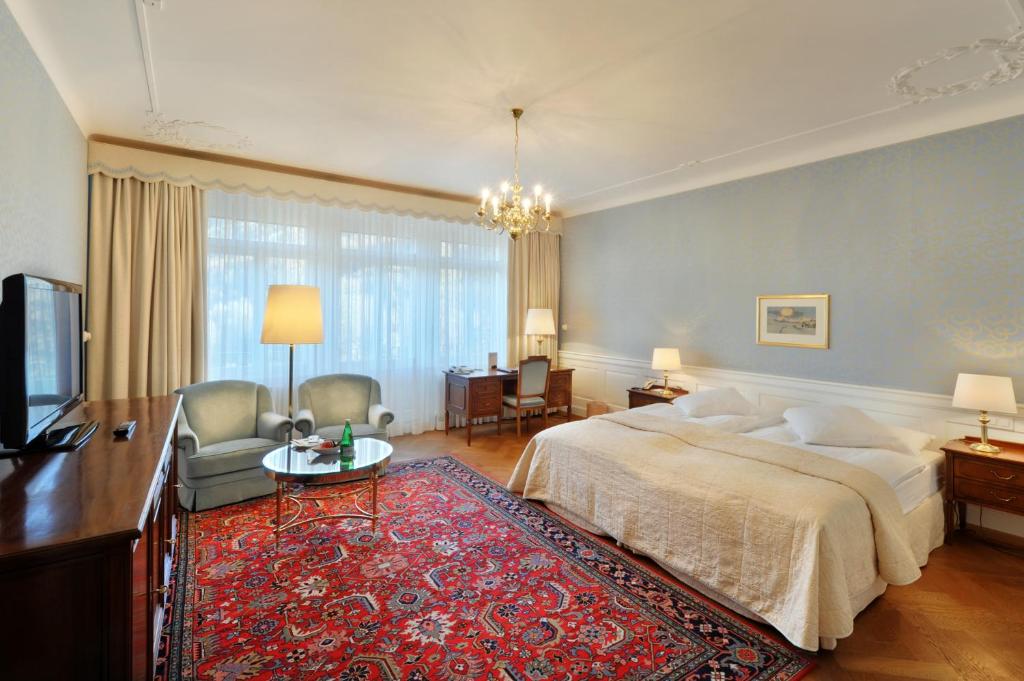 The 5-star Waldhaus Hotel in quiet Sils-Maria, only 10 km from bustling St. Moritz, proudly overlooks the village and offers splendid views and an indoor pool. Owned and managed by the same family since 1908, it combines 5-star comfort with the charm and spaciousness of an earlier era. Free internet access is provided in the rooms, and free Wi-Fi is provided in public areas. The Arvenstube restaurant serves gourmet cuisine and features a romantic terrace in the park.
– Free internet access in rooms
– Free Wi-Fi in public areas
– Access to outdoor tennis courts
– Reduced fees for indoor tennis court
– Convenient free transfers between hotel and train station or village
Swiss Alps Hotels with Tennis Court Main Information
| | |
| --- | --- |
| 🛏️ Hotels with Tennis Court in Swiss Alps | 9 |
| 💵 Hotels Prices From | $116 |
| 💰 Average price | 940 |
| ⭐ Number of Hotels Reviews | 714 |
FAQ
1. Are there any hotels in the Swiss Alps that provide tennis courts?
Yes, many hotels in the Swiss Alps offer tennis courts as part of their facilities. These hotels understand the importance of providing recreational activities for their guests, and tennis is a popular choice. Whether you are a beginner or an experienced player, you can find hotels with well-maintained tennis courts where you can enjoy a game amidst the stunning alpine scenery.
2. Do these hotels provide equipment such as rackets and balls?
Yes, most hotels with tennis courts in the Swiss Alps provide equipment such as rackets and balls for their guests to use. This saves travelers from having to bring their own equipment and allows them to enjoy a game without any hassle. However, it's always a good idea to check with the hotel beforehand to confirm if they do indeed offer this service.
3. Can I book court time in advance at these hotels?
Yes, it is possible to book court time in advance at many of these hotels. Given the popularity of tennis among visitors to the Swiss Alps, it is advisable to make a reservation ahead of time to secure your desired playing slots. This will ensure that you have dedicated court time during your stay and avoid any disappointments upon arrival.
4. Are there any additional fees for using the tennis courts at these hotels?
While some hotels may charge an additional fee for using their tennis courts, many include access to these facilities as part of their room rates or resort fees. It's important to check with each individual hotel regarding their specific policies on charges for using the tennis courts.
5. Are there professional instructors available at these hotels for those who want private lessons?
Yes, several resorts and luxury properties in the Swiss Alps have professional instructors available for private lessons on their premises' tennis courts. Whether you're looking to improve your skills or learn from scratch, these instructors can cater to your specific needs and provide personalized coaching. It is recommended to inquire about the availability and pricing of these lessons when making your reservation at such hotels.
Popular Hotels with Tennis destinations