Welcome to our latest guide on accommodations with tennis facilities in Branson, USA. If you're an avid tennis enthusiast or simply looking to add some active fun to your vacation, this city has plenty of options for you. Branson boasts a variety of hotels that not only offer comfortable stays but also feature excellent amenities like tennis courts. Whether you're a beginner or a seasoned player, these establishments provide the perfect setting for some friendly matches or intense training sessions.
Immerse yourself in the charm and beauty of Branson while enjoying your favorite sport at one of the hotels with tennis courts. From upscale resorts to cozy boutique accommodations, there's something for everyone. Start your day with an invigorating game on well-maintained courts and then venture out to explore all that Branson has to offer – from its famous live shows and stunning natural landscapes to thrilling outdoor adventures. Afterward, unwind at the hotel's spa or poolside before indulging in delicious local cuisine at nearby restaurants.
Join us as we delve into the world of Hotels with Tennis Court in Branson, where comfort meets recreation and unforgettable experiences await. Get ready to embrace both relaxation and excitement as we take you through the top-notch accommodations that cater to every traveler's desire for play amidst breathtaking surroundings.
Best Branson Hotels with Tennis
The Suites at Fall Creek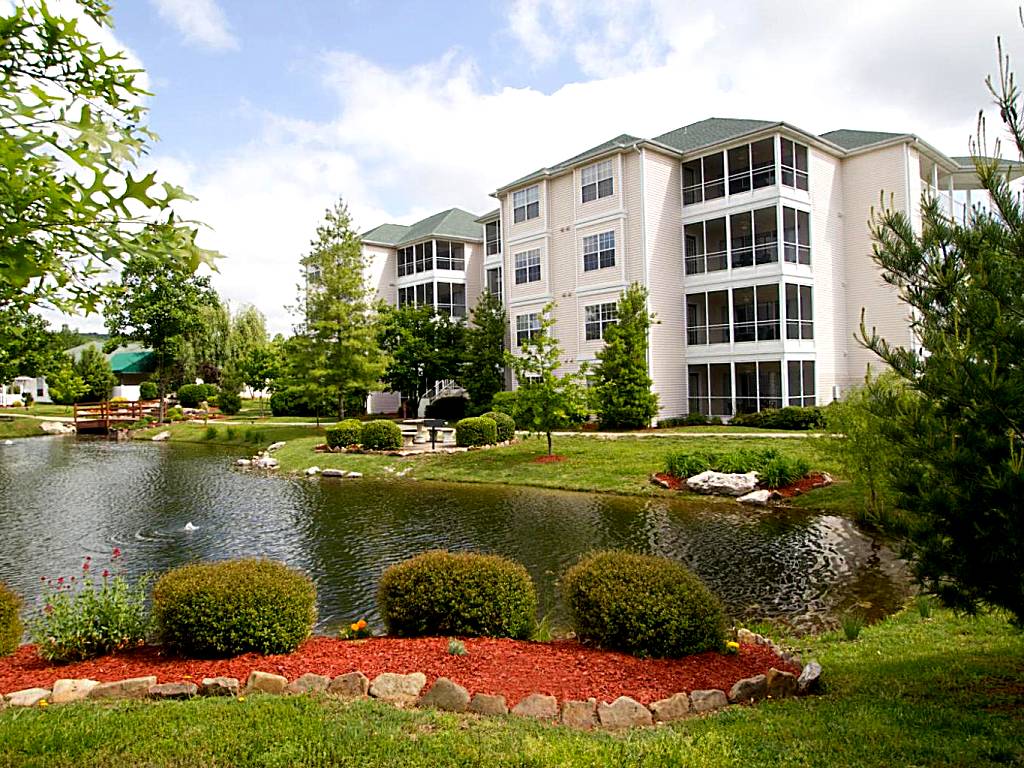 The Suites at Fall Creek is a resort located in Branson, just a short 5-minute drive away from Table Rock Lake. The hotel offers comfortable accommodations with private bathrooms and fully-equipped kitchens or kitchenettes. Each unit also features a seating area with a sofa and a flat-screen TV. Guests can enjoy the outdoor pool and barbecue facilities during their stay. The hotel has a 24-hour front desk for any assistance needed. Nearby attractions include Showboat Branson Belle and Titanic Museum, both within a few kilometers from the property. For those who enjoy tennis, there is also access to a tennis court on-site.
– Outdoor pool for relaxation
– Barbecue facilities for enjoyable meals
– Fully-equipped kitchens in each unit
– Close proximity to Table Rock Lake
– Access to an on-site tennis court
Holiday Inn Club Vacations Holiday Hills Resort at Branson an IHG Hotel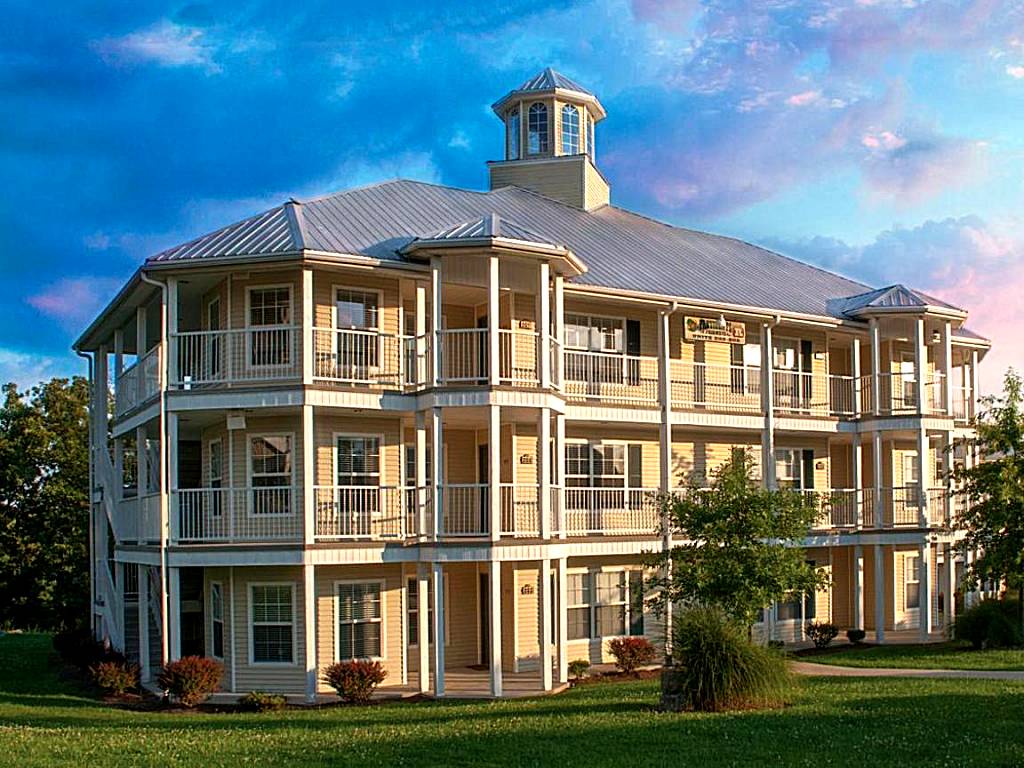 Located just 5.2 km from Branson Landing, Holiday Inn Club Vacations Holiday Hills Resort at Branson an IHG Hotel offers comfortable 3-star accommodation in Branson. This hotel features a fitness center, a restaurant, and a bar. Guests can enjoy free WiFi throughout the property and make use of the barbecue facilities. The hotel also offers recreational activities such as table tennis and tennis, making it a great choice for sports enthusiasts. Other amenities include an outdoor swimming pool, indoor pool, karaoke, and shared lounge. The rooms are well-equipped with air conditioning, a seating area, flat-screen TV with cable channels, kitchen facilities, dining area, and private bathroom with free toiletries. Guests can start their day with a delicious American breakfast served at the accommodation. In addition to that, there is also a hot tub and sun terrace available for guests to unwind after a long day of exploring the city. Business travelers will appreciate the presence of a business center on-site as well as vending machines offering snacks and drinks for convenience.
Pros:
– Convenient location near popular attractions like Branson Landing
– Variety of recreational activities including tennis
– Well-equipped rooms with kitchen facilities
– Outdoor swimming pool and indoor pool available
– Delicious American breakfast served each morning
Thousand Hills Golf Resort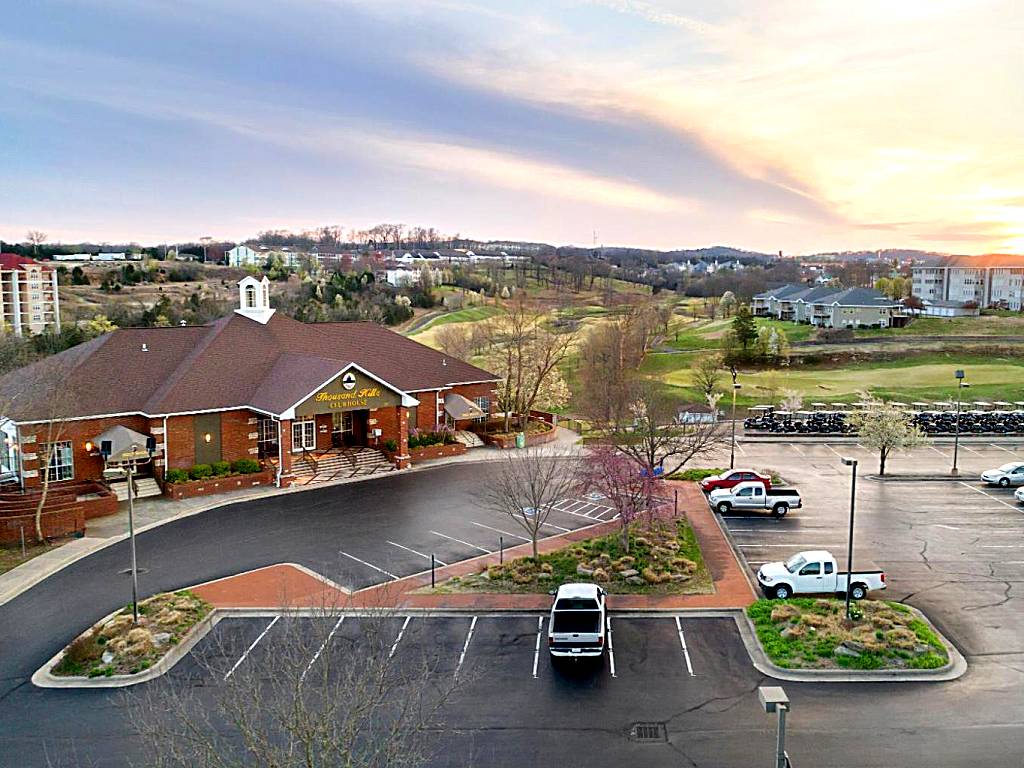 The Thousand Hills Golf Resort is a fantastic resort located on an 18-hole golf course, offering individually decorated apartments with fully equipped kitchens. Situated just a short 10-minute drive from central Branson, this resort provides guests with the perfect combination of convenience and luxury. The apartments at Thousand Hills Golf Resort feature separate seating areas with comfortable sofas and cable TV, ensuring a cozy and relaxing stay. Additionally, the in-unit washing machine and tumble dryer add extra convenience for guests who want to feel right at home. This resort offers an array of amenities including a fitness center for those looking to stay active during their vacation. After working up a sweat, guests can cool off with a refreshing dip in the indoor or outdoor swimming pool – catering to both indoor and outdoor enthusiasts alike! For nature lovers and adventure seekers, Table Rock State Park is just 8 miles away from the property, providing ample opportunities for hiking and exploring. College of the Ozarks is also conveniently located only 10 minutes' drive away. As an added bonus, this hotel also features a tennis court where guests can enjoy friendly matches or improve their skills under the sun. With its unbeatable location, top-notch facilities, and beautiful surroundings, Thousand Hills Golf Resort is sure to impress any traveler seeking comfort and recreation during their stay in Branson.
– Conveniently located near central Branson
– Fully equipped kitchens in each apartment
– Indoor/outdoor swimming pools for relaxation
– Access to fitness center for staying active
– Accommodating tennis court for friendly matches or skill improvement
Luxury Hotels With Tennis Courts In Branson
Branson, an upscale tourist destination known for its vibrant entertainment scene and breathtaking natural beauty, is also home to a range of luxury hotels that cater to the needs of tennis enthusiasts. These exceptional accommodations offer top-notch tennis facilities that are meticulously maintained and provide guests with an unmatched sporting experience. Whether you are a seasoned pro or new to the game, these luxury hotels with tennis courts in Branson ensure that you can enjoy a friendly match or receive professional coaching while surrounded by the stunning landscapes and opulent amenities that define this charming city.
Reunion Lodges at Thousand Hills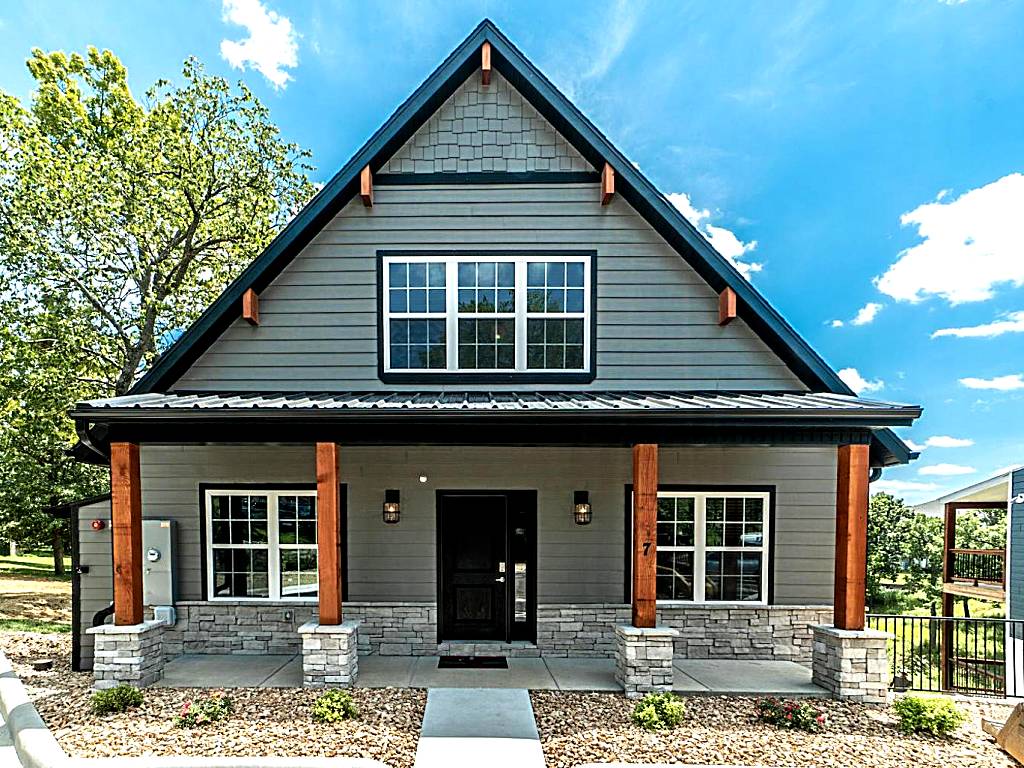 Reunion Lodges at Thousand Hills is a newly opened resort located in Branson, just a short distance from popular attractions such as Andy Williams Moon River Theater and Titanic Museum. This resort offers a range of amenities to enhance your stay, including a seasonal outdoor swimming pool, free private parking, a fitness center, and a garden. With free WiFi throughout the property, guests can stay connected during their visit. The resort also features an indoor pool, terrace, children's playground, and an on-site restaurant where guests can enjoy delicious meals. Each guest room is well-appointed with modern comforts such as air conditioning, a seating area, a flat-screen TV with cable channels, a kitchenette or full kitchen with dining area, and a private bathroom complete with hairdryer and hot tub. Additionally, bed linen and towels are provided for convenience. For those who love tennis or simply want to have fun on the courts during their stay, Reunion Lodges at Thousand Hills offers access to its own tennis court. Conveniently located near Branson Landing and Silver Dollar City amusement park as well as being within reach of Branson Airport (23 km), this resort is the perfect choice for travelers looking for comfortable accommodation with great amenities in Branson.
– Newly opened resort
– Close proximity to popular attractions
– Seasonal outdoor swimming pool
– Indoor pool for year-round enjoyment
– On-site restaurant for convenient dining options
The Townhouses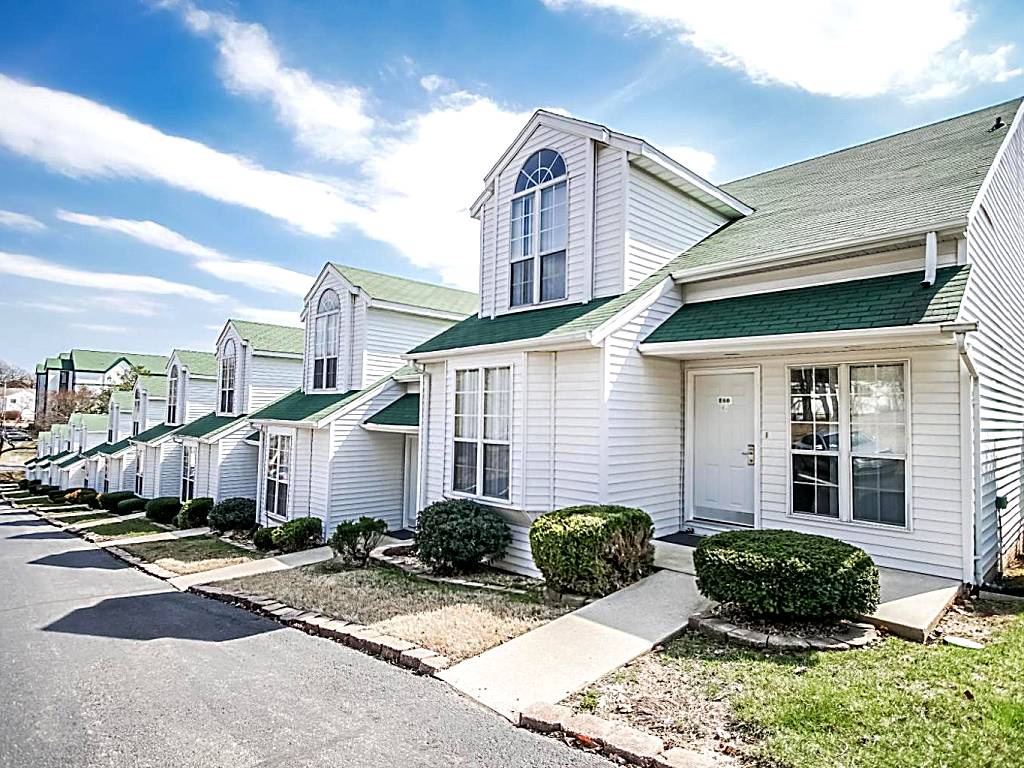 The Townhouses is a resort situated on the Carriage Place resort property in Branson. This townhouse offers guests access to both indoor and outdoor pools during their stay. Located just 2 miles away from The Tanger Outlet Mall, guests will have plenty of shopping options nearby. On-site, tennis courts are available for those looking to play a few matches. The rooms at The Townhouses come with free Wi-Fi and a separate living area, providing guests with comfort and convenience. In addition to these amenities, guests can also enjoy the hot tub and fitness center for relaxation or exercise purposes. For golf enthusiasts, Thousand Hills Golf Course is just a quick 2-minute drive from the property. And if you're interested in exploring Branson's history, Titanic Branson is less than 1 mile away.
Pros:
– Resort with tennis courts
– Access to indoor and outdoor pools
– Free Wi-Fi in every room
– Separate living area for added comfort
– Convenient location near popular attractions
Marriott's Willow Ridge Lodge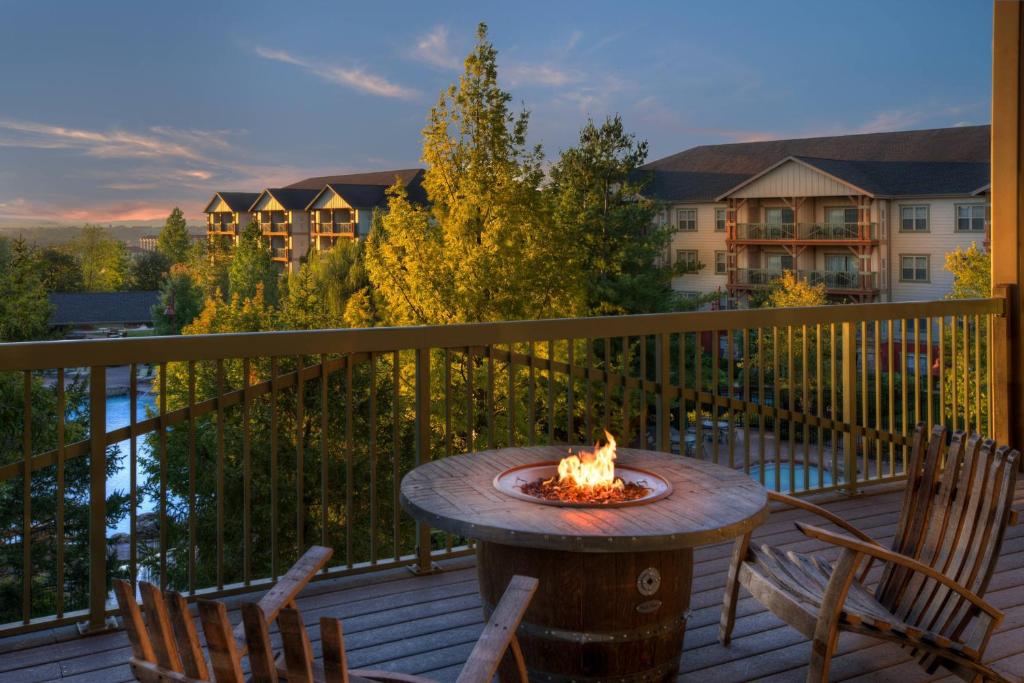 Marriott's Willow Ridge Lodge is an apartment hotel located conveniently 3 miles from the Branson Strip and just a short 6-minute drive from the Shoji Tabuchi Theatre. The resort offers a range of amenities including barbecue facilities and free Wi-Fi in all rooms. Each room at Marriott's Willow Ridge Lodge features a dining area and a comfortable sitting area with a DVD player. Guests can take advantage of the fully equipped kitchen or kitchenette with a microwave for added convenience. The resort also boasts both indoor and outdoor pools, perfect for taking a refreshing swim, as well as a relaxing whirlpool spa. Additionally, this lodge is ideally situated within a quick 15-minute drive of Silver Dollar City, making it an ideal choice for families looking to enjoy some theme park fun. With downtown Branson just 4 miles away, guests will have easy access to shopping, dining, and entertainment options.
– Convenient location near attractions such as Shoji Tabuchi Theatre
– Fully equipped kitchens or kitchenettes in each room
– Indoor and outdoor pools for swimming options
– Relaxing whirlpool spa available on-site
– Close proximity to Silver Dollar City theme park
Branson Hotels with Tennis Court Main Information
| | |
| --- | --- |
| 🛏️ Hotels with Tennis Court in Branson | 6 |
| 💵 Hotels Prices From | $232 |
| 💰 Average price | 216 |
| ⭐ Number of Hotels Reviews | 444 |
FAQ
1. Are there any hotels in Branson that have tennis courts?
Yes, there are several hotels in Branson that offer tennis courts for their guests to enjoy. Some popular options include the Hilton Branson Convention Center Hotel, Chateau on the Lake Resort Spa & Convention Center, and Thousand Hills Golf Resort. These hotels provide well-maintained tennis courts where guests can play a friendly game or even take lessons from experienced instructors.
2. Do I need to bring my own tennis equipment if I stay at a hotel with a tennis court in Branson?
It is recommended to check with the specific hotel beforehand, but most hotels with tennis courts in Branson provide complimentary equipment for their guests. This includes rackets and balls, so you don't have to worry about bringing your own gear unless you prefer using your personal equipment.
3. Can I reserve a time slot for the tennis court at my chosen hotel in Branson?
Yes, most hotels that offer tennis courts allow guests to reserve time slots for their convenience. This ensures that you will have guaranteed access to the court during your desired time and avoids any conflicts with other guests who may also want to use it. It's best to inquire about the reservation process when making your booking or upon arrival at the hotel.
4. Are there any additional fees associated with using the tennis courts at hotels in Branson?
While policies may vary between different properties, many hotels do not charge extra fees for using their tennis courts as it is included as part of their amenities package for guests staying at the property. However, it is always wise to confirm this information directly with the hotel before making any assumptions.
5. What other facilities can I expect at hotels offering tennis courts in Branson?
Hotels in Branson that feature tennis courts often offer additional facilities to enhance your stay and leisure activities. These may include fitness centers where you can work out before or after your game, swimming pools to cool off during the hot summer months, and spa facilities for some relaxation and pampering. Some hotels may also have on-site restaurants and bars where you can enjoy a delicious meal or refreshing drink after your tennis session.
Popular Hotels with Tennis destinations