Welcome to the breathtaking French Alps, where stunning mountain landscapes meet world-class hospitality. In this picturesque corner of France, you'll find an abundance of hotels that not only offer luxurious accommodations but also boast top-notch tennis facilities. Whether you're a seasoned player looking to perfect your backhand or a beginner eager to learn the sport, these hotels with tennis courts provide the perfect setting for an unforgettable vacation.
Immerse yourself in the beauty of the French Alps as you indulge in some friendly competition on well-maintained tennis courts nestled amidst impressive peaks and lush valleys. The hotels here understand that active travelers seek more than just comfortable rooms and delicious cuisine – they crave the opportunity to enjoy their favorite sport while surrounded by nature's majesty. From charming boutique hotels tucked away in serene alpine villages to lavish resorts boasting state-of-the-art amenities, there is a wide range of options available for every type of traveler.
Whether you choose to play under clear blue skies during summer or take advantage of indoor facilities during colder months, these Hotels with Tennis Court ensure that your passion for tennis can be enjoyed year-round. So pack your racket and get ready for a fantastic getaway that combines exhilarating mountain adventures with your love for this iconic game.
Best French Alps Hotels with Tennis
Résidences Alticimes (Brides-les-Bains)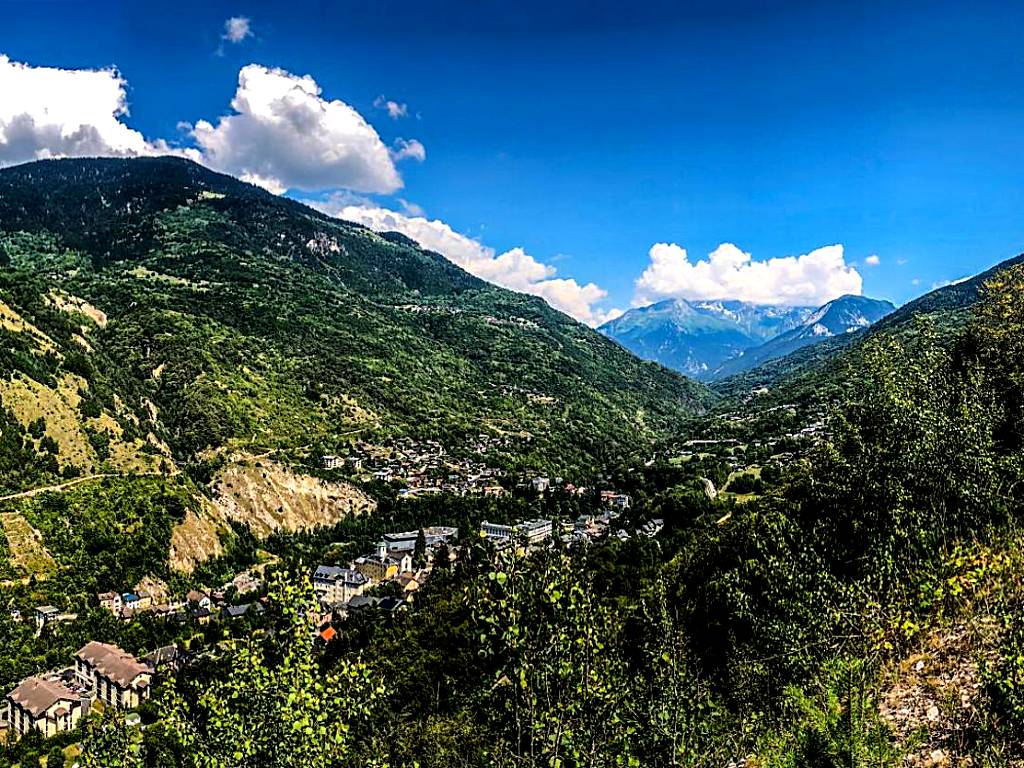 Résidences Alticimes in Brides-les-Bains is an apartment-style hotel located just 34 km away from Halle Olympique d'Albertville. The hotel offers a range of amenities including a casino, terrace, lift, complimentary WiFi, and private parking on site. The units are equipped with satellite flat-screen TVs, fully equipped kitchens with dishwashers, and private bathrooms with baths and hair dryers. Guests can enjoy various activities such as skiing, cycling, and hiking in the surrounding area. There is also ski storage space available for guests. Additionally, the property has a tennis court that guests have access to. Other nearby attractions include Col de la Madeleine which is 40 km away and Casino des 3 Vallées Brides les Bains which is only 400 meters away. For those arriving by air, Chambéry-Savoie airport is the nearest at a distance of 92 km and the hotel provides a paid airport shuttle service.
Pros:
– Convenient location near Halle Olympique d'Albertville
– Amenities like casino, terrace, lift
– Complimentary WiFi and private parking available
– Fully equipped kitchens in units
– Access to tennis court for guests
VTF Le Rafour (Arêches)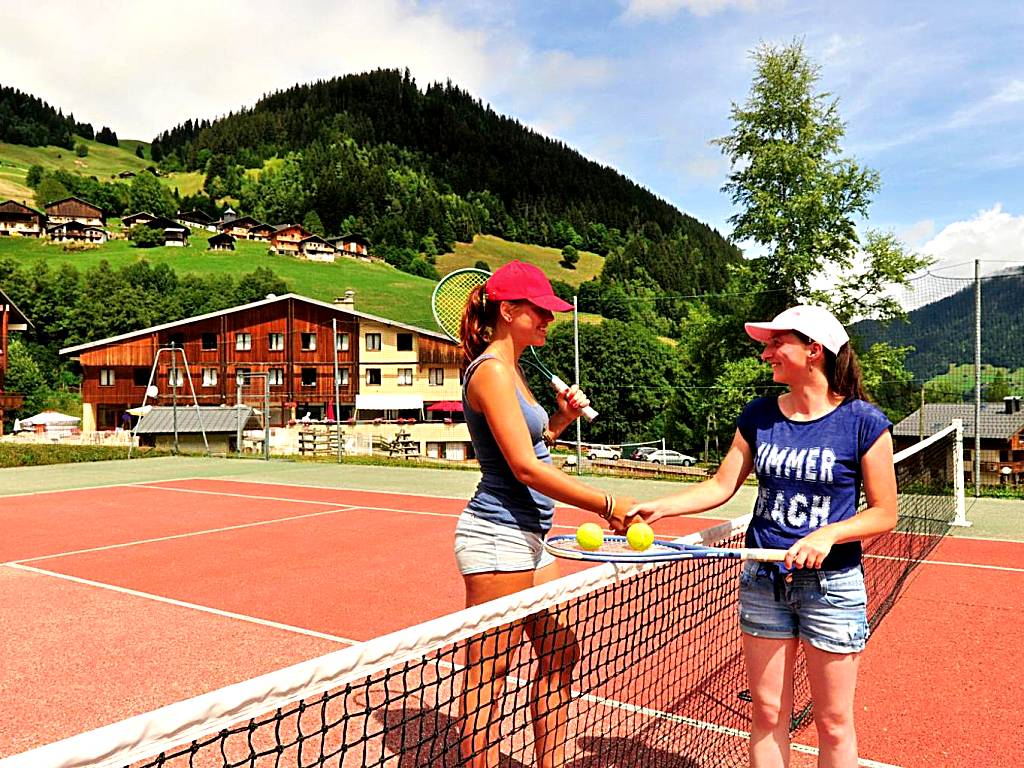 Located in the beautiful town of Arêches, VTF Le Rafour is a resort that offers its guests a range of amenities for a relaxing and enjoyable stay. The resort boasts a heated outdoor pool and terrace, perfect for unwinding after a day of exploring. Guests can also dine at the on-site restaurant, which serves delicious meals.
One of the standout features of VTF Le Rafour is its tennis court. Tennis enthusiasts will be delighted to know that they can enjoy a game while staying at this resort. Additionally, the area surrounding Arêches is popular for horse riding, providing another exciting activity option for guests.
The rooms at VTF Le Rafour are comfortable and equipped with private bathrooms. The property also offers a shared lounge area for guests to relax and socialize.
Furthermore, the location of this resort provides easy access to popular attractions such as Télésiège du Piapolay and Télésiège des Combettes.
Pros:
– Heated outdoor pool and terrace
– On-site restaurant serving delicious meals
– Tennis court available for guests
– Proximity to popular attractions such as Télésiège du Piapolay and Télésiège des Combettes
– Comfortable rooms with private bathrooms
Hôtel Les Côtes (Morzine)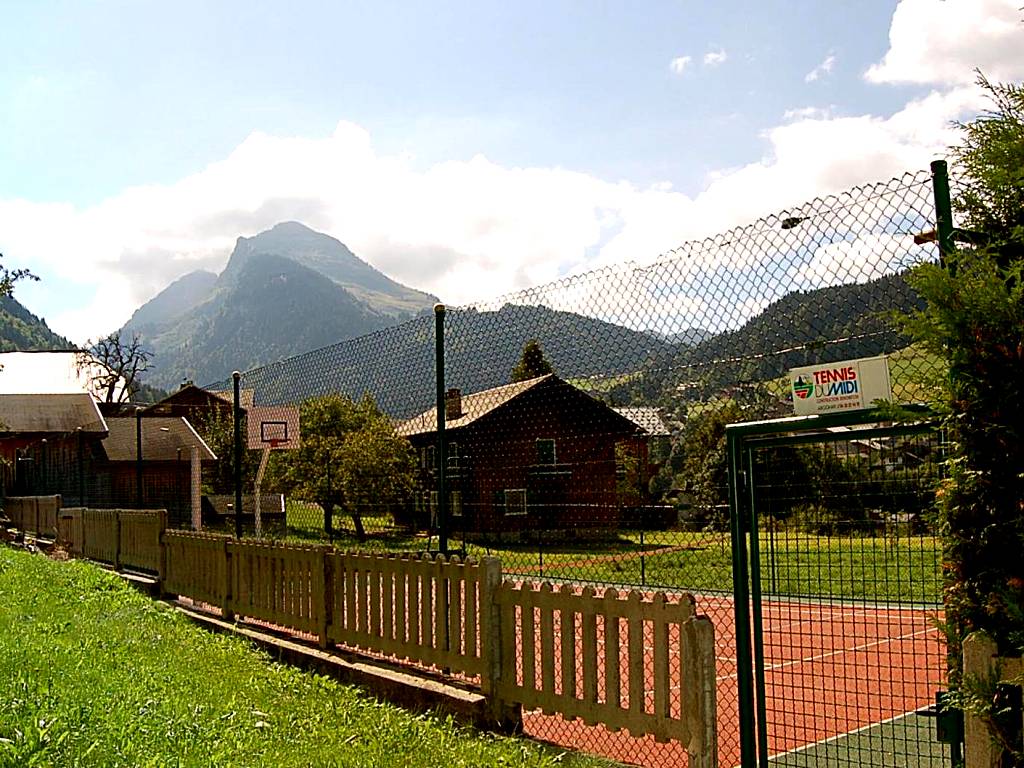 Hôtel Résidence Loisirs Les Côtes is a charming hotel located in Morzine, just 500 meters from the village center and 700 meters from the Morzine Ski Lift, providing easy access to the renowned Portes Du Soleil Ski Area. This hotel boasts a range of fantastic amenities, including an indoor swimming pool, a sauna and hammam, and a fitness center complete with a tennis court. Each of the comfortable rooms at Les Côtes features its own private bathroom, a work desk, satellite TV, and a balcony offering beautiful views. The hotel also offers free WiFi throughout for guests to stay connected. Start your day off right with a delicious breakfast served either in your room or in the on-site restaurant. For lunch and dinner options, indulge in delightful regional cuisine at Les Côtes Restaurant or enjoy a refreshing drink at the bar. Guests can also take advantage of the hot tub facilities during their stay. In addition to its winter appeal as an excellent skiing destination with nearby cable car access to Avoriaz ski resort, Hôtel Résidence Loisirs Les Côtes also provides summer amenities such as an inviting garden area with a children's playground and boules field. Conveniently located near the Super-Morzine cable car stop (just 500 meters away) as well as regular shuttle service directly in front of the hotel every half-hour for easy transportation needs.
– Indoor swimming pool
– Sauna and hammam
– Fitness centre with tennis court
– Free WiFi access throughout
– Regional cuisine at Les Côtes Restaurant
Other places to stay in French Alps
Luxury Hotels With Tennis Courts In French Alps
Luxury Hotels with Tennis Courts in the French Alps offer a unique blend of opulence and active living, allowing guests to indulge in both relaxation and sport amidst breathtaking mountain landscapes. These high-end accommodations provide an excellent opportunity for tennis enthusiasts to perfect their game while enjoying world-class services and amenities. With well-maintained courts nestled in serene settings, visitors can embrace the challenge of a competitive match or simply enjoy a leisurely game surrounded by nature's beauty. Whether it's playing tennis against a stunning alpine backdrop or unwinding at luxurious spa facilities after an intense match, these hotels cater to guests seeking the perfect balance between excitement and tranquility.
La Clef des Champs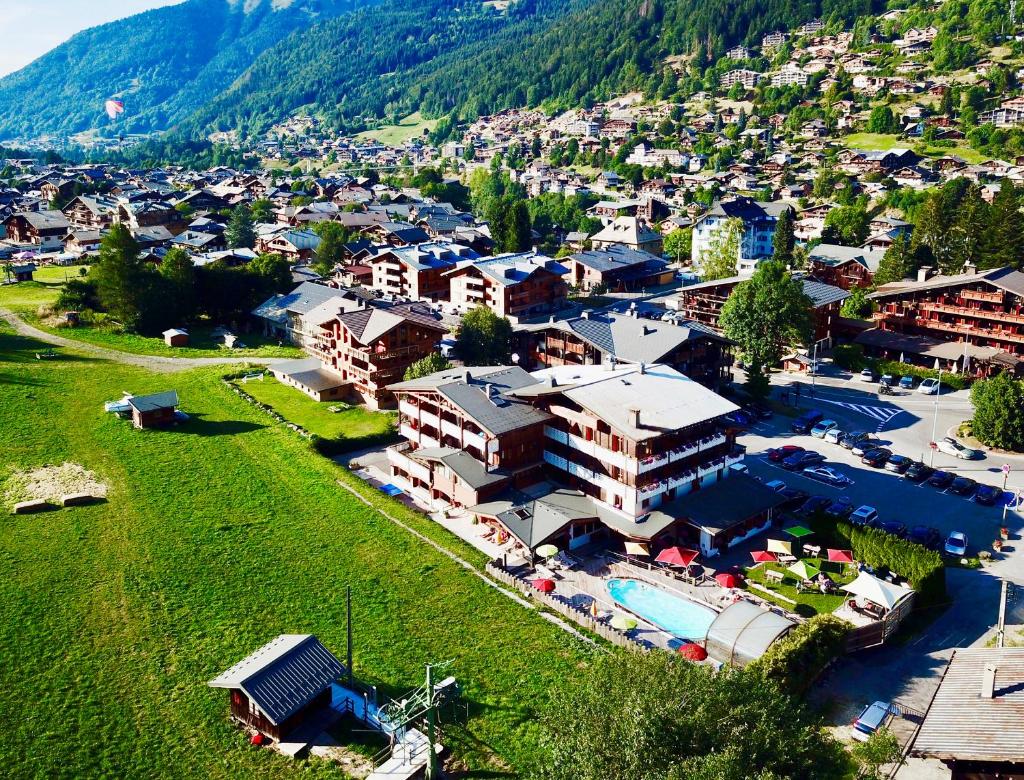 La Clef des Champs is a family-run hotel located in the picturesque Alpine ski and mountain resort of Morzine. This charming hotel offers a range of amenities including an outdoor swimming pool, sauna, and hot tub, making it the perfect place to relax after a day exploring the surrounding mountains. Guests can also enjoy free Wi-Fi throughout the hotel. The Clef des Champs restaurant serves delicious regional specialties, providing guests with an authentic taste of the area. The wood-finished guest rooms are comfortable and well-appointed, each featuring a private bathroom, TV, and balcony. In addition to its excellent facilities, La Clef des Champs is ideally situated for outdoor enthusiasts. During the summer months, guests can take advantage of hiking trails, mountain biking routes, golf courses, and many other outdoor activities. In winter, the hotel is perfectly positioned for winter sports such as skiing and snowboarding. Conveniently located just a 35-minute drive from the A40 motorway and 50 minutes from the Swiss border, La Clef des Champs offers free private parking for added convenience.
– Outdoor swimming pool
– Sauna and hot tub
– Free Wi-Fi throughout
– Authentic regional cuisine at on-site restaurant
– Close proximity to hiking trails and winter sports activities
Vacancéole – Résidence Les Gorges Rouges (Guillaumes)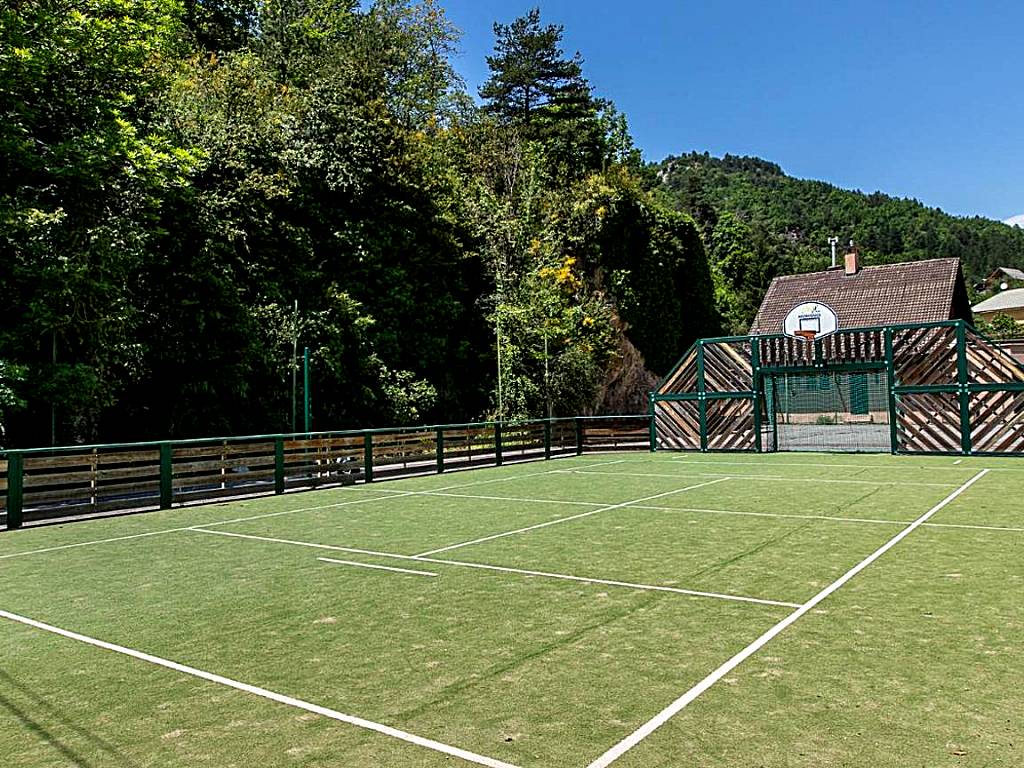 Vacancéole – Résidence Les Gorges Rouges is an apartment hotel located in Guillaumes, within the stunning Mercantour National Park. The hotel offers a range of self-catering apartments, each equipped with a private shower room and an open-plan living/dining area. The kitchenette includes all necessary appliances such as an oven, microwave, and fridge with freezer. Guests can also enjoy their own private terrace with outdoor furniture. Additionally, the hotel provides free access to a public swimming pool nearby during the summer months. For those interested in skiing, Valberg Ski Resort is just 15 km away, while Isola 2000 Ski Resort and Auron Ski Resort are also easily accessible from the property. With free parking available in front of the residence and the option for private parking at an additional cost, guests have easy access to explore the surrounding area.
– Convenient location within Mercantour National Park
– Self-catering apartments with well-equipped kitchenettes
– Private terrace for each apartment
– Free access to a public swimming pool nearby
– Close proximity to Valberg Ski Resort and other ski destinations
Domaine du Manoir (Les Avenières)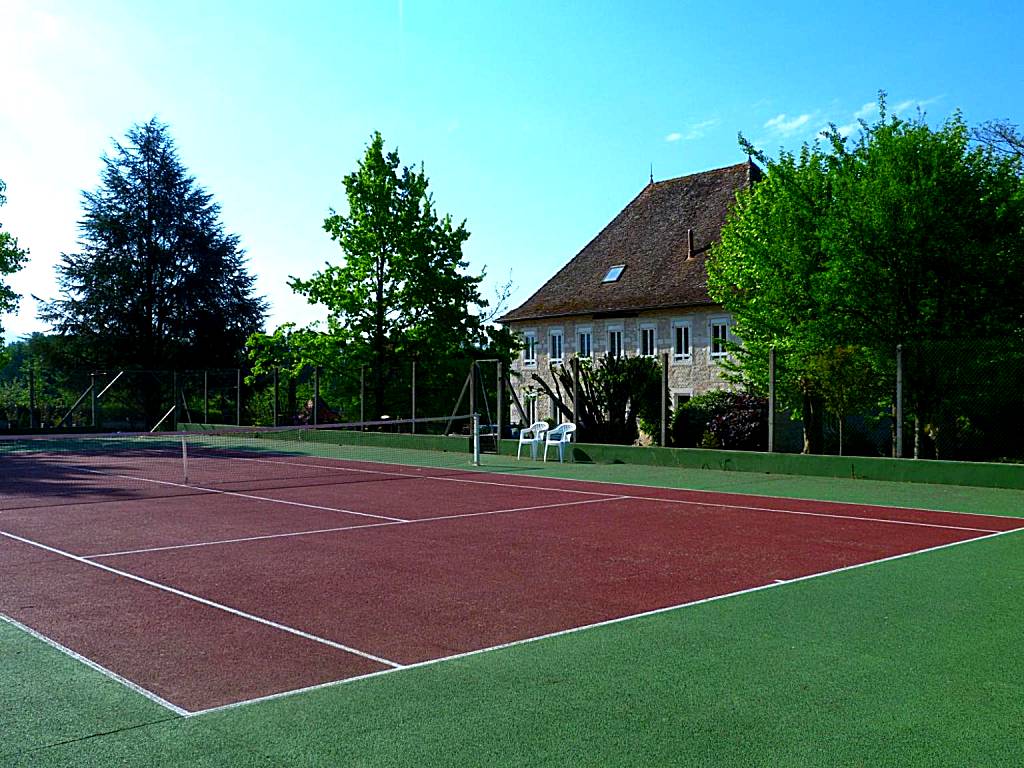 Domaine du Manoir in Les Avenières is a charming bed and breakfast that offers a delightful experience for guests looking to enjoy both relaxation and outdoor activities. With its breathtaking views of the Chartreuse Mountains and Bugey vineyards, this hotel provides a serene backdrop for a memorable stay. The property boasts an outdoor swimming pool, private terrace, and even a tennis court for sports enthusiasts. Each room at Domaine du Manoir is equipped with en suite facilities, individual heating, and a flat-screen TV. Some rooms offer stunning views of the garden, while others provide panoramic vistas of the mountains or swimming pool. Guests can start their day with a delicious continental breakfast available upon request. For lunch or dinner, meals can be enjoyed on the terrace or in the restaurant room where traditional menus made with local products and regional specialties await you. Additionally, guests have the opportunity to share meals with other visitors and hosts for an interactive dining experience. Located just 2 km away from Walibi Amusement Park, visitors can easily access this popular attraction from Domaine du Manoir. For those seeking adventure beyond theme parks, activities such as paragliding and via ferrata are available just 20 km from the hotel's premises at Hautecombe Abbaye. With its picturesque surroundings and range of amenities including tennis courts onsite , Domaine du Manoir promises an unforgettable stay for travelers seeking tranquility amidst natural beauty.
– Stunning views of Chartreuse Mountains and Bugey vineyards
– Outdoor swimming pool for relaxation
– Private terrace perfect for unwinding
– Tennis court on-site for sports lovers
– Traditional menus featuring local produce served in restaurant
French Alps Hotels with Tennis Court Main Information
| | |
| --- | --- |
| 🛏️ Hotels with Tennis Court in French Alps | 6 |
| 💵 Hotels Prices From | $121 |
| 💰 Average price | 412 |
| ⭐ Number of Hotels Reviews | 338 |
FAQ
Can I find hotels with tennis courts in the French Alps?
Yes, there are numerous hotels in the French Alps that offer tennis court facilities. These hotels understand the popularity of tennis as a recreational sport and provide well-maintained courts for their guests to enjoy. Whether you're an avid player or just looking to hit some balls for fun, you can easily find a hotel that caters to your tennis needs in this stunning region.
Do all hotels with tennis courts provide equipment rental?
Not all hotels with tennis courts offer equipment rental services. While some hotels may have racket and ball rentals included as part of their amenities, others might require guests to bring their own equipment. It's always recommended to check with your chosen hotel beforehand regarding their policy on equipment rental so you can come prepared for your game.
Are these tennis courts exclusively for hotel guests?
In most cases, the tennis courts at hotels in the French Alps are reserved for hotel guests only. This exclusivity ensures that guests have priority access to the facilities and can fully enjoy their stay without overcrowding or inconvenience. If you're planning on using the tennis court during your stay, it's advisable to confirm with the hotel if there are any specific booking procedures or time limitations for guest use.
Is it necessary to book a hotel room at a specific time to access the tennis court?
While some larger hotels may require advanced booking or reservation of specific time slots for using their tennis courts, many smaller establishments allow more flexibility in accessing these facilities. However, during peak travel seasons or if there is high demand among guests, it's always advisable to reserve your preferred time slot well in advance to avoid disappointment.
Are there any additional charges associated with using the tennis court at these hotels?
Most hotels do not charge additional fees for using their on-site tennis courts unless you plan on taking lessons from a certified instructor or participating in organized tournaments or events. However, it's still recommended to inquire about any potential charges related to court usage when making your reservation, as policies can vary from hotel to hotel.
Popular Hotels with Tennis destinations