Welcome to Marrakech, Morocco – a vibrant city that seamlessly blends history and culture with modern luxury. Nestled in the heart of this enchanting destination are hotels that not only offer exceptional accommodations but also cater to those who love the game of tennis. If you're an avid player or simply enjoy watching a match while sipping on a refreshing beverage, Marrakech is the perfect place for you.
Imagine staying at a lavish hotel surrounded by lush greenery and palm trees, where you can indulge in your passion for tennis amidst stunning surroundings. These hotels boast state-of-the-art tennis courts that are meticulously maintained and designed to provide an unforgettable playing experience. Whether you're a seasoned player looking for some friendly competition or a beginner wanting to learn the ropes, rest assured knowing that these hotels have something for everyone.
After an exhilarating game on the court, unwind and relax in the luxurious amenities offered by these hotels. From spa treatments that rejuvenate your senses to world-class dining options serving delectable cuisine, each hotel promises an indulgent experience beyond just tennis. So whether you're planning a romantic getaway or a fun-filled holiday with friends and family, make sure to check out these exceptional hotels with tennis courts in Marrakech – where luxury meets sport in perfect harmony.
Best Marrakech Hotels with Tennis
Kenzi Menara Palace & Resort All Inclusive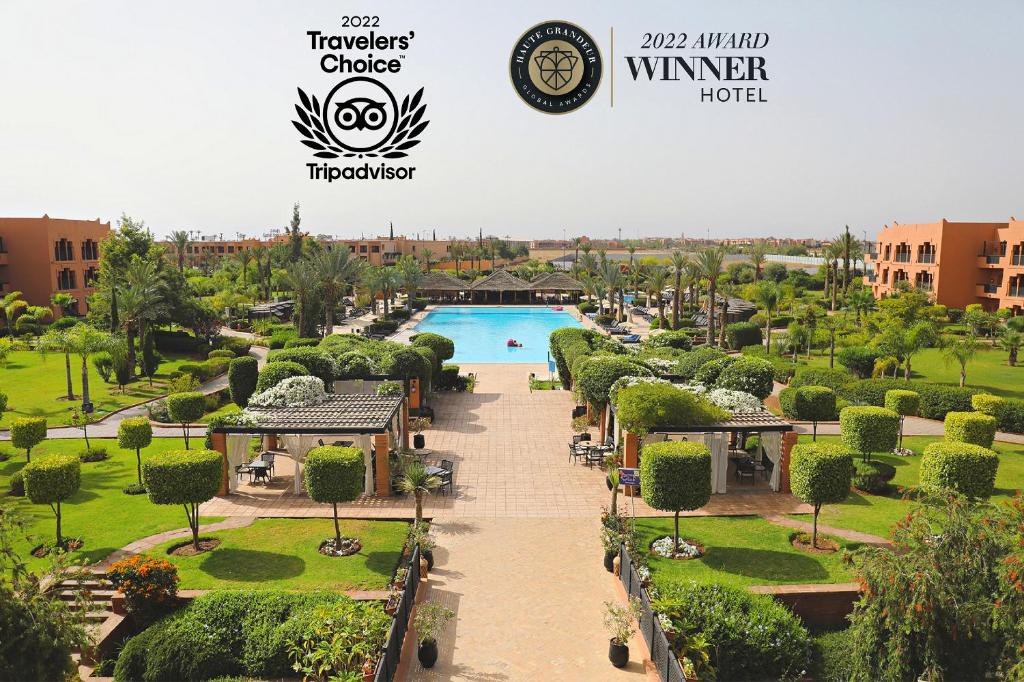 The Kenzi Menara Palace & Resort All Inclusive is a luxurious hotel situated in a 10-acre park in Marrakech, just a short 10-minute drive from the vibrant Jamaâ El Fna Square. This exquisite property offers guests complimentary access to its outdoor swimming pool and fitness center. The guest rooms at this hotel are elegantly decorated with bright, Moroccan colors and feature balconies that provide stunning views of the majestic Atlas Mountains. Each room is equipped with air conditioning and free Wi-Fi access for the convenience of the guests. The hotel boasts an excellent location within walking distance of the Al Mazar shopping center, making it convenient for those who love to indulge in retail therapy. Additionally, free parking facilities are available on-site, while a complimentary shuttle service to the city center is provided for easy exploration of all that Marrakech has to offer.
Pros:
– Complimentary access to outdoor swimming pool
– Convenient location near Al Mazar shopping center
– Free parking facilities available
– Complimentary shuttle service to city center provided
– Stunning views of Atlas Mountains from room balconies
The Oberoi Marrakech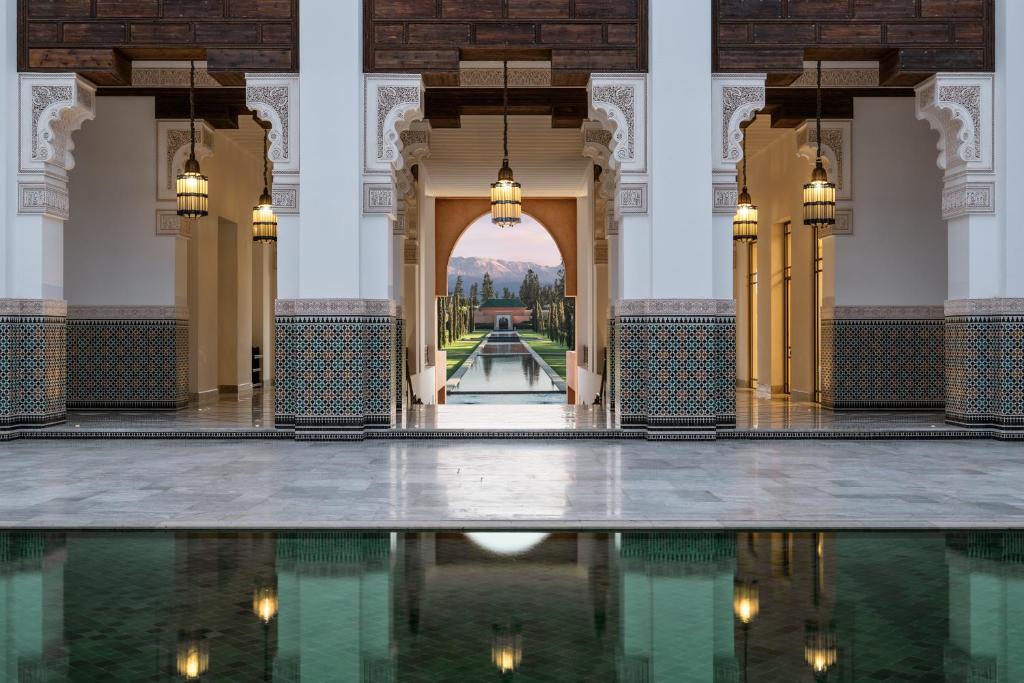 The Oberoi Marrakech is a luxurious boutique hotel located in Marrakech, just 12 km from the Yves Saint Laurent Museum. This 5-star hotel, which opened in October 2019, offers a range of amenities and facilities to ensure guests have a truly memorable stay. With beautifully designed rooms that offer garden views, guests can enjoy access to a restaurant, bar, outdoor swimming pool, sauna, and terrace. The hotel also features an indoor pool, fitness centre, evening entertainment options and a 24-hour front desk for added convenience. Each room is equipped with air conditioning, a flat-screen TV with satellite channels, kettle facilities and free WiFi access. Guests can start their day with either continental or à la carte breakfast options before exploring the surrounding area or enjoying activities such as skiing or cycling. Car hire services are also available at the hotel for further exploration. The Oberoi Marrakech is conveniently located near popular attractions including Majorelle Gardens and Bahia Palace while being only 20 km away from Marrakech-Menara Airport.
– Luxurious boutique hotel
– Beautifully designed rooms with garden views
– Range of amenities including outdoor and indoor pools
– Fitness centre and spa available for guests' use
– Conveniently located near popular attractions
Kennedy Hospitality Resort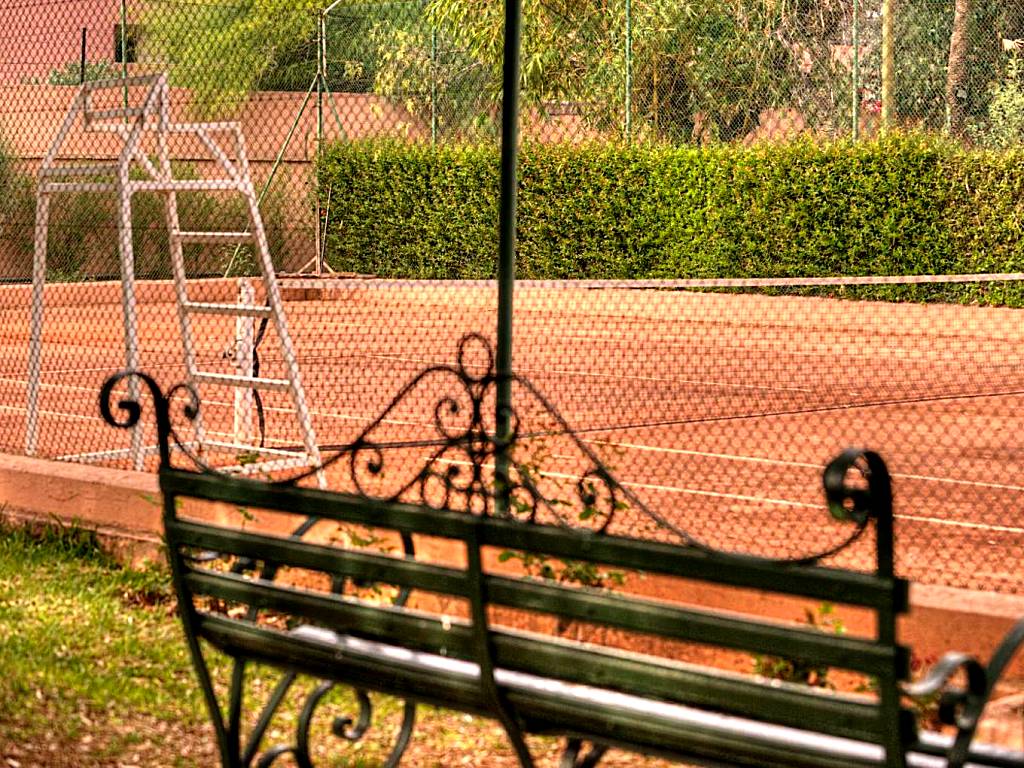 Located in a quiet residential area of Marrakesh, Hotel Kennedy Hospitality Resort is a charming hotel that offers a comfortable and relaxing stay. The hotel features air-conditioned guest rooms with satellite TV and free internet access throughout the property. Additionally, independent bungalows are available for those who prefer more privacy, offering direct access to the gardens and outdoor pool. With its outdoor swimming pool, sauna, hammam, and spa offering various massage therapies, guests can indulge in ultimate relaxation during their stay. The hotel also boasts two restaurants serving traditional Moroccan cuisine and Italian specialties, as well as a bar for guests to enjoy their favorite drinks. Other amenities include an onsite gift shop for souvenirs and the option to arrange airport shuttle service at an additional cost. Tours and excursions can also be organized upon request.
– Peaceful location away from the hustle and bustle of Marrakesh
– Variety of accommodation options including independent bungalows
– Outdoor swimming pool for refreshing dips
– Spa facilities offer relaxation and rejuvenation
– Delicious dining options with both Moroccan and Italian cuisines
Other places to stay in Marrakech
Luxury Hotels With Tennis Courts In Marrakech
Luxury Hotels with Tennis Courts in Marrakech offer an exceptional experience for tennis enthusiasts looking to combine their love for the sport with world-class hospitality. These hotels provide a serene oasis where guests can perfect their game amidst stunning landscapes and luxurious surroundings. With state-of-the-art facilities, professional coaches, and meticulously maintained courts, these hotels cater to both beginners looking to learn the basics and seasoned players seeking a competitive match. Whether it's practicing your backhand or enjoying a friendly doubles game, these luxury hotels in Marrakech ensure that guests can indulge in their passion for tennis while relishing in the finest accommodations available.
Iberostar Club Palmeraie Marrakech All Inclusive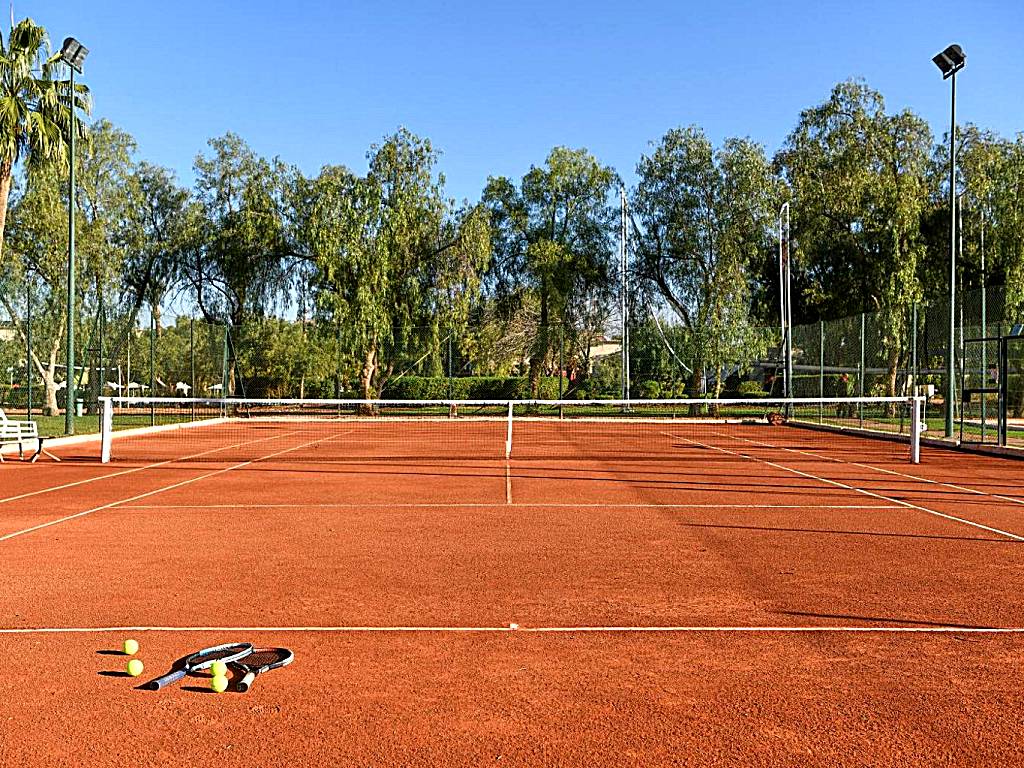 Located in Marrakech, the Iberostar Club Palmeraie Marrakech All Inclusive is a stunning hotel that offers guests a wide range of amenities and activities. Situated in 10-hectare grounds overlooking the Atlas Mountains, this hotel features three swimming pools, beautifully landscaped gardens, and even a small lake. With three restaurants and two pool-side bars, guests can enjoy delicious cuisine from around the world including Moroccan, Italian, and Berber dishes. The hotel also offers a spa and wellness center for those looking to relax and unwind. For sports enthusiasts, there are opportunities for golfing with nine courses nearby as well as tennis, badminton, and archery facilities on-site. The guest rooms at Iberostar Club Palmeraie Marrakech All Inclusive are spacious and comfortable with private balconies, flat-screen TVs with satellite channels, seating areas, and air conditioning. Additionally, there is free Wi-Fi available throughout the hotel. A complimentary shuttle service is provided to and from the city center where guests can explore attractions such as the famous Jamaâ El Fna Square which is just a 15-minute drive away.
– Beautiful location overlooking the Atlas Mountains
– Extensive grounds with swimming pools
– Variety of cuisines offered at the restaurants
– On-site sports facilities including tennis court
– Complimentary shuttle service to city center
Dar Sabra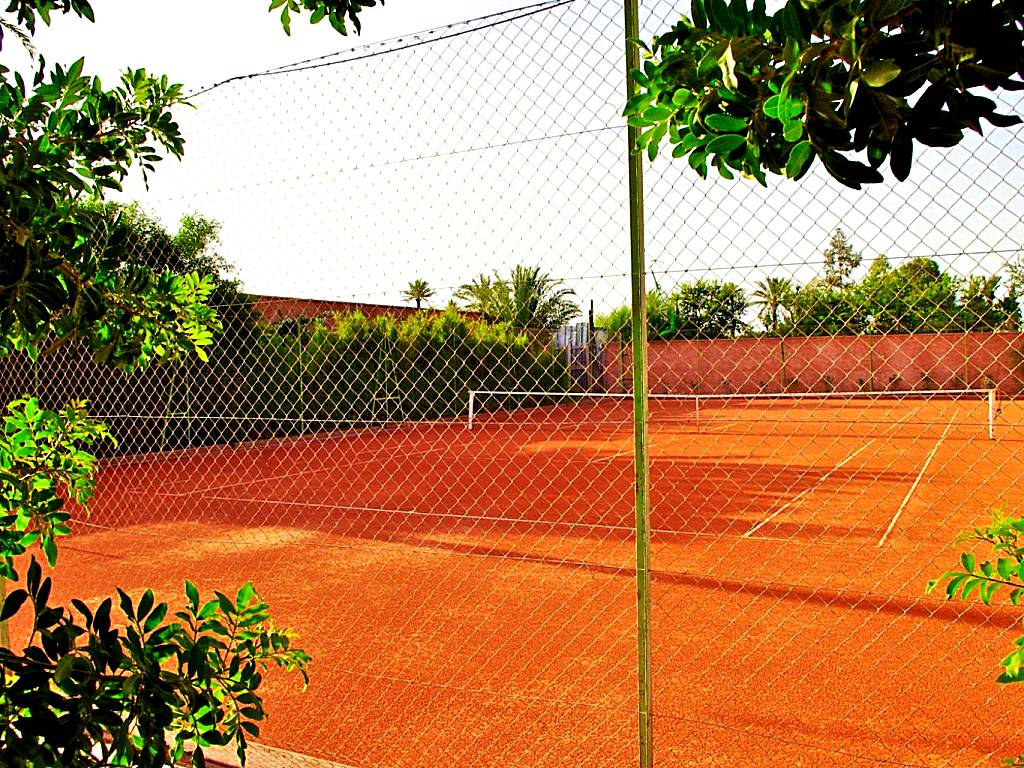 Located in the palm grove of Marrakech, Dar Sabra is a guest house with tennis court set in a beautiful 2-hectare garden. The hotel features Mexican-inspired architecture in its rooms and 2-bedroom villa, creating a unique and stylish atmosphere. Guests can enjoy modern art exhibitions at the hotel's gallery, relax at the spa or take a dip in one of the three large shared pools or two private villa pools. For those who like to stay active, there is a tennis court and fitness center available. The air-conditioned rooms are spacious and come with amenities such as minibar and flat-screen TV with satellite channels. Some rooms offer stunning views of the garden or swimming pool. International cuisine is served for lunch and dinner either by the poolside or in the restaurant, while Moroccan meals and special dishes can be prepared upon request. Guests can also start their day with a buffet breakfast served by the pool or in the restaurant. Wi-Fi is available throughout the property, and free private parking is provided on site. The hotel is conveniently located 3 km from the Medina and 15 km from Menara International Airport.
– Beautifully designed Mexican-inspired architecture
– Large shared pools plus private villa pools
– Modern art gallery on-site
– Tennis court for guests' use
– Convenient location near Medina and airport
Marrakech Hotels with Tennis Court Main Information
| | |
| --- | --- |
| 🛏️ Hotels with Tennis Court in Marrakech | 5 |
| 💵 Hotels Prices From | $130 |
| 💰 Average price | 576 |
| ⭐ Number of Hotels Reviews | 759 |
FAQ
1. Are there hotels in Marrakech with tennis courts?
Yes, Marrakech offers a range of luxury hotels that provide tennis facilities for their guests. Many of these hotels feature well-maintained tennis courts on-site, allowing visitors to enjoy a game or two during their stay. Whether you are an experienced player or someone looking to try their hand at the sport, these hotels offer top-notch facilities to cater to your needs.
2. Can I rent tennis equipment at these hotels?
Absolutely! Most hotels in Marrakech with tennis courts provide rental services for tennis equipment such as rackets and balls. This makes it convenient for travelers who do not wish to carry their own gear but still want to indulge in a game of tennis while staying at these properties. Just inquire at the hotel's reception or concierge desk, and they will assist you with all your equipment needs.
3. Are there any coaching services available at these hotels?
Yes, several hotels in Marrakech offer coaching services for those who wish to improve their tennis skills or learn the basics of the sport. These coaching sessions are conducted by professional trainers who have ample experience in teaching players of all levels. Whether you are a beginner looking for guidance or an advanced player seeking tips and strategies, you can take advantage of these coaching services provided by the hotel.
4. Do I need to book the tennis court in advance?
It is advisable to make a prior reservation if you wish to use the hotel's tennis court during your stay in Marrakech. As popularity among guests can vary throughout the year and availability may be limited, booking ahead ensures that you secure your preferred time slot without any hassle upon arrival. You can contact the hotel directly through email or phone call and inquire about their reservation process for using the tennis court facility.
5. Are there additional charges for using the hotel's tennis court?
While policies may vary among hotels, many establishments include the use of tennis courts as part of their amenities for guests staying at their property. However, some hotels may have a nominal fee or hourly charge associated with using the tennis court facility. It is recommended to clarify this information with the hotel beforehand to avoid any surprises during your stay in Marrakech.
Popular Hotels with Tennis Court destinations