Welcome to the vibrant city of Acapulco, Mexico, where sandy beaches and crystal-clear waters meet world-class tennis facilities. If you are a fan of this exhilarating sport, then you have come to the right place! Acapulco boasts an array of exceptional hotels that offer outstanding tennis court facilities for guests to enjoy. With its year-round sunny weather and stunning coastal views, Acapulco provides the perfect backdrop for a memorable tennis vacation.
Whether you are a seasoned player looking for a challenging match or a beginner eager to improve your skills, Acapulco has plenty of options to cater to all levels. From luxurious resorts with multiple courts overlooking the ocean to boutique hotels with intimate courts tucked amidst lush tropical gardens, there is something for everyone here. Immerse yourself in the energetic atmosphere as you rally with friends or take private lessons from experienced tennis professionals who will help elevate your game.
Indulge in the unique fusion of relaxation and recreation that only Acapulco's Hotels with Tennis Court can offer. After an exciting game on the court, unwind by taking a refreshing dip in the hotel's pool or treat yourself to soothing spa treatments. And when hunger strikes, savor delectable Mexican cuisine at one of the hotel's restaurants before retiring to your comfortable room overlooking either manicured grounds or breathtaking ocean vistas. Get ready for an unforgettable vacation filled with sun-soaked days on the court and endless moments of leisure in beautiful Acapulco!
Best Acapulco Hotels with Tennis
Las Brisas Acapulco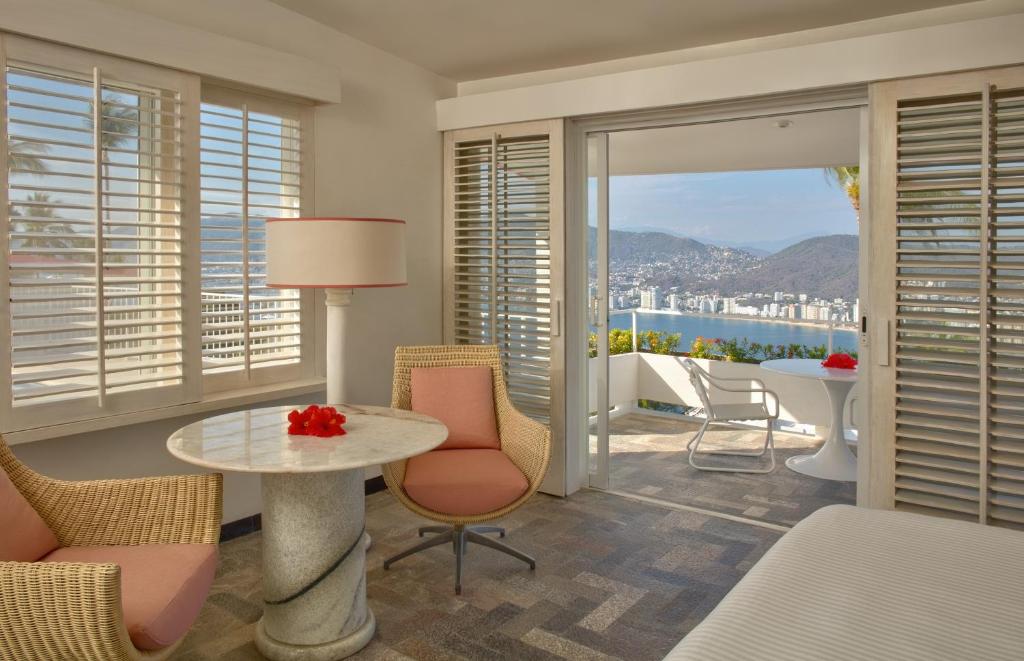 Located on a hill overlooking Acapulco Bay, Las Brisas Acapulco is a luxury hotel set amidst 40 acres of lush hibiscus gardens. The spacious bungalow-style rooms offer private or shared pools, ensuring a relaxing and tranquil stay for guests. The hotel features an ample terrace restaurant serving international dishes, as well as a small on-site spa offering massages and body treatments. For guests looking to soak up the sun, the hotel offers transportation to its private beach club every 20 minutes, where they can enjoy two large saltwater pools open to the bay and a freeform freshwater pool. A welcome cocktail upon arrival and daily in-room delivery of coffee and sweet rolls adds to the overall experience. Guests can also explore the area using the colorful pink and white jeeps available at the hotel.
Pros:
– Stunning views of Acapulco Bay from hillside location
– Spacious bungalow-style rooms with private or shared pools
– Transportation provided to private beach club with multiple pools
– On-site spa offering relaxing massages and body treatments
– Unique pink and white jeeps available for exploring the area
Mayan Lakes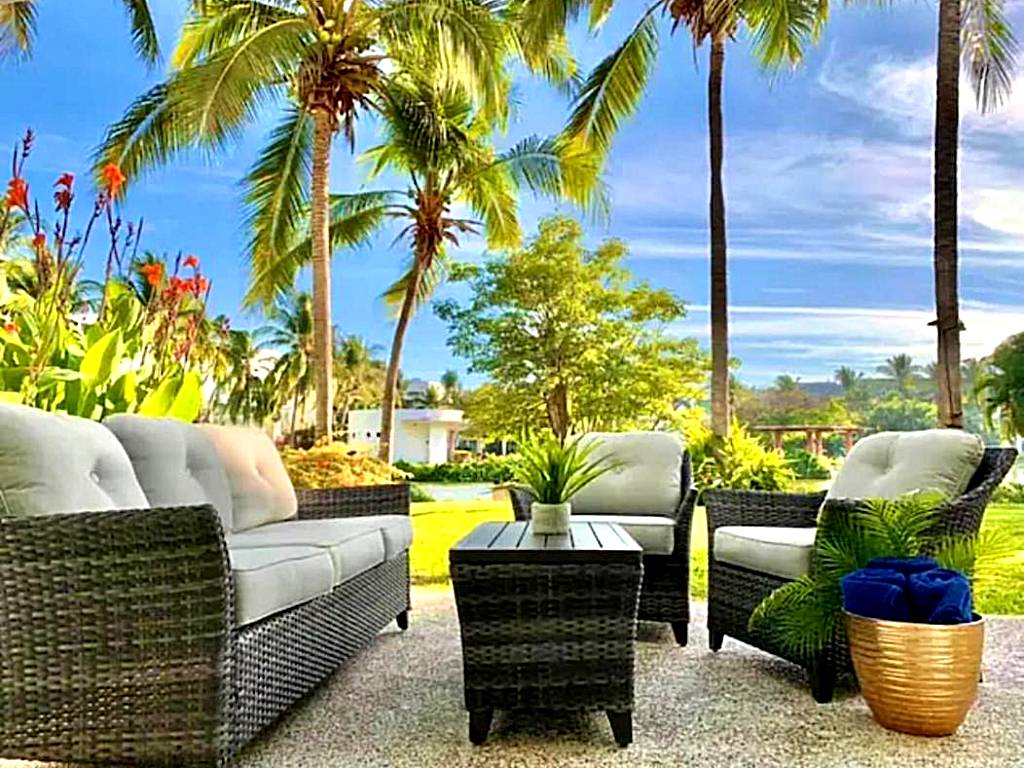 Mayan Lakes is a beautiful apartment hotel located in Acapulco, offering stunning lake views. It is conveniently situated just 1.7 km from Revolcadero Beach and 12 km from Chapel of Peace. The hotel features a restaurant and provides free WiFi for its guests. Each unit at Mayan Lakes offers modern amenities including a cable flat-screen TV, fully equipped kitchen with a dishwasher, and a private bathroom with a hot tub and hair dryer.
Guests can take advantage of the wellness area which includes a fitness center and public bath. Additionally, there is a year-round outdoor pool where guests can relax and enjoy the sunshine. Families traveling with children will appreciate the on-site playground provided by the hotel.
For those interested in exploring the surrounding area, Acapulco Navy Historic Museum is located just 14 km away while Acapulco Convention Center is also within close proximity at 14 km distance. The nearest airport is General Juan N Alvarez International Airport, only 6 km from Mayan Lakes.
– Stunning lake views
– Modern amenities in each unit
– Wellness area with fitness center
– Year-round outdoor pool for relaxation
– Children's playground available
Rojo Manglar Acapulco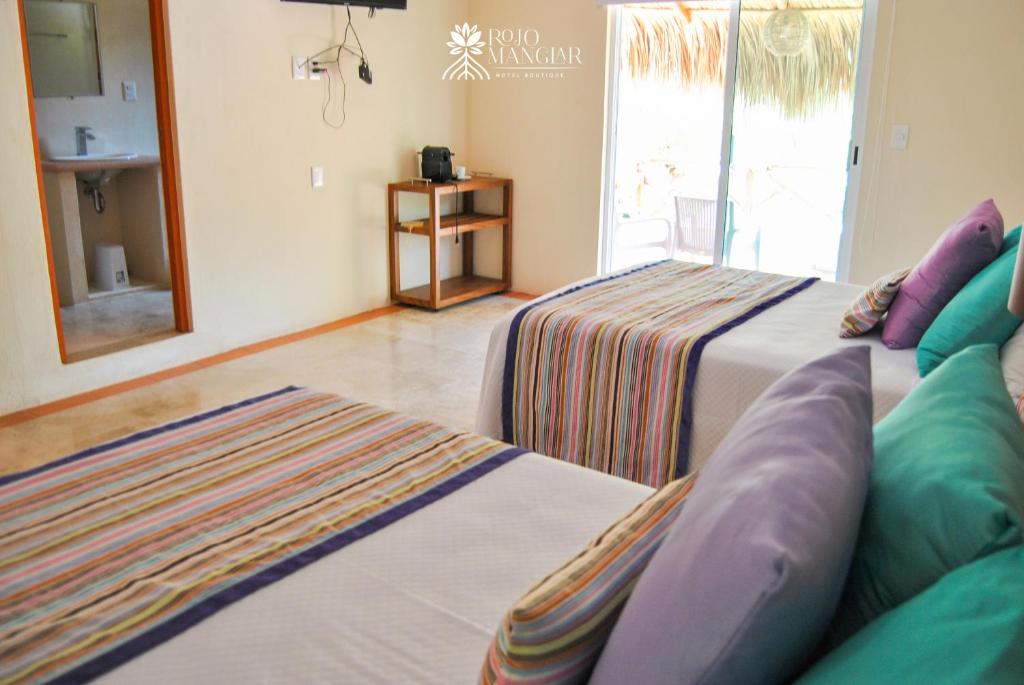 Located in Acapulco, 200 meters from Pie de la Cuesta Beach, Rojo Manglar Acapulco is a small hotel that opened in August 2020. This 4-star hotel features an outdoor swimming pool and offers comfortable accommodations with free WiFi and air conditioning. Guests can enjoy pool views from certain units and each room comes equipped with a coffee machine. The hotel also provides amenities such as a restaurant, room service, concierge service, and tours for guests. Additionally, there is a children's playground available for younger guests to enjoy. For those looking for adventure, skiing and cycling are popular activities in the area which the hotel can assist with by offering ski equipment hire. The hotel is conveniently located near attractions such as the Acapulco Convention Center and Acapulco Navy Historic Museum. General Juan N Alvarez International Airport is just 37 km away with the option of a paid airport shuttle service.
– Small hotel with outdoor swimming pool
– Free private parking on site
– Air-conditioned rooms with free WiFi
– Restaurant available on-site
– Children's playground for entertainment options
Other places to stay in Acapulco
Luxury Hotels With Tennis Courts In Acapulco
Acapulco, known for its stunning beaches and vibrant nightlife, offers luxury hotels with tennis courts that cater to the needs of both leisure and sport enthusiasts. These prestigious accommodations boast world-class facilities that allow guests to enjoy their favorite game while surrounded by lavish amenities and breathtaking views of the city. With an array of impressive options available, visitors can indulge in the ultimate luxury experience as they showcase their skills on the court or simply relax and soak up the beautiful surroundings.
Palacio Mundo Imperial Riviera Diamante Acapulco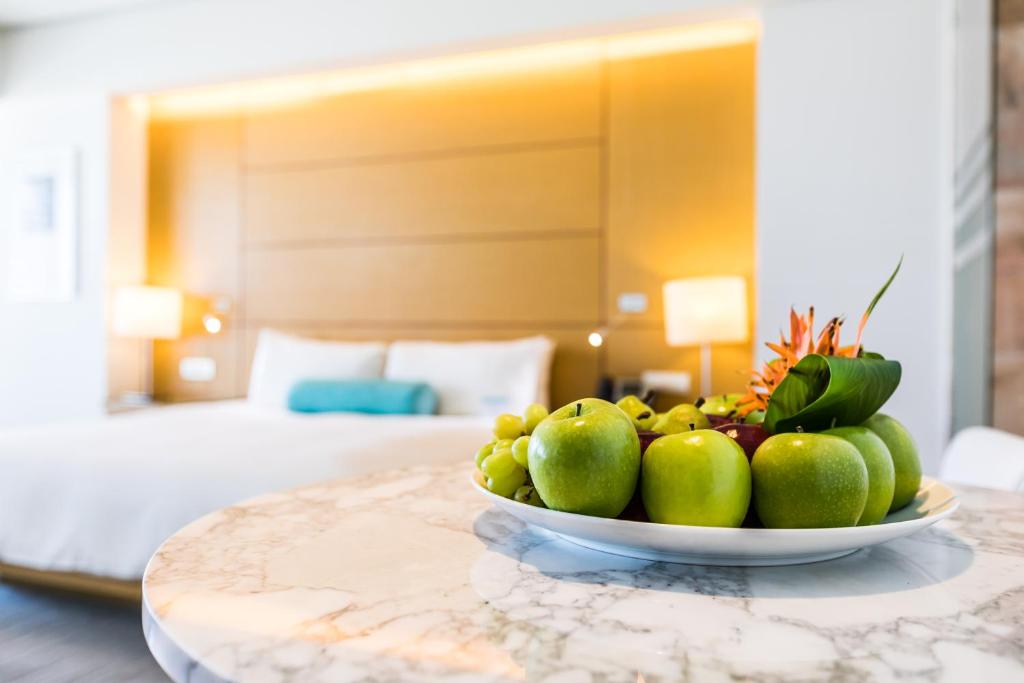 Located in the heart of Acapulco's exclusive Diamante district, Palacio Mundo Imperial Riviera Diamante Acapulco is a luxurious resort that offers guests an array of lavish amenities and activities. With 6 pools, including a wave pool and one in the adults-only area, guests can relax and soak up the sun. The resort also features a spa and wellness center for pampering treatments, a fully equipped fitness center for staying active, and a beautiful 10,000-square meter garden for peaceful relaxation. For those looking to stay active, there are tennis and volleyball courts as well as a jogging track available. The resort also caters to business travelers with its well-equipped business center offering meeting rooms, concierge services, and WiFi access (for an extra fee). Guests can indulge in delicious cuisine at any of the six exclusive restaurants which offer Mexican, Mediterranean, Italian dishes as well as seafood specialties and steakhouse options. There are also two poolside bars serving various cocktails. And if you're craving some retail therapy or entertainment options, visit Mundo's promenade where you'll find on-site clothing stores, jewelry shops along with dining and shopping opportunities.
HominngBird Acapulco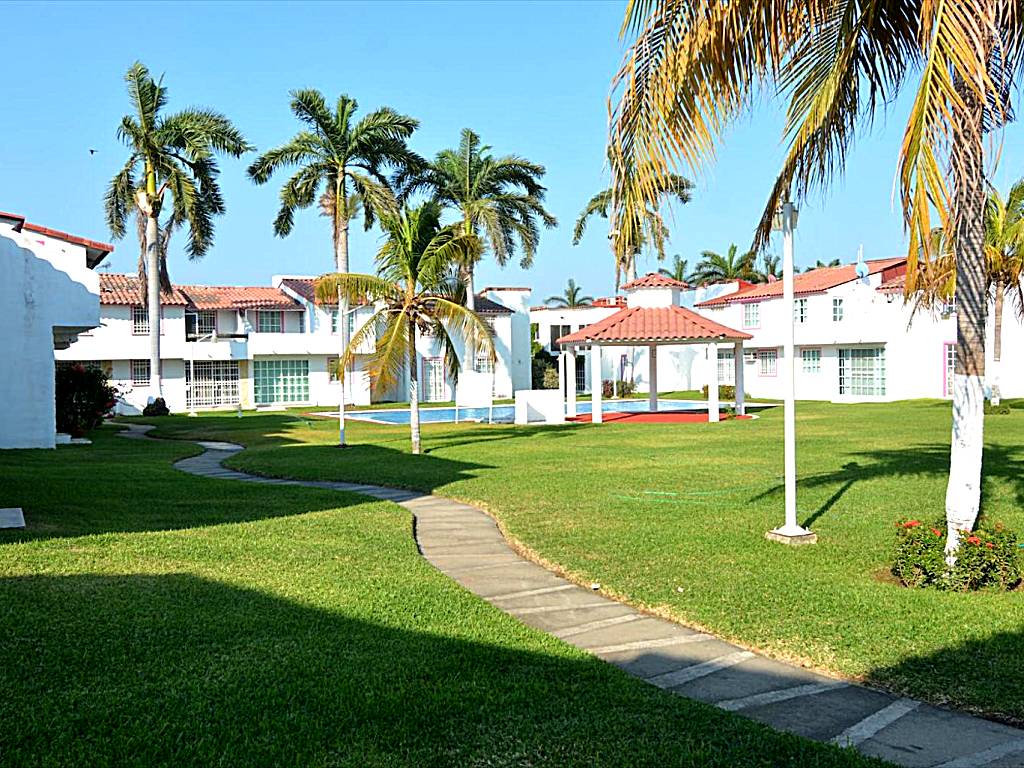 HominngBird Acapulco is a beautiful villa located in Acapulco, Guerrero. It offers comfortable accommodations with free WiFi and free private parking. Guests can enjoy the outdoor swimming pool and children's playground, as well as the terrace with mountain views. The villa also features a fully equipped kitchen, a seating area with a flat-screen TV, and a private bathroom with shower and hair dryer. For added convenience, there is a toaster, fridge, stovetop, and coffee machine available. Other amenities include an outdoor fireplace and services such as bicycle rental and car rental. Guests can also enjoy activities like cycling and pub crawls nearby. The property is located close to Revolcadero Beach (2.4 km) and attractions like Chapel of Peace (9.1 km) and Acapulco Navy Historic Museum (11 km). The nearest airport is General Juan N Alvarez International Airport (7 km) which offers paid airport shuttle service to the property.
– Free WiFi
– Outdoor swimming pool
– Fully equipped kitchen
– Terrace with mountain views
– Close proximity to Revolcadero Beach
Real Bananas All Inclusive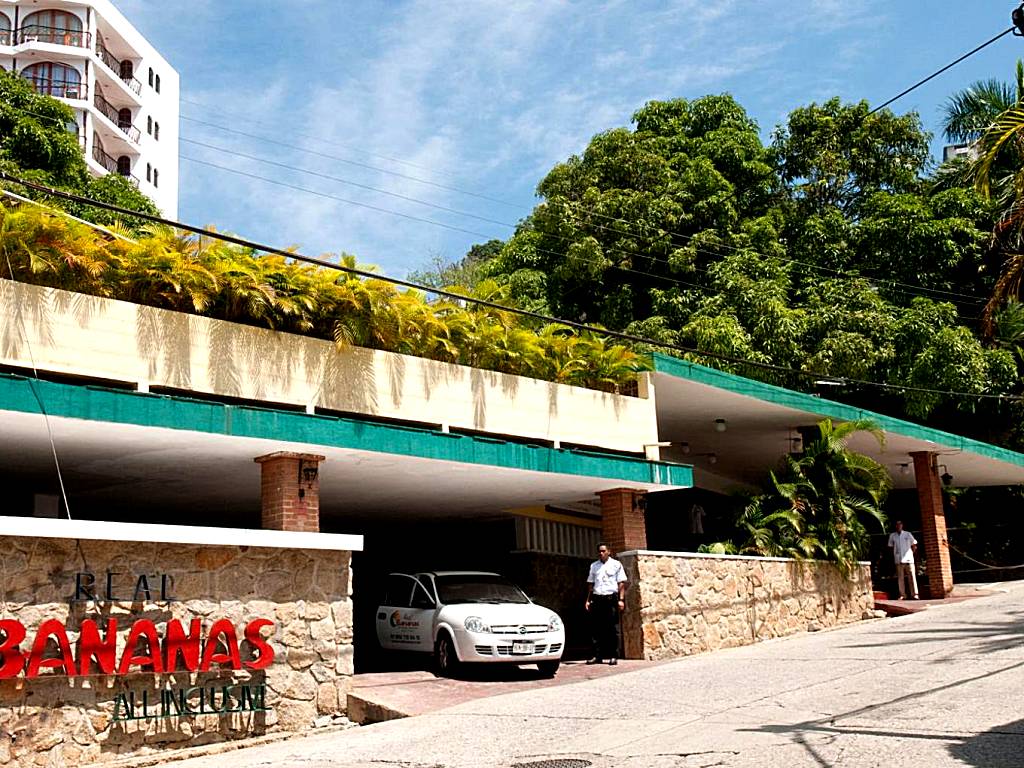 Located within walking distance of Icacos Beach and less than 10 minutes from downtown Acapulco, Mexico, Real Bananas All Inclusive hotel is a perfect destination for travelers. The hotel offers an outdoor pool and an on-site restaurant, providing guests with a relaxing and convenient stay. All guest rooms come with a balcony, offering beautiful views of the surroundings. The accommodations are equipped with cable TV and free Wi-Fi, ensuring that guests can stay connected during their stay. Additionally, all rooms are air-conditioned for utmost comfort. For added convenience and security, safety deposit boxes are available at the front desk. Guests can start their day with a delicious continental breakfast served daily on the sun terrace.
Pros:
– Ideal location near Icacos Beach and downtown Acapulco
– Outdoor pool for relaxation
– On-site restaurant for convenient dining options
– Balconies in all guest rooms to enjoy the views
– Free Wi-Fi access throughout the property
Best Acapulco Hotels With Tennis Courts
Acapulco, known for its stunning beaches and vibrant nightlife, also boasts a selection of top-notch hotels with tennis courts. These accommodations offer the perfect combination of luxurious comfort and sporting entertainment. Whether you're a seasoned player or just looking to enjoy a friendly match, these hotels provide well-maintained courts and professional coaching services. Immerse yourself in the tropical ambiance while enjoying your favorite sport at one of Acapulco's best hotels with tennis courts.
Pierre Mundo Imperial Riviera Diamante Acapulco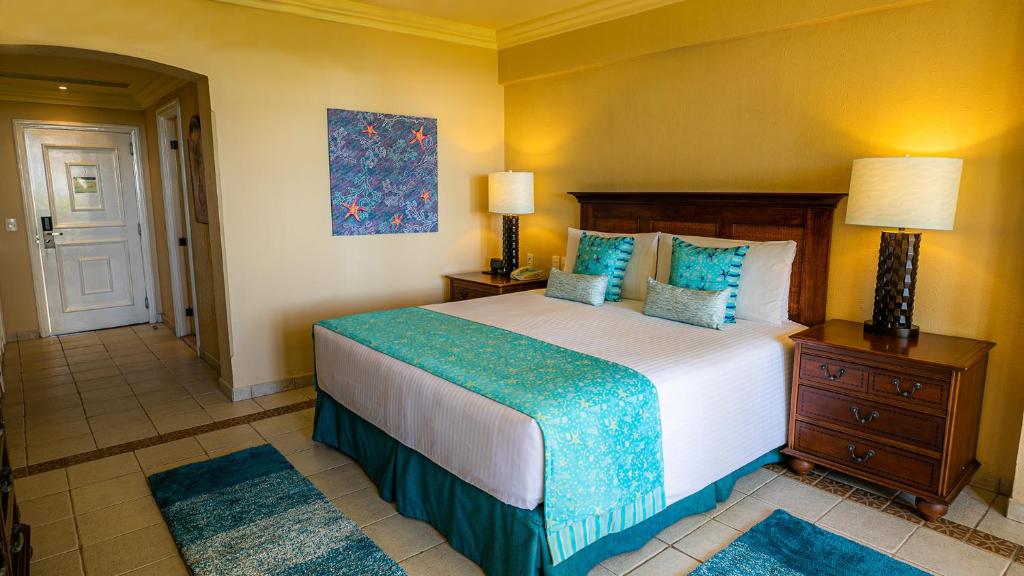 Located on Acapulco's Revolcadero Beach, the Pierre Mundo Imperial Riviera Diamante Acapulco is a stunning resort set in tropical gardens. This completely smoke-free hotel offers a range of amenities including a fitness centre, spa, tennis court, and an impressive outdoor pool with a waterfall. Each stylish room features air conditioning, cable TV, and a private bathroom with views overlooking the gardens, pool or ocean. The hotel boasts multiple dining options including Tabachin Restaurant which serves Mexican haute cuisine and international dishes. There is also a terrace restaurant, café, and an air-conditioned sports bar. Guests can enjoy transportation to the nearby Spa & Salon for ultimate relaxation or partake in various water sports activities available onsite. With Acapulco City Centre just 15 minutes' drive away and the airport only 10 minutes' drive away, this hotel provides both convenience and luxury.
– Resort with outdoor pool
– Located on Revolcadero Beach
– Fitness centre and spa facilities
– Tennis court available
– Multiple dining options
Acapulco Hotels with Tennis Court Main Information
| | |
| --- | --- |
| 🛏️ Hotels with Tennis Court in Acapulco | 7 |
| 💵 Hotels Prices From | $71 |
| 💰 Average price | 80 |
| ⭐ Number of Hotels Reviews | 432 |
FAQ
1. Are there any hotels in Acapulco that offer tennis courts?
Yes, there are several hotels in Acapulco that offer tennis courts. Some popular options include Hotel Encanto, Las Brisas Acapulco, and The Fairmont Acapulco Princess. These hotels provide well-maintained tennis facilities for their guests to enjoy a game or two during their stay.
2. Do I need to bring my own tennis equipment to these hotels?
While some hotels may provide basic tennis equipment such as rackets and balls, it is recommended to bring your own gear if you have specific preferences or requirements. However, it's always a good idea to check with the hotel beforehand as they may have different policies regarding the availability of tennis equipment.
3. Can I book a court in advance at these hotels?
Most of the hotels with tennis courts in Acapulco allow guests to book a court in advance. It is advisable to inquire about the booking process while making your reservation or upon arrival at the hotel. By booking in advance, you can ensure that you have a guaranteed time slot for your game without any inconvenience.
4. Are there any additional fees for using the tennis courts at these hotels?
Some hotels may charge an additional fee for using their tennis facilities, while others include access to the courts as part of their overall amenities package. It is essential to clarify this aspect with the hotel before making your reservation so that you are aware of any extra charges associated with using the sports facilities.
5. Are there any professional coaches available at these hotels for private lessons?
Many of the leading Hotels with Tennis Court in Acapulco offer professional coaching services by experienced instructors who can provide private lessons tailored to individual skill levels and needs. Whether you're a beginner looking to learn the basics or an advanced player seeking advanced training techniques, these resorts have qualified coaches to enhance your tennis experience.
Popular Hotels with Tennis Court destinations