Welcome to our latest destination spotlight – Lake Garda, Italy! If you're a tennis enthusiast seeking the perfect vacation spot where you can indulge in your favorite sport while enjoying breathtaking natural beauty, then Lake Garda is the place for you. Nestled amidst picturesque landscapes and serene waters, this enchanting region offers a wide array of hotels with tennis courts that cater to all levels of players.
Lake Garda boasts an impressive selection of accommodations that not only provide comfortable stays but also offer top-notch tennis facilities. Whether you're a beginner looking to improve your skills or an experienced player seeking challenging matches, these hotels have got you covered. From intimate boutique establishments tucked away in charming villages to luxurious resorts overlooking the shimmering lake, there's something for everyone here.
Imagine waking up to stunning panoramic views and stepping onto well-maintained clay or grass courts just steps away from your room. After an exhilarating game of tennis under the warm Italian sunshine, you can take a refreshing dip in the hotel's pool or unwind with a soothing massage at their spa facilities. With delectable dining options serving authentic Italian cuisine and nearby attractions such as ancient castles and charming vineyards waiting to be explored, Lake Garda truly offers a paradise-like experience for both avid tennis players and leisure travelers alike.
So pack your racket, book your stay at one of these fantastic hotels with tennis courts in Lake Garda, and get ready for an unforgettable vacation filled with sporty adventures surrounded by breathtaking scenery.
Best Lake Garda Hotels with Tennis
Hotel Du Lac et Bellevue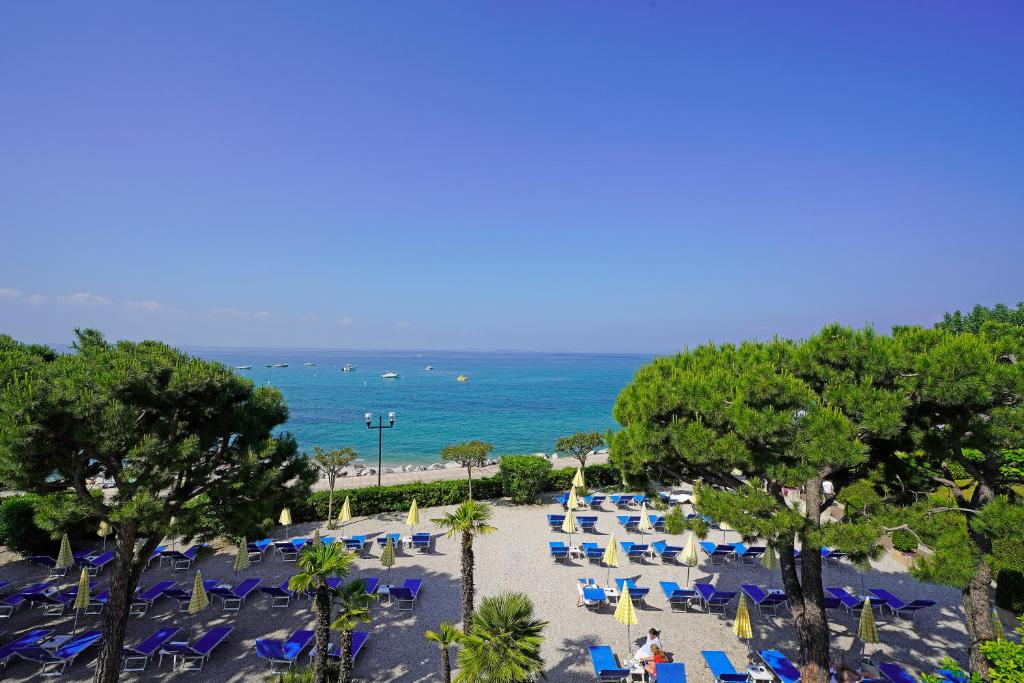 Hotel Du Lac et Bellevue is a charming hotel located on the shores of Lake Garda. It boasts a range of amenities including a swimming pool with both indoor and outdoor areas, comfortable rooms, and delicious food served at the restaurant specializing in local cuisine. Guests can enjoy free Wi-Fi throughout the hotel and outdoor parking is also available for free. The hotel is situated in the Riviera degli Olivi, close to the town center and renowned for its production of Bardolino wine. With three buildings housing its rooms, some offering balconies with stunning lake views, guests can relax on the panoramic terrace with bar service or take advantage of the private beach, pier, and garden. Additional features include a garage and daily breakfast service. Reception offers discounted tickets to nearby theme parks such as Gardaland and Caneva World. Tennis enthusiasts will be pleased to know that there are tennis courts within a 3-kilometer radius of the hotel.
Pros:
– Convenient location near town center
– Stunning lake views from some rooms
– Variety of amenities including swimming pool and private beach
– Discounted tickets to nearby theme parks available
– Tennis courts within close proximity
Poiano Garda Resort Appartamenti (Garda)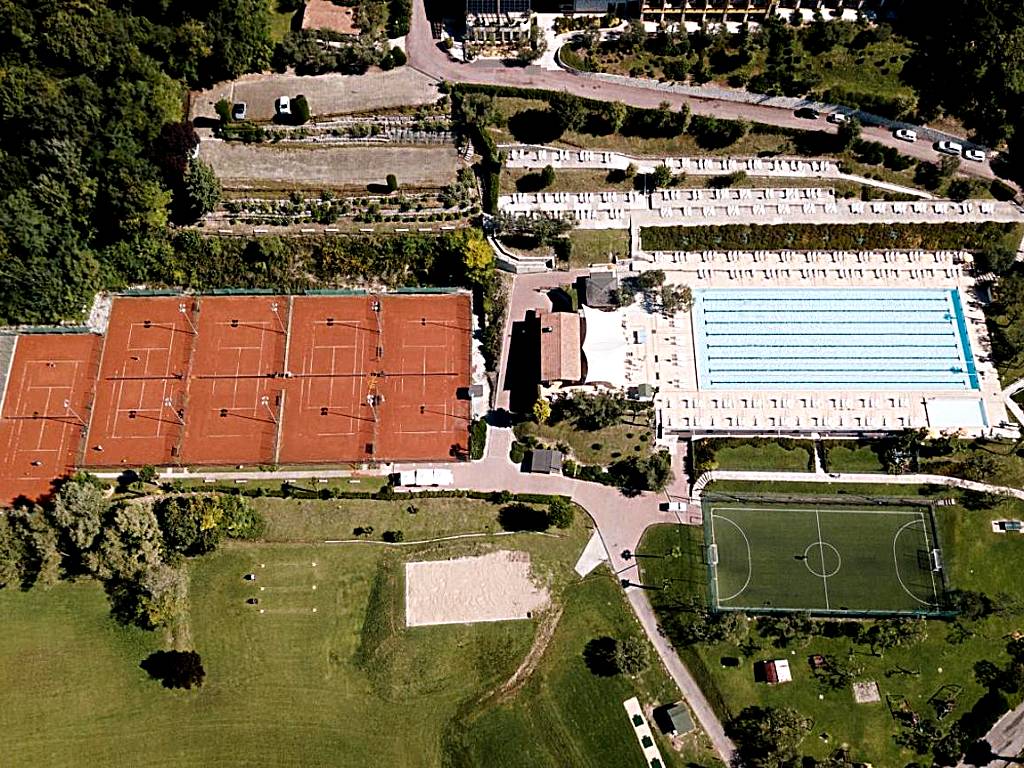 Located in Garda, Poiano Garda Resort Appartamenti is a fantastic apartment hotel that offers an array of amenities and activities. Situated on 60 hectares of private land, the resort boasts four tennis courts and two padel courts for guests to enjoy. Additionally, there is an Olympic-size swimming pool, perfect for a refreshing dip. The sports facilities include a five-a-side football pitch and a volleyball court, providing ample opportunities for guests to stay active during their stay. For those looking to improve their skills, private tennis, golf, and padel lessons are available. Furthermore, the resort features a gym with personal trainers and a brand new wellness center complete with sauna, steam bath, lagoon with stunning lake views, and beauty treatments. Each apartment at Poiano Resort comes with its own terrace or balcony as well as a living room with a sofa bed and an equipped kitchenette. Palm trees and vineyards surround the property creating a serene atmosphere for guests to relax in. Convenient amenities such as an on-site mini-market and children's playground add to the convenience factor of this wonderful hotel. The staff goes above and beyond by organizing sports tournaments during the day and live music entertainment in the evenings.
– Four tennis courts (and paddle)
– Olympic-size swimming pool
– Sports facilities including football pitch and volleyball court
– Gym with personal trainers
– Brand new wellness center
Park Hotel Jolanda (San Zeno di Montagna)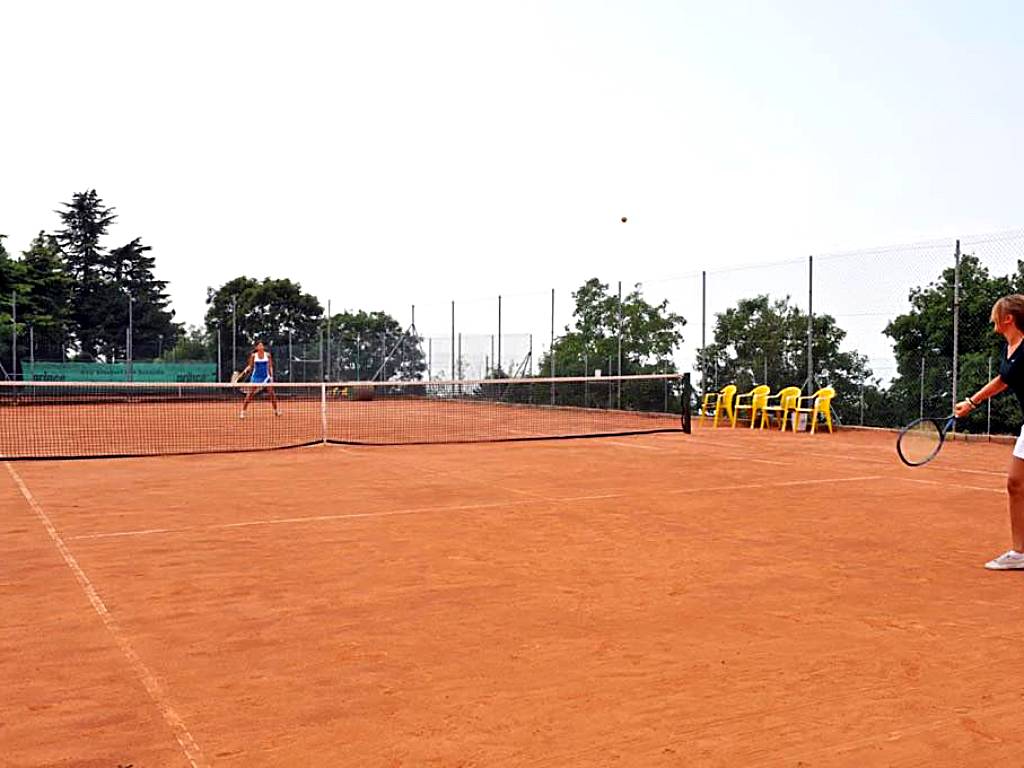 Located in the picturesque town of San Zeno di Montagna, Park Hotel Jolanda offers fantastic accommodation with breathtaking panoramic views. Built on the grounds of an ancient monastery, this hotel allows easy access to Lake Garda and Mount Baldo. With its five tennis courts, guests can enjoy a game or take lessons from professional instructors. The hotel also boasts an indoor swimming pool for relaxation after a day of activities. Nature enthusiasts can explore mountain biking and trekking trails or take leisurely walks in the surrounding meadows. Nearby attractions include the stunning Madonna Della Corona sanctuary, horse riding tracks, and an 18-hole golf course. Climbing enthusiasts will find various routes suitable for all skill levels. The guest rooms are spacious and comfortable with modern amenities, and meals at the hotel are delicious with a rich breakfast buffet and dinner options to choose from.
Other places to stay in Lake Garda
Luxury Hotels With Tennis Courts In Lake Garda
Luxury Hotels with Tennis Courts in Lake Garda offer a perfect combination of upscale accommodation and exciting tennis facilities. Located amidst the stunning natural beauty of Lake Garda, these hotels provide an ideal setting to indulge in both leisure and sport. Whether you are a seasoned player looking for a challenging match or a beginner seeking professional coaching, these hotels cater to all levels of tennis enthusiasts. Immerse yourself in the tranquil surroundings while enjoying top-notch amenities, impeccable service, and breathtaking views of the lake. With well-maintained courts, state-of-the-art equipment, and expert staff on hand, these luxury hotels ensure an unforgettable tennis experience for their guests.
Holidays Residence (Lazise)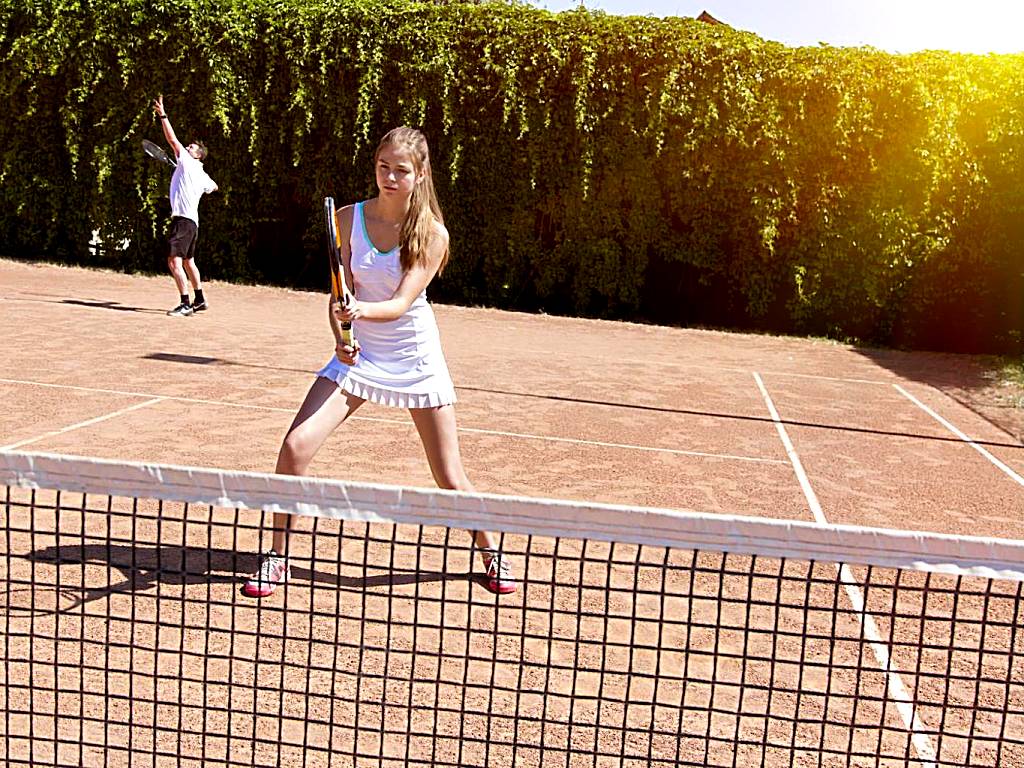 Holidays Residence is an apartment hotel located in Lazise, offering stunning views of Lake Garda from its elevated position amidst green hills. Just 800 meters away from the town center, this hotel provides a range of amenities including an outdoor pool, free Wi-Fi, and parking facilities. Guests can enjoy various recreational activities such as table tennis, tennis courts, racquetball court, and a small playground situated within the extensive gardens of Holidays Residence. The air-conditioned apartments feature fully equipped kitchenettes, with most rooms offering balconies overlooking the lake. Free Wi-Fi is accessible in public areas for guests to stay connected during their stay. Additionally, there is a heated Jacuzzi that offers panoramic views of Lake Garda. Surrounded by olive trees and only 1 km away from the lake shores, Holidays Residence provides a peaceful getaway while being conveniently close to attractions like Gardaland Amusement Park which can be reached within a 15-minute drive.
– Breathtaking views of Lake Garda
– Outdoor pool for relaxation and recreation
– Extensive gardens with tennis courts and other recreational facilities
– Well-equipped apartments with kitchenettes and balconies overlooking the lake
– Convenient location near Lazise town center and attractions like Gardaland Amusement Park
Poiano Garda Resort Hotel (Garda)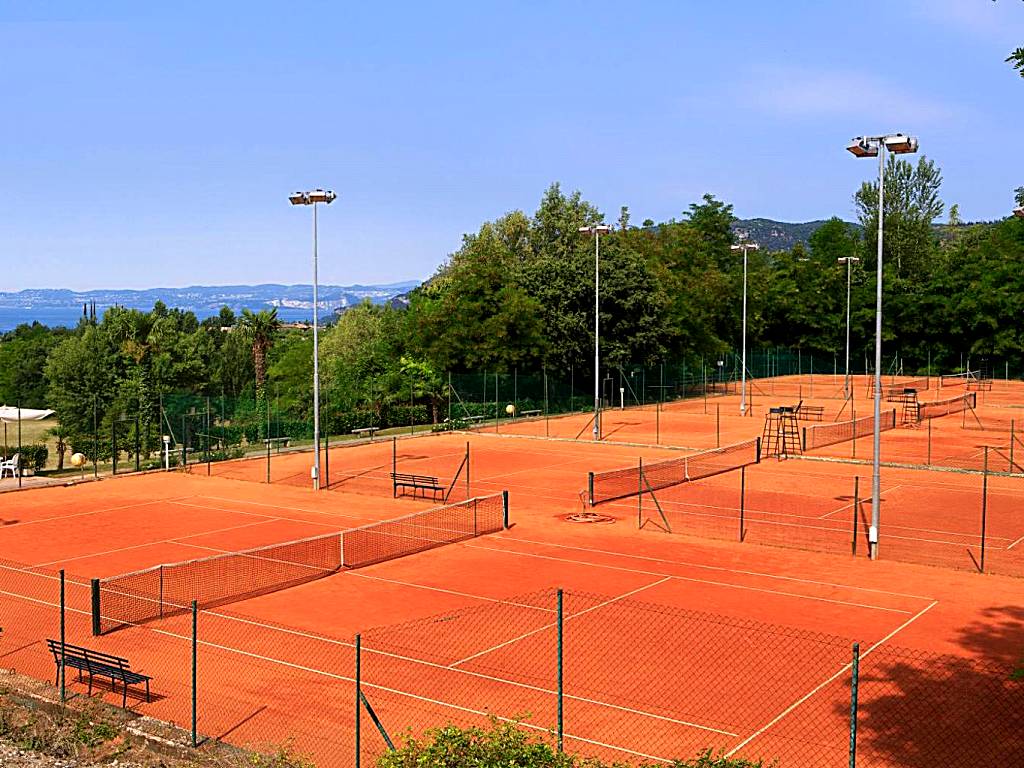 Located on a hillside in Garda, the Poiano Resort is a stunning hotel surrounded by 60 hectares of lush greenery. Offering a wide range of amenities, this hotel is perfect for sports enthusiasts and those seeking relaxation. The resort features an olympic-size pool, four clay tennis courts, two padel courts, two holes golf, a putting green, and a gym with personal trainers. In addition to these impressive facilities, guests can also enjoy a wellness center, multiple restaurants, and a free seasonal shuttle service to the town center. For sports lovers, there are even more offerings such as private tennis lessons and other sports facilities including football pitches and beach volleyball court. The rooms are air-conditioned with balconies offering either garden or lake views. Guests can start their day with a buffet-style breakfast served on the terrace and indulge in the spa's Finnish sauna, sensory showers, Turkish bath and salt-water hot tub. With discounts available at nearby golf courses and Verona Airport only 30 minutes away by car; convenience is just another benefit of staying at this fantastic resort.
– Olympic-size pool
– Four clay tennis courts
– Two padel courts
– On-site golfing amenities
– Free shuttle service to town center
Hotel Laura Christina (Malcesine)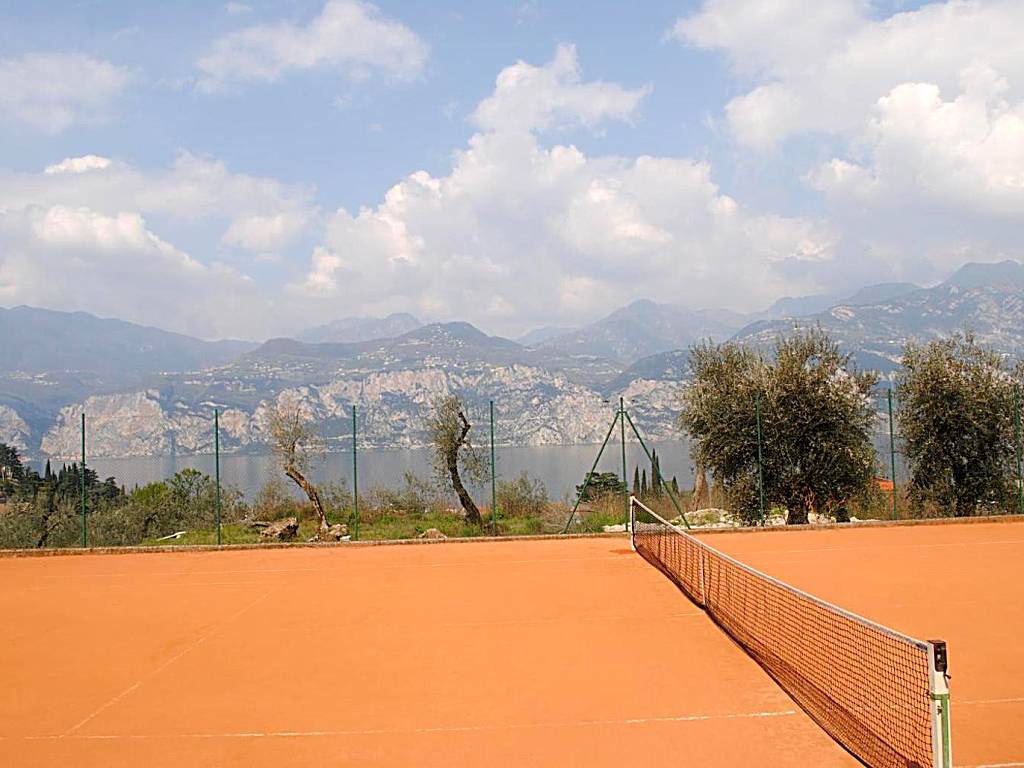 Located less than 200 metres from Lake Garda and about 800 metres from the centre of Malcesine, Hotel Laura Christina is a fantastic choice for travelers looking to relax and enjoy their time in the beautiful lakeside town. This hotel offers a fitness centre and three tennis courts, making it perfect for active guests who enjoy staying active during their vacation. Tennis lessons are also available for those who want to improve their skills or try something new. All rooms at Hotel Laura Christina come with a balcony or terrace, free WiFi, and a TV, ensuring that guests have all the comforts they need during their stay. The hotel also features a buffet-style breakfast and an outdoor pool that is heated to approximately 23 degrees Celsius. The pool includes whirlpool jets and an upstream swimming system, providing guests with even more opportunities for relaxation and enjoyment. Free parking is available nearby, making it convenient for guests who choose to explore the surrounding area by car.
– Three tennis courts available on-site
– Fitness centre for active guests
– Balcony or terrace in every room
– Buffet-style breakfast included
– Heated outdoor pool with whirlpool jets
Best Lake Garda Hotels With Tennis Courts
When it comes to the best Lake Garda hotels with tennis courts, guests can expect a delightful combination of scenic beauty and active leisure. Nestled amidst the breathtaking landscape of Lake Garda, these hotels offer an ideal setting for tennis enthusiasts looking to enhance their vacation experience. With well-maintained courts and top-notch tennis facilities, visitors can enjoy friendly matches or hone their skills while enjoying the serene surroundings. Whether you are a beginner or a seasoned player, these Lake Garda hotels provide the perfect opportunity to combine relaxation with an invigorating game of tennis in one of Italy's most picturesque destinations.
Casa Bardalla (Ponti Sul Mincio)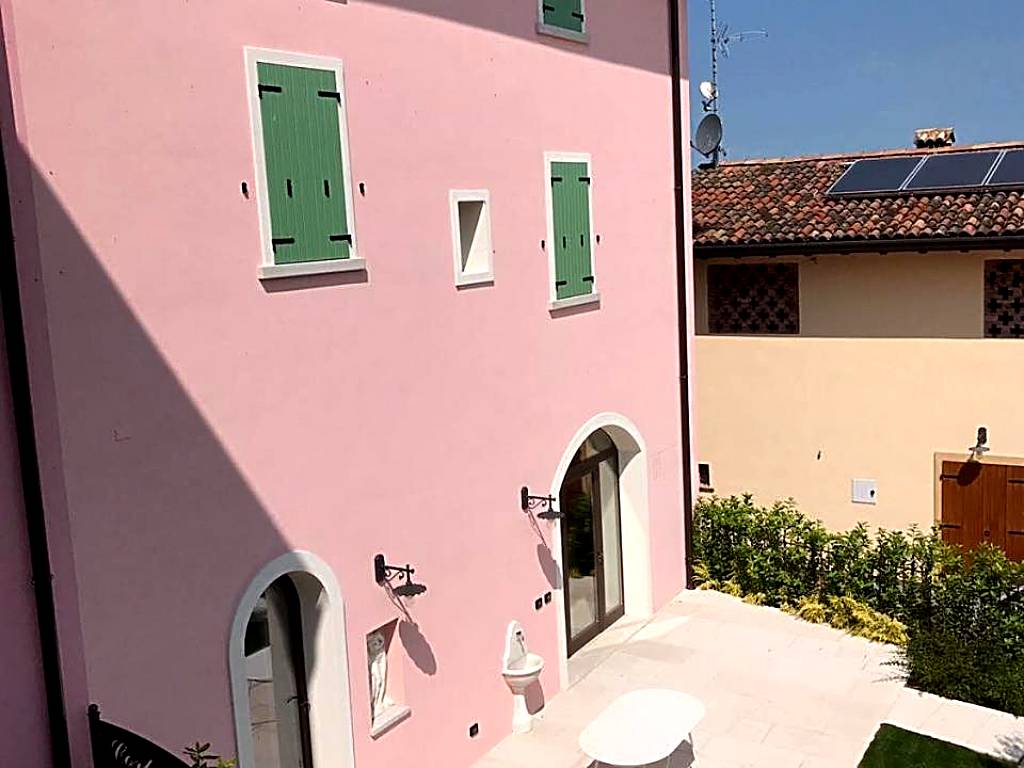 Casa Bardalla in Ponti Sul Mincio offers comfortable apartments with beautiful garden views, free WiFi, and complimentary private parking. The property is located 6.8 km from the Tower of San Martino della Battaglia and provides a terrace or balcony with stunning mountain and lake views. Each unit is equipped with air conditioning, a cozy seating area, satellite flat-screen TV, and a fully-equipped kitchen complete with a dishwasher, oven, toaster, coffee machine, and kettle. Guests can enjoy hiking nearby or relax in the spacious garden. Popular attractions such as Gardaland are just 8.2 km away, while Terme Sirmione – Virgilio is 12 km from the hotel. Verona Airport is the nearest airport at a distance of 21 km. One of the highlights of this property is its access to a tennis court.
Pros:
– Beautiful garden views
– Free WiFi and private parking
– Fully-equipped kitchens in every unit
– Access to a tennis court
– Convenient location near popular attractions
The Garda Village (Sirmione)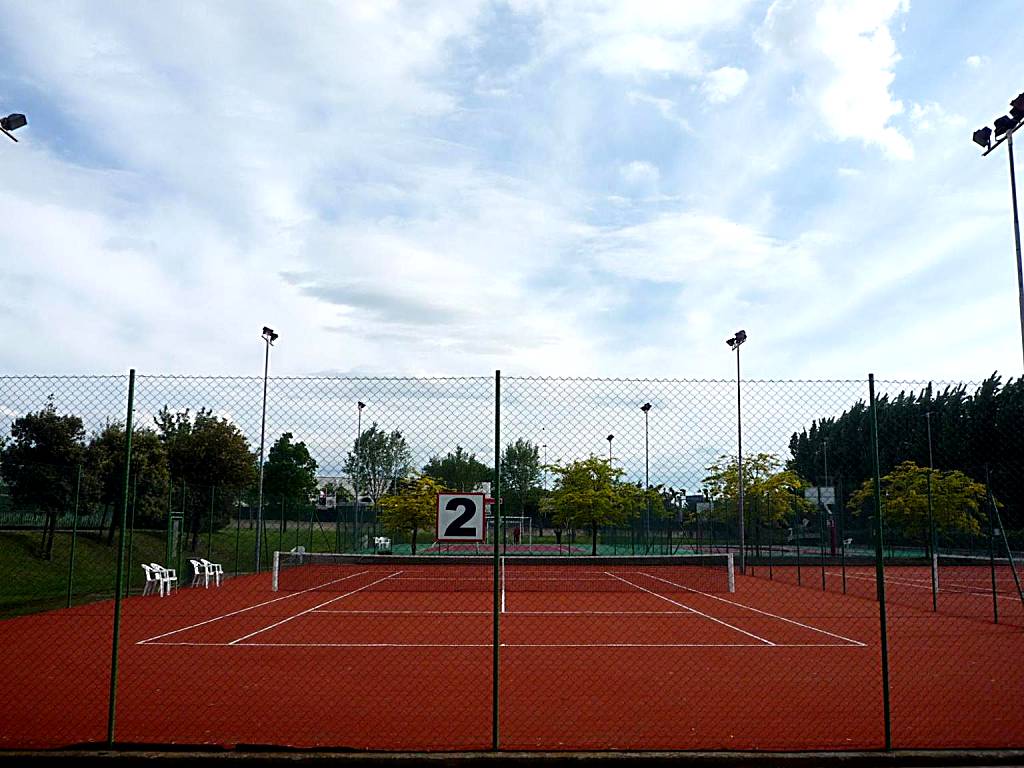 The Garda Village is a holiday park located on Lake Garda. This large resort offers a range of amenities, including swimming pools for adults and children, a hydromassage stream, and various sports facilities. The center of Sirmione is just 3.5 km away from the hotel. Guests can enjoy mini golf, tennis courts, football pitches, an archery range, as well as rent canoes, motor boats and pedal-boats. Accommodation options at The Garda Village include bungalows and mobile homes situated in a spacious park area. Each accommodation comes with a free reserved parking space. For those looking for entertainment beyond the hotel grounds, Italy's biggest amusement park, Gardaland, is just a short 20-minute drive away. The hotel also boasts a private beach with beach volley court for guests to enjoy. Children are well catered for with their own playground as well as a games room and mini club that organize activities and excursions for them. Live music and dancing can be enjoyed at the various bars on site while taking in the beautiful lake views from the pizzeria restaurant.
Pros:
– Wide range of sports facilities available
– Proximity to Lake Garda
– Variety of accommodation options
– Private beach with beach volley court
– Activities and excursions organized for children
Park Hotel Zanzanù (Tignale)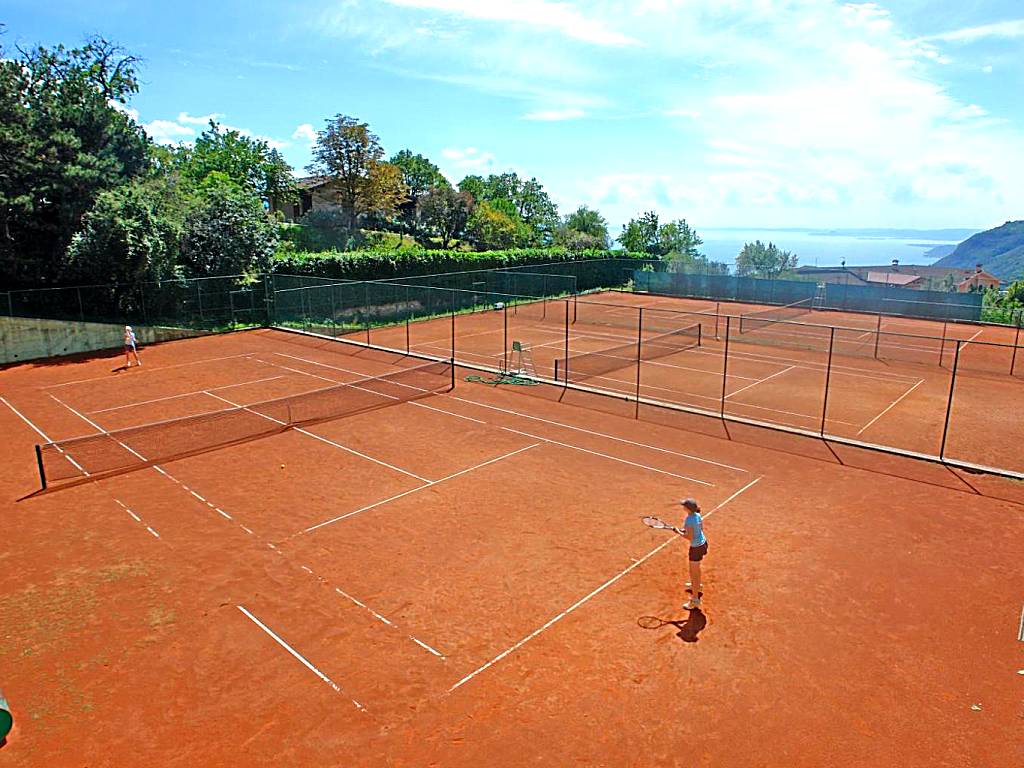 Park Hotel Zanzanù in Tignale offers guests a picturesque getaway with its panoramic views of Lake Garda. The hotel provides comfortable rooms with lake-view balconies and satellite TV. In addition, guests can enjoy the hotel's swimming pool and sports facilities, including TWO tennis courts and a multipurpose court for football and volleyball. The rooms are elegantly decorated in a classic style, featuring wooden furniture, fridges, and private bathrooms with hairdryers. Guests can also indulge in billiards and ping-pong games during their stay. A continental breakfast is served buffet-style, while the à la carte restaurant dishes out delicious Italian and international cuisine. Diners have the option to enjoy their meals on the large terrace overlooking Lake Garda. Located amidst olive groves and vineyards, Park Hotel Zanzanù is just 2 km away from Tignale town centre, offering tranquility within easy reach of amenities. Riva del Garda is also conveniently located only a 30-minute drive away.
Pros:
– Two tennis courts available for guests
– Panoramic views of Lake Garda
– Swimming pool for relaxation
– Sports facilities for additional activities
– Elegantly decorated rooms with private balconies
Spa Hotels With Tennis Courts In Lake Garda
Spa Hotels with tennis courts in Lake Garda offer the perfect blend of relaxation and fitness for guests seeking a well-rounded vacation experience. Nestled amidst the stunning natural beauty of this popular Italian destination, these hotels provide a serene escape from everyday life. With world-class spa facilities and rejuvenating treatments, guests can unwind and pamper themselves after an exhilarating game on the tennis court. Whether it's a friendly match with loved ones or honing their skills with professional trainers, visitors can enjoy their favorite sport while immersing themselves in the tranquility of Lake Garda's surroundings.
Sporthotel Olimpo (Garda)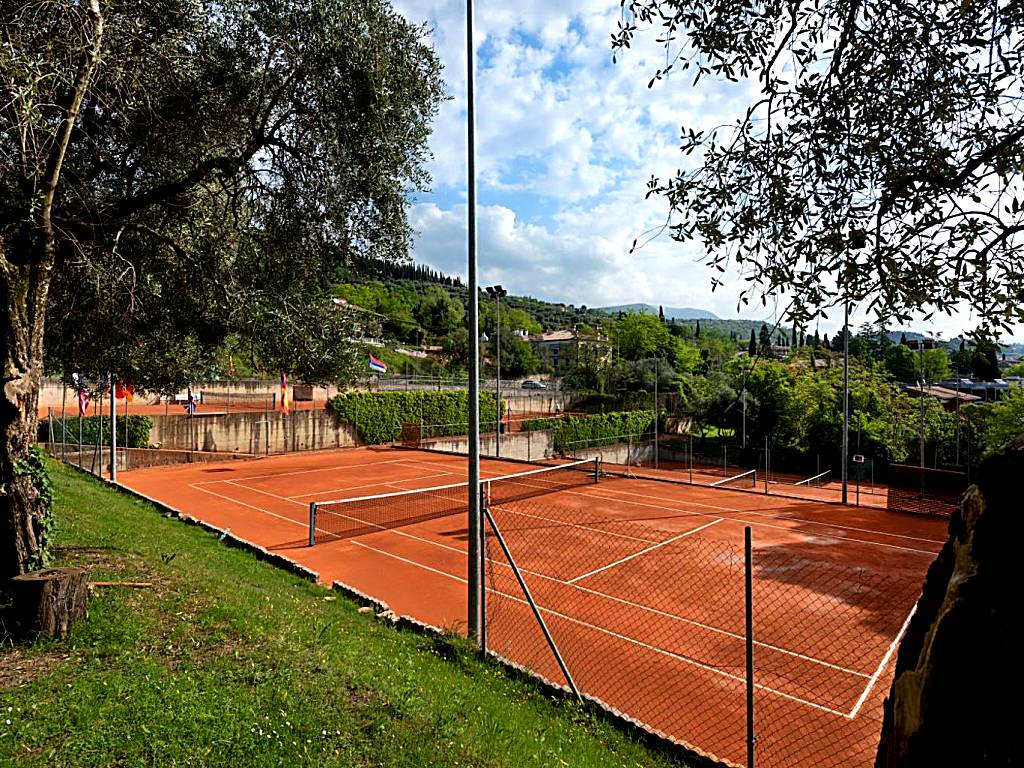 Sporthotel Olimpo, located in Garda, is a charming hotel nestled within a beautiful park and offers stunning views of the surrounding Lake Garda. The hotel boasts spacious rooms, a refreshing swimming pool, and an array of amenities to ensure a comfortable stay. With five tennis courts available for guests to enjoy, tennis enthusiasts can indulge in their favorite sport while soaking up the scenic beauty. Additionally, the hotel features a solarium for relaxation and a modern congress center for business events. Guests can also savor delicious meals at the hotel's restaurant that offers terrace seating overlooking the picturesque garden.
Villaggio Turistico Internazionale Eden (San Felice del Benaco)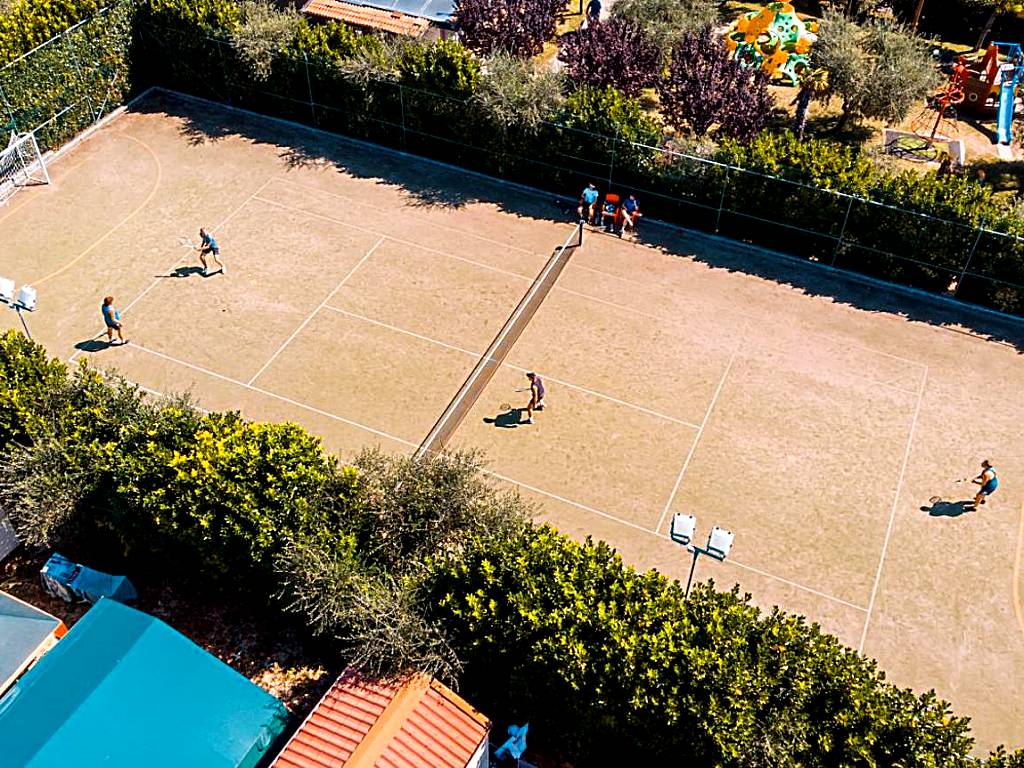 Villaggio Turistico Internazionale Eden is a holiday park located on the scenic shores of Lake Garda. This resort offers an array of amenities including sports courts, a private grassy beach area, and two swimming pools, one of which features thrilling water slides. The hotel also caters to families with two outdoor play areas and additional facilities such as volleyball, basketball, and tennis courts. Guests can enjoy the convenience of free parking while being surrounded by a large park setting. The resort is ideally situated just 200 meters from the harbor and a short five-minute drive from San Felice Del Benaco center. For those looking to explore further, buses to nearby towns like Garda and Desenzano stop just 300 meters away from the resort. Accommodation options at Villaggio Turistico Internazionale Eden include chalets and mobile homes, some featuring stunning views of Lake Garda. Each unit boasts a private entrance, patio area, and fully equipped kitchenette for added convenience. Guests seeking relaxation can take advantage of the sauna facility or indulge in a range of massages offered on-site. Additionally, the resort features its own restaurant offering delicious meals alongside a bar and pizzeria that also provides takeaway options.
– Located on the beautiful shores of Lake Garda
– Sports courts available for various activities
– Private grassy beach area
– Two swimming pools including one with water slides
– Chalets and mobile homes with lake views
Lake Garda Hotels with Tennis Court Main Information
| | |
| --- | --- |
| 🛏️ Hotels with Tennis Court in Lake Garda | 11 |
| 💵 Hotels Prices From | $170 |
| 💰 Average price | 960 |
| ⭐ Number of Hotels Reviews | 416 |
FAQ
1
Are there any hotels with tennis courts in Lake Garda?
Yes, there are several hotels in Lake Garda that offer tennis courts for their guests. These hotels understand the importance of providing recreational facilities like tennis courts to cater to the needs of their sport-loving guests. Whether you're a beginner or an experienced player, you can enjoy playing a match or two while enjoying your stay at these hotels.
2
Do I need to bring my own tennis equipment when staying at these hotels?
Most of the hotels with tennis courts in Lake Garda provide all the necessary equipment for their guests. From rackets to balls, you don't have to worry about carrying your own gear. However, if you have specific preferences or requirements, it's always recommended to check with the hotel in advance and see if they can accommodate your needs.
3
Can beginners play at these tennis courts?
Absolutely! Hotels in Lake Garda aim to cater to guests of all skill levels, including beginners. The tennis courts are open for everyone and provide a great opportunity for beginners to learn and improve their skills. Some hotels even offer coaching lessons or group classes for those who want professional guidance.
4
Are the hotel's tennis courts well-maintained?
Yes, most of the hotels in Lake Garda take pride in maintaining their sports facilities, including tennis courts. They understand that a well-maintained court is essential for an enjoyable playing experience. You can expect clean and properly maintained surfaces at these hotels so that you can fully focus on your game without any distractions.
5
Can I book a specific time slot for playing on the hotel's tennis court?
It depends on the hotel's policy regarding bookings for their tennis courts. Some hotels may require prior reservations while others adopt a first-come-first-served approach. It's advisable to check with the hotel beforehand about their booking system so that you can plan accordingly and secure your desired time slot for playing tennis.
Popular Hotels with Tennis destinations